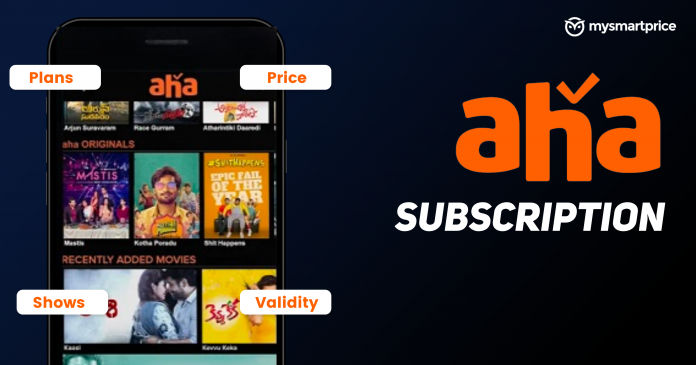 Aha is a new OTT streaming platform in India. It houses a lot of Telugu and Tamil web shows and movies. The streaming platform was launched in 2020 with Telugu content, however, with its rapid success, it ventured into Tamil content as well. Since 2020, it has attracted over a million viewers on the platform and plans to emerge more. If you are fond of south movies in Tamil or Telugu language, you should definitely check out Aha. In this article, we tell you about the subscription plans, offers, and various queries related to Aha. Without any further ado, let's get started.
Also Read: ZEE5 Subscription 2022: Best ZEE5 Premium Plans with Price & Validity to Watch Best Shows, Movies Online
Aha Subscription Plans 2022 (Telugu & Tamil)
| | | | | |
| --- | --- | --- | --- | --- |
| Plan | Price | Validity | Benefits | Supporting Devices |
| Aha Gold | 699 | 12 Months | All Telugu and Tamil movies show in 4K with Dolby audio without any ads | 5 |
| Telugu Annual Plan | Rs 399 | 12 Months | Unlimited access to 100% Telugu movies and web series | 5 |
| Telugu Quarterly Plan | Rs 149 | 3 Months | Unlimited access to 100% Telugu movies and web series | 5 |
| Tamil Annual Plan | Rs 365 | 12 Months | Unlimited access to 100% Tamil movies and web series | 5 |
| Tamil Quarterly Plan | Rs 149 | 3 Months | Unlimited access to 100% Tamil movies and web series | 5 |
AHA Gold:
Rs 699/ Year
This is the most premium subscription plan from the OTT platform and clubs all the packages in one. It includes both Tami and Telugu content. Moreover, users can watch videos in 4K quality and with Dolby Audio sound to get an immersive experience. There will be no ads with this plan.
Telugu Annual Plan: Rs 399/ Year
This is a 12-monthly subscription plan for those users who wish to watch content in the Telugu language only. Buying this would allow users to watch or read Telugu content, whether a movie or web series.
Telugu Quarterly Plan: Rs 149/ 3 Months
Telugu Quarterly plan is exactly the same as the Telugu annual plan, however, the catch is you get access to Telugu contents for three months only.
Tamil Annual Plan: Rs 399/ Year
Tamil Annual plans allow a user to watch Tamil content for 12 months. Once bought, the user can watch or read any content in the Tamil language.
Tamil Quarterly Plan: Rs 149/ 3 Months
The Tamil Quarterly plan is a cheap alternative to the Tamil annual plan. It allows users to watch Tamil content for three months only.
Aha Subscription Offers and How to Get them?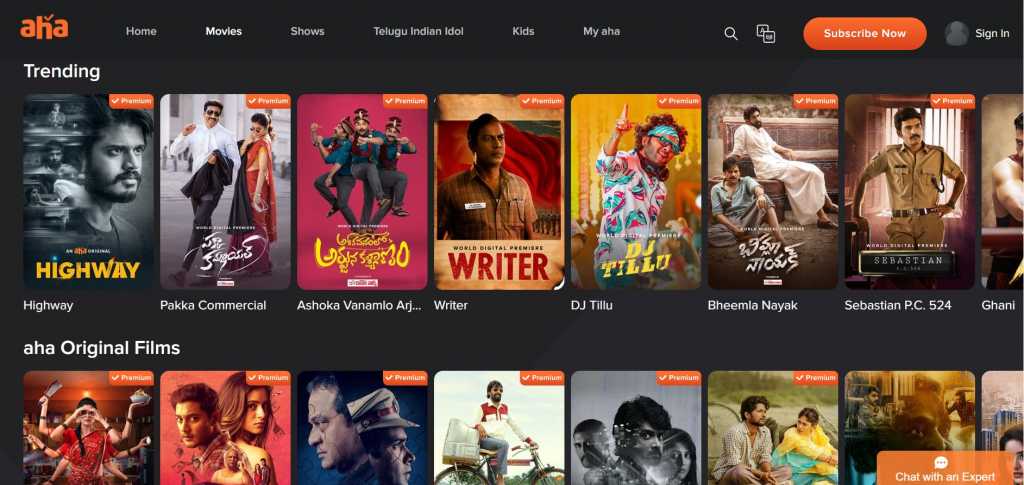 Aha, one of the latest on OTT platforms is running various offers on its subscription plans.  There are various deal websites that are currently running Aha subscription plans and discount offers. You can search for them on Google. Some of them include Desidime, fabpromocodes, zoutons, etc. Here're some of the methods that you can try.
Act Fibernet Bundle Offer
ACT Fibernet is currently running an offer where its registered active users can get Rs 50 off on Telugu content subscriptions on Aha. For that, visit Actcorp website and log in with your user id. The discount will be applied to your account.
Coupon Code
There are various coupon codes for Aha subscriptions. One of them is A299 – which once applied will give you Rs 100 off on either the Tamil or Telugu one-year plan on Aha.
JioSaavn
JioSaavn and Aha early this year announced that they would be coming up with a combined plan that will offer the best of both worlds. This plan costs Rs 399 and will support a year's subscription to JioSaavn and Aha.
Phonepe Subscription Offer
Phonepe is offering Rs 100 off on an Aha Telugu subscription via a coupon code. This coupon code is received after making a payment on the app. With this, the effective price of Aha subscription will be Rs 299.
Also Read: Disney Plus Hotstar Plans 2022: Premium vs Super vs Mobile Subscription, Price in India, Offers and More
Best Shows and Series in 'Aha' 2022
Aha is currently emerging as one of the most popular OTT streaming platform apps. It has a good collection of movies and web shows. Here are some of the best that you can watch on the platform.
Popular Aha Movies 
| | |
| --- | --- |
| Movie Names | Rating (IMDB) |
| Sebastian P.C. 524 | 4.1/10 |
| DJ Tillu | 7.2/10 |
| Love Story | 6.9/10 |
| Most Eligible Bachelor | 6.1/10 |
| Anubhavinchu Raja | 5.5/10 |

Popular Aha Web Series 
| | |
| --- | --- |
| Web Series Names | Rating (IMDB) |
| Qubool Hai? | 5.4/10 |
| 3 Roses | 5.5/10 |
| The Baker & The Beauty | 6.9/10 |
| CommitMental | 6.7/10 |
| Shit Happens | 7.5/10 |
| Masti's | 7/10 |
Also Read: Netflix Subscription Plans 2022: Monthly and Yearly Price in India, Validity, Jio, Airtel & Vi Recharge Offer
FAQs
1) How To Download the Aha App?
Aha app can be downloaded on mobile phones via Google Play Store and Apple App Store.
2) How many members can use aha?
On a single Aha subscription, up to 5 devices and 2 streams simultaneously can be used.
3) How can I stream aha on TV?
To stream, Aha shows on your smart TV, just go to its official website and login with your credentials. You can now watch any show. 
4) Is Aha available outside India?
No, Aha is not available outside India, so you will need a VPN to play Aha shows.
5) How do I recharge my aha account?
To do that, just go to Aha's official website and choose a plan and pay for the service.
6) Is Aha available on Jio?
Yes, JioSaavn and Aha are available for a combined plan of Rs 399 for a year.
7) Can we cancel Aha subscription?
You can cancel your Aha subscription either at the beginning of your next annual or monthly billing period. 
8) How do I redeem my aha voucher?
To redeem your Aha code, just go to https://www.aha.video/redeem/coupon and enter your coupon code.
Thanks for reading till the end of this article. For more such informative and exclusive tech content, like our Facebook page