Highlights
Airtel launches 5G Plus services in more than 140 cities.
Airtel recently added 5G Plus services in Chandigarh, Mohali, and Panchkula.
Airtel is likely to bring 5G Plus services to 300 cities by the March end.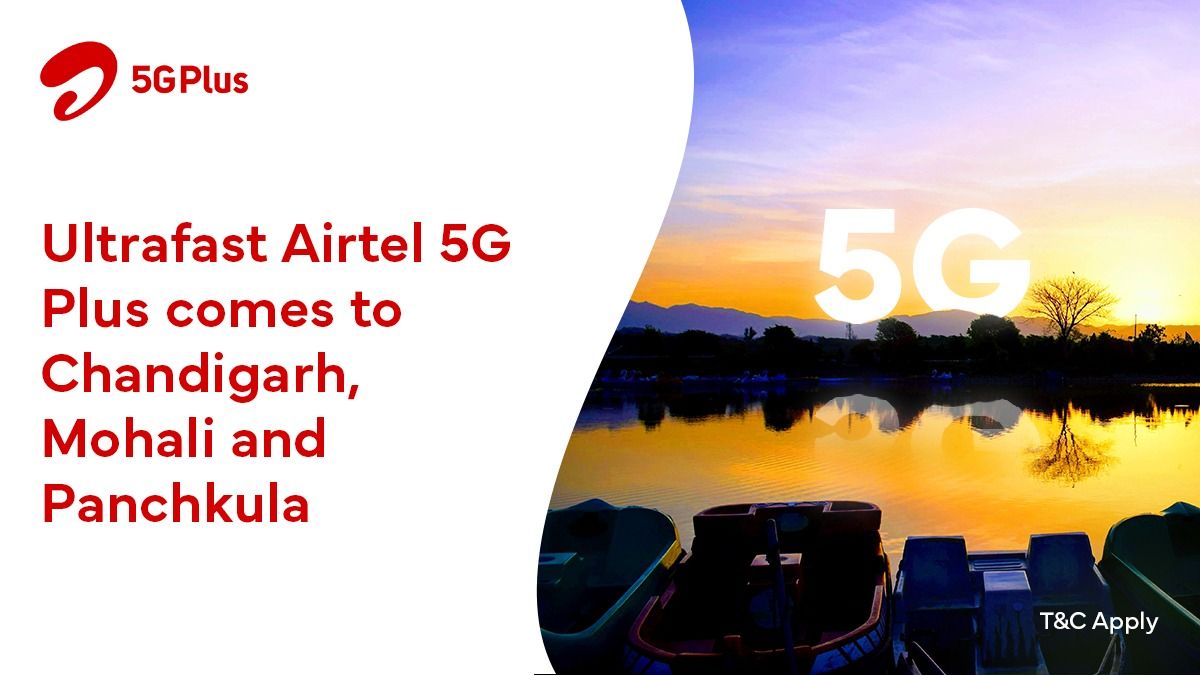 To bring 5G services to 300 cities by March 2023 end, Airtel has added the newly launched network in three new cities of the country. The second largest telecom player has launched 5G Plus services in Chandigarh, Mohali, and Panchkula. Notably, the services will be available in a phased manner as the company is still constructing the network and expected to complete the roll-out by March 2024 end.
However, to access the 5G Plus network of the company, customers should have 5G-enabled devices. Plus, the company is providing services with 4G plans, which means without any extra cost, whereas India's largest telecom operator Reliance Jio launched Rs 61 add-on prepaid plan. The customers can access the pack with Rs 119, Rs 149, Rs 179, Rs 199, and Rs 209 packs.
Meanwhile, Airtel states that customers in these three cities will not get 30 times faster speed than the 4G network, and they can access high-end gaming, video streaming, and uploading of photos. The telecom operator has so far launched 5G Plus services in more than 140 cities, which is still less than Jio as the latter brought the network to more than 270 cities.
List Of Airtel's 5G Plus Cities
Chandigarh
Mohali
Panchkula
Samba
Kathua
Nagpur
Vijayawada
Rajahmundry
Mumbai
Chennai
Imphal
Bengaluru
Bhawanipatna
Dhenkanal
Jharsuguda
Paradeep
Bargarh
Thrissur
Purnia
Gopalganj
Barh
Bihar Sharif
Bihta
Nawada
Sonepur
Balasore
Kurnool
Bahadurgarh
Dehradun
Agartala
Kohima
Dimapur
Aizawl
Gangtok
Guntur
Pune
Patna
Ujjain
Dharamshala
Yamunanagar
Silchar
Dibrugarh
Haridwar
Ambala
Karnal
Hyderabad
Sambalpur
Berhampur
Kakinada
Anugul
Sonipat
Tinsukia
Noida
Kozhikode
TrivandrumAjmer
Alwar
Bikaner
Bhilwara
Ghaziabad
Faridabad
Jaipur
Mandi
Baddi
Gwalior
Itanagar
Raipur
Durg-Bhilai
Jodhpur
Udaipur
Pune
Kozhikode
Trivandrum
Thrissur
Vizag
Lucknow
Berhampore
Udhampur
Akhnoor
Kupwara
Lakhanpur
Khour
Tirupati
Meerut
Gandhinagar
Delhi
Jammu
Indore
Hyderabad
Siliguri
Ahmedabad
Nagpur
Varanasi
Kanpur
Panipat
Gurugram
Guwahati
Itanagar
Begusarai
Katihar
Kishanganj
Prayagraj
Ranchi
Jamshedpur
Bhagalpur
Bodh Gaya
Coimbatore
Bhubaneswar
Cuttack
Bhubaneswar
Rourkela
Gorakhpur
Bhopal
Madurai
Hosur
Trichy
Agra
Muzaffarpur
Kochi
Rourkela
Hissar
Rohtak
Kota
Jalpaiguri
Darjeeling
Islampur
Warangal
Karimnagar
Old Malda
Raiganj
Durgapur
Balurghat
Alipurduar
Dinhata
Kharagpur
Srinagar
Surat
Vadodara
Rajkot
Asansol
Barrdhaman
Koch Bihar
Medinipur
Shimla
Airtel AI Solutions Launched For Customers
Apart from that, Airtel joined with NVIDIA to launch an AI-powered solution for customers. The AI-powered speech analytics solutions will help Airtel's customer call centre. The telco said that its customer care is serving 360 million users and 100 million users annually. In addition, the telco is planning to bring new technology to stop or control spam calls as the Telecom Regulatory Authority of India has asked all companies. The regulator wants the telco to launch new technology to stop spam messages and calls from telemarketers.