Airtel offers broadband plans across various price segments for a range of consumers. There are plans from the operator that are best suited for users who are looking for entertainment offerings, or professional purposes. Broadband plans are nowadays bundled with a bunch of other benefits, apart from the regular internet connection.
Now, Airtel has announced two new plans with bundled subscriptions to Netflix, Amazon Prime Video and Hotstar. Users of the Airtel Professional plan and the Airtel Infinity Plan will now be able to access a variety of streaming services for free. Here's everything you need to know.
Don't Want to Pay for a Separate Netflix Subscription? Here Are Some Options for You to Consider
Airtel has announced that two of its broadband plans, the Airtel Professional and Airtel Infinity will now be bundled with Netflix. The Airtel Professional broadband recharge plan costs Rs 1,498 monthly and offers unlimited internet at a 300Mbps speed, unlimited Local/STD calls, and Airtel Thanks benefits.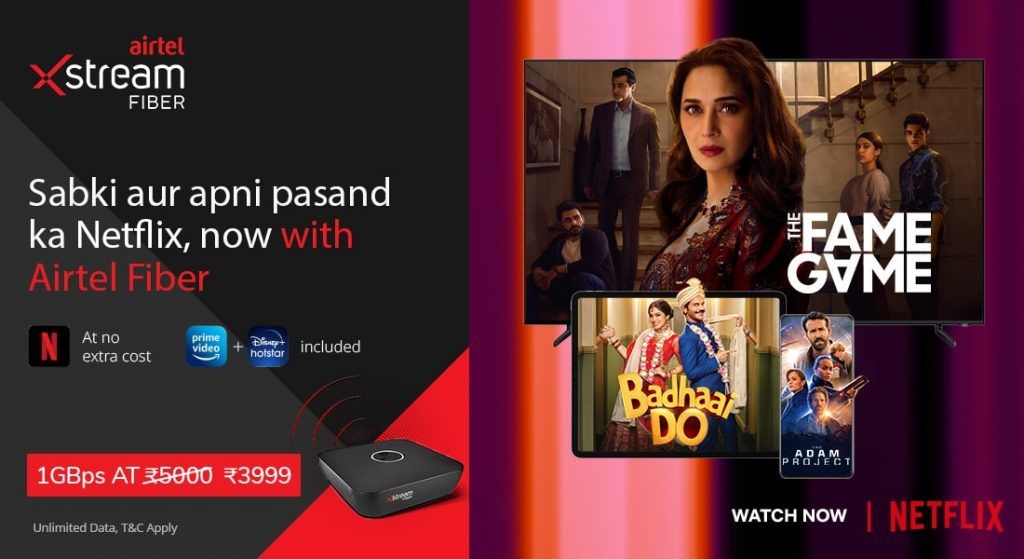 The Infinity, on the other hand, priced at Rs 3,999 offers speeds up to 1Gbps, unlimited internet and local/STD calls, alongside the operator's Thanks benefits. Other benefits of both the plan include a subscription to Netflix, Disney+ Hotstar, Amazon Prime, Airtel XStream Premium, VIP Services, Apollo 24×7, Shaw Academy, and Wynk Premium.
While the Professional plan now includes access to Netflix Basic, the Infinity plan includes access to Netflix Premium. Note that the prices mentioned are exclusive of taxes.
For the unware, Netlflix's Basic plan when purchased separately is priced at Rs 199 and includes video streaming in 480p resolution on one device (either Phone, Tablet, Computer or TV). The Premium offering from Netflix, allows users to stream content in the best resolution possible, that is 4K + HDR, on four different devices at the same time.
Reportedly, only people who live with you might be able to access your Netflix subscription as Netflix wants to put a stop to password sharing, and was spotted testing a new fee-based account sharing feature.