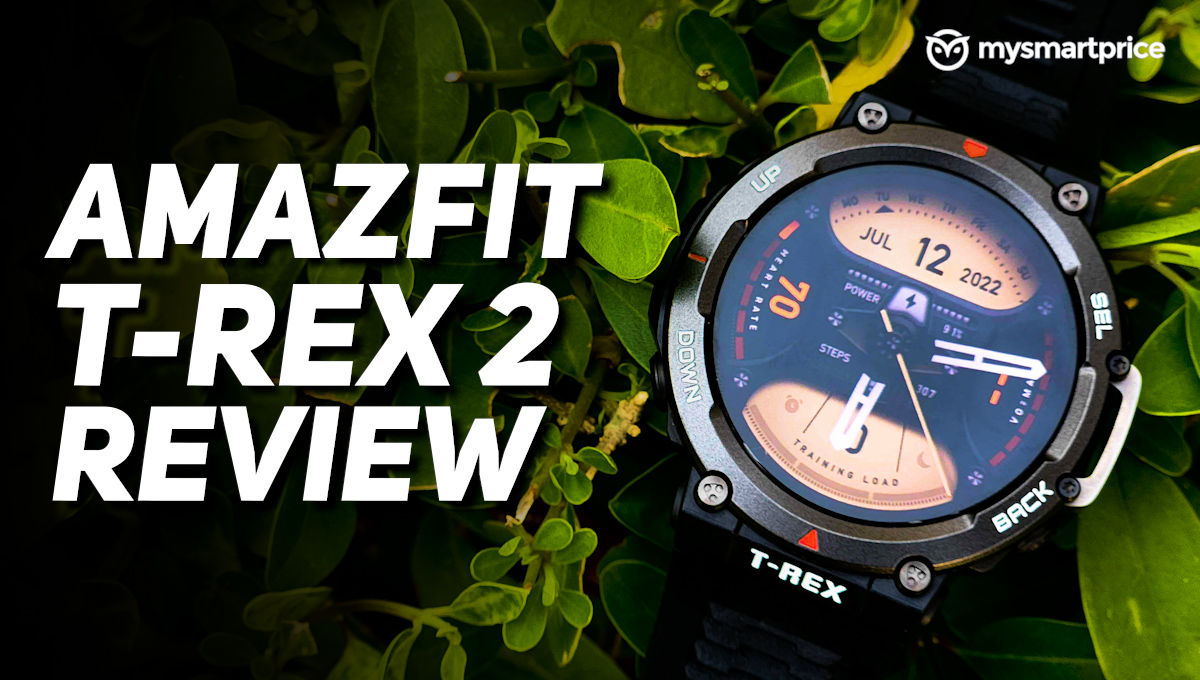 The recently launched Amazfit T-Rex 2 finds itself in a really strange spot. It seems as rugged and feature-loaded as the Garmin Instinct 2 (review) but then costs about a quarter of that. At Rs. 15,999. To recall, the first T-Rex was launched two years ago, and last year, Amazfit introduced the more refined T-Rex Pro.
What Is Good?
Gorgeous AMOLED display
Long battery life
Military-grade durability
Automatic activity tracking
Tons of meaningful sports modes
In-depth data representation
What Is Bad?
Buggy notification system
Inadequate display brightness
Only tacky watch faces available
Inaccurate heart rate tracking
Keeping the pot boiling in its third spiritual iteration, the T-Rex 2 comes with a larger display and battery life, along with BioTracker 3.0 for better vital tracking and dual-band GPS and as many as 150 sports modes. It seems like a great mix-and-match of features and ruggedness on paper, but does it deliver? Find out in our review.
Amazfit T-Rex 2 Review: Design
The Amazfit T-Rex 2 isn't a watch for the faint-hearted, this is for those who rub mud in their wounds. For starters, it has military-grade ruggedness (MLT-STD-810G), water resistance of 10ATM, and it can withstand temperatures as high as 70°C and as low as -30°C. While Amazfit hasn't mentioned the use of any special glass covering the AMOLED display, it has to be strong nevertheless to attain that military-grade rating.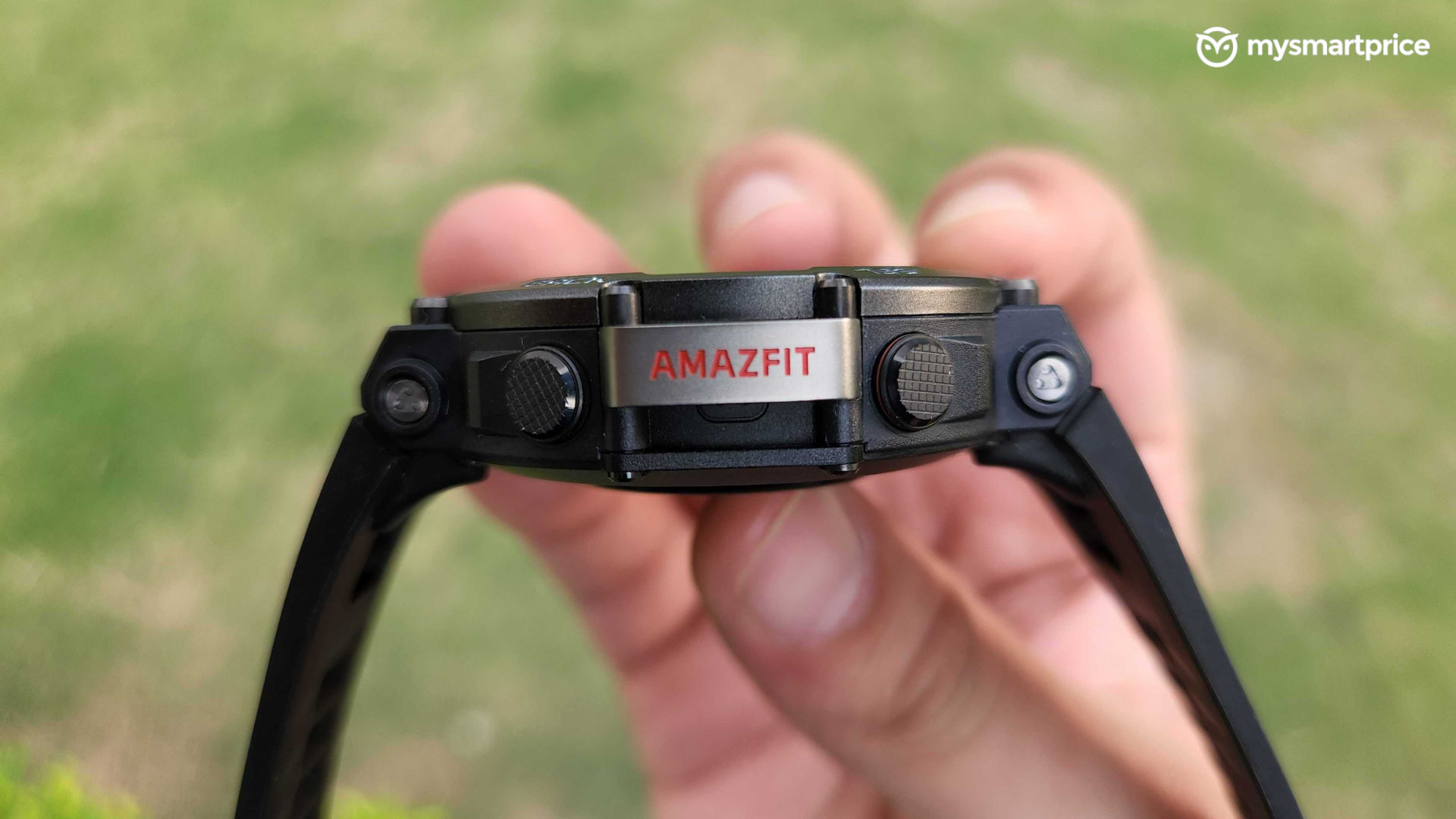 Further, it sports a polycarbonate shell around the case with screws and accents that try to yield an even more rugged look. But, seriously, the metallic element on the right side of the watch does nothing other than display the name of the brand in a hot red colour.
The thick bezel around the screen is also made of plastic, and it bears the names of the functions that the adjoining keys have. So, to the right, you have the select and back keys, whereas, on the left, you have up and down keys. So again, this placement is very similar to that of the Garmin Instinct 2 that we reviewed a few weeks ago, except you don't need a rocket engineering degree to understand what the buttons do because of an AMOLED display that we'll get to in just a moment.
Under the case of the watch, you can find the heart rate, SpO2 and biometric sensors. The top and bottom of the bezels have silicone straps that are harder than those in the Instinct 2 but aren't hot-swappable.
The watch comes in three colour variants: Astro Black & Gold, Wild Green and Amber Black. We received the last of these, and it is perhaps the only colour you'd like to sport formal occasions as well.
Amazfit T-Rex 2 Review: Display
We can guarantee you that you'll take a moment to gasp at the display the first time you boot up the watch because it looks fantastic. It's a nice, crisp 1.39-inch AMOLED display with a pixel density of 326ppi. This is the biggest factor distinguishing the T-Rex 2 from the Instinct 2 because the latter doesn't have a touch screen, let alone an AMOLED display.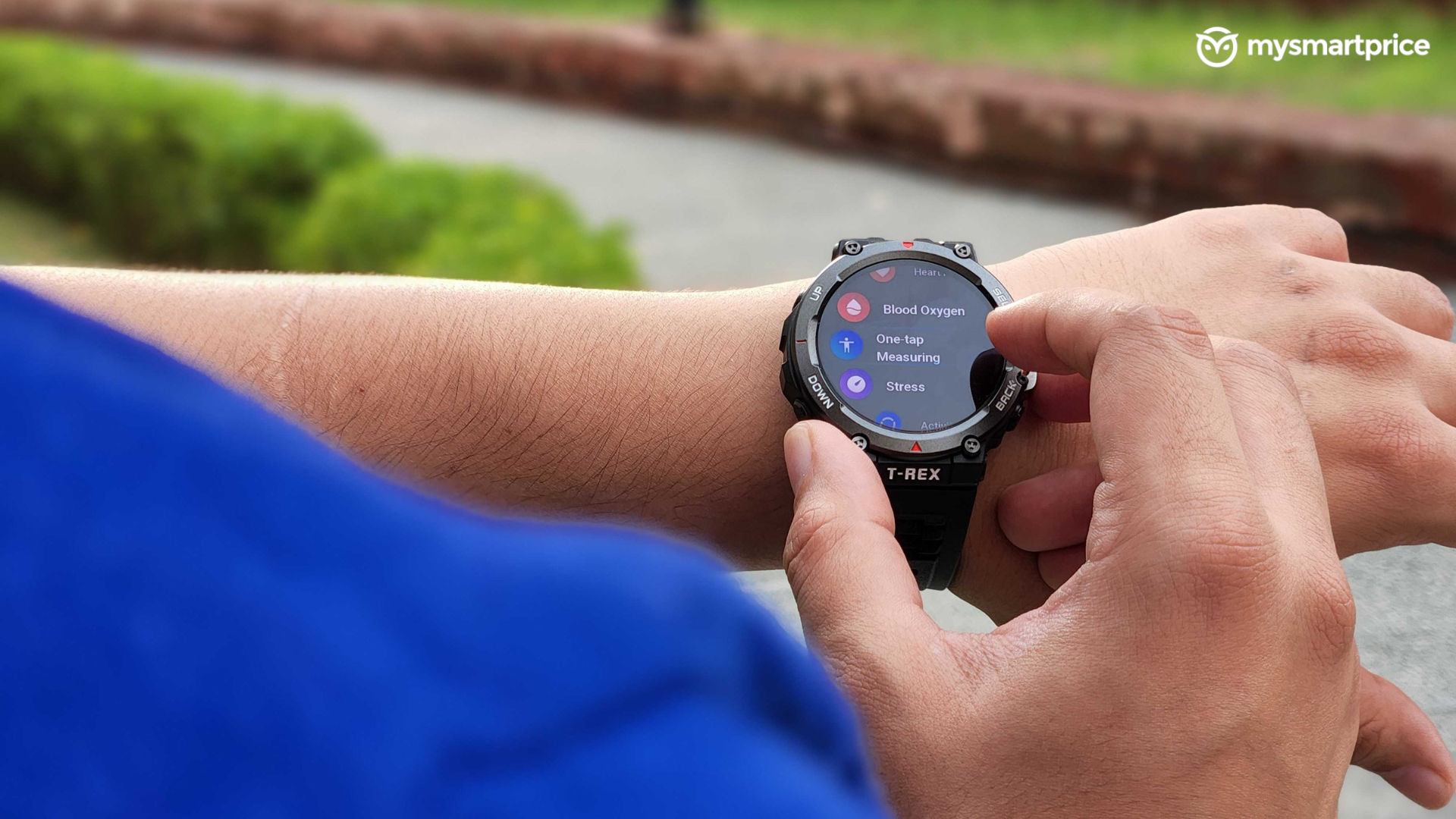 The display here is extremely responsive, and it's a joy to navigate through screens without ever being hesitant about what's getting registered, which is a great thing if you're trekking or adventuring because you got so much else happening around you.
But then, having such a responsive display has a downside – it is also sensitive to water. In fact, it goes bonkers when water is sliding off the display because that activates the double-tap gesture. Then, you're in for a ride because the droplets dance around, tapping random things on display. And if your hands are wet too, good luck stopping this madness. Although it's waterproof, this isn't a watch you want to take to the shower with you.
Despite being such a gorgeous display, the sunlight legibility is barely enough that you can read stuff on the screen. Often, we had to double-check if the brightness was turned all the way up, because it can get sunny here in Delhi.
But, you'll love this watch's display if you're into tacky watch faces because the animated watch faces, albeit battery intensive, look very realistic. It can hold up to nine watch faces at a time, but you can download some more from the App Store through the Zepp app. Unfortunately, the watch faces in the store are loud too, and we couldn't find anything even remotely subtle.
Amazfit T-Rex 2 Review: Features & app
The T-Rex 2 is tech-ed up to its gills, but its execution can sometimes be choppy. It has the new BioTracker 3.0 with six photodiodes that was first introduced in the Amazfit GTR 3 and GTS 3 series. In simple terms, the green and red sensors on the bottom are capable of monitoring your heart rate, blood oxygen levels, stress levels, and breathing rate together within 45 seconds in a single tap. This is a great feature, except the heart rate measurement isn't that accurate, and it is the backbone of the other three vitals measured by the sensor.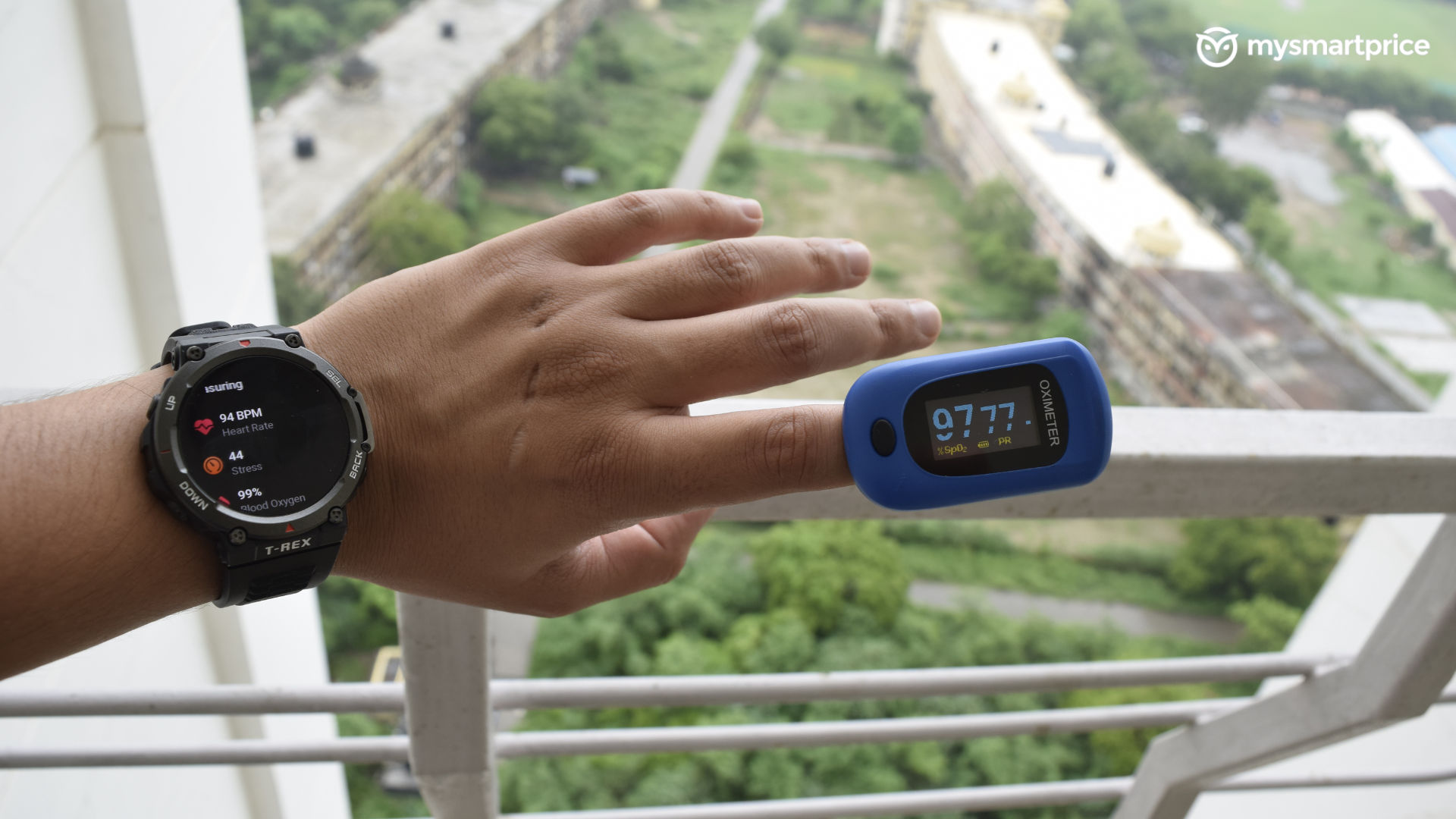 As mentioned before, the T-Rex 2 has more than 150 sports modes, and many of these have their customised interfaces that we quite liked. There are also dedicated modes for board games like chess, which is hilarious, but it makes total sense when you're having an intense late-game battle with your opponent.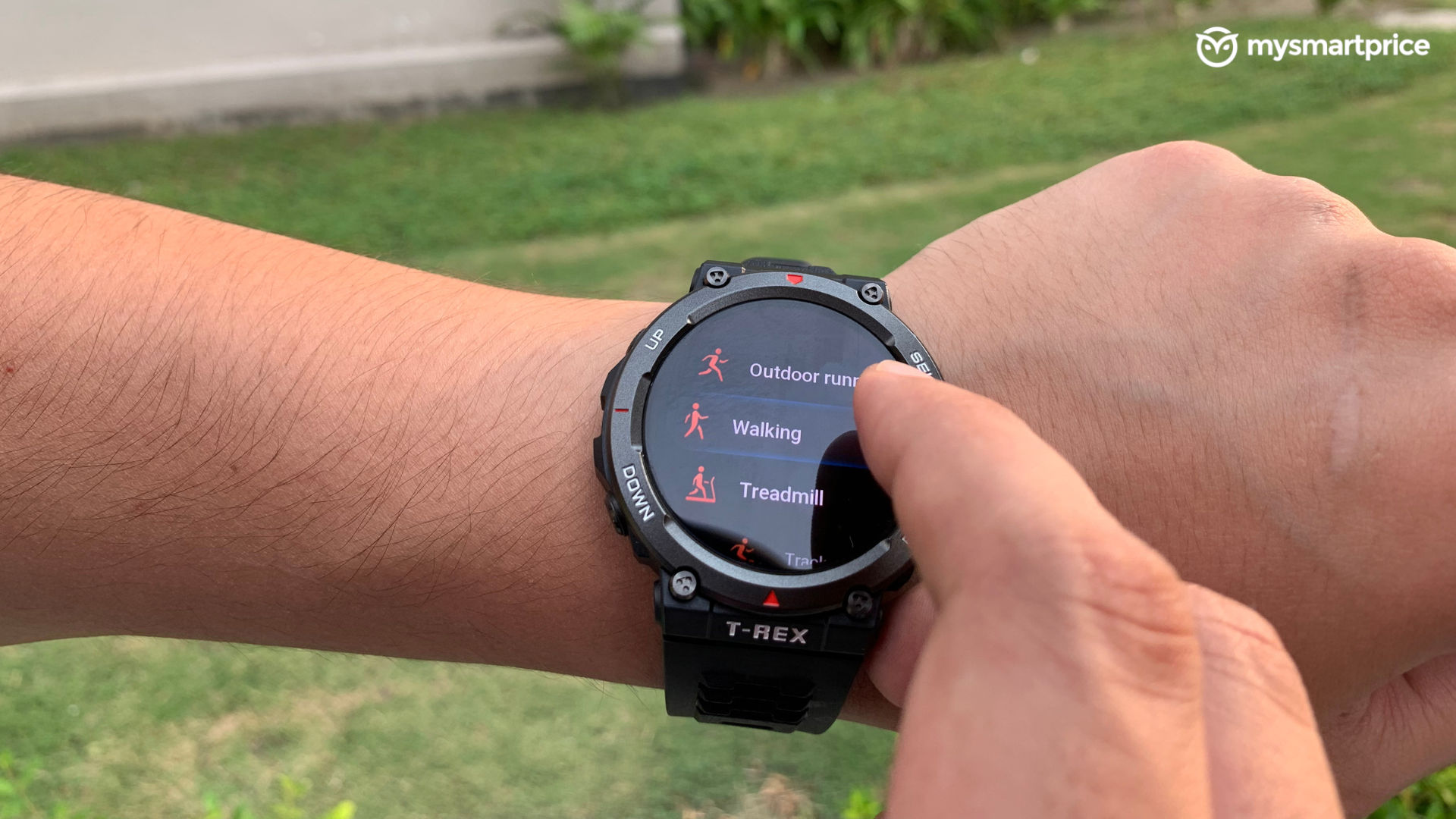 One good thing about the T-Rex 2 is automatic activity recognition, so it can automatically start a workout when it senses movements on your wrists. It can be activated by mistake as well, but don't worry about missing it because the activation of this is accompanied by a loud beep and vibration.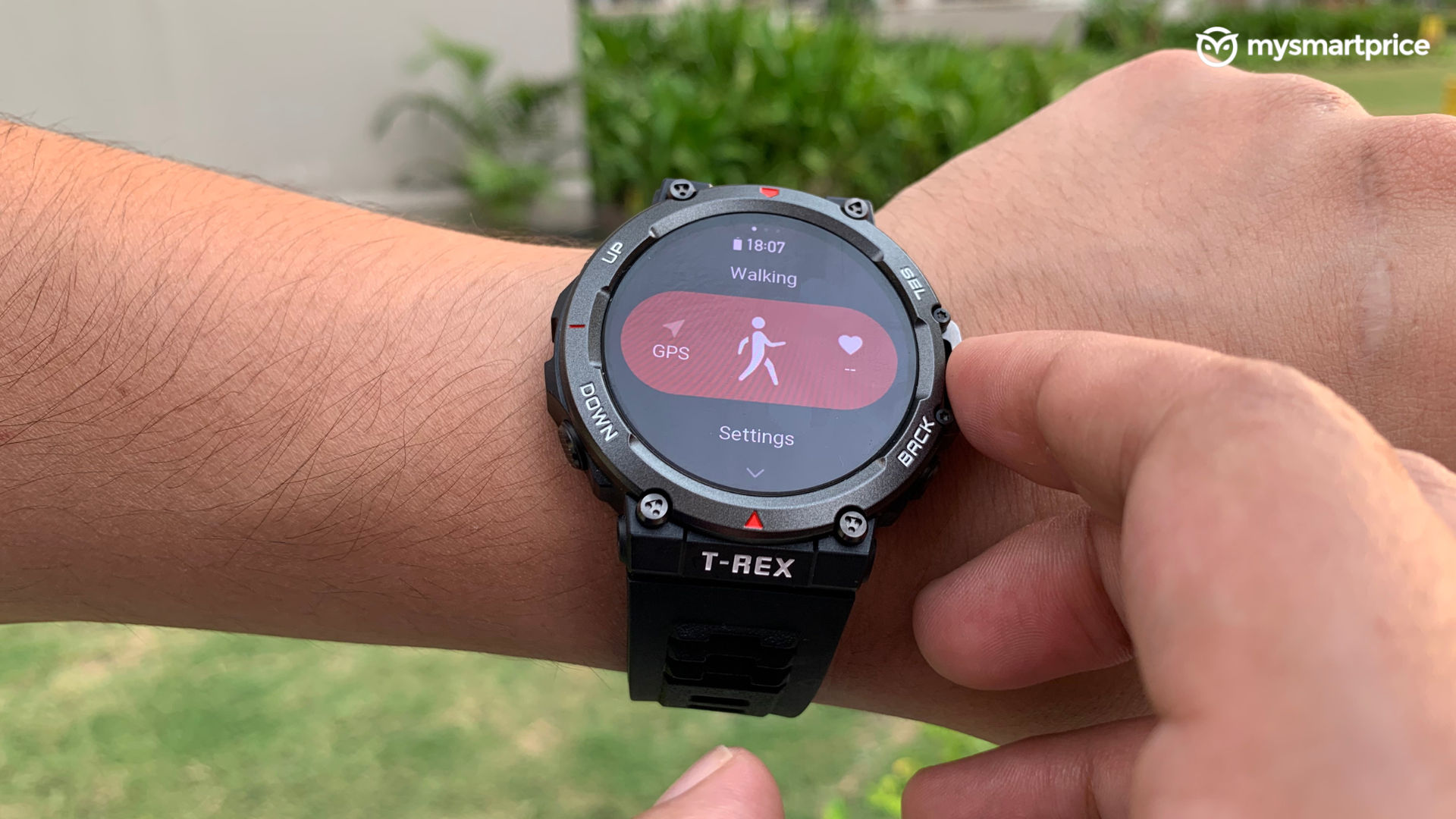 Speaking of which, the T-Rex 2 has speakers, but no microphones or built-in smart assistant, which is shocking considering the price of the watch.
As is the case with almost all Amazfit fitness accessories, the T-Rex 2 also has PAI, or 'personal activity intelligence'. It's essentially a week-long rating system that gives you an idea of your fitness. You earn PAI points by performing cardio exercises, and Amazfit recommends gathering 100 PAI points every week for a healthy lifestyle. While we can't say much about the efficacy of this system, it is a good motivation for being active nevertheless because it's a stepping stone to getting yourself out of a sedentary lifestyle.
Outdoor activities can be accompanied by the T-Rex's in-built GPS system, and it can somewhat help you navigate back to where you started, but without any satellite view. You can use the GPS without taking your phone out with you. It takes about 10 seconds for the GPS to find satellite signals.
Step tracking is extremely accurate, though, and it gave exactly 100 steps in our manual 100-step counting test. We repeated the test thrice, and it was still accurate.
Other features within the watch include sleep tracking, compass, barometer, weather, music control, setting alarms and calendar notifications.
Sleep tracking was at par with the Garmin Instinct 2S, as we wore both of these watches on either hand before sleeping.
Coming down to the app, it's seemingly easy to use once you get used to it. It doesn't ape Apple's Health app interface and is relatively easy to use. At the same time, it is capable of showing you extremely detailed information like stride, cadence and elevation of your outdoor runs and walks. We loved this level of attention to detail because it can be of use to an athlete. The interface is ever so slightly easier to use than that of Garmin, so this is a huge compliment to Amazfit for fixing their bugs in the last two years. The touch screen also gives this watch an edge over the Instinct 2-series in terms of ease of UI navigation.
There are a few bugs, however. First, the notification system in the watch is annoying because sometimes, when you receive a call, the watch keeps vibrating and displaying the call prompting even after you have picked up the call on your phone. Also, when you clear individual notifications from the notification shade in the phone, the watch vibrates and prompts you for the next recent notification. This is really, really irritating. Imagine taking a really important call with a vibrating watch on your wrist.
Amazfit T-Rex 2 Review: Battery life and charging
The T-Rex 2 can last two weeks easily without breaking a sweat. We know this because, at the end of our 10-day testing period, the watch still had 30% juice left, which is insane. You can take a major chunk off that figure by enabling the always-on display.
We had to deliberately kill it by faking a workout session on the watch so that we could test the charging times. Charging the watch entirely takes about an hour, which is impressive given how long it lasts. This is the shining example of how having an efficient SoC and OS can give devices amazing battery life despite sporting giant AMOLED displays. Charging can only be done via the bundled magnetic pogo connector, though, so there's no Qi wireless charging here.
Amazfit T-Rex 2 Review: Verdict
The Amazfit T-Rex 2 is a unique watch for its price, considering the kind of features it packs, and it can confuse many buyers for its positioning. But here's how you can break it down:
It can do nearly anything the Garmin Instinct 2-series can do at just a fraction of its price, including providing military-grade durability. Yes, sometimes it can lack the finesse of the Instinct 2, but hey, you have a gorgeous AMOLED touch screen to interact with. The quirks and lack of calling and voice assistants can be the biggest cons to this watch, but if you think you are a high-functioning athlete on a budget who wants to sweat hard while knowing how, where, and when you sweat, this is the one for you. This isn't the most elegant smartwatch on the market, for that, you may want to look at what Samsung has in store for you.