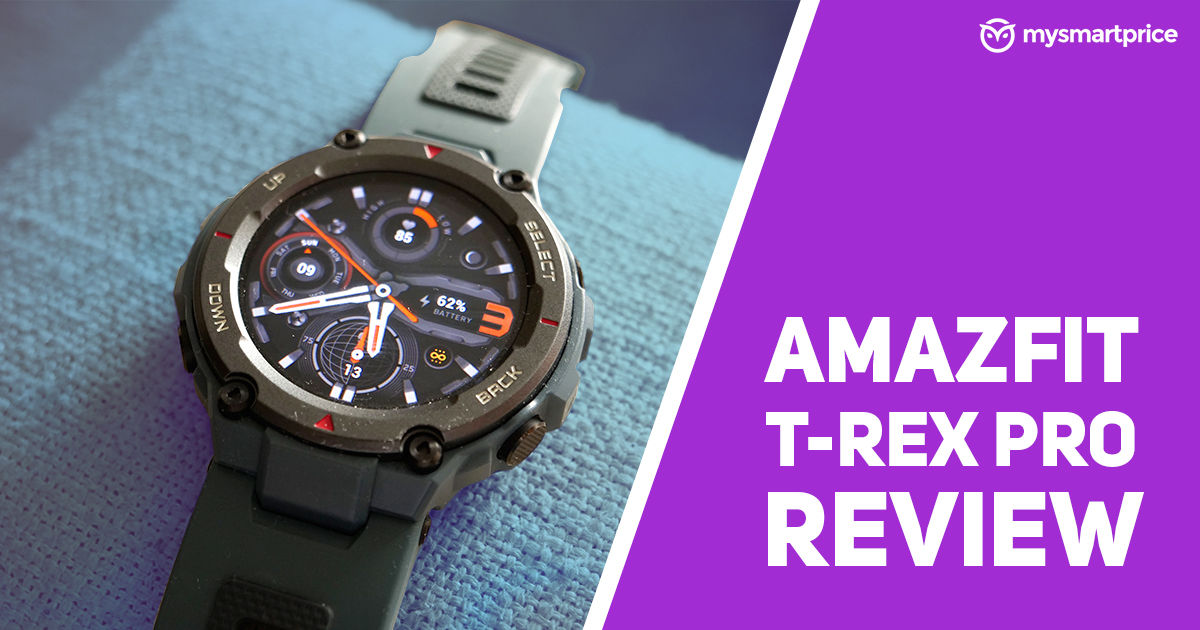 The T-Rex Pro is a very unique product, meant for the most "outgoing" people. Whether it is your 'outgoing' personality and you need a product that truly stands out from the Apple Watch lookalikes flooding the smartwatch space. Or just the fact that you like going out a lot, specifically for adventure sports or other strenuous activities that require your smartwatch to be as rugged as the terrain you're expecting to conquer. I have spent almost a month with Amazfit's latest premium smartwatch and there are a lot of good and bad things you need to know about if you're planning on buying this product.
Amazfit T-Rex Pro
Rs 12,999
Software Experience
6.5/10
Battery Performance
7.0/10
What Is Good?
Rugged Build
Distinctive Looks
All the Fitness features
Polished App Experience
What Is Bad?
Might be too bulky for some
No Always-On SpO2
Lacks any real Smart Features
Cheaper Options can do all the same work
Amazfit T-Rex Pro Review: Design & Build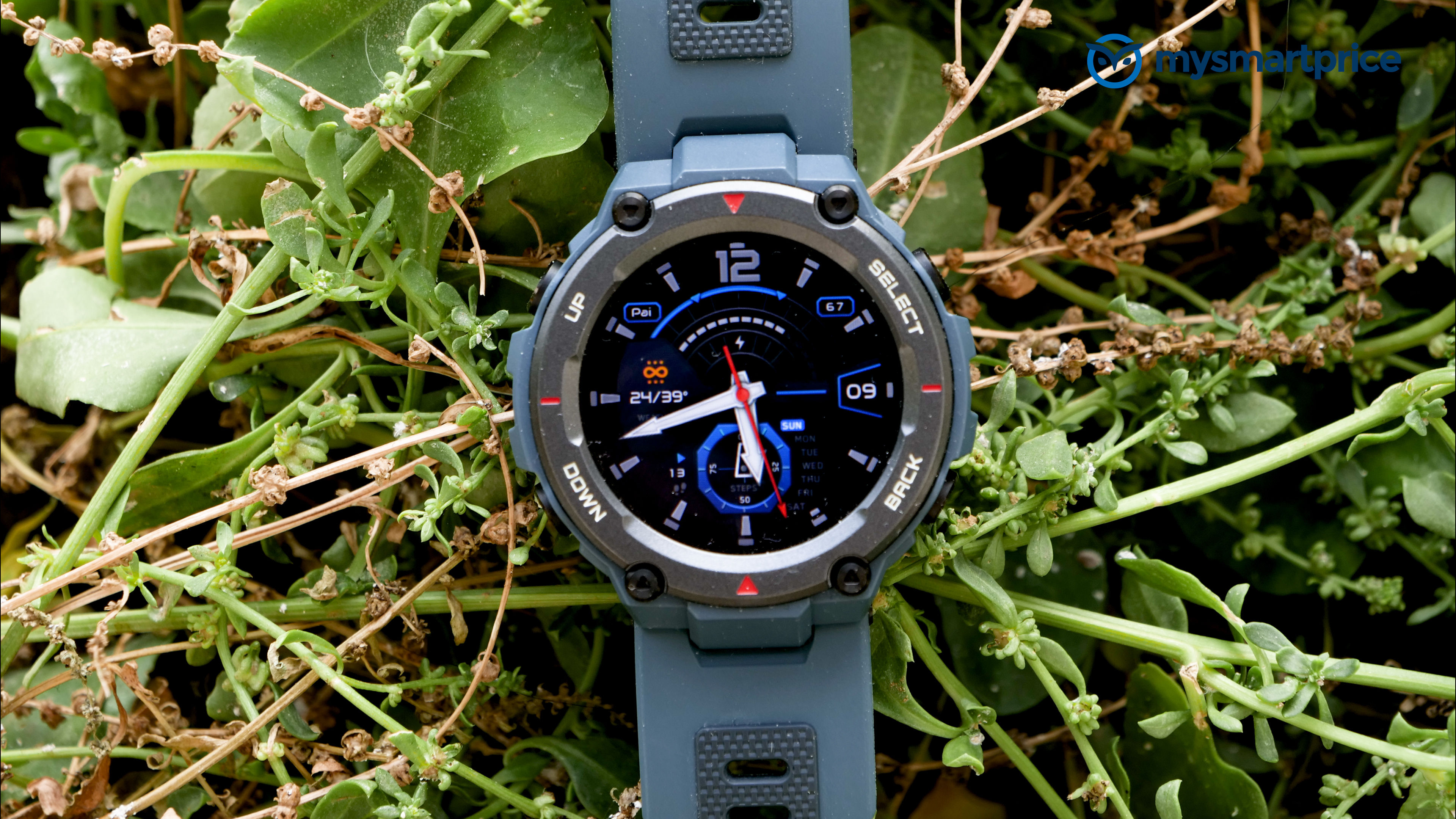 Probably the most important factor that'll make you buy or not buy this watch is its design. Like I said this watch is meant for rough outdoor use, and it surely looks the part. Very similar to the old-school Casio G-Shock watches, this one has a bulky central module flanked by 4 physical buttons and a comfortable silicone strap. Amazfit has made this watch pass through 15 Military Standard Test including extreme temperatures, humidity and shock tests among others. There's also IP68 Rating with 10ATM rating, meaning this watch can survive underwater much longer than us.
What I liked about the design is that there is a raised boundary around the screen meaning even if you smash your hand into a wall, or just decide to drop your watch face first, the screen should have some protection from the impact. Also credit where it's due, at ~60 grams, the T Rex pro isn't substantially heavier than your regular smartwatches.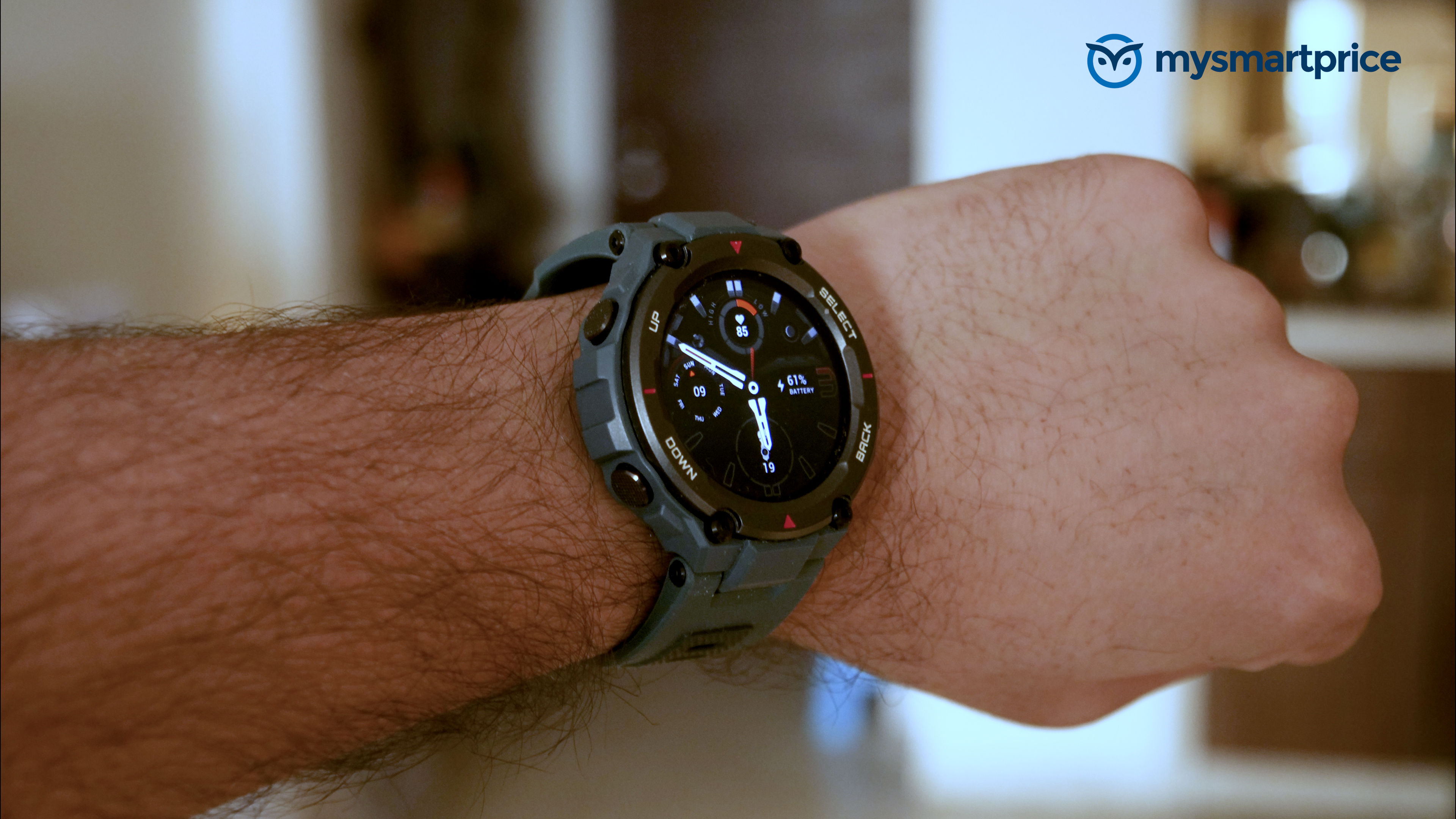 About comfort now, I am a 6'2″ bloke with an average build and the watch rested fairly comfortably on my left wrist. In fact, I could easily wear it to bed. However, everyone else in my house felt that the watch was too big for their hands and weren't open to the idea of wearing it 24×7. Also, Like I said it might be the case that this design just doesn't work for you, especially if you're looking for a wearable that pairs well with formal clothing, business attire etc. So these are few things you must figure out for yourself.
Amazfit T-Rex Pro Review: Display & UI
What's really easy to figure out here is the time, because the 1.3-inch AMOLED display with 360×360 pixels is a work of art. It has punchy colours and enough brightness to be visible even in direct sunlight. Plus, the watch has Always-ON display options, which definitely adds to the aesthetic appeal of the watch even with screen off. The touch screen experience is at par with other wearables in this category and navigating through the UI is done via swipes in all directions.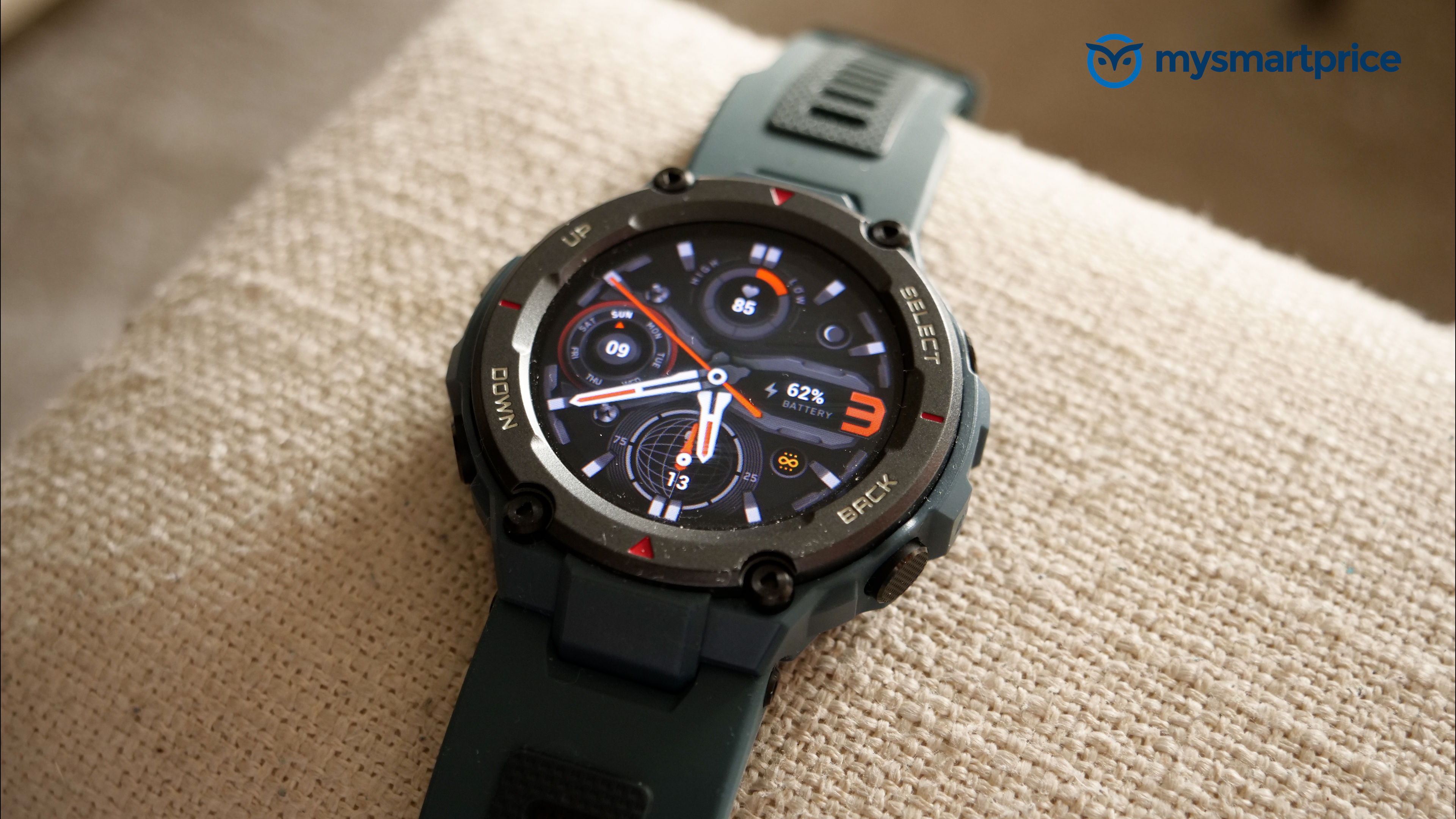 Alternatively, you can make use of the 4 physical buttons. However more often than not, their functionality feels redundant. I would have loved the option to customize these buttons for shortcuts, or maybe just better mapping to different functions based on context. For example, the UP and DOWN buttons can move you through a menu, which you can anyway do by swipe ups, but you can't use these buttons to control music volume, screen brightness and so on.
Amazfit T-Rex Pro Review: Features & Fitness Tracking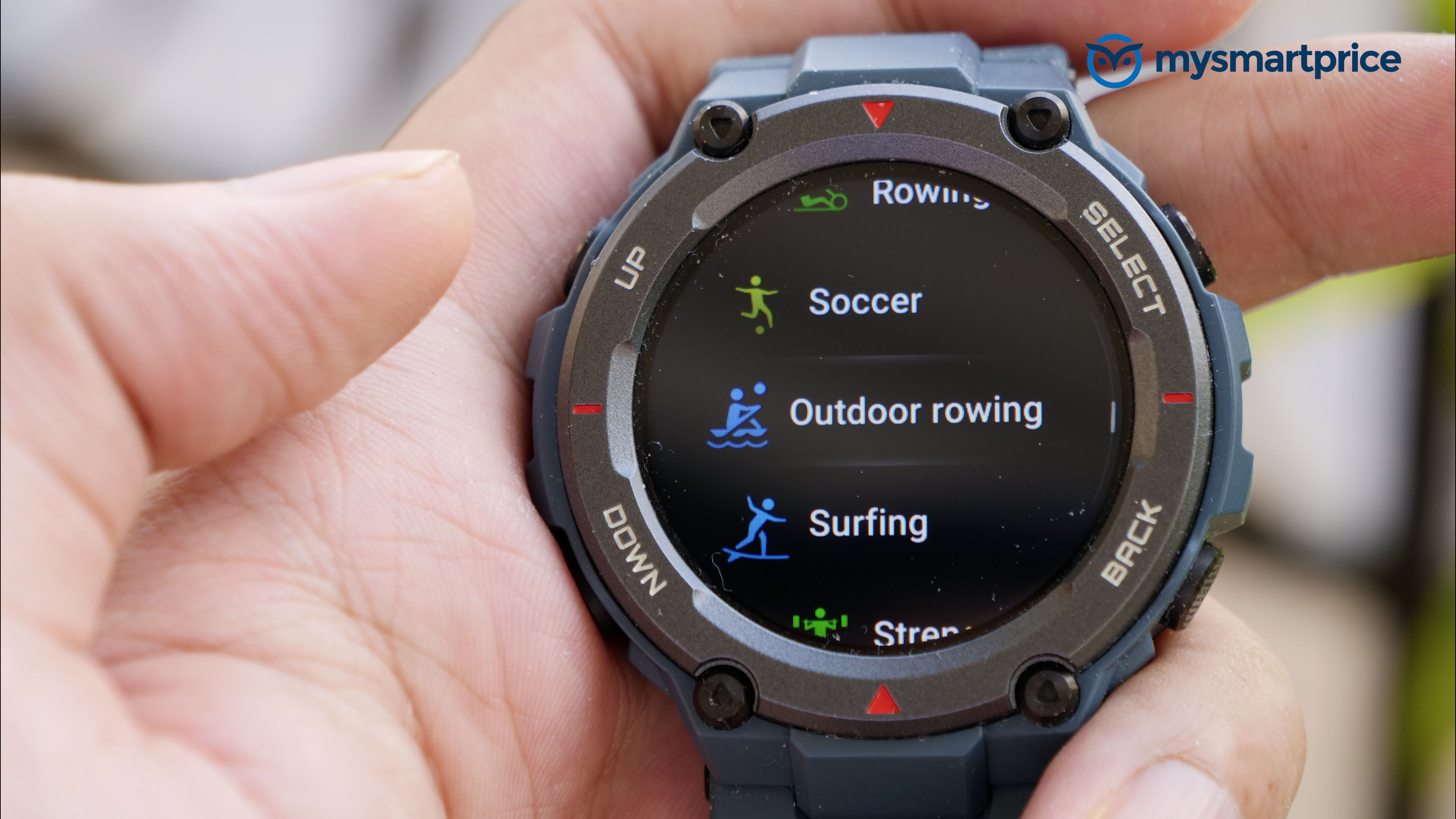 The basic experience and feature set you get here is very much similar to fitness trackers, more than a smartwatch. You can track all your activity and heart rate data throughout the day, the SPO2 (Blood Oxygen) monitoring has to be triggered manually though, which is a bummer. If Amazfit could just activate that via a software update, that'll be great. Any who, regarding fitness tracking, you get about 100 different workout modes here, plus there is a built-in GPS so you don't need to carry your phone along for outdoor workouts. Talking about outdoors, there's also a built-in compass and altimeter here. The steps tracking was mostly accurate, however I did feel that the watch overestimated the calories burnt by almost 2x most of the times. I can't really be burning 450+ calories after a 20 minute dance workout, can I?

Another irritating thing is that once you start a workout, you can't leave that screen without ending it. So you can't check notifications, or even change music tracks while in a workout. That kind of defeats the purpose of having these features on a smart wearable. This thing needs a software fix soon. The Sleep tracking worked as expected, although I still think Huawei's sleep tracking is untouchable so far. As for the rest of the features, you get the basic stuff like Timer, Flashlight, Alarms and Notification alerts. But you can't do anything with the notifications, which is something I'd like the next crop of smartwatches to really work on. Since this is Amazfit's proprietary UI, there's also no scope for installing third-party apps as far as I know.
Amazfit T-Rex Pro Review: App Experience & Battery
The T-Rex Pro connects to your smartphone (Android or iOS) via the Zepp App. It's a well laid-out health companion with access to detailed charts about all your activity data, workout records and settings to tweak your watch. The Bluetooth connection was mostly rock solid and data sync between the watch and the app happened seamlessly. No complaints overall. There's also quite a few watch faces you can select for the watch here.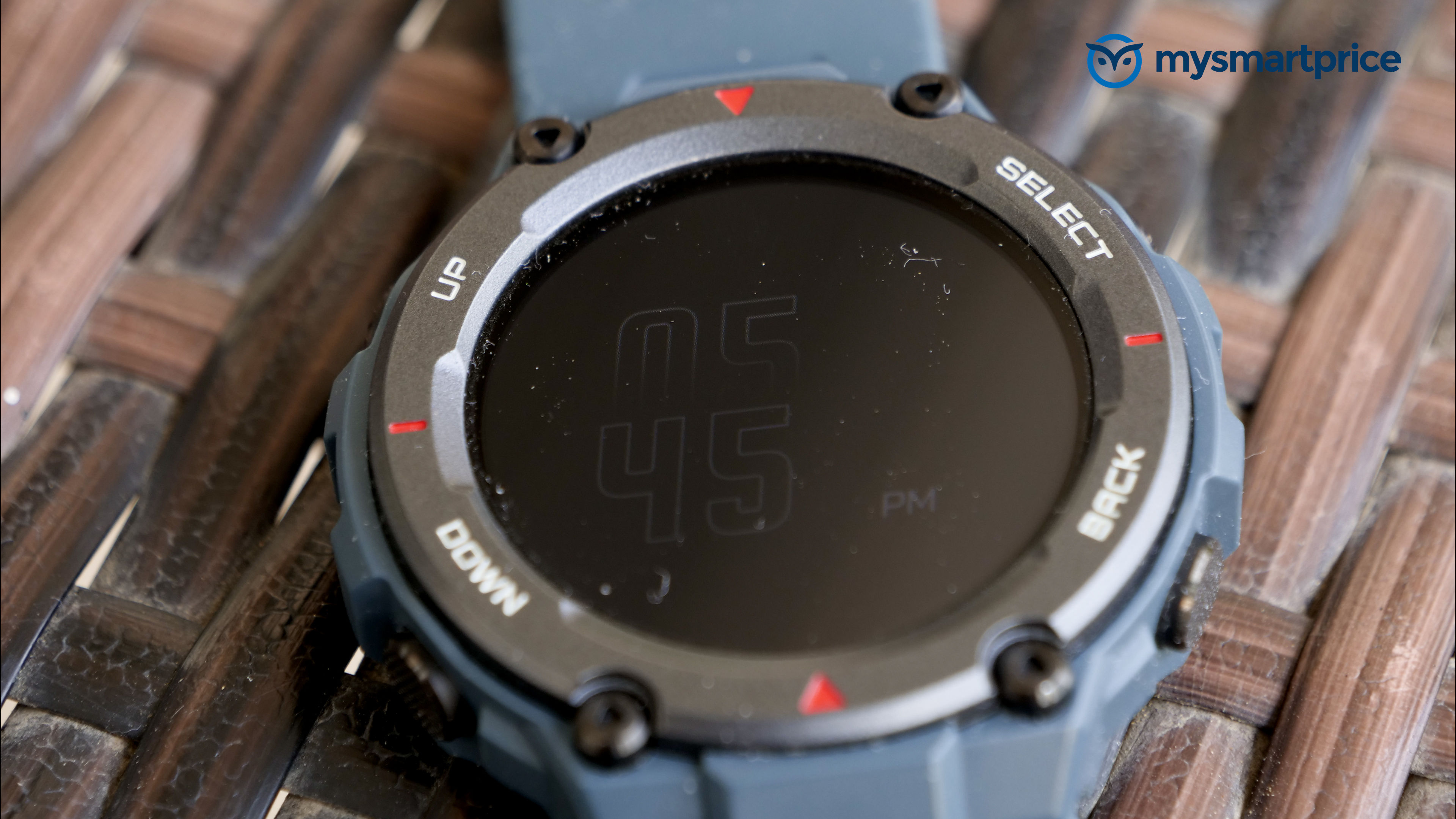 As far the battery life goes, I was using the watch with AOD on, and it gave me about 5 days of battery life on a single charge. You can get much better battery life if you switch off the AOD, but I wish this watch gave at least an entire week of usage with AOD. Anyway, the watch takes about an hour to charge from 0 to 100 with the included magnetic charging dock.
Amazfit T-Rex Pro Review: Pricing & Verdict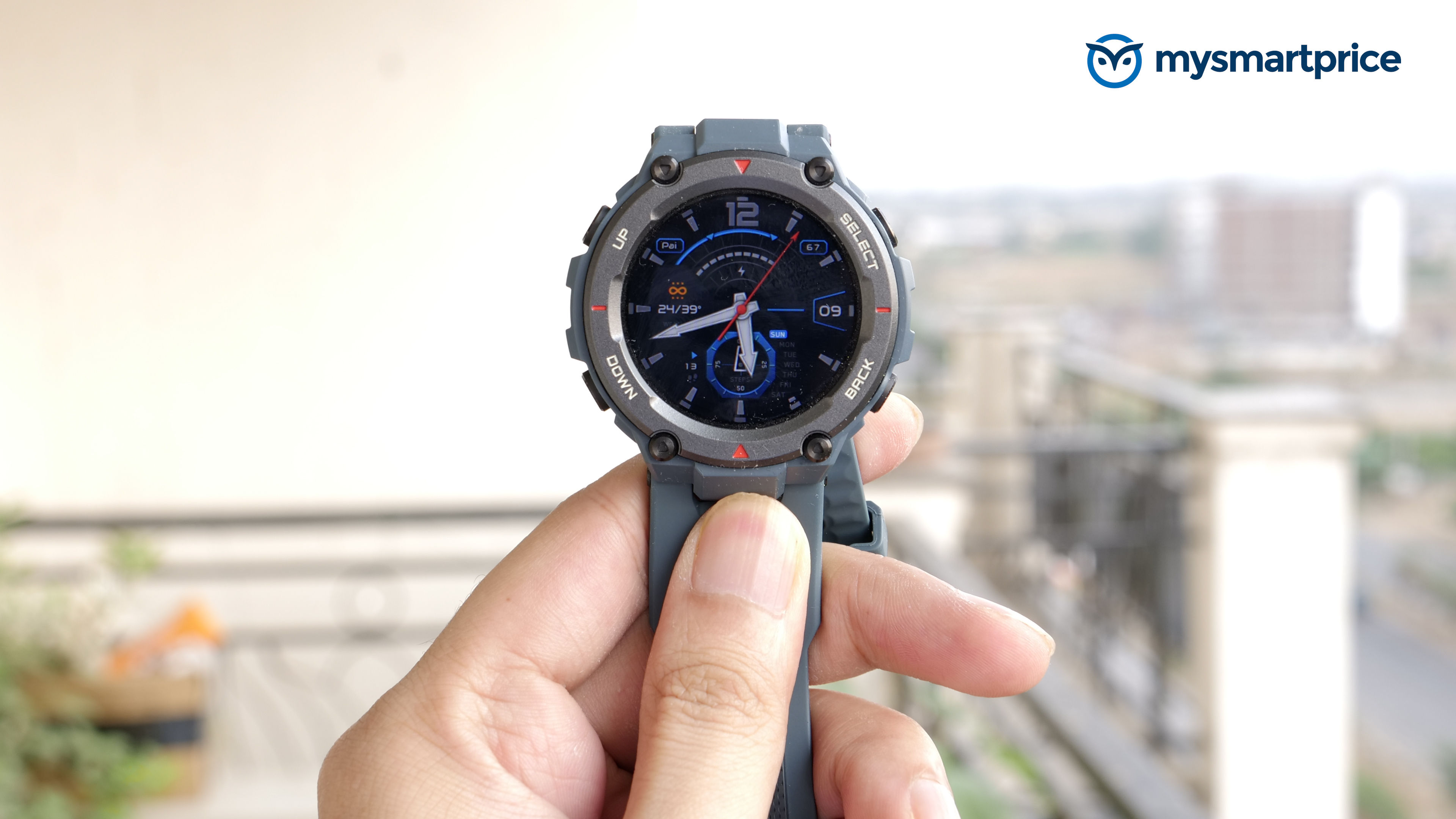 At 12,999 the Amazfit T-Rex Pro competes with the likes of Huawei Watch GT series, Realme Watch S Pro and Mi Watch, along with its own siblings the Amazfit Stratos 3 and Amazfit GTR 2. All of these options are very evenly matched when it comes to basic functionalities and tracking options. Like I said in the very beginning, the design of this watch is probably the most crucial thing to consider for your purchase decision. If you are convinced you don't need the extra ruggedness and/or want a watch that blends more seamlessly with your daily life, the GTR2 gives you basically the same usage experience in a sleeker, more contemporary design.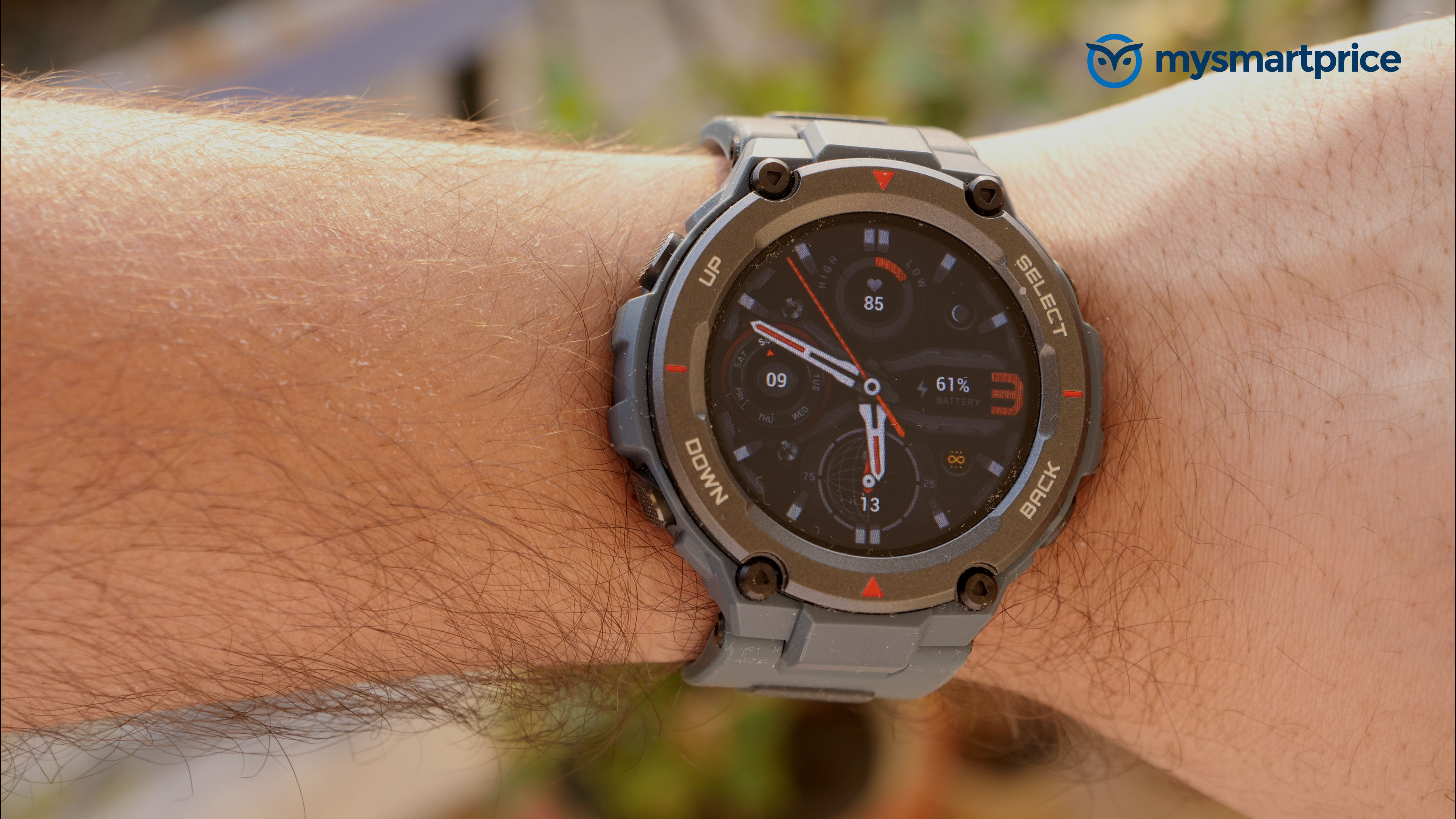 My biggest gripe with the T-Rex Pro is that the basic functionalities I got here, I can easily get on a smartband costing less than half the money. It'd have been great if this watch had at least some extra benefits, like offline music playback, answering calls, replying to notifications or access to smart assistant. If you're looking for these kind of proper smartwatch features, you can look at the Galaxy Watches, or the OPPO Watch, which are priced not too far away. However, if you're already planning for your next hiking trips once the lockdowns lift, or just need a watch that can take some beating, the T-Rex Pro is a worthy companion.