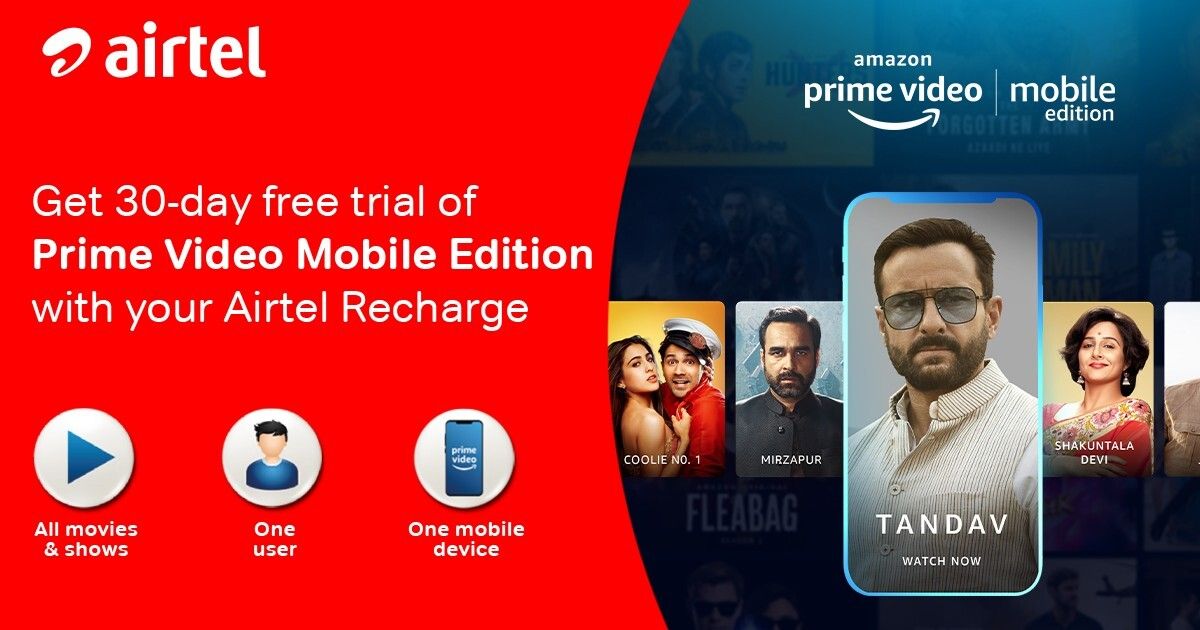 Following Netflix's example, e-commerce giant Amazon has also started a mobile only subscription for its video streaming platform in India. The company started rolling out the mobile only plan, called the Amazon Prime Video Mobile Edition, will provide Standard Definition (SD) quality video streaming on your phone.
It is only available for Airtel customers right now, with a 30-day free trial offer for Airtel Prepaid customers, and Rs. 89 per month after that. That makes it significantly cheaper than Netflix's mobile plan, which also offers SD video but at Rs. 199. Amazon charges Rs. 999 (or Rs. 129 per month) for a full year of Prime, which includes faster deliveries on its e-commerce platform, subscriptions for Prime Music, Prime Video and more.
Benefits of Amazon Prime Video Mobile Edition
Further, under the current partnership with Airtel, the telco's prepaid customers will get some custom plans too. Amazon Prime Video Mobile Edition is bundled with a Rs. 89 recharge, which includes 6GB of data for 28 days. Users can also pay Rs. 299 for access to the mobile only subscription, unlimited national and local voice calls and 1.5GB data per day for 28 days. There are two other recharge packs — a Rs. 131 recharge that allows 30 day access to Prime Video along with faster deliveries and unlimited access to Prime Music. The second is a Rs. 349 prepaid bundle, which gives you everything the Rs. 131 pack does, with 2GB data per day for 28 days.
This also makes India the only country in the world where Amazon offers a mobile-only subscription. That's not surprising though, given the mobile first nature of India's Internet ecosystem. Companies like Amazon, Netflix and other US-based technology giants have had to tailor their services to mobile phones in order to reach more Indian users. Amazon and Netflix both offer 4K playback on their platforms, but have chosen to restrict streaming to SD quality for mobile only plans. That said, users can still choose to access the complete subscription, by paying Rs. 129 per month or Rs. 999 per year and stream at 4K.
If you aren't willing to pay that much, or don't want to lose the other benefits, you could stick to SD too. After all, smartphone screens are smaller and good SD quality content still looks quite good, if not the absolute best.