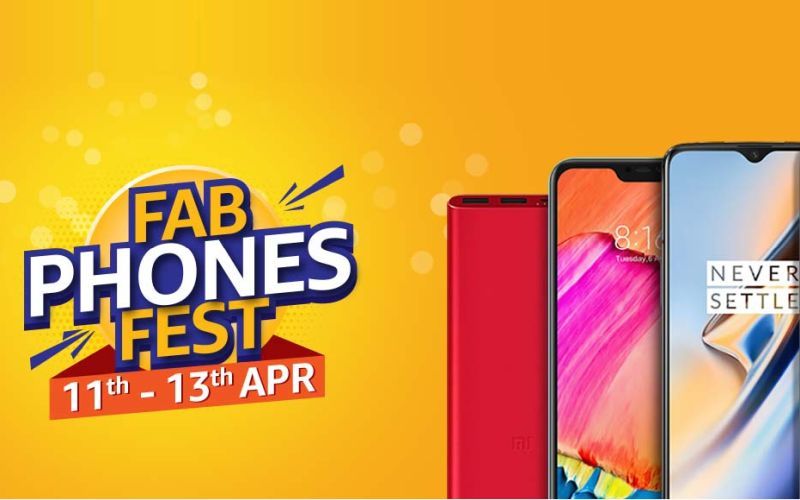 Amazon's Fab Phone Fest is underway, and your favorite phones and smartphone accessories are up for grabs at incredibly discounted prices. The promo period started at midnight of April 11 and will last until 11:59 PM on April 13. This is the first time the OnePlus 6T is getting its price dropped. Other phones that are up for grabs with discounted prices include Realme U1, Mi A2, Redmi 6 Pro, Honor View 20, OPPO F9 Pro, Honor Play and more. Phones such as Apple iPhone X, Samsung Galaxy S9, LG V40, Vivo Nex, OPPO R17 Pro can also be bought with enticing exchange offers.
Those who make purchases via the Prime Now app can even get smartphones delivered to them in less than 2 hours. These users will also get additional 10 percent discounts up to INR 1,000 on select products.
Below are all the top smartphones that can be purchased right now at discounted prices.
Amazon Fab Phone Fest Offers
OnePlus 6T (6GB RAM + 128GB storage)
Discounted Price: INR 34,999
Additional INR 1,500 off with HDFC cards
Apple iPhone X
Discounted Price: INR 73,999
No Cost EMI starting at INR 8,222 per month
Samsung Galaxy S9
Discounted Price: INR 49,990
Up to INR 9,000 off on exchange
Honor View 20
Price: INR 37,999
No Cost EMI starting at INR 4,222 per month
Up to INR 3,000 off on exchange
Vivo V15 Pro
Price: INR 28,990
No Cost EMI starting at INR 2,416 per month
Up to INR 3,000 off on exchange
OPPO F11 Pro
Price INR 24,990
No Cost EMI starting at INR 2,083 per month
Up to INR 2,500 off on exchange
OPPO F9 Pro
Discounted Price: INR 17,990
No Cost EMI starting at INR 2,221 per month
Up to INR 2,500 off on exchange
Xiaomi Mi A2
Discounted Price: INR 11,999
Up to INR 2,000 off on exchange
Samsung Galaxy M20
Now on Open Sale
Price: INR 10,990
No Cost EMI starting at INR 1,831 per month
Samsung Galaxy M10
Now on Open Sale
Price: INR 7,990
No Cost EMI starting at INR 1,331 per month
Realme U1
Discounted Price INR 8,999
No Cost EMI starting at INR 1,500 per month
Additional INR 1,000 discount on all bank credit/debit cards
Huawei Y9 (2019)
Discounted Price: INR 14,990
No Cost EMI starting at INR 4,996 per month
Honor Play
Discounted Price INR 13,999
Honor 8X
Discounted Price: INR 12,999
Vivo Y83 Pro
Price: INR 10,990
Amazon Pay cashback of INR 1,000 on prepaid orders
Redmi Y2
Discounted Price: INR 7,999
Redmi 6 Pro
Discounted Price: INR 7,999
Redmi 6A
Discounted Price: INR 5,499
Additional INR 500 Discount with HDFC Cards