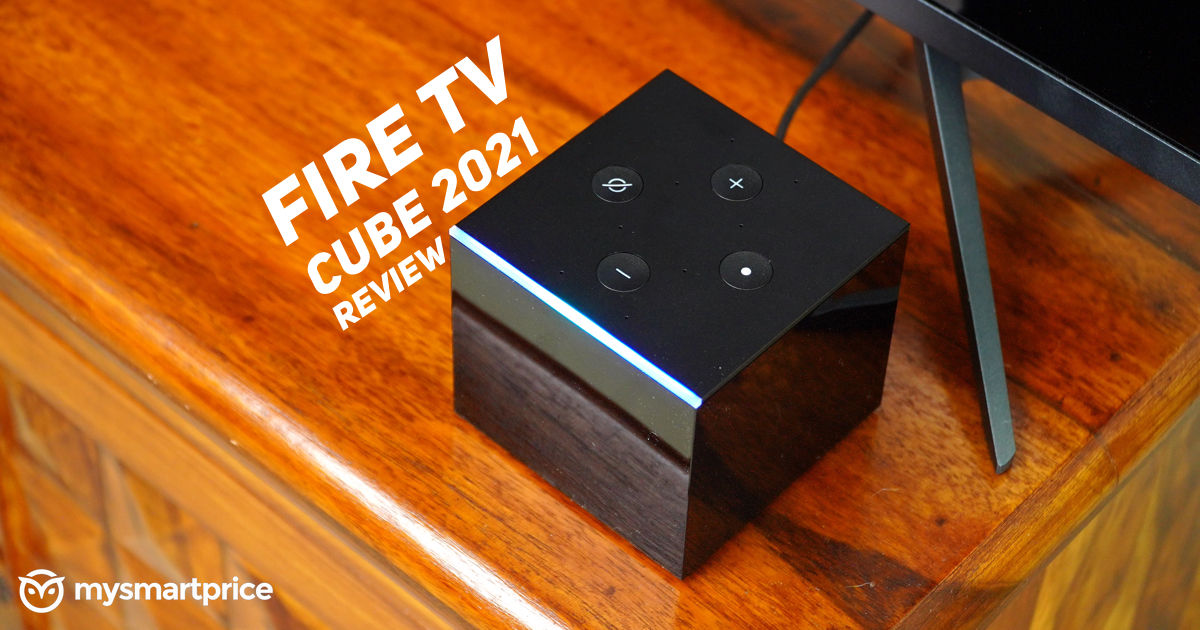 It's been quite a while since Amazon launched its first Fire TV media streaming device. Seven years, to be precise. We've seen multiple versions of the Fire TV box, Fire TV Stick, and the Fire TV Cube by now. Why am I taking you through a history lesson? Because despite existing for so long, it wasn't until the recently launched Fire TV Cube 2021 variant that I actually managed to test one thoroughly. So, I am glad I am going into this blind without too many preconceived notions.
And, as our YouTube star MKBHD succinctly puts it – "I have some thoughts."
Let's do a detailed comprehensive review of the Fire TV Cube largely from an India perspective and compare it against the newly-launched Apple TV 4K HDR while we are at it.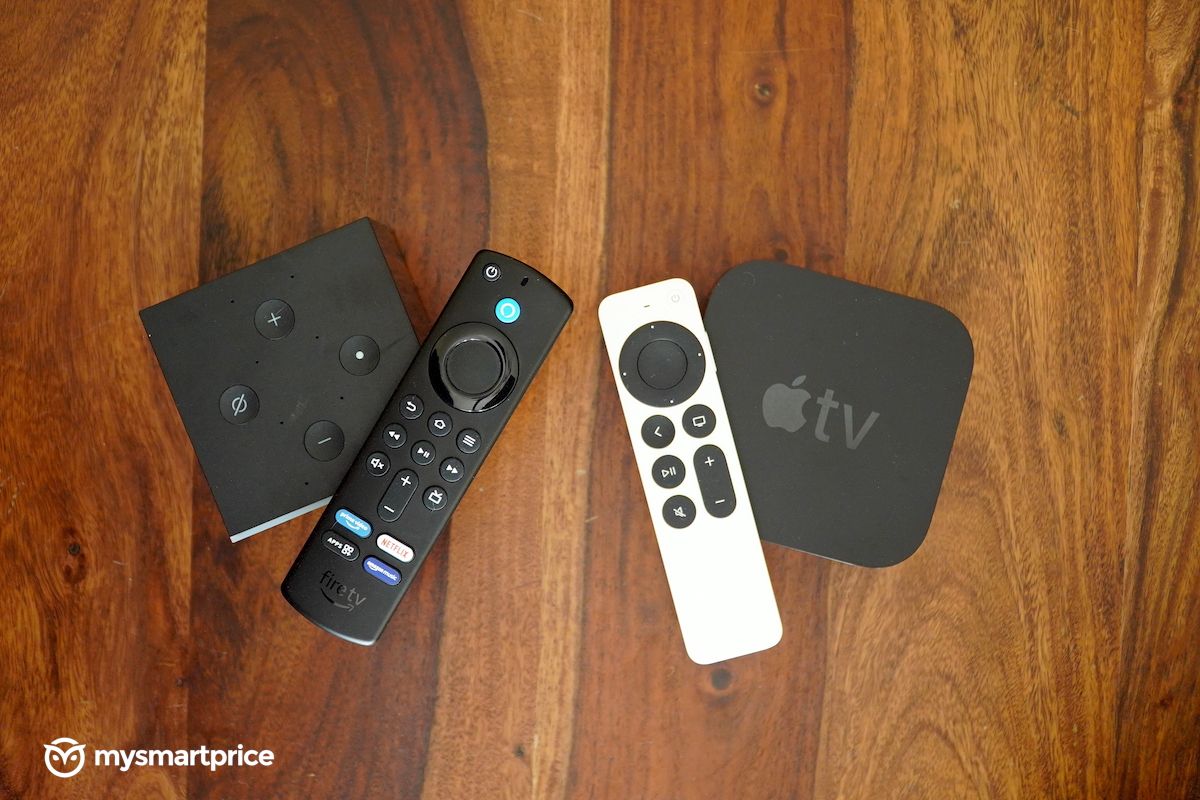 Design and Box Contents
Let's start with an odd omission, the Fire TV Cube's box doesn't contain an HDMI cable. The same is true for the Apple TV's box contents as well. I find it really weird that both Amazon and Apple didn't find it necessary to add a good quality HDMI cable with their expensive media streaming box.Also, when you are buying one ensure that you buy a Premium HDMI cable with Chroma 4:2:2 Upsampling support for the best picture quality. But, with the Fire TV Cube, you do get the Alexa Voice Remote, an IR extender cable for controlling your Set-Top Box or any other piece of tech that makes use of infrared for communication, an ethernet adapter, and a power adapter.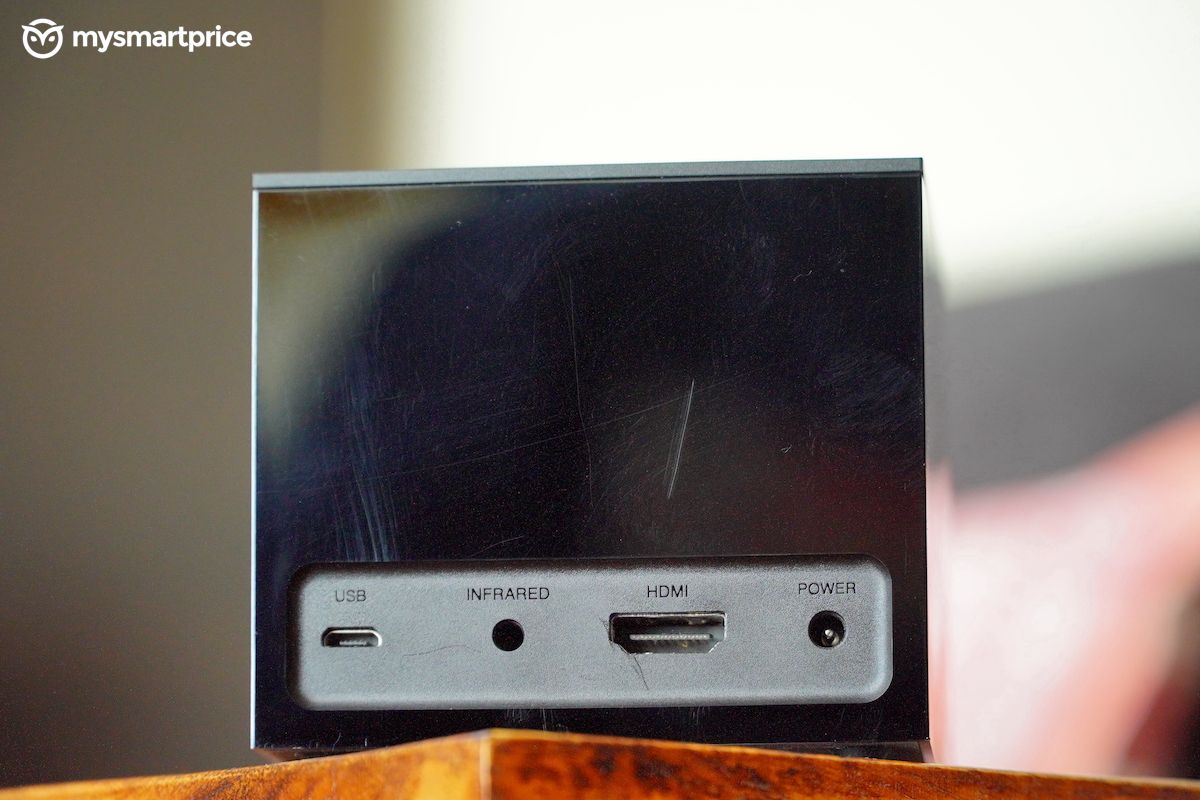 With the Apple TV, you get the new upgraded Siri remote, a Type-C to lightning cable, and a power adapter. The ethernet port is available on the Apple TV's body itself, so a separate attachment is not required. But yes, the addition of the infrared adapter to unify all your media devices to be controlled by a single remote is actually a deft touch by Amazon. More about this later.
Amazon wasn't kidding when it named this device Fire TV Cube. This Black cube-shaped structure uses glossy plastic on all the sides except for the top and the bottom, where you will find a matte finish. This glossy plastic design attracts a lot of dust and, in my case, Mhysa's hair too.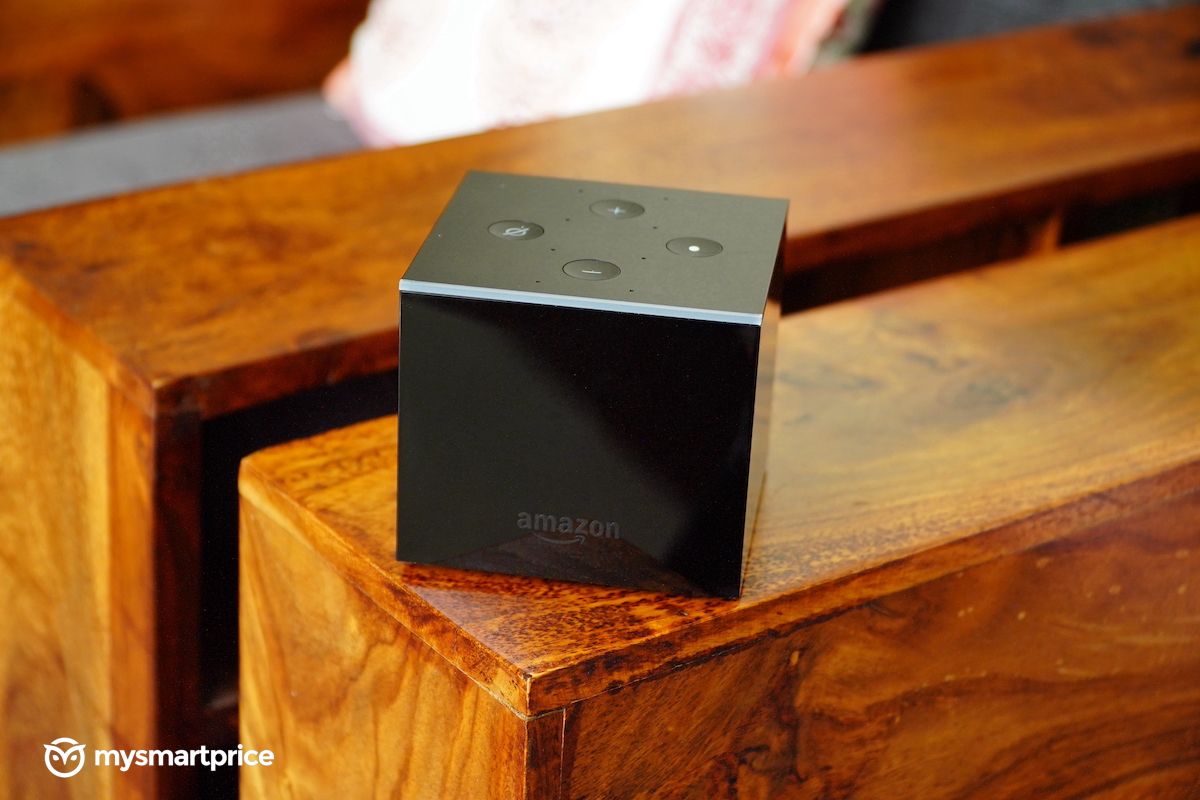 As for the ports, you get a Micro-USB port for the Ethernet adapter, the IR port, an HDMI port, and the power adapter port. There are a few buttons on the top for the volume control, to switch off the mic, and to wake Alexa. Plus, there's a strip of light that glows when you wake it up for the Alexa command. The Apple TV 4K, on the other hand, is pretty threadbare in comparison. Not much to see apart from the big Apple logo up top and HDMI, Ethernet, and Power Supply ports on the rear.
The Fire TV Cube is pretty compact but is taller than the Apple TV 4K. In fact, both the boxes have a nondescript design that will undoubtedly fade away from your vision while watching TV. There's a reason why most media players are Black in colour. You don't want them to distract you.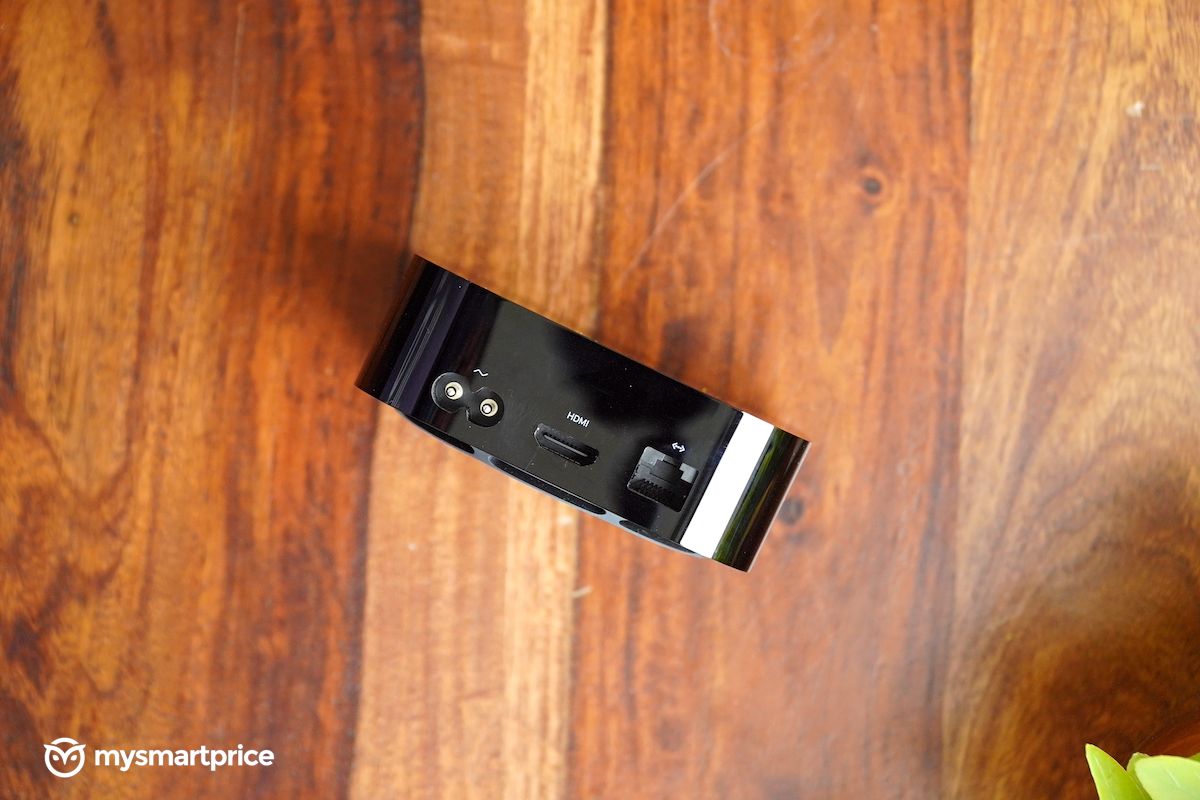 Remote
The remote that you get with the Fire TV Cube is the 3rd Generation Alexa Voice Remote. It is a Black colour all plastic unit that has every single button you'd need. From a dedicated button to invoke the Alexa voice command to specific Hotkeys for Prime Video, Netflix, and Amazon Music, Amazon leaves no stone unturned. But, the real magic is actually being able to control your TV with this remote. Unfortunately, I couldn't get the Alexa Voice Remote to sync with my OnePlus TV U1S' remote because it is a Bluetooth remote. You need a remote with infrared capabilities.
For what it is worth, you can still use your TV remote to control the Fire TV Cube thanks to CEC support. But, the reason why the Alexa Voice Remote is so handy is because it can not only connect to your smart TV but also to your Media Centre, PlayStation, Set Top Box, and more. Essentially, if you manage to configure everything properly it will work as a universal remote.
In comparison, Apple's Siri remote has been upgraded now and I prefer the new design. The glass touchpad remote that Apple introduced with the first gen Apple TV was too slim. Plus, I know many, including me, have broken the glass touchpad of the remote. Anyway, this one is chunkier but not as much as the Fire TV Cube's remote. It is made entirely of aluminum and has dedicated buttons for Mute, Back, Play/Pause, Power, Home, and Volume Control on the front facia.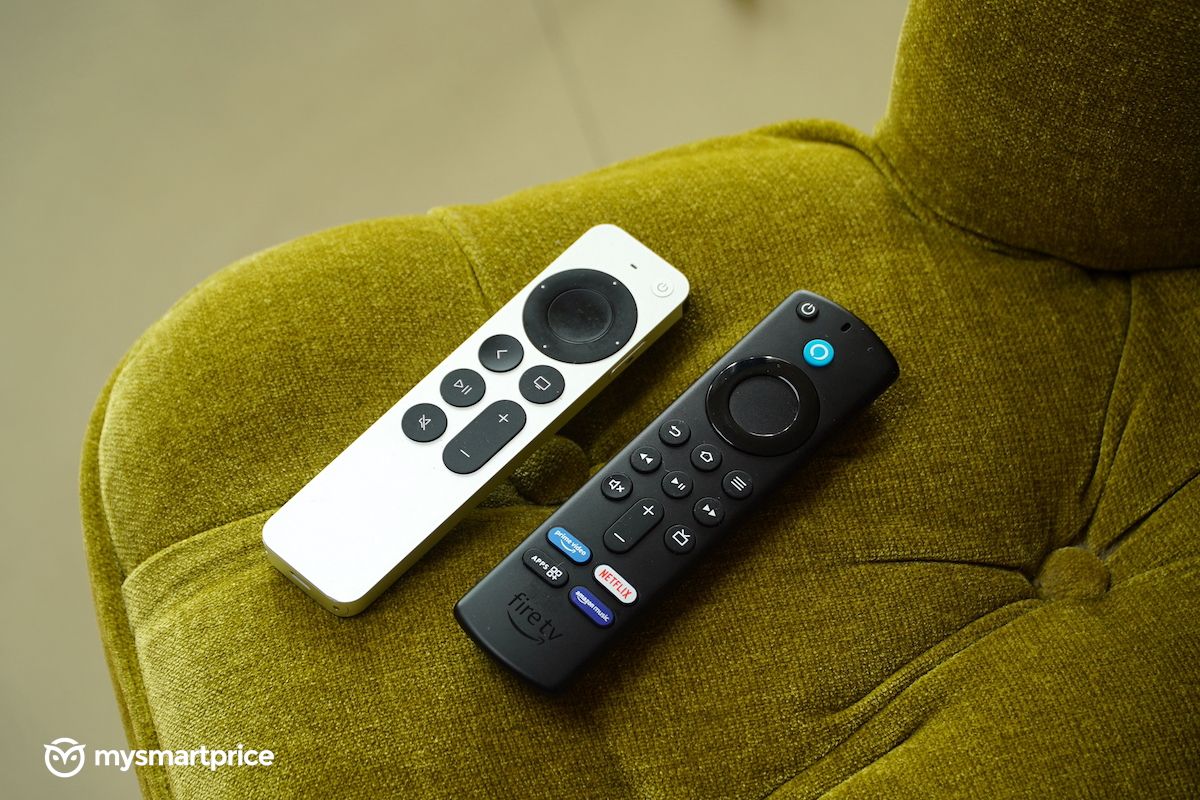 The Siri button is placed on the right edge. But, the headliner is the circular D-Pad that not only works as a clicky navigational tool but also offers a touch surface to glide through the UI. This is quite a fantastic engineering solution to integrate two different interaction mechanisms on the same surface area. Blackberry has done in the past but Apple's implementation feels better. By the way, if you – for some reason – don't like the touchpad, you can switch it off from the Menu. I quite like this new remote and feel it's a very good upgrade.
Between the 3rd Gen Alexa Voice Remote and the new Siri Remote, I feel Apple has a more premium solution which gets your basic functions right. On the contrary, the Alexa remote goes for the kill with its "Universal Remote" ambitions.
Performance, Software, and UI
It goes without saying that compared to a Fire TV stick, the Fire TV Cube is more powerful. It has a Hexa-core processor, 2GB of RAM, and 16GB of internal storage now. All this translates to super fast UI response and app load times. But, the Apple TV 4K with its A12 Bionic chip is unbeatable when it comes to raw power inside a media player.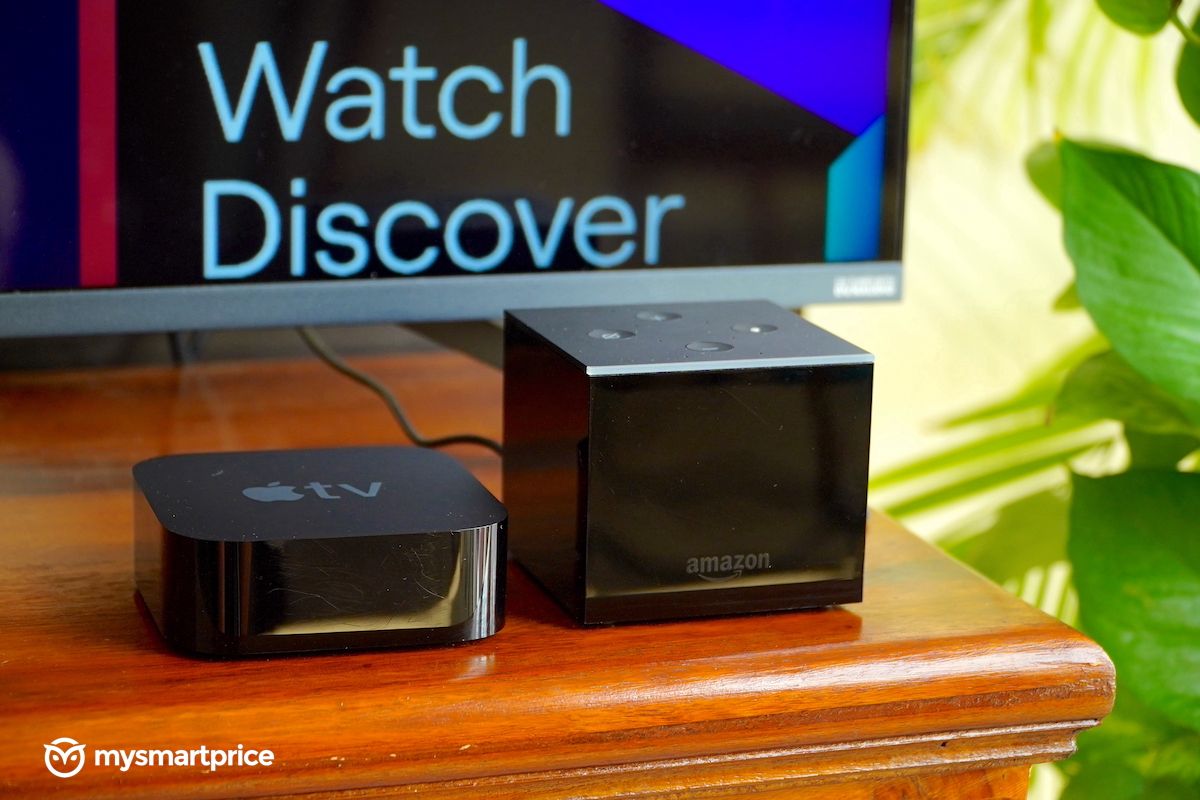 The A12 Bionic also offers enough grunt for you to play the fantastic lineup of Apple Arcade games available for the Apple TV. I hooked up my PlayStation 4's DualShock 4 controller and continued my session of Wonderbox where I left off. Note that some games will work with the older touchpad-based Apple TV remote. The current remote doesn't work with most games. Anyway, to be able to play Sayonara Wild Hearts and Pathless alone is a huge win in my books. The Apple TV is the closest you can get to a budget console. The games are genuinely that good. Plus, you get four times more storage than the Fire TV Cube.
By the way, there are a few games available for the Fire TV Cube but the catalogue is super limited and I didn't feel like playing most of them compared to Apple Arcade's lineup.
Before I talk about the software, the built-in Alexa support is just so cool. The device could hear my voice over the TVs and to be able to switch on/off the TV with voice never gets old.
Moving on, Amazon has only recently completely revamped the layout. You now get a big banner on top with a slideshow of content recommendations and very rarely, some ads. I encountered a Lodha ad and was immediately taken aback. I really do not want ads invading my experience. Below the banner you will find a strip that takes you to your Profile, helps you Find new shows from a preset list of categories, and showcases the Live events. Unfortunately, Live content doesn't include Hotstar for some reason. On the same strip, you'll find a set list that is hard-coded to six apps that you can tune to your liking.
Below this strip is a seemingly endless list of horizontal carousels with recommendations. This is filled with mostly Prime Video recommendations. There are some Hotstar recommendations too but I rarely found a Netflix show. And, this is why I really don't like content-based UIs that depend on algorithms to serve you a feed of content. It actually makes content discovery a confusing affair.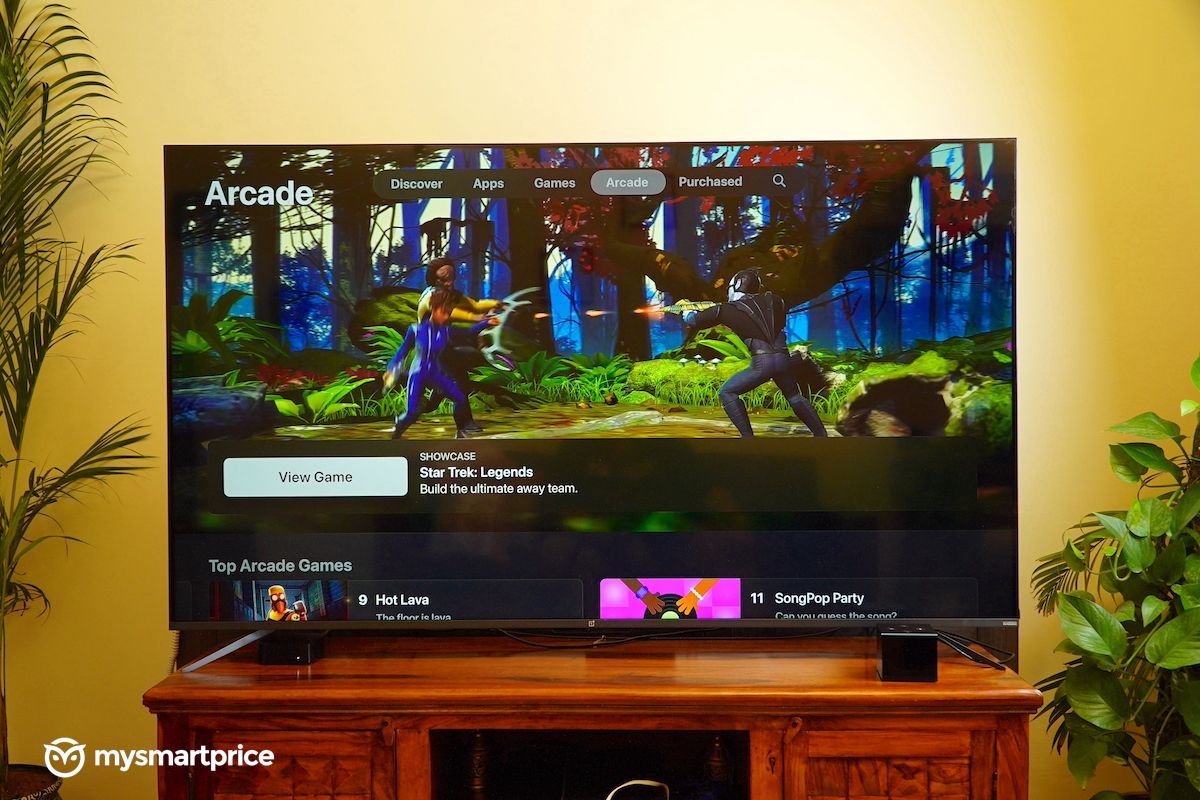 Which brings me to Apple TVOS. Undoubtedly, it might feel too simplistic to some but at least it is immediately recognizable especially if you've used an iPhone or an iPad. Visually, it has a top shelf that works like a banner to show content from the top 5 apps on the dock, as managed by you. Below this shelf is a list of apps. You can put these apps in a folder if you like. I really like the dynamic live wallpapers too. They look absolutely stunning. Finally, long pressing the Home button opens up a Control Centre that lets you change the User Profile, put all devices to Sleep, change the audio playback device and more. Plus TVOS is the only TV UI that offers a Recents tab to switch between apps for handy multitasking among streaming boxes available in India. The Nvidia Shield offers a Recents Menu in other countries, for what it is worth.
Undoubtedly, as far as TV software experiences go, TVOS has the cleanest, most approachable overall experience.
Picture Quality
Both the streaming boxes can do up to 4K 60fps video with support for Dolby Vision and Dolby Atmos standards. But, the Fire TV Cube definitely has an advantage with native HDR10+ support which is missing on the Apple TV 4K. This means content on Amazon Prime Video coded in HDR10+, such as Jack Ryan and Boys, does offer slightly better dynamic range performance on the Fire TV Cube. I say slightly because I could barely notice any difference in picture quality.
Also read: OnePlus TV U1S 65-inch Review – Aptly Priced TV With Surprising Good Picture Quality
By the way, full disclosure, I used the OnePlus TV U1S for testing and that doesn't support Dolby Vision. So, essentially all Dolby Vision content is played back in HDR10 format by Apple TV and the Fire TV Cube. So, at least that maintains test parity. Which brings me to the HDR performance on third-party apps like Netflix.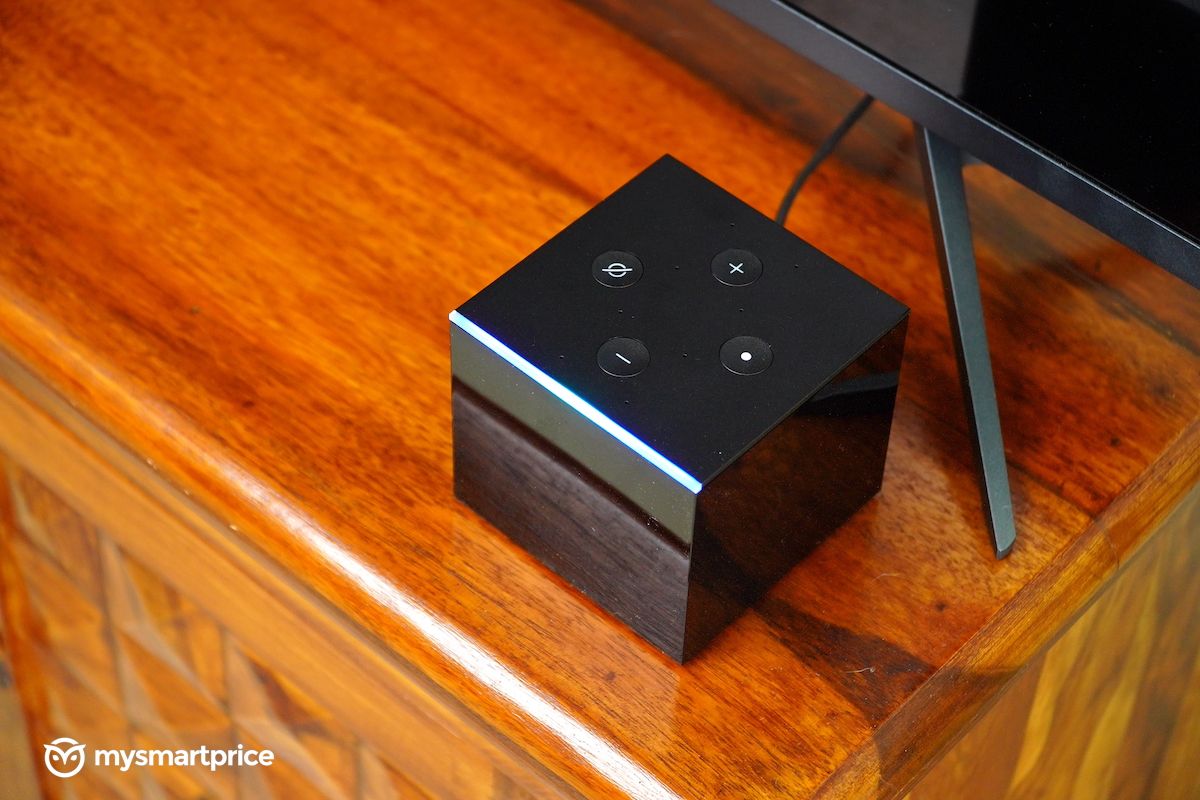 I really couldn't tell any difference in the HDR performance while testing Our Planet on Netflix. The same is true for SDR HD content as well. The digital processing is only ever so slightly better on the Apple TV 4K, but most people won't notice a difference. In fact, I expected shows on Apple TV+ to look better on the Apple TV 4K but that wasn't really the case. It looked equally good on the Fire TV Cube.
Plus, the Apple TV 4K includes a really cool way to colour calibrate your display using an iPhone. While I am not saying it offers the most accurate colours, the Balanced colour tuning on my OnePlus TV U1S ensured fantastic facial tones without any red bias, which the Fire TV Cube couldn't match.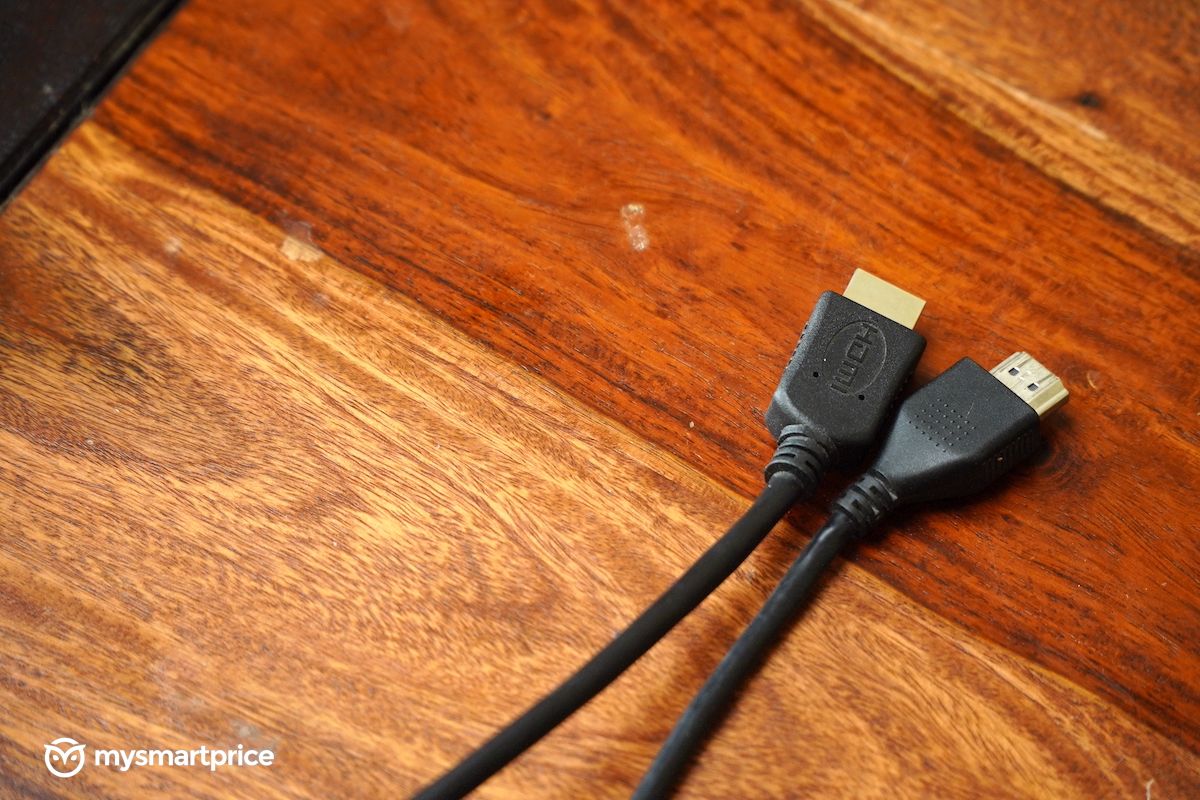 Colours in general, are better rendered on the Apple TV 4K if you ask me. But, for more in-depth picture quality testing head over to my favourite HDTest channel on YouTube. So, I'd say the Apple TV's picture quality is slightly better than the Fire TV Cube's overall. But, most people won't even be able to tell the difference.
Oh by the way, don't forget to switch on the Match Content Frame Rate and Match Dynamic Range content setting on Apple TV 4K. And, if you buy the Fire TV Cube, change the setting from HDR Always On to Adaptive. It'll help ensure that SDR content is not upscaled to HDR unnecessarily as it tends to look bad especially in the UI.
Should You Buy the Fire TV Cube?
To absolutely want to buy the Fire TV Cube, you have to do some deep thinking. Because it costs Rs 12,999, which is a good Rs 7,000 more than the Fire TV Stick 4K's Rs 5,999 price tag. Let's break it down into simple points: what does the Fire TV Cube offer over the Fire TV Stick 4K to warrant such a price difference?

You get a faster processor, slightly more RAM and more storage. The hexa core processor, as we witnessed, does ensure the UI keeps running fast and smooth. And, the games run slightly smoother too, whatever few are available.

But most importantly, you get a built-in Echo experience for hands-free Alexa voice commands. Which, as I mentioned before, is just pretty damn useful.
But, that's about it. In context, the Fire TV Stick 4K is smaller and gets hidden away on the back of your TV thereby taking up far less space. You get support for all the same streaming formats including Dolby Vision and Dolby Atmos support, with similar levels of visual fidelity. And, if you are really keen on the hands-free Alexa support, you can easily get the wonderful 4th Gen Echo speaker and still have Rs 3,000 to spare. To sum it up, the Fire TV Cube is an expensive proposition.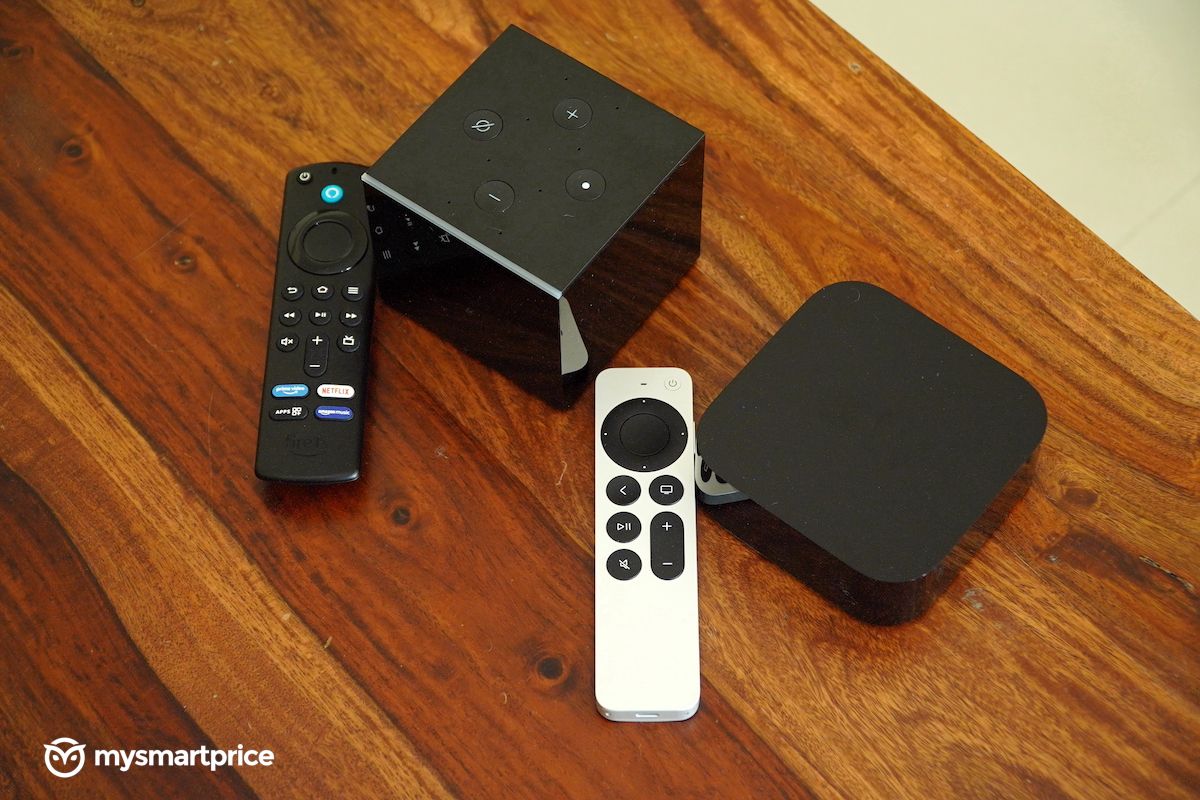 But, guess what? The new Apple TV 4K 2021, costs Rs 6,000 more than even the Fire TV Cube. But, I'd say it does add some interesting extras despite the high price tag. The A12 Bionic chip is super powerful which makes the UI feel super snappy. And, it also helps power the excellent catalogue of Apple Arcade games. The software experience with TVOS is way better and there are no ads. And, this is a tiny thing, but you get Apple Music, which I can't really live without. Finally, the Apple TV 4K 2021 comes with Wi-Fi 6 support that definitely makes it futureproof. But yes, the Amazon Fire TV Cube does offer HDR10+ and an in-built Echo speaker, which are its advantages.
All said and done, I am leaning towards the Apple TV 4K and I definitely consider it the best streaming box available right now. Although, I must mention I am entrenched in the Apple ecosystem and am cognisant of the fact that it is an expensive proposition otherwise. Having said that, if you are trying to save some money on your purchase, let's just agree that the Fire TV Cube is completely overshadowed by the sheer value that its sibling – Fire TV Stick 4K – offers. And, I am sure even Amazon knows that very well.