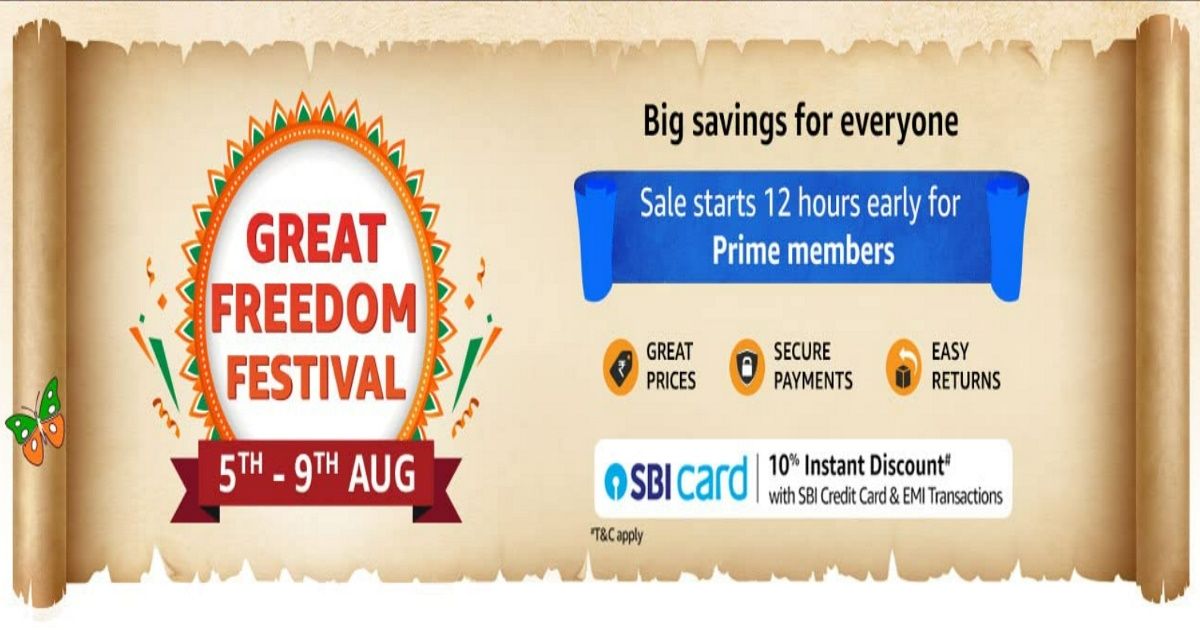 UPDATE [August 2 @3:50 PM]: Amazon India has now revealed some of the best Great Freedom Festival deals and offers ahead of the kickoff. It says customers will be able to save 30% extra using Amazon coupons. Amazon Pay customers will have an opportunity to save up to 17% on flight tickets, zero additional fees on all train tickets, and up to 43% on hotel bookings. It is further offering unlimited 5% cashback on flight and hotel bookings via Amazon Pay ICICI Bank credit card.
OnePlus smartphones will be available with up to Rs 5,000 instant bank discount and up to 12 months of no cost EMI. There will be an additional Rs 3,000 exchange bonus on the OnePlus Nord 3 5G. Similarly, the OnePlus 11 5G can be grabbed with Rs 2,000 instant bank discount and an additional Rs 6,000 exchange bonus.
Realme fans will be able to get up to Rs 1,500 instant bank discount and additional coupon offers worth up to Rs 1,000. Amazon will also offer up to Rs 40,000 off, up to 24 months no cost EMI, and up to Rs 25,000 exchange discount on laptops. Smart TVs will be available with up to 60% off and up to 18 months of no cost EMI.
UPDATE [August 1 @3:45 PM]: In an unexpected and unexplained move, Amazon has changed the Great Freedom Festival sale dates. The dedicated sale teaser page shows the upcoming sale will now be held from August 4 to August 8. It was previously scheduled to begin on August 5 but has now been moved a day ahead.
The change in date means the Great Freedom Festival sale will now kick off on August 3 at 12 PM IST for Prime members.

Original Story Follows…
Amazon is one of the biggest online shopping platforms in India. It is known for fast product deliveries, customer support, and obviously sales. It recently held Prime Day 2023 but if you missed out on those deals, you need not be disappointed. The company has announced its next major sale named Amazon Great Freedom Festival. It will take place next month and here is everything you need to know.
Amazon Great Freedom Festival Sale 2023 Dates
Amazon Great Freedom Festival sale 2023 is set to be a five-day shopping event. It will begin on August 5 and will last until August 9, a few days ahead of India's 77th Independence Day. If you are an Amazon Prime member, the sale will begin for you 12 hours early. It means you will be able to buy your favourite products at discounted rates starting August 4 at 12 PM IST.
The major difference between this and the Prime Day sale is that a user does need to be a Prime member to participate. The only benefit of a Prime member is early access to deals and offers.
Also Read: Amazon Prime Plans 2023: Membership Price, Subscription Benefits, More
Amazon Great Freedom Festival Sale 2023 Offers and Deals
Amazon has not revealed much about Amazon Great Freedom Festival sale offers and deals yet. We can expect to know more in the coming days but a few teasers have been shared. The first thing to note is that SBI Card users will get a 10% instant discount on credit card and EMI transactions.
The shoppers will have an opportunity to earn up to Rs 5,000 cashback. There will be extra up to 30% off on more than 30 lakh products. Amazon will offer up to 40% off on best-selling combos.
Amazon has announced up to 40% off on smartphones and accessories. There will be up to 12 months No-cost EMI and up to Rs 35,000 off on exchange. The company is yet to reveal specific deal prices but here is a quick overview of what you can expect during the sale.
Up to 40% off on laptops and gaming laptops
Up to 80% off on smartwatches
Up to 75% off on headphones, speakers, and computer accessories
Up to 50% off on tablets
Up to 55% off on Alexa, Fire TV, and Kindle devices
Up to 70% off on storage devices
Up to 60% off on smart TVs
Up to 55% off premium TVs
This is pretty much what we know about Amazon Great Freedom Festival sale offers so far. We will keep you updated as more details will be made public. It currently has iQOO Quest Days, Dell Days, and JBL Brand Week sales going on, if you are interested in grabbing products from these brands.
As for what are upcoming Amazon sales, Amazon is scheduled to hold the Great Indian Festival sale sometime in September. It will be followed by the Amazon Diwali Sale which should happen in October. The exact dates for these sales are unknown but stay tuned for all the latest updates.