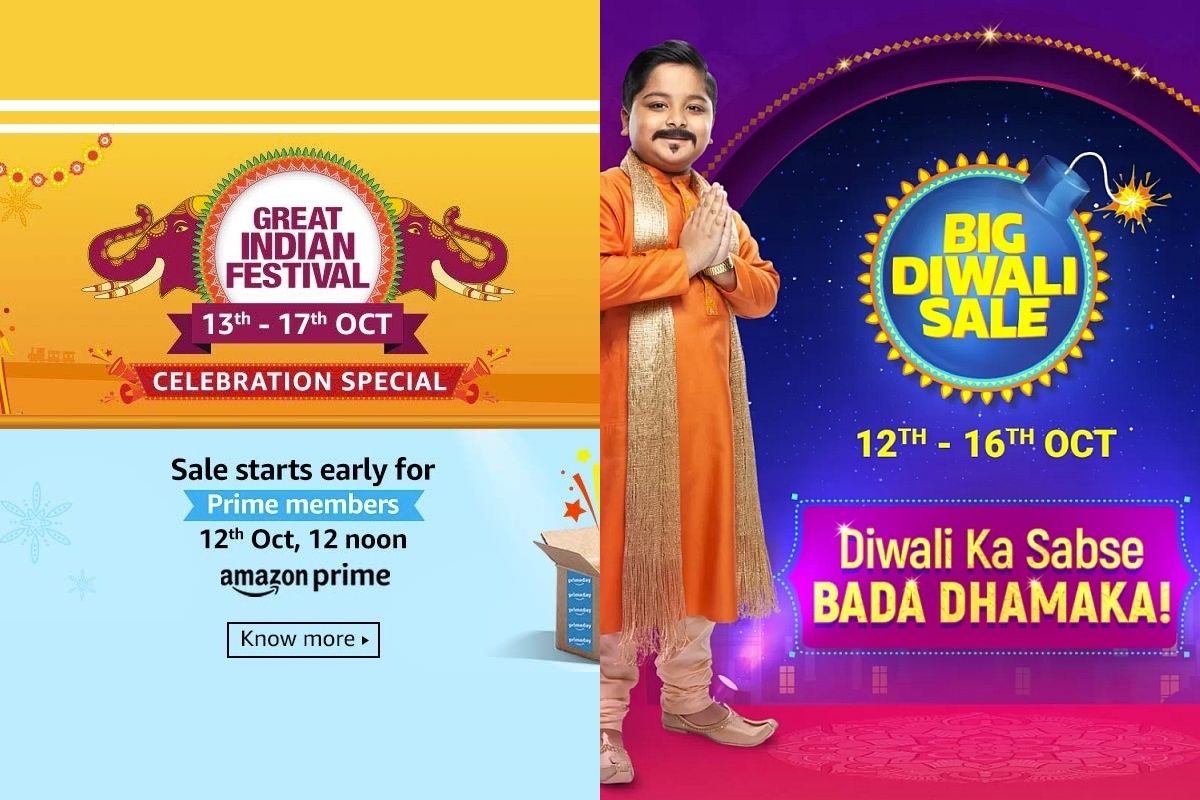 It was only last week when both Amazon and Flipkart wrapped up their respective sale events. Now, both e-retail platforms have announced details regarding their next festive occasions that will commence a mere days after the last ones ended. The Amazon Great Indian Festival Celebrations Special has been scheduled to take place from October 13 to October 17, while Flipkart's Big Diwali Sale shall start from October 12 and last until October 16. As is the case with any such festive event, you should expect to see a plethora of offers and discounts over a wide variety of products ranging from smartphones and gadgets to clothes and household items. Let's take a closer look at what each of these platforms has in store for you this time around.
Amazon Great Indian Festival Celebration Special
Amazon's upcoming Great Indian Festival sale will commence from 12 AM on October 13 and will end at 11:59 PM on October 17. Prime members, on the other hand, will get early access to this sale from 12 noon on October 12.
Amazon has partnered up with ICICI to offer instant discounts of up to 10 percent to those who use the bank's credit or debit cards for their purchases. There will also be additional bonus offers on many products which will be revealed closer to when they will go on sale. As always, customers will also get no-cost EMI options on debit cards and via Bajaj Finserve, and there is also a credit scheme of up to INR 1 lack for eligible customers.
Amazon has also disclosed some of the offers users can expect this festive season. The first of these is on smartphones, where you will find up to 40% off deals coupled with exchange offers and free screen replacement plans. These discounts also extend to smartphone accessories such as cases and earphones. Amazon will also offer incredibly low prices on other electronics and gadgets such as laptops, cameras, and smartwatches. In total, the e-retail site says it will offer over 6000 deals on well over 200 brands. In the category or large appliances such as TVs, fridges, and washing machines, the online seller will offer up to 60% off. There will also be discounts on Amazon-made gadgets, including Echo devices, Fire TV Stick, and Kindle.
Domestic flight booking is another service Amazon seems to be offering these days, and during this festive season, you will be able to avail up to INR 2,500 cashback that will be credited to your Amazon Pay wallet in 3 working days.
Flipkart Big Diwali Sale
Flipkart's Big Diwali Sale is a five-day event that will commence from midnight on October 12 and end on October 16. That said, Flipkart Plus members will get early access to the sale from 8 pm on October 12.
Flipkart will be partnering up with State Bank of India to offer up to 10 percent off to users that use SBI credit cards for their purchases. As expected, there will be no-cost EMI plans, exchange deals, and discounted mobile protection plans being offered during the sale period. Flipkart shall also be offering "Dhamaka Deals" on various mobiles, TVs, and electronics on each day of the sale period at precisely 12 AM, 8 AM, and 4 PM. Furthermore, additional discounts can be availed during "Rush Hours" between 12 AM and 2 AM.
Coming to specific deals, Flipkart has its Buyback Guarantee, where customers can pay a small amount in return for an assured buyback value on purchased smartphones. The e-retail site hasn't gone into detail regarding the discounts on smartphones, but it is likely we will see significant discounts on offerings from brands such a Realme, Xiaomi, Oppo Vivo, and more. Flipkart has mentioned, however, that up to 75% discounts will be offered on more than 50,000 products in the Tv and appliance category. On other gadgets such as smartwatches, laptops, and headphones, the online seller promises up to 90% off.