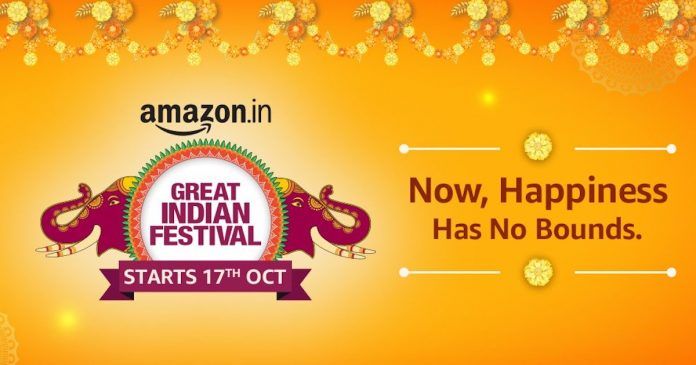 The Amazon Great Indian Festival sale is just around the corner. The grand sale will start from October 16th for Prime members, while normal users can scout for deals from October 17th. This is one of the biggest sales on the platform, which gives you a chance to buy those items, which you wanted to buy for so long, at the lowest price.
This is not it! You get lots of offers and deals on thousands of products, which could make your jaw drop. However, there are times when you so into scouting for the right product, you lost the track of time. And there is nothing more frustrating than favourite item getting out-of-stock when you go check out. So, in order to make the whole shopping experience a pleasant one, we present you some easy tips to find the best gadget deals during the Amazon Great Indian Festival. Take a look!
Set a Budget
This is one of the most important steps. During the sale period, you will come across lots of exciting gadgets deals and offers that will be hard to resist. Most of the time, one goes over the budget and buy unnecessary items, which he/she regret afterwards. Hey, don't be that guy! Make sure you have a budget and stick it to when you are shopping.
Prepare a Wishlist
Unless want to go berserk by scrolling endlessly during the website, it is always better to create a wish list. Make a list of things you want to purchase during the Great Indian Festival sale. And then, scout for the best deals for the gadgets you have selected. By doing this, you will easily save some time.
Add products to cart in advance
Once you have prepared a list of items, just add them to the shopping cart or wishlist. Amazon lets you turn on notifications on the mobile app in the product in the wishlist gets a discount. This also makes it a lot easier to buy the product.
Watch out for Lighting, Blockbuster deals and more
Amazon also put of Lighting deals section during the sale and this time one could expect the same. The section offers best deals and offers, which are for limited period. Consider this as flash sales. This simply means that the products will be available with limited stock and you may get great discounts and more if you grab them on time. So, it is advisable to scout the upcoming Lighting or Blockbuster like deals on Amazon and note the timing of when the desired product sale will go live. But just one advice, don't get flattered with those tempting deals and go over the budget.
Look for exchange and bank offers
Amazon Great Indian Festival brings a plethora of offers and deals on a range of gadgets. Sometimes you might also get some bundled offers, which is like a cherry on top. Always make sure to go for extra exchange bonuses as it brings down the effective prices of the product you want to buy. Furthermore, the e-commerce giant is offering 10 per cent instant discount to HDFC cardholders. So, if you have HDFC card, then you can further bring down the price. Apart from this, the no-cost EMI option is also a good medium to make those high-end purchases with easy monthly instalments.
Get Amazon Prime subscription
One of the best ways to get your favourite products during the Amazon Great Indian Festival is by taking the Amazon Prime subscription. The company offers two models: 129 per month or Rs 999 per year. Getting a Prime subscription will allow you to access the deals much before other non-Prime members. This is because the sale especially starts for Prime members on October 16th. This way you will get one full day to check the deals before the non-Prime customers. You peacefully check for offers and grab it before others. Prime also ensures that you get speedy delivery. Happy Shopping!
Thanks for reading till the end of this article. For more such informative and exclusive tech content, like our Facebook page