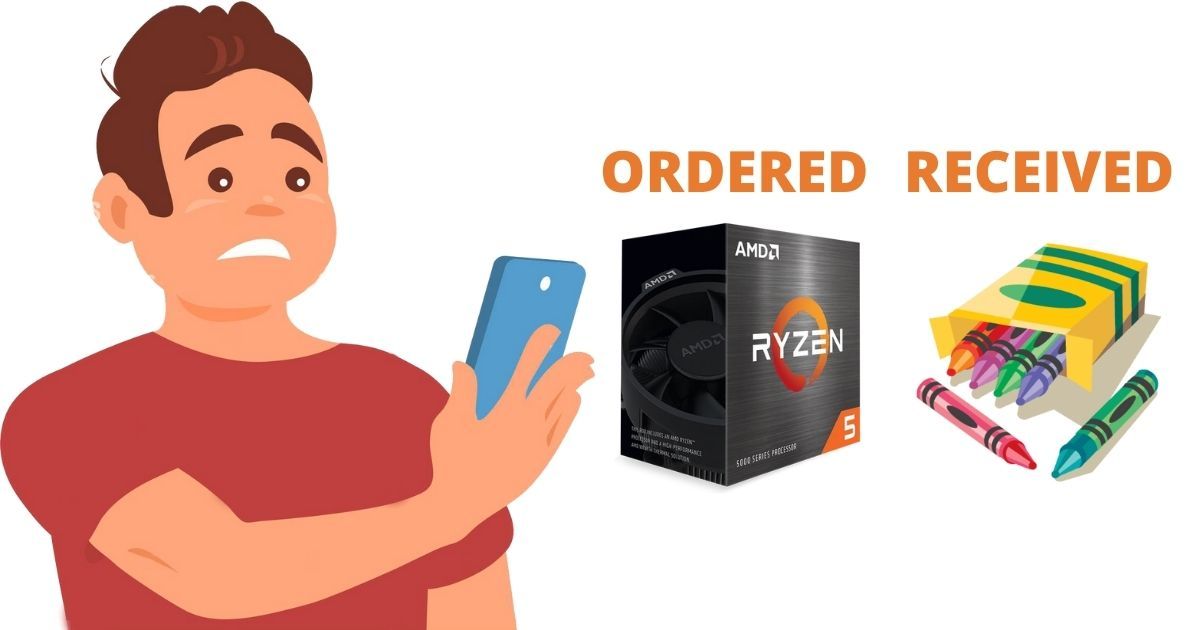 In a bizarre incident, Amazon India has let a computer enthusiast down. Amaan Rizwan, an avid shopper ordered an AMD 5000 Series Ryzen 5 5600X Desktop Processor from Amazon on October 8. On October 18, he got a package that contained nothing but a packet of crayons worth maybe Rs 20, whereas the product he ordered cost more than Rs 20,000. He immediately contacted Amazon and filed a complaint so that he can get a refund, but when Amazon sent their logistics executive to pick the item up for return the logistics executive refused to take it as it did not match the original product, i.e. the AMD CPU. There is no reason to blame the delivery executive as well as it's their job to take back items only after verifying that the item matches the order. In this case, there was no way the item getting returned could match the order.
I order a AMD CPU worth Rs. 20,500 from @amazonIN Received crayons worth Rs.20 instead.Filed a complaint for refund and instead a RETURN was initiated.The return guy did not pick it because did not match the real product(duh?)
Amazon is not helping @JeffBezos

Retweet to help pic.twitter.com/FzzD6S9BXI

— Amaan Rizwan (@amaanthinks) October 25, 2021
As per Amaan, the social media team at Amazon are delaying the resolution of the issue and he has got his money stuck. The Amazon seller from whom this particular customer had purchased the CPU seems to be nothing but a fraud as with 19 ratings, all negative ones. Many people have provided feedback and some comments saying that they have also received nail polish, pencils etc. instead of the expensive equipment which they ordered.
Also Read: Amazon Prime Plans 2021- Membership Price, Prime Video Mobile Edition Free Trial, Subscription Benefits, and More
So, clearly, this is a case of fraud, nothing else and now it's up to Amazon how they want to deal with the seller and ensure that the customers don't lose their hard-earned money. Our Principal Correspondent reached out to Amaan, the customer who has been a victim of this fraud and we asked him the reason why he ordered such an expensive product from an Amazon seller with no reputation. To this question, he replied, "I have ordered with zero selling ratings in the past cuz of trust on Amazon. It worked out pretty well 9/10 times."
Also Read: Amazon Prime Annual Membership To Get a Price Hike in India Soon
This is what he said when we asked him why he ordered from a random seller when there were verified resellers. This is not just one isolated incident but lately, some fraud sellers are totally into this kind of misadventures, causing harassment to consumers in India. While the issue of this particular customer remains unsolved for now, we have also reached out to Amazon India. This story will be updated as soon as we hear something from Amazon India or the customer regarding this incident.