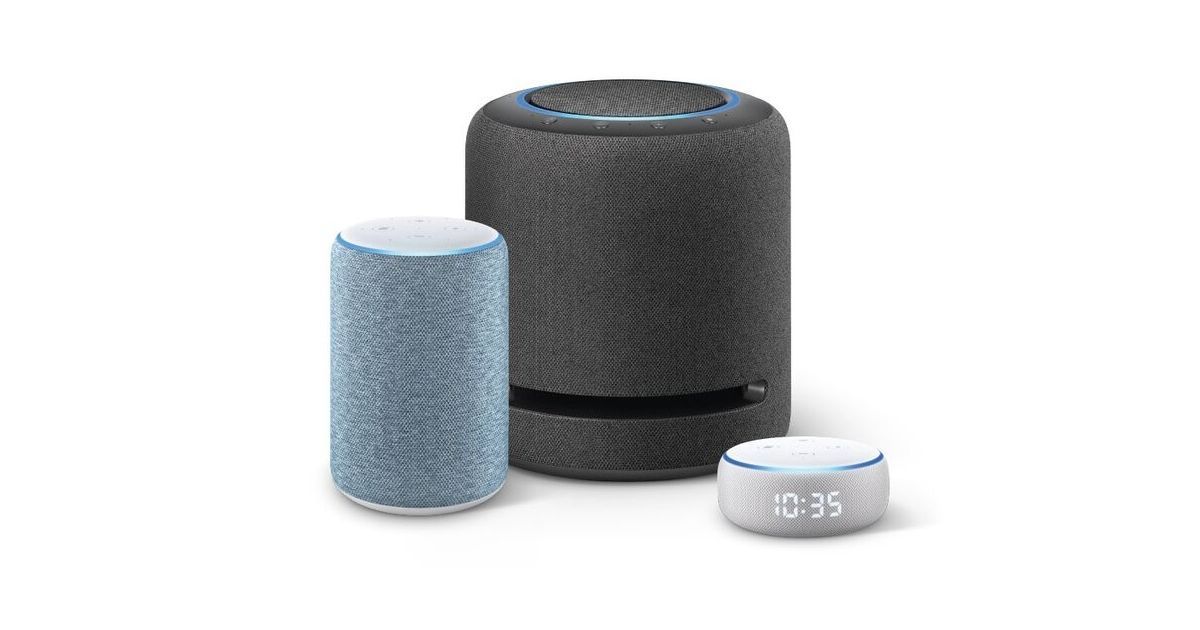 Amazon announced a host of new devices—Echo Flex, Echo Dot With Clock, Echo, Echo Studio, Echo Show 8, Echo Glow, Smart Oven, Echo Buds, Echo Frames, Echo Loop, Eero Mesh Wi-Fi Router, and Ring Security Cams—during its launch keynote in the US. Most of these new devices integrate with Alexa in one way or the other. The Indian market will get access to only three of these products, for now. Amazon India has launched the Echo Dot with Clock, the Echo (3th Gen), and the Echo Studio in India. Let us have a look at the features and pricing of these three devices.
Amazon Echo Dot with Clock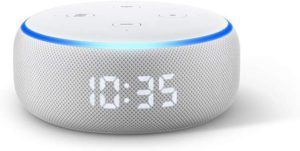 Priced at Rs 5,499, the new Echo Dot now comes with an LED digital clock, a neat touch! This LED display can also show you the outdoor temperature or a timer. You can also tap the top of the device to snooze alarm. It perfectly suits your bedside table. Plus, it comes with an upgraded Wi-Fi chip. It now supports Wi-Fi ac as compared to the 3rd Gen. Echo Dot which is limited to Wi-Fi b/g/n. It now comes in White, but everything else remains the same. You can use the Echo Dot to ask for information, play music, make voice calls and control smart home devices. It has the same four beamforming microphone structure, the same audio quality, and the same AUX port to connect to external speakers. It can also act as a plain old Bluetooth speaker, but it lacks any high-def audio codec. If you're concerned about privacy, there's a switch to turn off the microphone on the Echo Dot with Clock. There are three more buttons on the top: Volume Up, Volume Down, and Action Button.
Amazon All-New Echo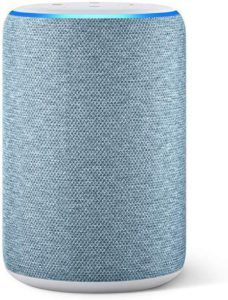 The all-new Echo is priced similar to the old Echo (2nd Gen.) which means you'll have to shell out Rs 9,999 if you want to buy it. It now comes in four colors: Black, Blue, Grey, and White. The biggest upgrade is its audio quality, all thanks to a 3-inch woofer and a 0.8-inch tweeter. It now offers crisp vocals and more powerful bass, and the audio is tuned by Dolby to offer 360-degree audio.
There are four buttons on its top, similar to the previous-gen Echo, and you can use the AUX port that can be used for audio in and audio out. You can use it to make voice calls (through Skype), get information from the web, play music, and control compatible smart home devices. You can also access hundreds of Alexa Skills using the smart speaker. Multiple skills can be performed simultaneously through Alexa Routines. Similar to the previous generation Echo, the All New Echo can act as a Bluetooth speaker.
Amazon Echo Studio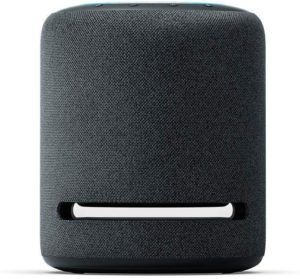 The Echo Studio is an Apple HomePod and Google Home Max. competitor. Amazon claims that it is "the best sounding Echo product" that they've ever released, courtesy of five speakers: three 2-inch mid-range speakers, a 1-inch upward-firing tweeter, and a 5.25-inch downward-firing woofer. There's Dolby Atmos audio processing technology which adds depth and clarity to the music. The Echo Studio adjusts and calibrates audio with the help of multiple microphones, similar to the HomePod and the Google Home Max.
It features dual-band gigabit Wi-Fi b/g/n/ac and is available in just one color: Black. There's a 3.5mm/mini optical line-in port on the rear. All the features that you can find in other Echo speakers are available on the Echo Studio as well, including an ability to answer questions, play offline music via Bluetooth or streaming music via Wi-Fi, make or receive voice calls via Skype, control Alexa-compatible smart home devices, and run Alexa Routines. All of this for a price of Rs 22,999. The company is even giving away a smart LED light bulb with the speaker for free in a limited-time deal.