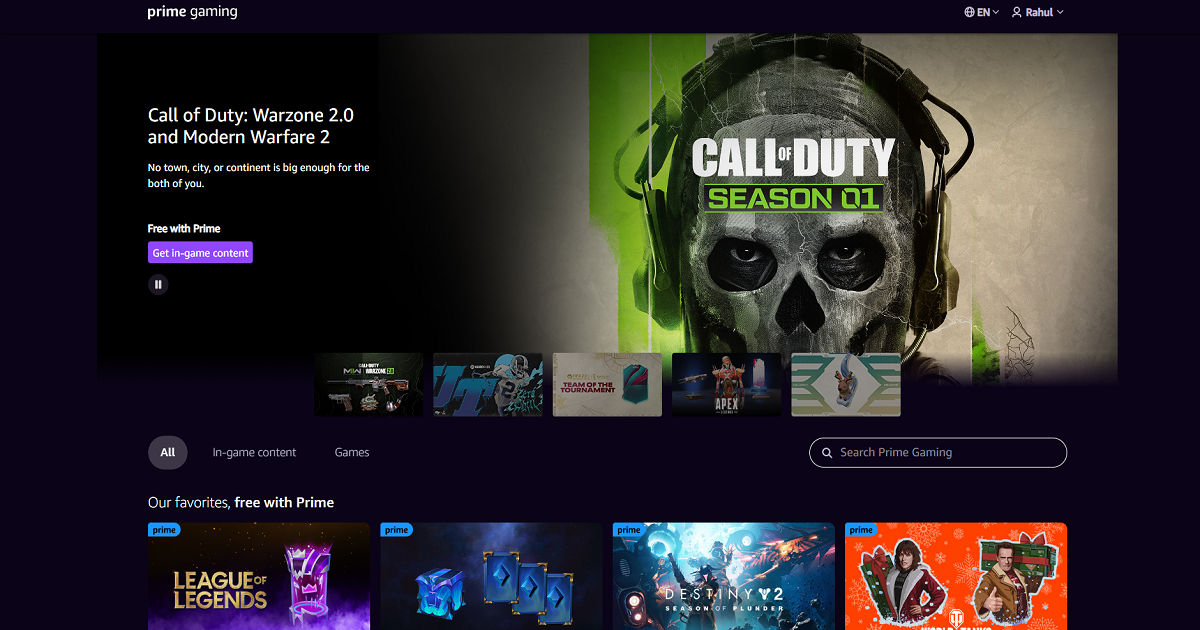 Amazon Prime Gaming has finally arrived in India after a brief test period earlier this month. The service can be accessed from the official Prime Gaming site, linked here. The service is available for all Amazon Prime subscribers. To claim benefits from the service, simply log in with your Amazon Prime ID and select "Activate Prime Gaming" from the top right-hand corner of the screen.
This will give players access to a variety of free games, in-game items/currency, and exclusive bundles. At the moment, there is a lot of free stuff players can claim, such as:
Call of Duty Modern Warfare II/Warzone 2.0 – Showdown Bundle
FIFA 23 FUT Packs (Prime Gaming Pack #3) is Available for January
Apex Legends – Revenant Candy Bundle
Valorant- Slay Ride Buddy
League of Legends Prime Gaming Capsule
Destiny 2 – Sturm Exotic Bundle
Madden 23: Zero Chill Ultimate Team Pack
In addition to all these free in-game items, there are also a bunch of free games you can pick up, such as:
Quake (from Epic Games Store)
Spinch (from Amazon Games App)
Desert Child (Amazon Games App)
Brothers: A Tale of Two Sons
To use the service, users will need only an active Amazon Prime membership, which is available at Rs 1,499 (yearly). There is also a free 30-day trial for new subscribers.
Also Read: Amazon Prime Plans 2022: Membership Price, Prime Video Mobile Edition Free Trial, Subscription Benefits, More
Amazon Prime Gaming is Finally Available at No Extra Cost to Subscribers
Much like its US counterpart, Prime Gaming is a service that comes bundled with the overall Amazon Prime package. This means users will have access to all benefits of Prime, including Gaming. The service provides new drops every month, so be sure to check out the site and see if there's something new that interests you.
To claim certain in-game items such as ones in GTA Online, Destiny 2, and Apex Legends – players will have to connect their Amazon Prime account with their Game Account. This requires logging in with your Rockstar Social Club, EA, Riot, etc. Once that's done, the items will show up in your game on the platform you choose to play on.
Prime Gaming is one of the most popular gaming subscription services across the world and its arrival in India is a pretty massive deal. For one, it goes to show just how significant the Indian gaming market has become as of late. It will be interesting to see if there will be changes made to the lineup of offerings and free games exclusively for the Indian gaming market.
As India is a massive market for mobile gaming, it stands to reason that Prime Gaming for India could evolve to include in-game items and bonuses for games like Free Fire, BGMI/PUBG Mobile, and more.