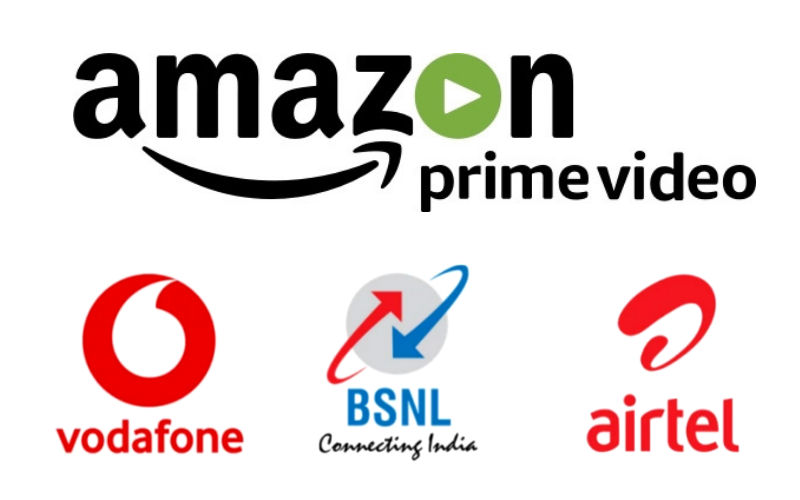 Telecom operators have always been competitive enough to ensure they offer the best value offers to their customers. It's easier today for customers to switch to a preferred telecom operator if dissatisfied with service or a lack of value offers of the current provider. The idea to satisfy and entice customers keeps the telecom operators on their toes as they continue to offer value propositions, discounts and much more. Now telecom giants like Airtel, BSNL and Vodafone are looking to benefit from the growing popularity of Amazon Prime to bring in new customers, retain existing ones and increase CMS & RMS.
An Amazon Prime membership has its benefits ranging from faster deliveries, relevant offers and access to Amazon Prime Video. Since Amazon Prime's introductory offer of Rs.499/year ended last year, with the same now costing Rs.999/year; Telecom giants have taken it upon themselves to offer it for free. These offers will allow customers free Amazon Prime Membership for the next one year, as we find out how much you have to pay to avail it.
Airtel Offers Amazon Prime membership
To avail one year free Amazon Prime membership, customers need to be on the network's myPlan Infinity postpaid plans of Rs 499 or above. It now appears that Airtel has shelved the same offer on the Rs.399 plan. The offer is open for new customers as well as existing members. Customers need to download the Airtel TV app, sign in with their Airtel account and click on the Amazon Prime Video offer card displaying on the Featured page. The card offer will only be visible to those customers who are eligible, based on their chosen plan.
However, to use the membership one would still need an Amazon account to sign-in, although it would be free for the next one year. Additionally, Airtel is also offering free Amazon Prime membership to Airtel V-Fiber Broadband customers, only for the first one year. To avail, users need to be on a monthly broadband plan of Rs.1,999.
Amazon Prime Membership offer for BSNL subscribers
BSNL too is on board the wagon to offer free Amazon Prime membership for one full year to their subscribers. The offer, however, is only available to postpaid and broadband users. To avail Amazon Prime Membership worth Rs.999, subscribers have to opt for postpaid plans of Rs.399 or more. As for BSNL Broadband subscribers, the offer is available on plans worth Rs.745 or above. To avail this offer, subscribers need to visit the BSNL website and click o the 'BSNL-Amazon offer' banner. After which, enter the BSNL number and validate/activate the offer with an OTP on Amazon.in.
Amazon Prime Membership offer on Vodafone
As for Vodafone, the telecom giant is offering all its Postpaid subscribers who have opted for plans of Rs.399 or above a free Amazon Prime membership for a year. The Rs.399 plan is the cheapest Postpaid plan on Vodafone, which also offers unlimited calls and 40GB of Mobile data per month.
Additionally,
Vodafone RED Postpaid plan
members who pay Rs.1,999 or above will be able to avail free Netflix membership for three months. For those who spend Rs.2,999 per month, will be eligible for a free, one year Netflix membership, while the plan also provides 300GB of monthly data and 200 ISD minutes.