Highlights
Amazon is offering 3 months of free Audible membership with Echo devices.
Non-Prime users can get 3 months of Prime membership by purchasing select Echo and Fire TV Stick devices.
Buyers can avail of No-Cost EMI and other bank offers during the sale.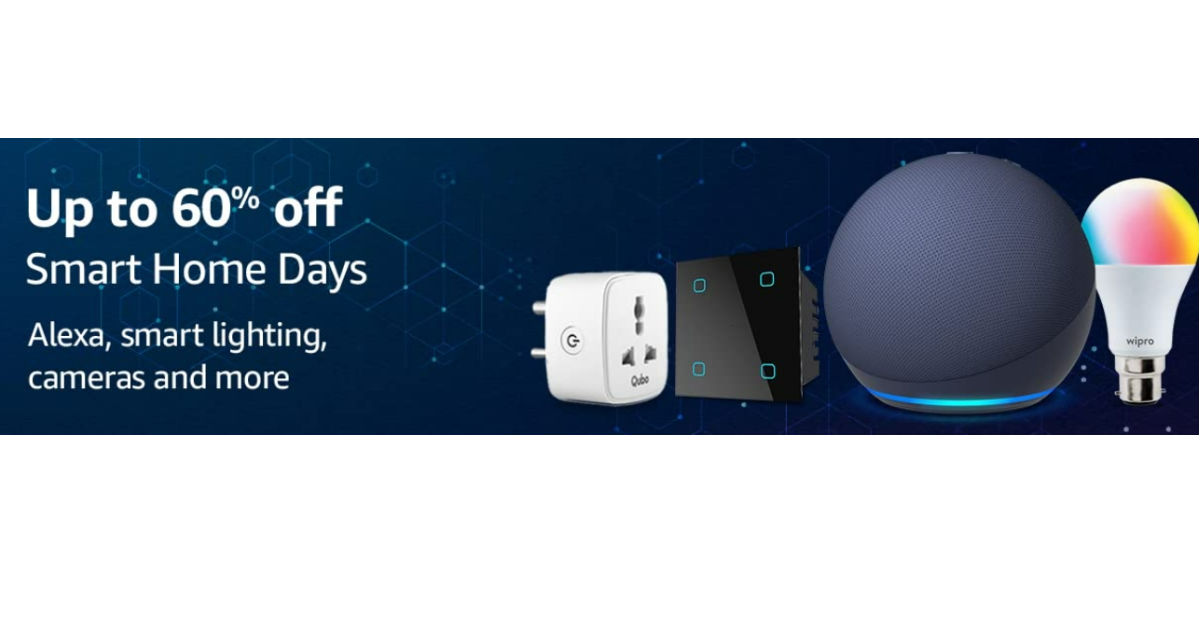 Smart home devices probably have a long way before they become mainstream in India but they have surely started to become popular. However, these devices are usually costly which is one of the main reasons behind slow adaptation. If you are thinking of buying a smart home device but are holding back due to budget restrictions, Amazon has good news for you. It has kicked off the Smart Home Days sale that brings lucrative deals on various smart home products including Echo devices.
Amazon Smart Home Days Sale Dates and Offers
Amazon Smart Home Days sale has a schedule of September 7 to September 13. It means the sale is live and you have until next week to buy your desired products. There are discounts of up to 60% on Echo devices and Alexa-powered smart home devices like smart lighting, plugs, locks, cameras, and more. You can choose from well-known brands like Amazon, Xiaomi, Philips, HomeMate, Wipro, and CP Plus.
Since smart home products could still be expensive even after a discount, Amazon is offering a No-Cost EMI option for orders above Rs 3,000 on select bank cards. There is a 5% instant discount (up to Rs 250) on HSBC Bank credit cards for orders above Rs 1,000. SBI credit card users can avail 10% instant discount (up to Rs 1,500) on a minimum order value of Rs 5,000.
If you have an HDFC Bank credit card, Amazon is offering an additional Rs 500 discount on EMI transactions of at least 12 months. Customers can get three months of free Audible membership while purchasing Echo devices. A similar offer is for non-Prime users who will get three months of Prime membership with the purchase of select Echo and Fire TV Stick devices. Both these offers can only be availed once per customer.
Best Deals in Amazon Smart Home Days Sale
Best Deals on Amazon Echo Combos
Amazon Echo Dot (5th Gen) with Wipro 9W LED Smart Colour Bulb for Rs 5,799
Amazon Echo Dot (4th Gen) with Wipro 9W LED Smart Colour Bulb for Rs 2,899
Amazon Echo Dot with Clock (4th Gen) with Wipro 9W LED Smart Colour Bulb for Rs 4,099
Amazon Echo Dot (3rd Gen) with Wipro 9W LED Smart Colour Bulb for Rs 2,099
Amazon Echo Dot (4th Gen) with Amazon Smart Plug for Rs 4,048
Amazon Echo Dot with Clock (4th Gen) with Amazon Smart Plug for Rs 4,848
Amazon Echo Dot (3rd Gen and 4th Gen) with Wipro 9W Smart Colour Bulb for Rs 4,198
Best Deals on Other Smart Home Devices
Philips Smart WiFi LED T-Beamer (20W, 2ft) for Rs 1,188
Philips 10W Smart WiFi LED Ceiling Lamp Downlighter (4-pack) for Rs 5,295
Philips Hue (4th Gen) Smart Light Strip (20W, 2-meters) for Rs 6,199
HomeMate Smart Power Extension (WiFi, Bluetooth LE, 4 power outlets) for Rs 1,748
Wipro Smart USB Power Extension for Rs 2,559
HomeMate WiFi Smart Fan Regulator Touch Switch for Rs 1,499
Wipro 16A Smart Plug for Rs 899
Philips 16A Smart Plug for Rs 999
Xiaomi 2MP Wireless Smart Home Security Camera 2i for Rs 2,699
TP-Link Tapo C210 3MP Smart WiFi Security Camera for Rs 2,699
CP Plus 2MP Smart WiFi Security Camera for Rs 1,628
QUBO Smart Door Lock for Rs 14,990
LAVNA LA24 Smart Door Lock for Rs 9,980
Yale YDME 100 NxT Smart Door Lock for Rs 14,200