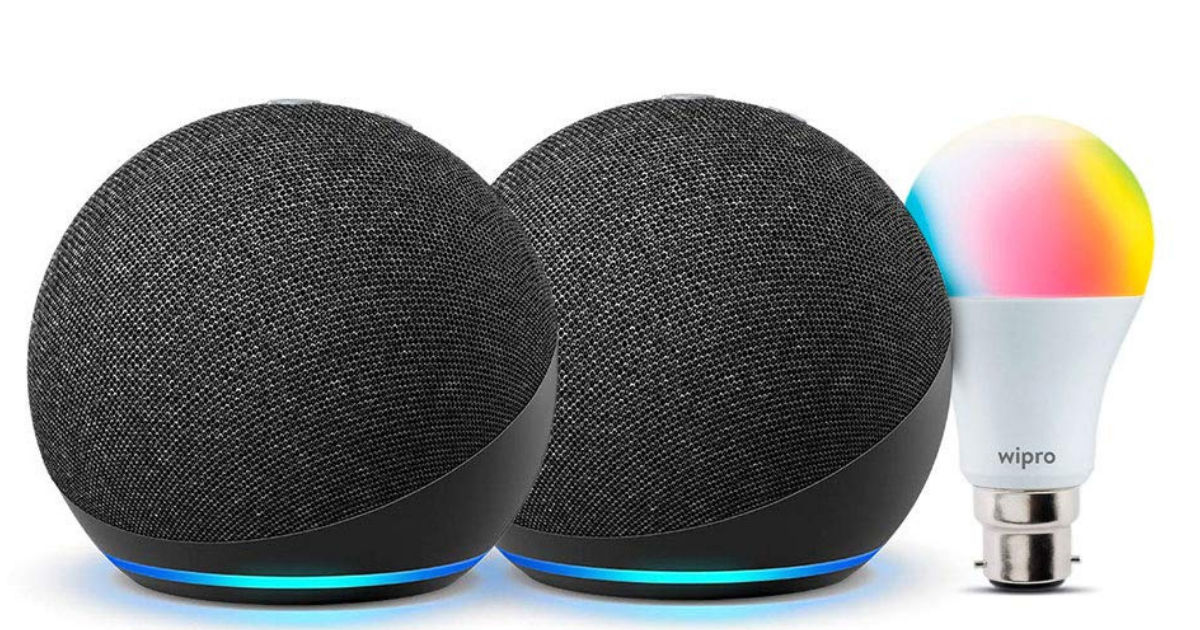 Amazon is offering huge discounts on various products during its Great Indian Festival sale. The Great Indian Festival sale that started on October 3rd is scheduled to end on October 10th. Amazon has now added one more tempting offer to its cart. The company is offering the Wipro B22 9-Watt WiFi Smart LED Bulb worth Rs 1,899 at just Rs 99 with the help of an Amazon Alexa device. This is the cheapest price that you can avail for this Smart Bulb. The Wipro B22 9-Watt WiFi Smart LED Bulb comes with 16-million colour options that can be controlled through mobile app. It requires a 2.4Ghz WiFi connection and can be controlled through Amazon Alexa and Google Assistant. You also get 2 years warranty on the Wipro Smart Bulb. Here's how you can order the Wipro Smart Bulb at just Rs 99 using Amazon Alexa.
Also Read: Amazon Alexa Now Supports Amitabh Bachchan's Voice in India 
Conditions to Order Wipro LED Smart Bulb At Rs 99
While Amazon is offering the Wipro Smart Bulb at Rs 99, there are a few conditions that you should keep in mind while claiming the offer. Only those who fulfill these criteria will be eligible to order the Wipro Smart Bulb at Rs 99. The company says that this offer can be availed through only Echo Dot or Alexa supported devices. If you are thinking to use Amazon music as it has Alexa voice command, then you would be disappointed as Amazon says that you cannot use Amazon music to avail of this offer.
There are no coupon codes related to this offer. If you are eligible, you will get the discount automatically. Only one bulb per account can be claimed. Make sure that the same account is logged in to your Alexa device and shopping app. These were some of the conditions that Amazon has mentioned to avail the offer, make sure you fulfill all these criteria to get the huge discount.
Steps to Order Wipro Smart Bulb At Rs 99 Using Amazon Alexa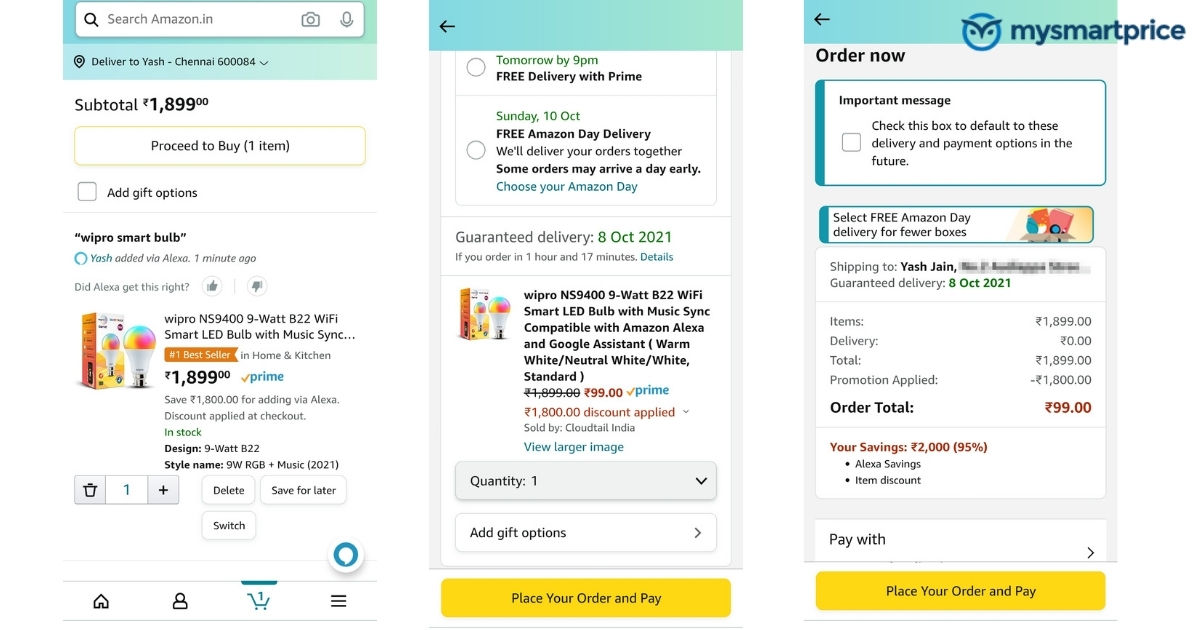 Ordering the Wipro Smart Bulb at Rs 99 through Alexa devices just take a few steps that are easy, follow these steps to avail the offer:
Log in to the same account on your Alexa device and Amazon app on your smartphone.
Now, turn on the Alexa and say "Alexa, add Wipro Smart Bulb to my cart".
Open your Amazon account on your smartphone or desktop and check your cart, you will find a LED Smart Bulb in your cart worth Rs 1,899.
Now, tap on proceed to buy and it will show you the discount of Rs 1,800. Click on place your order and pay.
Select your address and pay for your order.
Voila! you have completed your order and bought the Wipro B22 9-Watt WiFi Smart LED Bulb worth Rs 1,899 for just Rs 99. If you are facing any issues in any of the above mentioned steps, please free to ask us in the comment section.