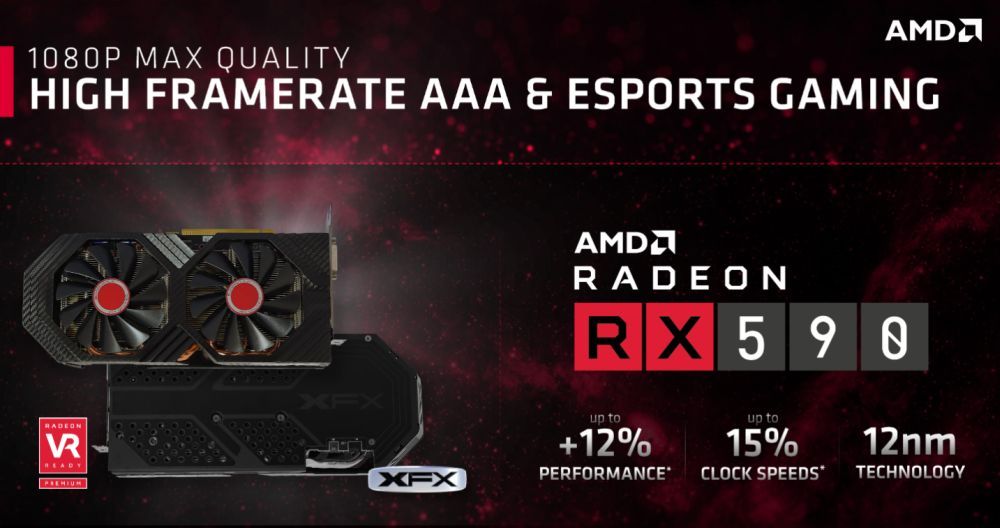 AMD recently launched a brand new mid-range GPU under the Radeon RX lineup. AMD Radeon RX 590 is an incremental upgrade of the previous RX 570 and RX 580. The RX 590 is a mid-range graphics card for those who're looking to upgrade, but do not want to spend too much. The graphics card directly competes with the Nvidia's GeForce GTX 1060. The AMD Radeon RX 590 carries a price tag of $279 (approximately INR 20,000). It is already up for sale globally via the official retailers as well as the official website. If you purchase the card now, you'll get three games free – Devil May Cry 5, The Division 2 and Resident Evil 2.
AMD Radeon RX 590 GPU uses 12nm architecture, made for Full HD PC gaming
The Radeon RX 590 is the company's first graphics card to be manufactured over 12nm architecture. Since it is made over a 12nm process, the GPU has an overall improved performance. The graphics card run all the current AAA gaming titles at 1920×1080 resolution. At Full HD resolution, you can play Far Cry 5, PUBG, Fornite at over 60fps; Battlefield 1, Doom, Forza Horizon 4 at over 90fps and CS: GO, DOTA 2, Overwatch, COD: Black Ops 3 at over 120fps.
In terms of specifications, the RX 590 comes with an 8GB of DDR5 RAM with a 256-bit memory bus. The GPU has a total bandwidth of 7.1 Teraflops. It has a base clock speed of 1469MHz which is higher than that of RX 580 and RX 570. On top of that, the graphics card can get a boost to up to 1545MHz clock speed. Other specs include 2304 stream processors grouped with 36 compute units. It supports various software like Radeon Chill, Radeon ReLive and the low-level Vulkan rendering API. With Radeon Chill, you can cap and regulate framework and with ReLive, you can record and stream gameplay.
AMD Radeon RX 570 and RX 580 gets a price cut after the Radeon's RX 590 launch
The Radeon RX 590 is expected to deliver a boost of 12 percent in terms of performance when compared with the RX 580. After the launch of RX 590, the RX 570 and RX 580 are now available for a dirt-cheap price. You will now be able to get your hands on Radeon RX 570 for half the price of RX 590. If you want to step up your gaming, you can go with the RX 580 which is also available at the discounted price.