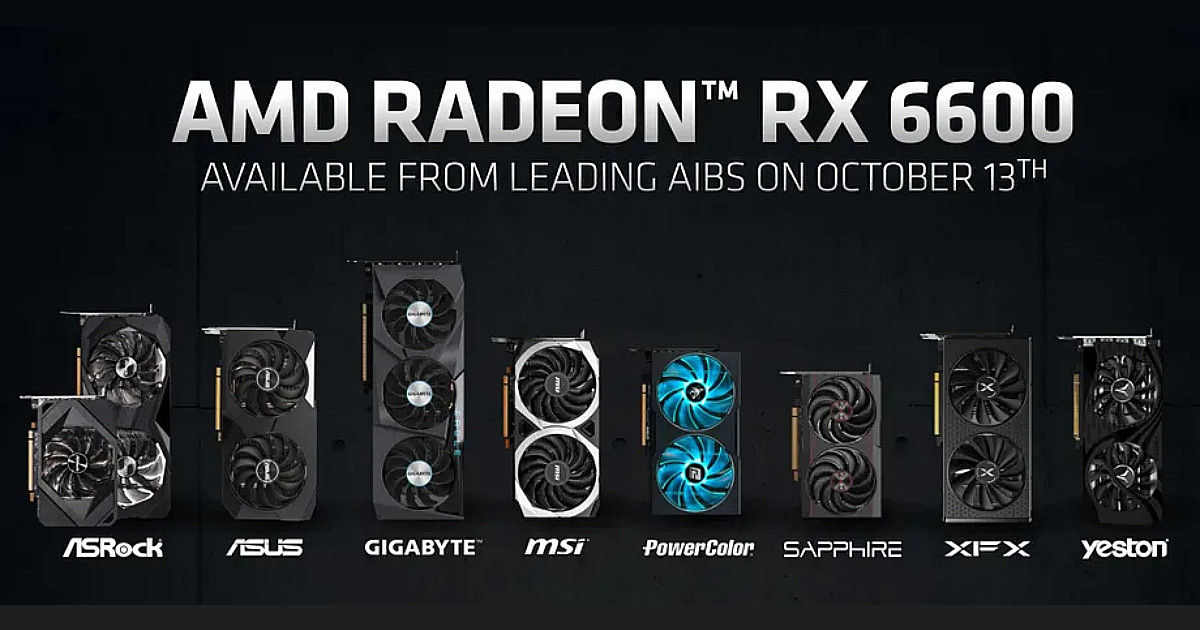 The AMD Radeon RX 6600 is here, bringing to the table a new, budget desktop GPU that sits below the RX 6600 XT in AMD's portfolio, and shoots at the Nvidia GeForce RTX 3060 across the board. To market it, AMD has underlined that its new GPU is focusing on efficiency, therefore consuming lesser power than higher cards such as even the RX 6600 XT. This, AMD says, will apparently help budget gaming desktop PC builders to get a modest GPU even with a power supply unit that's smaller than 500W. All of this should help them PC gamers get a decent performing GPU in a compact dimension gaming PC, all the while not needing to compromise majorly on performance.
In terms of specifications, the AM Radeon RX 6600 has four fewer compute units in comparison to the RX 6600 XT. With 28 compute units, users also get a base clock of 2044MHz, and boost clock of 2491MHz. You also get 8GB of GDDR6 VRAM, which combines with AMD Smart Access Memory technology in compatible PC builds that also use AMD Ryzen 5000 series CPUs. The GPU has 32MB Infinity cache, and is based on PCIe 4.0 with an x8 connector interface. It reports 132W typical power, supports Windows 11, and also has AMD FidelityFX Super Resolution upscaling technology.
In terms of performance, information available on the internet already suggests that while general frame rates in 1080p gaming with FidelityFX upscaling and ray tracing are around 100fps in most games, the overall performance is more towards the older generation Nvidia RTX 2060 and the AMD Radeon RX 5700, instead of being nearer to the Nvidia RTX 3060 and the AMD Radeon RX 6600 XT. This means that in many ways, the new RX 6600 compromises on performance for demanding gamers. A report on the new GPU by The Verge states that with FidelityFX upscaling to 1440p and with ray tracing enabled, AMD still claims consistent frame rates of above 60fps. However, most critics have found it to be a "generally slower" card.
Nevertheless, the lower power consumption and lower cost may be pitched by AMD as the selling points for the new GPU. The AMD Radeon RX 6600 might therefore work perfectly well with single fan GPU designs from third party retailers, and with PSUs as small as 450W. AMD has also given a reference price of $329 for the RX 6600, which is lesser than the RX 6600 XT ($379), the Nvidia RTX 3060 Ti ($400) and at par with the RTX 3060 ($329). India pricing and availability is yet to come by, but given the general supply crunch of GPUs in the market, it remains to be seen if buyers can really get themselves enough of these.