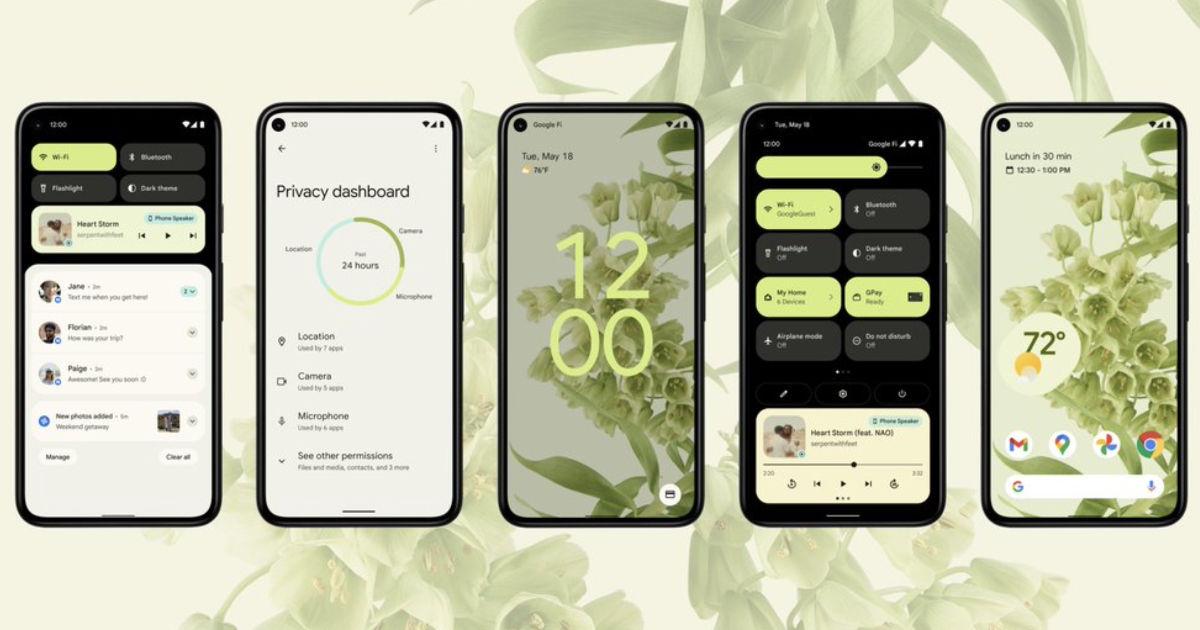 Google has announced some of the key Android 12 features at the Google I/O 2021. The latest Android update is focused on privacy while bringing an all-new design. Google is calling the revamped design Material You. It is giving users more control to personalise their device's interface. Users can choose custom colour palettes and redesigned widgets. Google is making animations better on Android for a smooth user experience. Android's latest update also offers enhanced privacy. Users can know which apps access their data, giving them more control to make choices about how much private information apps can access. Let's take a look at the new Android 12 features announced at the Google I/O 2021.
Android 12 announced at Google I/O 2021 with an all-new design and key privacy features
Google has announced Android 12 at the Google I/O 2021. The latest Android update brings with it a bunch of new features and privacy updates.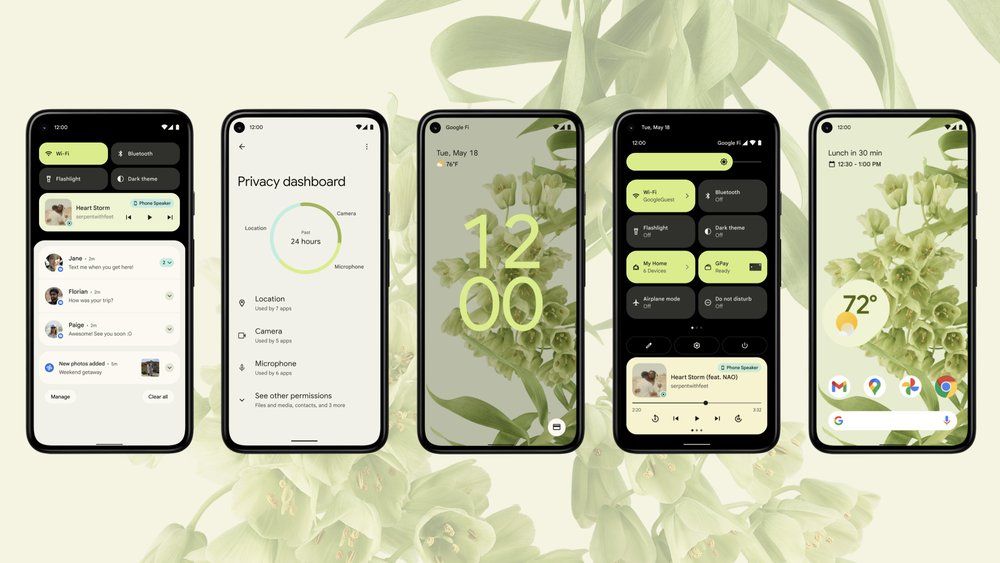 Personalisation
Google's latest mobile operating system has received a major design overhaul. The Material You design gives users more control to personalise their device's visual interface. Starting with Android 12 on Pixel devices, users can personalise their phone with a custom colour palette and redesigned widgets. Android uses its colour extraction tool to automatically determine the dominant colours in the chosen wallpaper. It then applies those colours across the entire OS, including notification shade, the lock screen, new widgets, etc.
Animations
Google claims to have improved animations, making it more fluid on Android 12. "From the moment you pick up an Android 12 device, you'll feel how it comes alive with every tap, swipe and scroll. Your phone quickly responds to your touch with smooth motion and animations. For example, when you dismiss your notifications on the lock screen, your clock will appear larger so you know when you're all caught up," Google said in its blog post.
It claims to have simplified interactions and recrafted the entire underlying system to make the user experience more fluid and efficient. Smartphones running Android 12 are faster and responsive with better power efficiency. Google has worked on improving the under-the-hood tasks. These include reducing the CPU time needed for core system services by up to 22% and reducing the use of big cores by the system server by up to 15%.
Privacy
One of the highlight Android 12 features is secure and improved privacy. The Privacy Dashboard offers more transparency around which apps are accessing your data. It also gives users more control to make choices about how much private information apps can access. The dashboard offers a single view into your permissions settings.
Much like iOS, Android now will indicate to the top right of your status bar to notify you if an app is accessing your device's microphone or camera. You can choose to remove access to these sensors for the entire system in Quick Settings. Users can also limit the information apps can take. With new approximate location permissions, apps can be limited to seeing just your approximate location instead of a precise one. For example, weather apps don't need your precise location to offer an accurate forecast.
List of devices getting Android 12 beta
Google has announced the list of smartphones eligible for Android 12 beta. Google's own Pixel smartphones are the first ones to be eligible for Android 12 beta. These include the Pixel 3, Pixel 3 XL, Pixel 3a, Pixel 3a XL, Pixel 4, Pixel 4 XL, Pixel 4a, Pixel 4A 5G, and Pixel 5.
Select smartphones from OEMs like Xiaomi, Samsung, OnePlus, etc., are also eligible to receive the Android 12 Beta 1 update.