Highlights
Android 14 could launch in August 2023.
It brings various new features but would remain visually identical to Android 13.
Here's everything about Android 14 and when your device will get the update.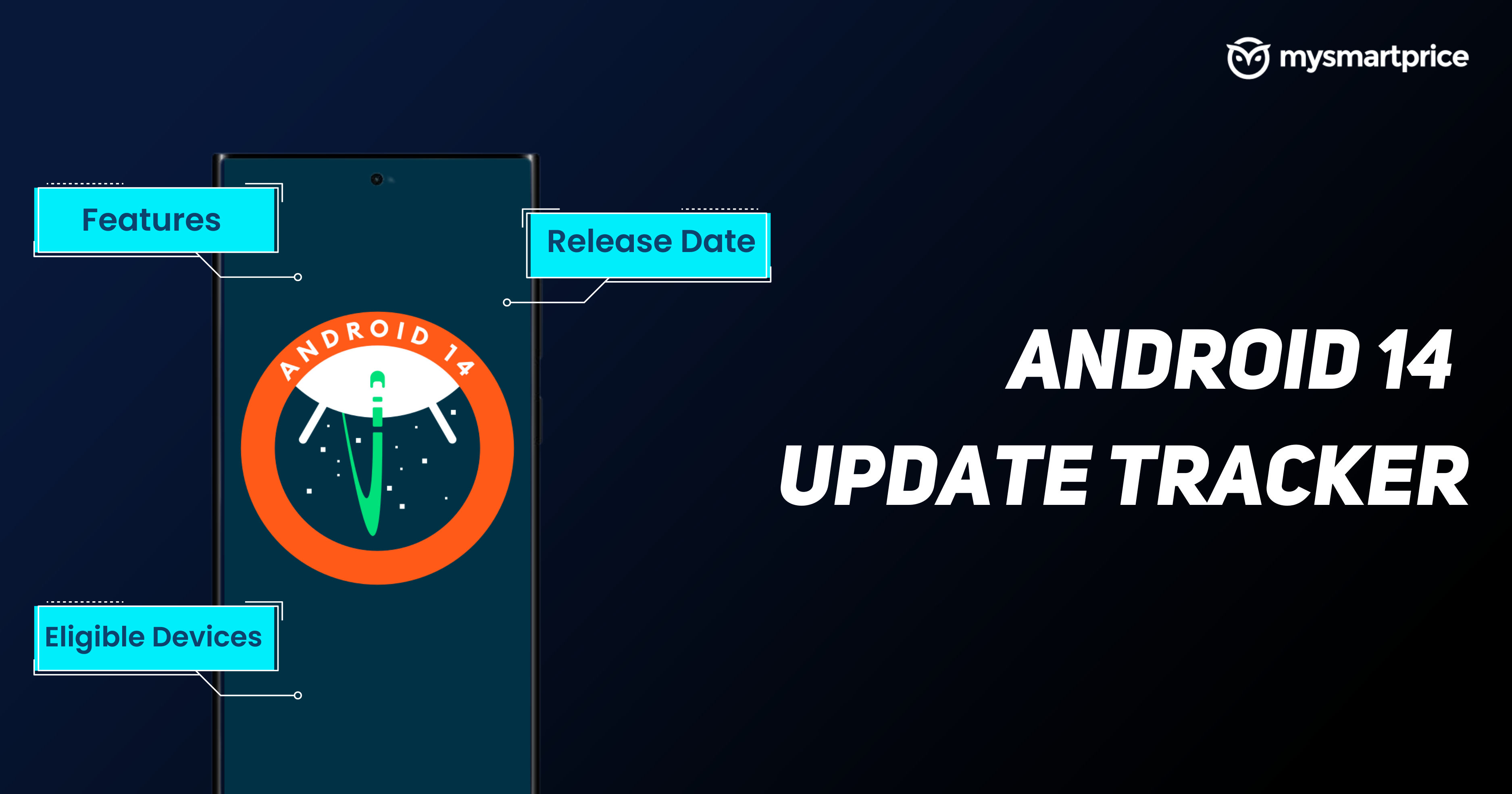 Google is working on Android 14, the next most popular smartphone OS version. Android 12 brought the most significant visual change to the operating system, with Android 13 continuing to use the same Material You design language. From the Developer Preview Google has released for Android 14, we can say Google isn't going to change anything drastic with Android 14 visually. But there are many under-the-hood changes and some new features.
Compared to Android 13, even though the design of the overall UI hasn't changed, with Android 14, Google is trying many new things. One such thing is the granular controls for media access; then, there is the new in-built app cloning. Google is also bringing in native support for custom lock screens, as Apple has improved its lock screen with a similar feature. There are lots of changes coming in with Android 14; you can read about the best new features in this article.
Let us talk about when the Android 14 update will hit your devices, along with the new features it brings and the expected launch date of the update in this article.
Android 14 Release Date
Android 14 was made official during the Google I/O 2023 developer conference on May 10th. The company has released the second beta update for the public to try out the new features of Android 14. The Android 14 Beta programme is available for multiple brands, including OPPO, OnePlus, Lenovo, Xiaomi, iQOO, Tecno, Nothing, Realme, and Vivo. Google has revealed the official timeline along with the launch of the Android 14 Developer Preview 1. Take a look:

Android 14 Top Features
Generative AI Wallpapers
One of the coolest features of Android 14 has to be the Generative AI wallpapers. The features will allow users to create new wallpapers with the help of AI. One can add the description and the operating system will create a customised wallpaper based on the instructions.
When your device matches your energy >>> With just a few taps, you can create Generative AI wallpapers to customize your experience. Coming soon to Android. #GoogleIO pic.twitter.com/dJQLynq7rY

— Android (@Android) May 10, 2023
Customizable Lock Screen
Google has also introduced a new customisable lock screen option with Android 14. With this, users will be able to customise each and every aspect of a lock screen like clock, shortcuts, wallpapers, and more.
Improved Granular Access To Media
In Android 13 or earlier versions, if an app wants to access an image or video, you give access to either the whole folder or the whole SD card. With Android 14, you have more control over what an app sees in your storage. You can select specific photos or videos when an app prompts for Data Access.
Larger Fonts
Android has supported changing font sizes for a long time now, since Android 6.0, to be precise. On Android 13, you can scale the font to 130% on Pixel devices. With Android 14, the font can now be scaled up to 200%.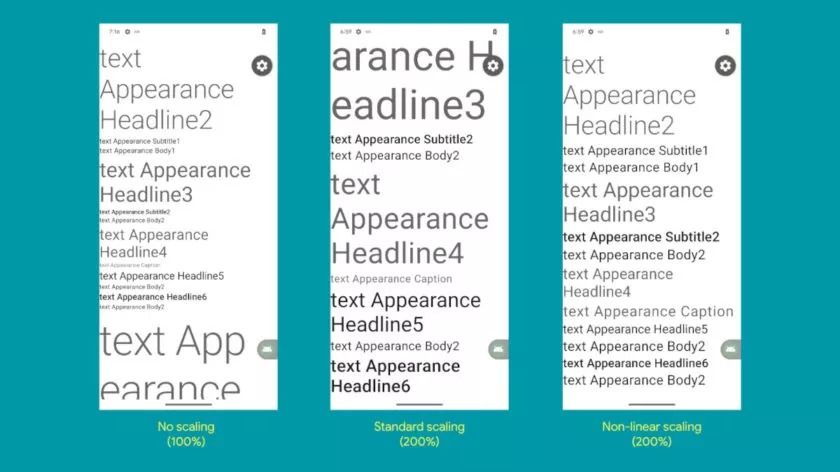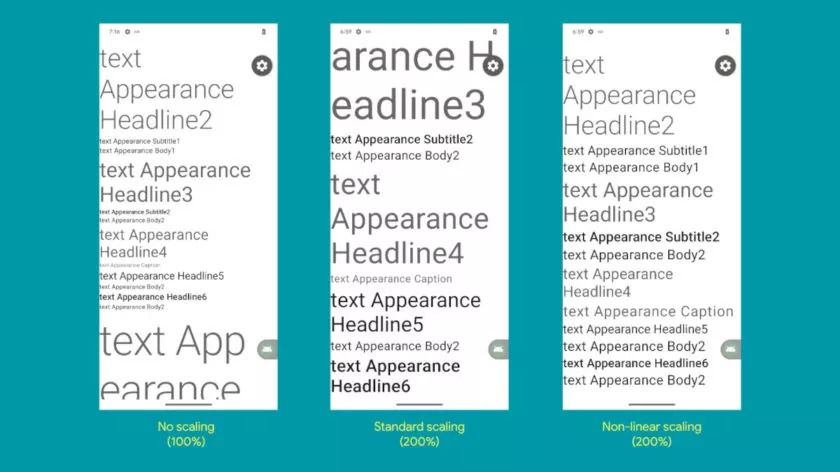 Android 14 uses nonlinear font scaling, which means text that is already large won't see a further increase in size.
Notification Flashes
Android 14 will allow you to see notifications by using the camera flash lighting up or the display flash. You can toggle these settings from Accessibility settings in Android 14. You can use the camera flash or display flash to light up the notifications or use both simultaneously. With the display flash, you can also choose the colour of the flash.
Better Support For Larger Screens
Android 14 also brings new app quality guidelines for large screens. Google separates apps across three tiers with support for large screens and functionalities they offer.
Regional Preferences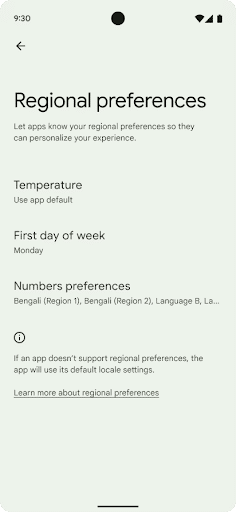 Android is used in countries worldwide and is a truly global operating system. Different regions come with other regional measurements for dates, times, temperature, etc., such as Kilometres vs Miles and Fahrenheit vs Miles. The regional Preferences feature in Android 14 lets users set their preferred temperature units, distance, calendar, the first day of the week, and more. The feature is now available in Android 14 Developer Preview 2.
Satellite Connectivity
Hiroshi Lockheimer, SVP, Android, Chrome, ChromeOS, Play and Photos, has announced that Android 14 will support satellite connectivity.
Wild to think about user experiences for phones that can connect to satellites. When we launched G1 in '08 it was a stretch to get 3G + Wifi working. Now we're designing for satellites. Cool! Excited to support our partners in enabling all of this in the next version of Android!

— Hiroshi Lockheimer (@lockheimer) September 1, 2022
App Cloning
Google is testing the clone apps feature in Android 14 Developer Preview. It lets you create a second app instance, like current third-party solutions. As of now, many custom skins also have support for app cloning. Now, a similar feature will be available natively on Android 14.
Health Connect
Google announced Health Connect at I/O 2022, which could sync data across different health and fitness services such as Samsung Health, Google Fit, Fitbit and more. Health Connect is now baked into system settings in Android 14.
Enhanced PIN Privacy
With Android 14, you can turn off animations when you enter your PIN. This ensures that others won't be able to see what you're entering as PIN by looking over your shoulder.
Redesigned Back Arrow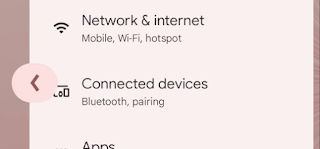 The Android 14 also brings a new back arrow for gesture navigation. The feature will allow users to switch between the apps more efficiently. All you need to do is use the back gesture and the previous app will be opened.
Better System share sheet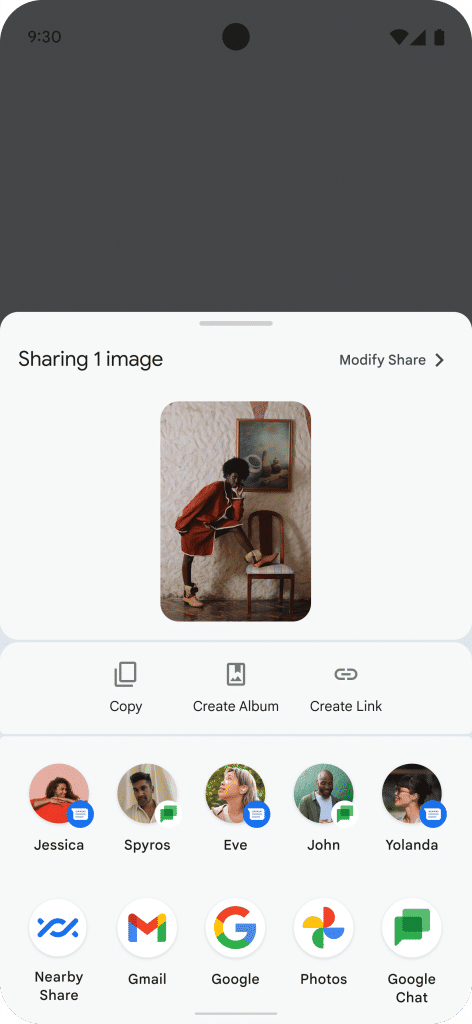 The Android 14 update also brings a better share sheet, which will allow developers to add custom actions to the share menu. One can have custom sharing options like Send to your Devices, copy link, QR code, and more.
Per-App Language for Apps
The Android 14 will allow users to select languages on a per-app basis. The feature will allow developers to add multiple languages to their applications with ease.
Better Privacy
The Android 14 operating system will introduce a new feature that will allow apps to limit the visibility of specified views only to accessibility services that claim to help users with disabilities. Only real accessibility apps that have been vetted by Play Protect and the Play Store will be able to access sensitive data protected by the new feature.
Other Android 14 Features
New PIN animations
Enhanced permission control option for media files.
New lava lamp-style animation for the media player along with splash animation for play/pause button.
New very low battery warning when the battery sinks below 2 per cent.
Emoji Kitchen wallpaper, which allow users to create custom wallpapers using Emojis.
Different live wallpapers for lock screen and home screen.
System supports font scaling up to 200 per cent.
Ability to identify bloatware and uninstall it with new Apps installed in the background feature.
Android 14 List of Compatible Devices
Google announced the Android 14 Beta 2 for the public during its annual developer conference. The company has revealed that the Android 14 Beta programme is now available for non-Pixel devices, including iQOO, Lenovo, Nothing, OnePlus, OPPO, Realme, Tecno, Vivo, and Xiaomi. Let us take a look at some of the phones that will be a part of Android 14 beta programme:
Google Pixel 7 Pro
Google Pixel 7
Google Pixel 7a
Google Pixel 6 Pro
Google Pixel 7
Google Pixel 6a
Google Pixel 5a 5G
Google Pixel 5
Google Pixel 4a 5G
OnePlus 11
Vivo X90 Pro
iQOO 11
Nothing Phone (1)
Xiaomi 13 Pro
Xiaomi 13
Xiaomi 12T
Realme GT 2 Pro
OPPO Find N2
OPPO Flip N2
Tecno Camon 20
Lenovo Tab Extreme
Now let us look at the devices from various brands that have promised Android version updates, including an update to Android 14.
Samsung Phones
Samsung Galaxy S series
Samsung Galaxy S23 Ultra

Samsung Galaxy S23+

Samsung Galaxy S23

Samsung Galaxy S22 Ultra

Samsung Galaxy S22+

Samsung Galaxy S22

Samsung Galaxy S21 FE

Samsung Galaxy S21 Ultra

Samsung Galaxy S21+

Samsung Galaxy S21

Samsung Galaxy Tab S8 Ultra

Samsung Galaxy Tab S8 Plus

Samsung Galaxy Tab S8

Samsung Galaxy Tab S7 FE
Samsung Galaxy A series
Samsung Galaxy A73

Samsung Galaxy A72

Samsung Galaxy A53

Samsung Galaxy A52

Samsung Galaxy A52s

Samsung Galaxy A33

Samsung Galaxy A23

Samsung Galaxy A14

Samsung Galaxy A13

Samsung Galaxy A04s
Samsung Galaxy M series
Samsung Galaxy M53 5G

Samsung Galaxy M33 5G

Samsung Galaxy M23
OnePlus Phones
OnePlus 11

OnePlus 11R

OnePlus 10 Pro

OnePlus 10T

OnePlus 10R/5G

OnePlus 9

OnePlus 9 Pro

OnePlus 9R

OnePlus 9RT

OnePlus Nord 2T

OnePlus Nord CE 2 Lite

OnePlus Ace Pro

OnePlus Ace Racing

OnePlus Ace

OnePlus Nord CE 3 Lite
Xiaomi Phones
Xiaomi 13 Pro

Xiaomi 13 Lite

Xiaomi 13

Xiaomi 12T Pro

Xiaomi 12T

Xiaomi 12S Ultra

Xiaomi 12S Pro

Xiaomi 12S

Xiaomi 12 Pro

Xiaomi 12 Lite

Xiaomi 12

Xiaomi Poco X5 Pro

Xiaomi Poco X5

Xiaomi Poco X4 GT

Xiaomi Poco M5s

Xiaomi Poco M5

Xiaomi Poco M4 5G

Xiaomi Poco F4 GT

Xiaomi Poco F4
Realme Phones
Realme GT 2 Pro

Realme GT 2

Realme GT Neo 5

Realme GT Neo 3T

Realme GT Neo 3

Realme GT Neo 2T

Realme GT Neo 2

Realme GT 5G

Realme 10 Pro+

Realme 10 Pro

Realme 10 5G

Realme 10

Realme 9 Pro+

Realme 9 Pro
Oppo Phones
Oppo Reno 8T

Oppo Reno 8T 5G

Oppo A78

Oppo A56s

Oppo Find N2 Flip

Oppo Find N2

Oppo Reno 9 Pro+

Oppo Reno 9 Pro

Oppo Reno 9

Oppo F21 Pro 5G
Vivo Phones
Vivo X90 Pro+

Vivo X90 Pro

Vivo X90

Vivo X80 Pro

Vivo X80

Vivo V27 Pro

Vivo V27

Vivo V27e

Vivo V25 Pro

Vivo V25

Vivo Y56

Vivo Y100

Vivo V23 Pro

Vivo V23 5G

Vivo V23e 5G

Vivo T1 Pro 5G

Vivo T1 5G

Vivo T1x

Vivo T1 Lite 5G
iQOO Phones
iQOO 11

iQOO 11 Pro

iQOO 9T

iQOO 9 SE

iQOO 9 Pro

iQOO 9

iQOO Z7

iQOO Z6 Pro

iQOO Z6 Lite 5G

iQOO Z6 5G

iQOO Z6

iQOO Z5

iQOO Neo 6

iQOO 8 Pro

iQOO 8
Motorola Phones
Lenovo ThinkPhone

Motorola Edge 20

Motorola Edge 30

Motorola Edge 30 Pro

Motorola Edge 20 Pro

Motorola Edge 30 Fusion

Motorola Edge 30 Neo

Motorola Edge 30 Ultra

Motorola Moto X40

Motorola Moto G13

Motorola Moto G23

Motorola Moto G53

Motorola Moto G73

Motorola Moto G 5G 2022

Motorola Moto G Stylus 5G 2022

Motorola Moto G42

Motorola Moto G52

Motorola Moto G62 5G

Motorola Moto G72

Motorola Moto G82 5G

Motorola Razr (2022)
NOTE: These phones are expected to receive the Android 14 update after it is launched, but it is not confirmed as of now.
Android 14 Latest News
Android 14 Beta 2 Official Released (May 10, 2023)
Google has officially released the second beta update for its upcoming Android 14 operating system. The company has revealed that the Beta 2 will come with some added features like Ultra HDR support, Health Connect application, Predictive Back, lossless USB audio, and more features. Moreover, it has also opened the beta update for non-Pixel devices.
Android 14 Beta 1 Comes With a Custom Lock Screen
One of the most awaited features in Pixel phones, custom clocks and the ability to customise the lock screen clock, is now added to Android 14 Beta 1. You can set the colours and size of the clock on the lock screen.
Android 14 Beta 1 Adds Support For Single-App Screen Recording
Screen recording on Android will get a revamp with the ability to record only a single app rather than recording the entire screen on your Android device.
Google Rolls out first Android 14 Beta Update (April 19, 2023)
Google has confirmed that it has rolled out the first Beta for the Android 14 operating system. The latest beta update is for early adopters enrolling in the Android beta programme. The latest beta update brings new features, including a smarter system UI, a new back arrow, better sharing capabilities, better graphics, per-app language preferences, and more.