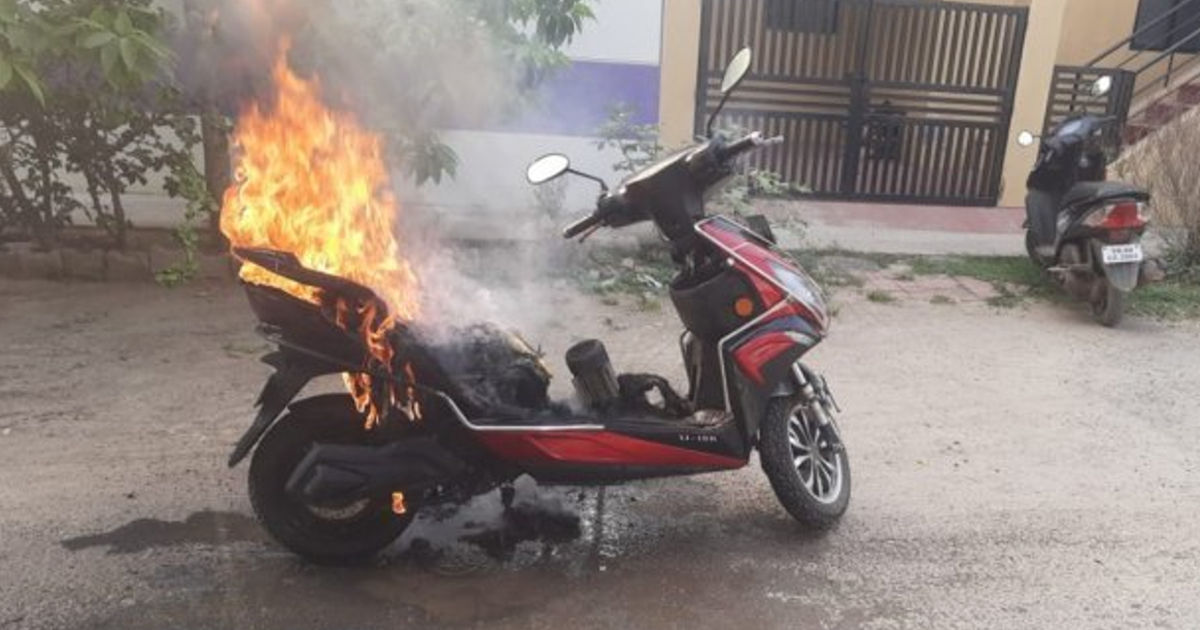 Despite their numerous advantages over the internal combustion (IC) engine vehicles, electric vehicles (EVs) are yet to gain the confidence of the majority in India. Some of the reasons for this are purely due to their limited capabilities like range and high charging time. Others, however, pop-up time to time in the form of instances that put EVs in a bad light. Yet another such incident has now emerged from a district of Telangana, where a battery of an electric scooter caught fire while on charging.
The news is being reported from Ramachandrapur of Ramadugu mandal, Karimnagar district in Telangana. As per reports, the battery of an electric scooter caught fire late on May 8 night and exploded shortly after. Since it was late in the night and the electric scooter was parked outside the house, no one was injured in the incident.
The battery-powered scooter belonged to Egurla Odelu, a farmer of Ramachandrapur. Reports on the incident suggest that the farmer had purchased the electric scooter only a few months ago. The e-scooter was identified to be Benling Falcon, a prominent EV offering by Benling India.
On the night of the incident, Odelu parked the electric scooter in front of his house late in the night. He then plugged the EV for charging through a power socket and went inside the house for dinner. Within minutes, the battery caught fire and exploded, burning the electric scooter completely in the process.
Unsafe EV batteries?
The incident takes place within weeks of a similar mishap wherein an 80-year-old man lost his life in an explosion of an EV battery. The previous incident took place in Nizamabad, Telangana back in April, and involved an electric scooter by PureEV. While the specifics were different, the event was the same, the EV was plugged in and charging while the battery caught fire and exploded.
Both the incidents are under investigation as of now. The repeated events may hint at a common problem across the spectrum. However, the fact is that there are plenty of points where EV batteries can be compromised. A small range of operational temperature can be one, especially with the kind of heat that most of the Indian states receive. Poor quality components like battery cells and battery packs may also be a valid reason.
In any case, the incidents suggest that it is time that EV makers are given higher standards of battery assemblies to adhere to, with some India-specific aspects possibly to be taken into consideration as well.