Highlights
Apple iPhone 15's camera has scored 12th on the DxoMark leaderboard
The display on iPhone 15 has ranked 15th
In the premium smartphone category, the iPhone 15's camera has topped the ranking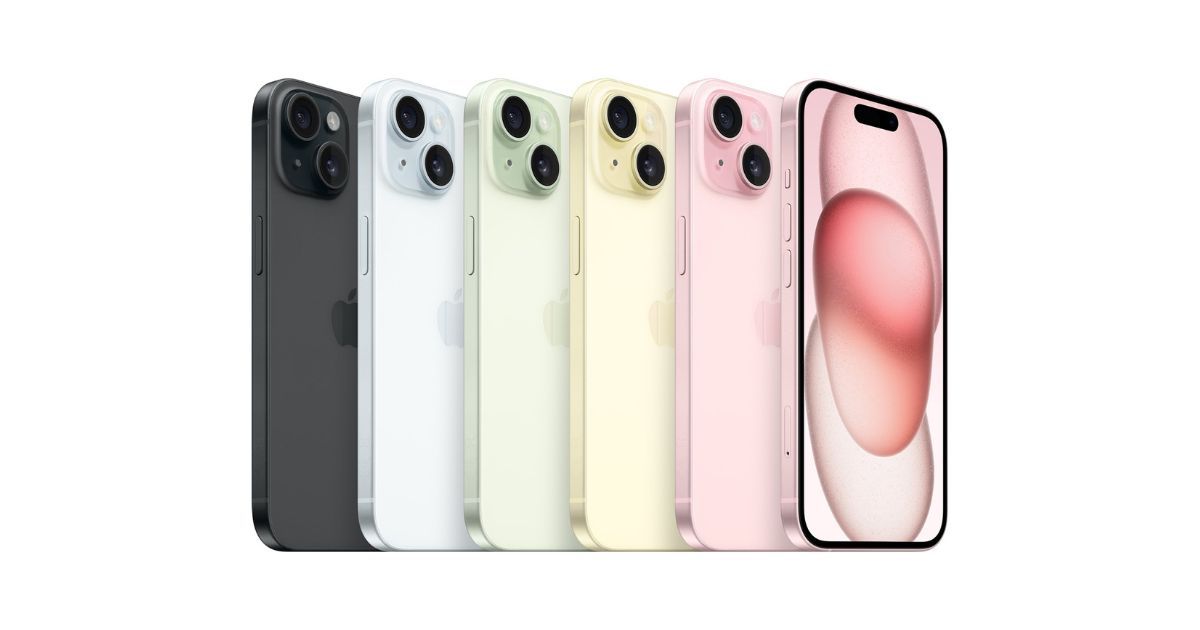 The DxOMark global rankings for the display and camera parameters of the Apple iPhone 15 have been revealed. As per DxOMark, the iPhone 15 ranked 12th globally regarding camera performance, and has the 15th-best display on a smartphone worldwide, respectively.
However, it is noteworthy that when it comes to camera performance in the premium smartphone category, the iPhone 15 has topped the rankings. The DxoMark report called the camera on the Apple iPhone 15 "extremely reliable", just like the iPhone 15 Pro and 15 Pro Max models.
Apple iPhone 15's Camera Rank 12th Globally: DxOMark
For those unaware, the iPhone 15 series was launched last month at the company's fall event. In terms of camera, the iPhone 15 features a primary 48MP sensor with f/1.6 aperture lens, Dual Pixel PDAF, and sensor-shift OIS. It also has an ultra-wide 12MP sensor with f/2.4 aperture lens. The smartphone is powered by Apple's A16 Bionic chipset.
During the testing by DxoMark, the camera on the iPhone 15 stood out in the exposure and colour departments, in both photo and video modes. However, the report did point out that the photos had fairly high noise levels, especially in shadows. Another department, where the camera performed well was natural colour rendering and skin tones, especially in bright light. While zooming capabilities have been enhanced, thanks to the use of a Quad-Bayer image sensor on the iPhone 15, the zoom scores were still low compared to the Pro models, due to the lack of a dedicated tele module, and more.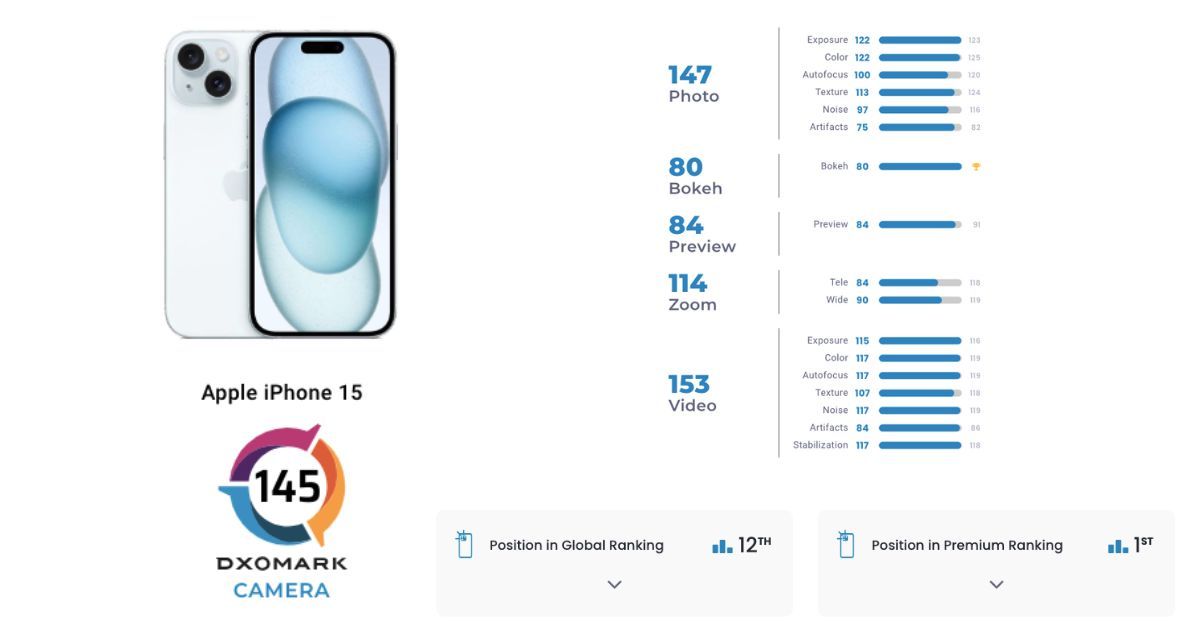 It also pointed out that the dynamic range in photos and videos were slightly limited and that some loss of fine detail in low light video was noticed. However, the overall performance has been said to improve compared to predecessors.
Apple iPhone 15 now jumps to 24MP image size by default in most light conditions, which according to the report, has resulted in significant improvements in texture and noise trade-off. "Overall, in terms of still image quality, the iPhone 15 has made an important step forward, outperforming its predecessors in almost every photo test attribute," the report read.
Apple iPhone 15 Display Ranks 15th Globally: DxoMark
Coming to the display, iPhone 15 has received the 15th rank globally. The top slots in this department has been claimed by the recently launched Google Pixel 8 series smartphones, which received the highest 154 points in DxOMark's display testing. In comparison, the iPhone 15 scored 145 points across testing of various factors such as readability, colour, video, motion, touch, and more.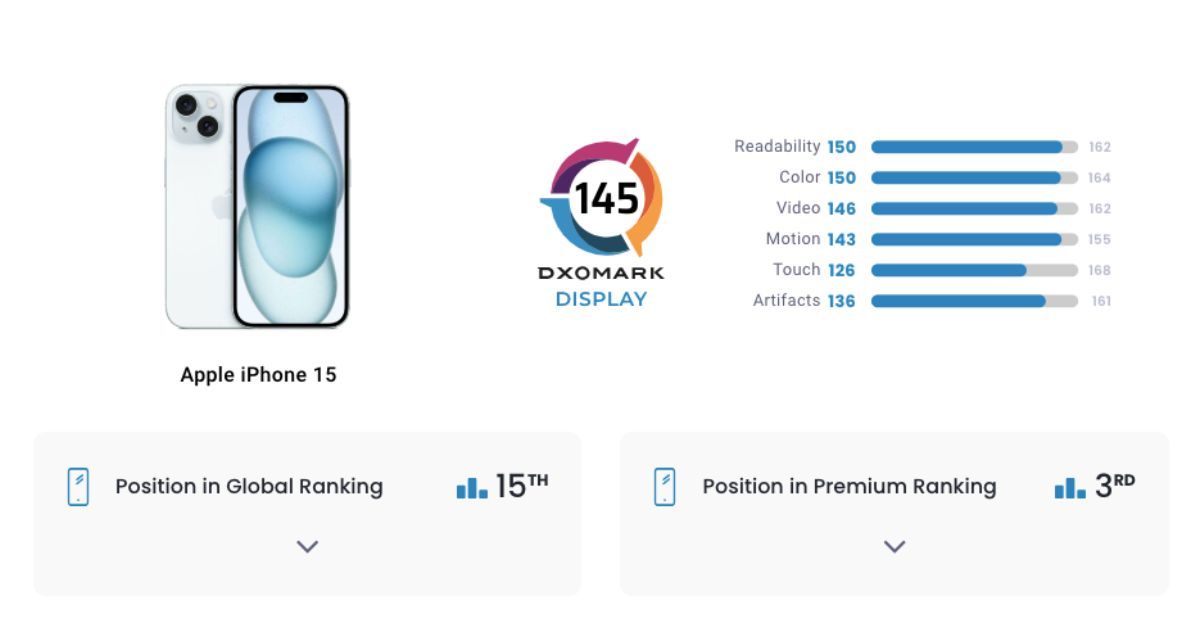 Apple iPhone 15 comes with a 6.1-inch AMOLED Retina XDR display with a resolution of 1179×2556 pixel and a refresh rate of 60Hz. DxOMark says that the brightness on iPhone 15's display is readable in nearly all tested conditions. It also noted that it is particularly well suited for HDR10 content. "Colors are more vivid than with previous models, but a visible orange cast impacts color rendering for both still photos and HDR10 videos," according to the report.
Though barely any frame drops in video playback were noticeable, the 60Hz refresh rate is said to adversely affect smoothness when scrolling and playing games. Another slight complaint that DxOMark had was about an orange cast that it said impacted colour rendering and skin tones in photos and videos. Also, there was a lack of contrast in midtowns in HDR10 videos as well.