Highlights
The iPhone 15 Pro uses a new Titanium alloy material for construction
The phone starts at Rs 1,34,900 in India
Hold up, is that a USB Type-C, I see?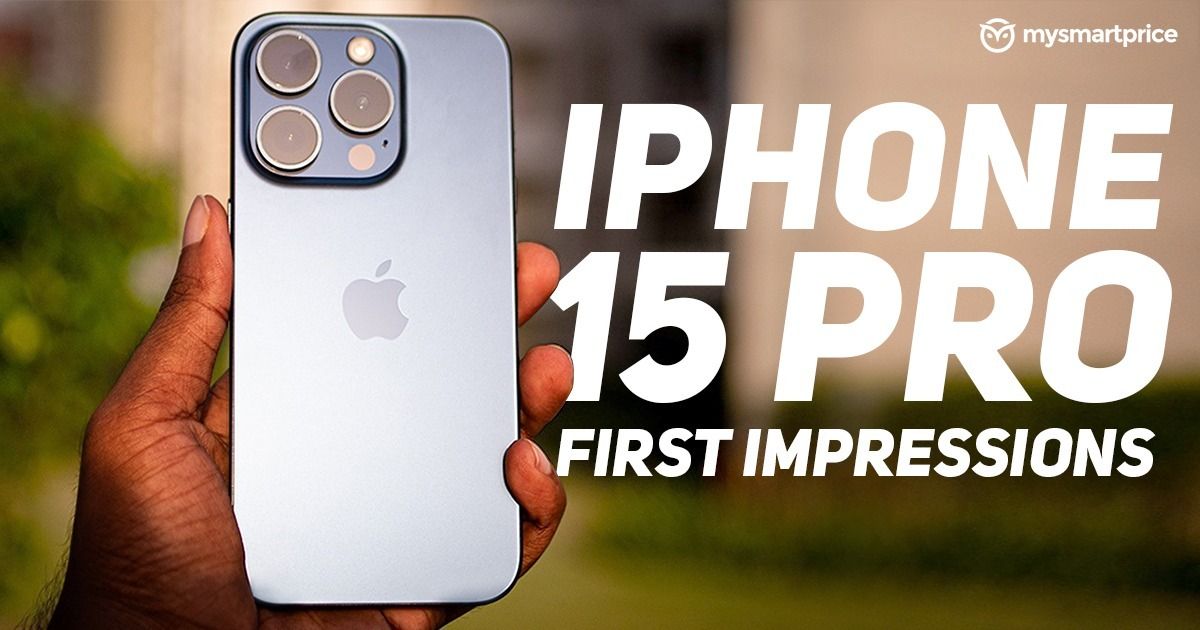 Even before the autumn breeze settles in, Apple's new iPhone 15 Pro lineup has made its way to the markets. While the obvious refinements lie in the processing power and camera capabilities of the two phones, there are some cosmetic and functional changes as well.
I'm sure you already know, but let me help you jog your memory — the beloved mute switch is now gone and replaced with a multi-purpose Action button. This has a lot of potential, and I'm here to exploit it later on.
And, *cue drum roll*, the lightning port now makes way for the USB-C port — no need to ask your friends if any of them are carrying an 'iPhone' cable anymore. This change can also be found on the vanilla versions of the iPhone this year. While these are not seismic changes in terms of today's smartphone market, they are enough to make a banter at your office interesting.
However, there are a bunch of other changes if you look beneath the surface too. While our full review is still in progress, let's take a breath of fresh autumn air that the iPhone 15 Pro brings with our first impressions.
iPhone 15 Pro First Impressions: Pricing in India
Some things are constant in life — Cristiano Ronaldo clutching a match, Real Madrid winning the UCL, Ferrari messing up a promising race, and iPhone prices shooting through the roofs. While the vanilla iPhones haven't experienced a rise (or a fall) in price since the iPhone 12 (Review), the 15 Pro sees a surge of Rs 5,000 over its predecessors.
The iPhone 14 Pro (Review) and Pro Max, as per yearly Apple traditions, have been discontinued. However, you can still find them on Flipkart, Amazon or physical third-party retailers.
iPhone 15 Pro Price Breakdown:
| | |
| --- | --- |
| Storage Variants | Prices |
| 128GB | Rs 1,34,900 |
| 256GB | Rs 1,44,900 |
| 512GB | Rs 1,64,900 |
| 1TB | Rs 1,84,900 |
iPhone 15 Pro First Impressions: Ergonomic heaven and a stunning display
At first glance, the iPhone 15 Pro looks eerily similar to its predecessor. That's not really a surprise considering the design approach has been the same for the last two iterations. But, there are internal changes this time around. Apple, during its Wanderlust keynote, stressed that the new Pro series is forged in Titanium, the same alloy that spacecraft use for missions to Mars.
The use of this material, over stainless steel has helped the iPhone 15 Pro weigh a whopping 19 grams less than its predecessor. I can not put this in words as to how it makes holding the phone so much better. The evenly distributed weight structure just acts as a cherry on top. While Apple claims this is the most durable iPhone ever, videos floating on the internet suggest something else. If you want to avoid that situation, slap on a case — Apple will happily sell you their newly launched FineWoven case.
Another upgrade in the design structure is the rounded-off edges. The iPhone 14 Pro series' frames were so sharp, they could've dug out fossils. Thankfully, that has been subtly addressed this time around. While the flat design style is here to stay, the curved edges help the iPhone 15 Pro earn the ''ergonomic heaven'' tag. On the downside, the glossy frames attract fingerprints quicker than bananas attract monkeys. The triple rear camera setup at the back is still prominent, making it a wobbly affair when kept on tables.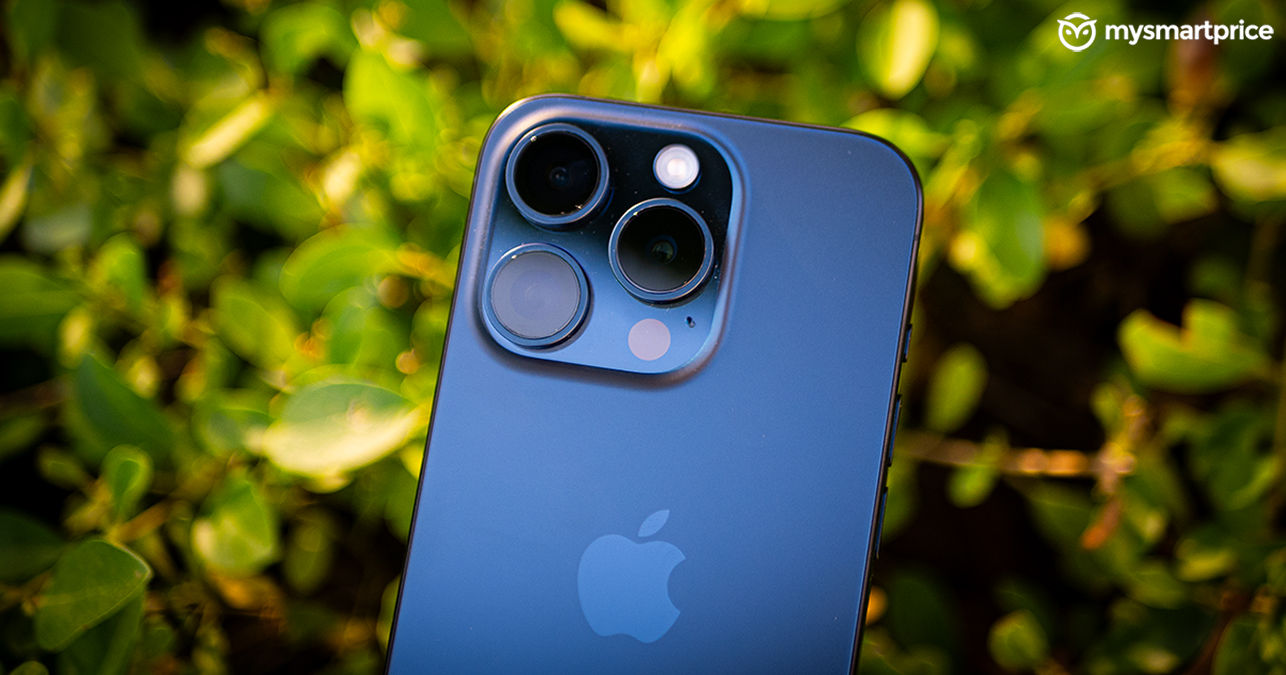 This year, the iPhone 15 Pro gets a new colour in the form of Natural Titanium —it looks like a more subtle shade of gold. Rest, you can get the phone in Blue Titanium, White Titanium, or Black Titanium options. The last proper blue iPhone came out three years ago, and I have to say I prefer this understated shade of blue over the iPhone 12.
In terms of height, width, and depth, the iPhone 15 Pro is more compact compared to its predecessors. The buttons and port locations are the same, except for the Action button and the USB-C, both of which are welcome additions. The USB-C is a big deal because now, you can have a single cable for all your phones and accessories. All four iPhones get the sweet nectar of the USB-C, but only the Pro models enjoy faster USB 3.0 speeds.
The Action button can be easily customised in the settings. You get to assign the ringer controls, focus mode, flash, camera, shortcuts, and much more. And, while we are at it, I just want to add that no one does software animations better than Apple. The Action button settings tab looks stunning and is seamless to use.
On the display front, the changes are incremental. The panel size remains the same, but the 15 Pro gets slightly slimmer bezels. The 6.1-inch Super Retina XDR display is a joy to look at – there are no two ways about it. iPhone 14 Pro's Dynamic Island and Always-On display have also been carried forward here.
The panel is rated for 1600 nits of peak brightness in HDR and 2000 nits for outdoor usage. You can also find ProMotion on the display, which I wish could be offered in vanilla iPhones as well.
iPhone 15 Pro First Impressions: New chip, same cameras
Apple has gone heavy on the "Pro-ception" because the iPhone 15 Pro-series is powered by the A17 Pro chip. The processor has a total of six CPU cores with two performance and four efficiency cores. And, of course, they haven't failed in pointing out how much more powerful and power-efficient it is than last year's chip. We'll put the claims to the test in our review, but we have kept our ears open to the reports of the phone heating up. In our limited usage, we haven't faced any discomforting level of heat, yet.
Apple is known for not sharing actual battery numbers, but the company claims 23 hours of video playback on the iPhone 15 Pro which is similar to last year. The phone also supports 15W of MagSafe charging, if you slap one on its back. The iPhone 15 Pro runs on the newly launched iOS 17.0.2, and I've got to say — the NameDrop feature is a ton of fun.
The camera setup has been carried forward from the iPhone 14 Pro, with minor quality-of-life improvements. You get a triple camera setup with a 48-megapixel primary camera, a 12-megapixel ultra-wide, and a 12-megapixel telephoto with 3x optical zoom. There's more room for customisation for the camera settings now. You can set the default lens to either 24mm, 28mm, or 35mm —- you can also just straight up disable some of these options. The iPhone 15 Pro also allows you to select the pixel binning mode to be either 12-megapixel or 24-megapixel, which is a nice option.
So far, the iPhone 15 Pro's cameras have managed to click some great shots. Our prayers for a balanced dynamic range seem to have been answered. Photos, both in low-light and daylight, look good with fulfilling details. Of course, we need to spend some more time with the device for a detailed take on the camera capabilities. But, here are a few samples for you to examine.
Final Thoughts
In the period between the sale that went live a week ago and today, I have already seen a bunch of iPhone 15 Pros in the wild, so it's clear that people are very much motivated by the new machines. There are some drastic changes, there's no denying that, but how big of an upgrade are they, and should you consider the iPhone 15 Pro as your next purchase… are some of the questions we will answer in our full review. So keep an eye out for that.