Apple introduced three new iPhones last month, and two of them were nothing more than mild upgrades to last year's devices. However, Apple didn't name them the iPhone 7s and iPhone 7s Plus, as was the case with a mid-cycle refresh for the last few years. It instead branded them the iPhone 8 and iPhone 8 Plus. The main design change with the new phones is the inclusion of glass backs, better cameras, a faster processor, and wireless charging. If you want dual cameras (and the Portrait Lighting mode) and a multi-day battery life, your choice narrows down to the iPhone 8 Plus and the iPhone X.
The iPhone X has a crazy new design with a bezel-less OLED screen, a completely new FaceID biometric authentication system, and dual OIS for cameras. So, why would anyone buy the iPhone 8 Plus if the iPhone X offers a more enticing set of features? Let's find out in our review.
iPhone 8 Plus: Design & Build Quality
Apple iPhone 8 Plus - Product Images
The iPhone 8 Plus looks exactly like the iPhone 7 Plus from the front. You just can't distinguish between the two until you turn them over. Unlike the iPhone 6s Plus or the 7 Plus, which have metal (aluminium) backs, the iPhone 8 Plus has a durable glass-covered back. This not only makes the phone shinier but also helps enable wireless charging. Due to the transparent nature of glass, it also helps in cellular reception.
The phone is 7.5mm thin and weighs a hefty 202g. It is also IP67-certified for dust and water resistance, but just don't take it with you into the shower or for a swim (you'll need a phone with IP68 for that). Although the phone feels solid and well-built, it looks very dated. Apple has been using the same design for the past four years, starting with the iPhone 6 and 6 Plus. The company was once considered to be the pioneer of smartphone design, but that mantle has moved onto Samsung. Thanks to a relatively unchanged design, Apple's phones are now some of the most boring design-wise. It's clear that Apple was saving its best for the iPhone X, with its ultra-thin bezels and rounded corners.
iPhone 8 Plus: Screen & Audio Quality
The iPhone 8 Plus' 5.5-inch Full HD screen is very similar to that of the iPhone 7 Plus. The screen also comes with additional features: 3D Touch, Wide Color Gamut, and TrueTone. 3D Touch offers you a new way to interact with the content on the display, and you can do that by pressing the screen with force (which is different from long press) to reveal more options. The Wide Color Gamut feature helps in displaying more life-like colours. The TrueTone feature changes the screen temperature based on the ambient light, and the company claims that it will make the display easier on the eyes.
While it is one of the best LCD panels out there, with excellent contrast ratio (for an LCD panel), accurate colours, and ample brightness, it doesn't feel as good as Super AMOLED screens on Samsung's flagships. Even though it is a well-calibrated display, it isn't quite what you expect from a high-end phone. Moreover, the large bezels around the screen make the phone look like it's from 2015. It's time for Apple to move from LCDs to OLED panels for all iPhone models, as the latter provides inky blacks and additional features like always-on display.
One more thing. While Apple says that the iPhone 8 and the iPhone 8 Plus are compatible with HDR content (HDR10 and Dolby Vision), the screens on the phones are not fully HDR capable. They can't fully reach the peak brightness or contrast ratio that's required for HDR to work properly. So, they don't have the official certification. However, since the phones support Wide Color Gamut, they can display a wider-than-usual colour palette, and the company has convinced Netflix (where most of the streaming HDR content is found nowadays) to certify these phones as HDR capable. Just don't expect Galaxy Note 8 or LG V30-style HDR content playback on the iPhone 8 and 8 Plus, though.
iPhone 8 Plus: Camera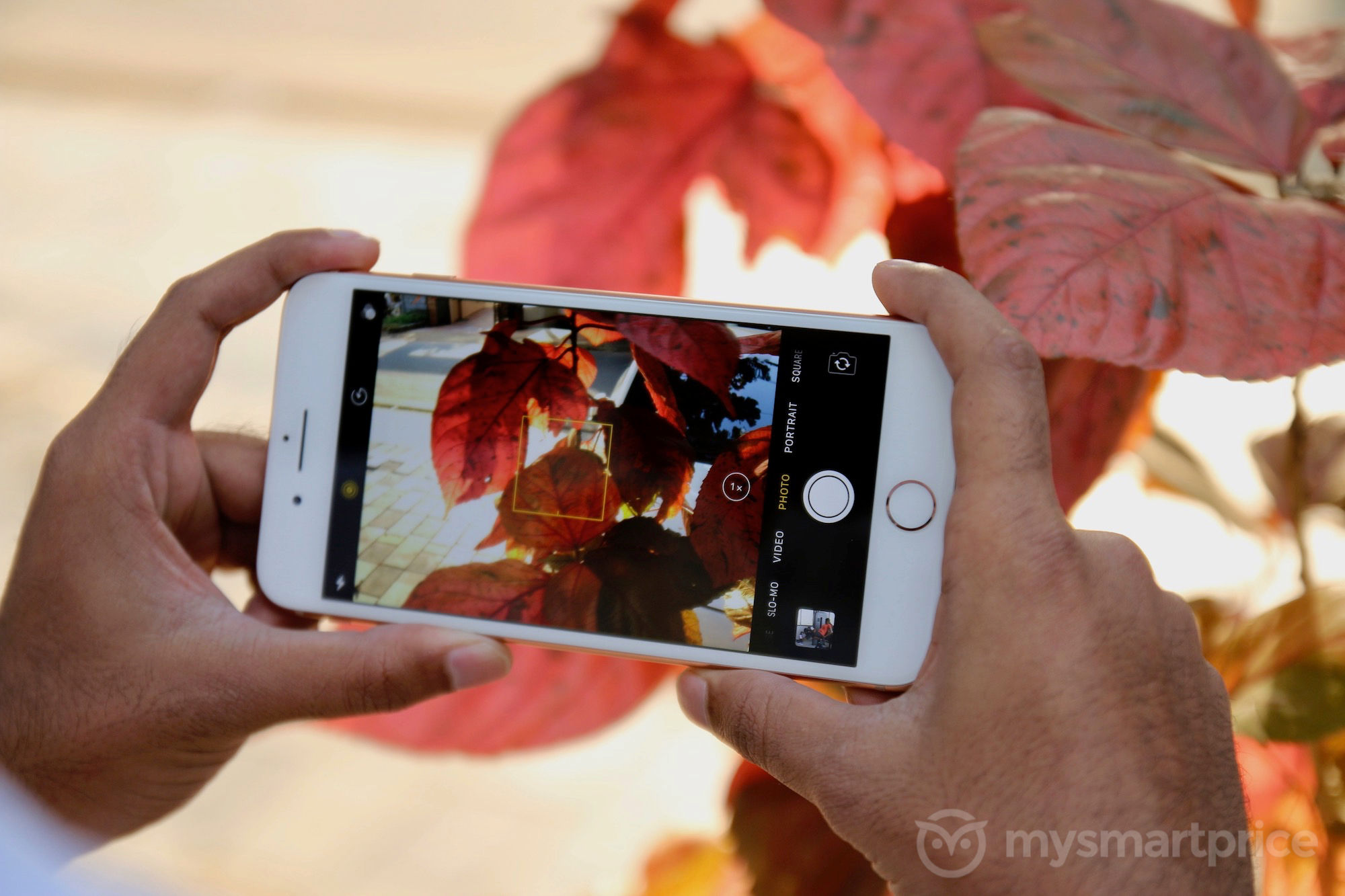 There's a pair of 12-megapixel camera sensors (wide-angle + telephoto) at the back of the iPhone 8 Plus, and the setup is covered by sapphire glass (which is more durable than regular glass). The 28mm wide-angle sensor is the larger of the two, optically stabilised (OIS), and has an aperture of f/1.8. The 56mm (2x optical zoom) telephoto sensor is slightly smaller, lacks OIS, and has an aperture of f/2.8. The front-facing camera remains unchanged, with a fixed focal length and a resolution of 7 megapixels. While the camera setup looks identical to that of the iPhone 7 Plus, there are a few differences. The iPhone 8 Plus has a larger-sized camera sensor, but the company hasn't revealed the sensor size yet. Since the resolution remains the same and the overall sensor size has improved, the individual pixel size has increased. This should theoretically result in better image quality.
One more important feature that the iPhone 8 Plus brings to the table is 4K 60fps video recording, which is a first for any smartphone in the world. And that's quite an achievement. The phone can also record 1080p slow-motion videos at 240fps. Most of this is due to the more powerful A11 Bionic chipset that features a faster ISP. The new HEVC (H.265) codec also has a hand in this achievement. The new compression algorithm crams videos in half the file size, and I can confirm it. Images are saved in HIEC format as well, but it could cause compatibility problems when sharing those images or videos. The quad-LED flash is brighter than ever, and thanks to the new slow-sync LED flash feature, subjects don't look blown out. Apple still records mono audio in videos for some unexplainable reason, though.
Apple iPhone 8 Plus - Daylight Camera Samples
There's Live Photos and Portrait Modes as well, similar to last year's iPhone. Apple has improved the Portrait Mode by adding intelligent lighting effects (in beta), and the company is calling it Portrait Lighting. This feature identifies a face in the picture and tries to improve the lighting on it, thereby offering a dramatic effect. There are five Portrait Lighting effects: Natural Light, Studio Light, Contour Light, Stage Light, and Stage Light Mono. With iOS 11, you can edit Live Photos and add bounce, long exposure, or loop effects. These effects can be chosen before or after clicking an image. This can be done just by swiping up a Live Photo after which these options appear. The menu also shows people that are visible in the frame, the location where an image was clicked, and related images. You can also edit a Live Photo to choose the key moment, so that it appears as the thumbnail for the picture.
Apple iPhone 8 Plus - Portrait Lighting Effect
As you'd imagine, the iPhone 8 Plus is amazing when it comes to the actual image quality. There's a noticeable improvement in detail and the images appear sharper. Dynamic range has improved as well, and there was minimal difference when HDR was turned on and off. Colours are punchier when seen next to the iPhone 7 Plus, and this is a welcome change for people who did not like last year's iPhone's drab colours. I think Apple might have finally realised that consumers generally like their photos saturated. Low-light images have been improved as well. There's more detail, matching the Galaxy S8 in similar conditions. Apple has finally caught up to Samsung and LG in this regard. Thanks to the the slow-sync flash feature, which keeps the shutter open for a little longer, the entire scene looks well-lit. Panorama shots have high resolution (up to 60MP), no visible stitching, and high dynamic range.
Apple iPhone 8 Plus - Low-light Camera Samples
Even though the iPhone 8 Plus can record 4K videos at 60fps, Apple still sets the default video capture resolution at 1080p and a frame rate at 60fps. You can capture 4K 60fps videos only when the High Efficiency option is selected. Both camera sensors can capture 4K 60fps videos. The 4K videos recorded using the phone have superb quality with high levels of detail, good colour accuracy, great stabilisation, and high dynamic range. However, when you move the camera from a darker scene to a brighter scene, the transition is very jittery. Apple needs to fix this behaviour. Also, when you use the telephoto sensor in daylight, there's no noticeable difference in video quality, but video starts appearing darker and grainy when there isn't enough light around the subject.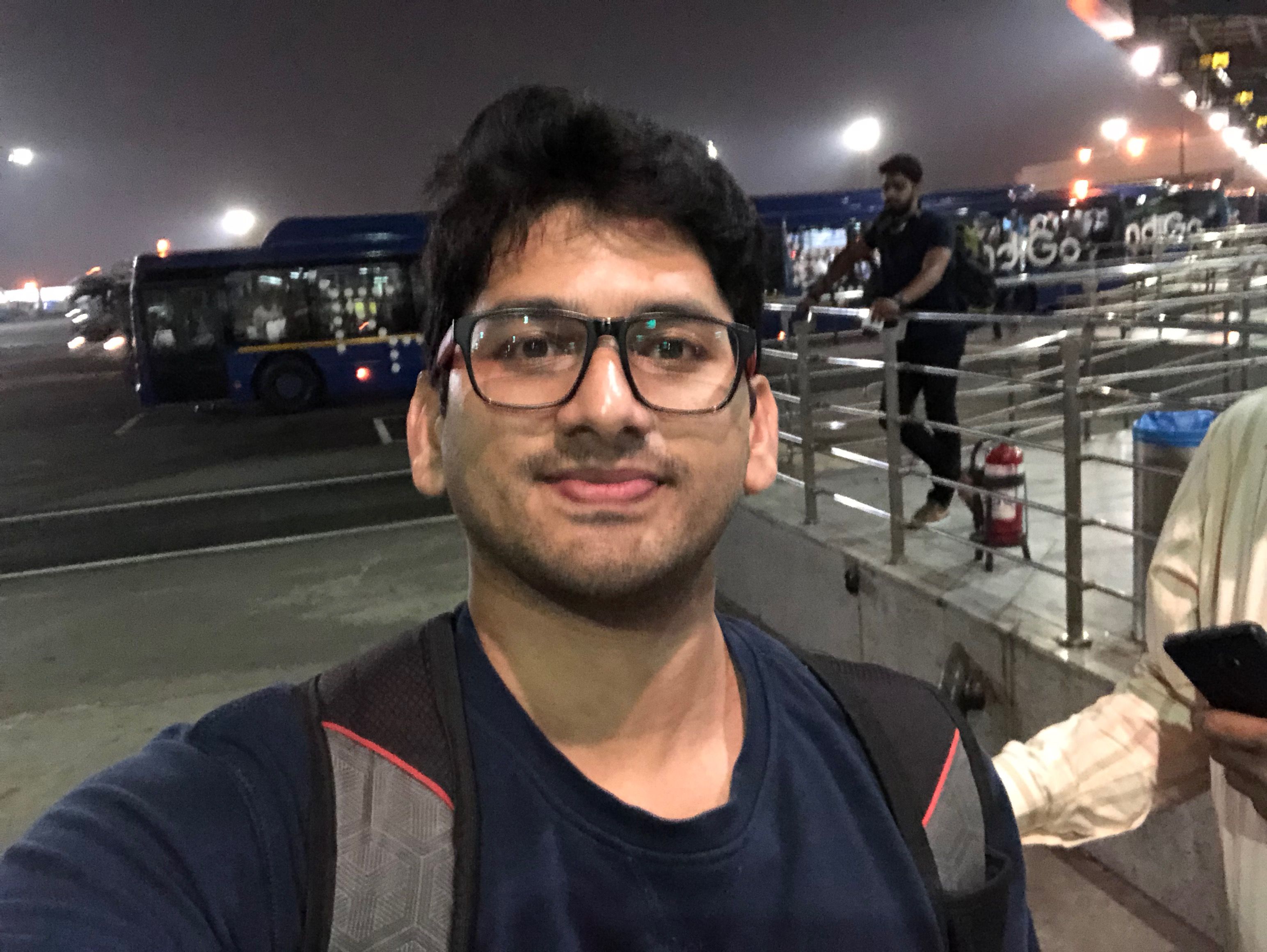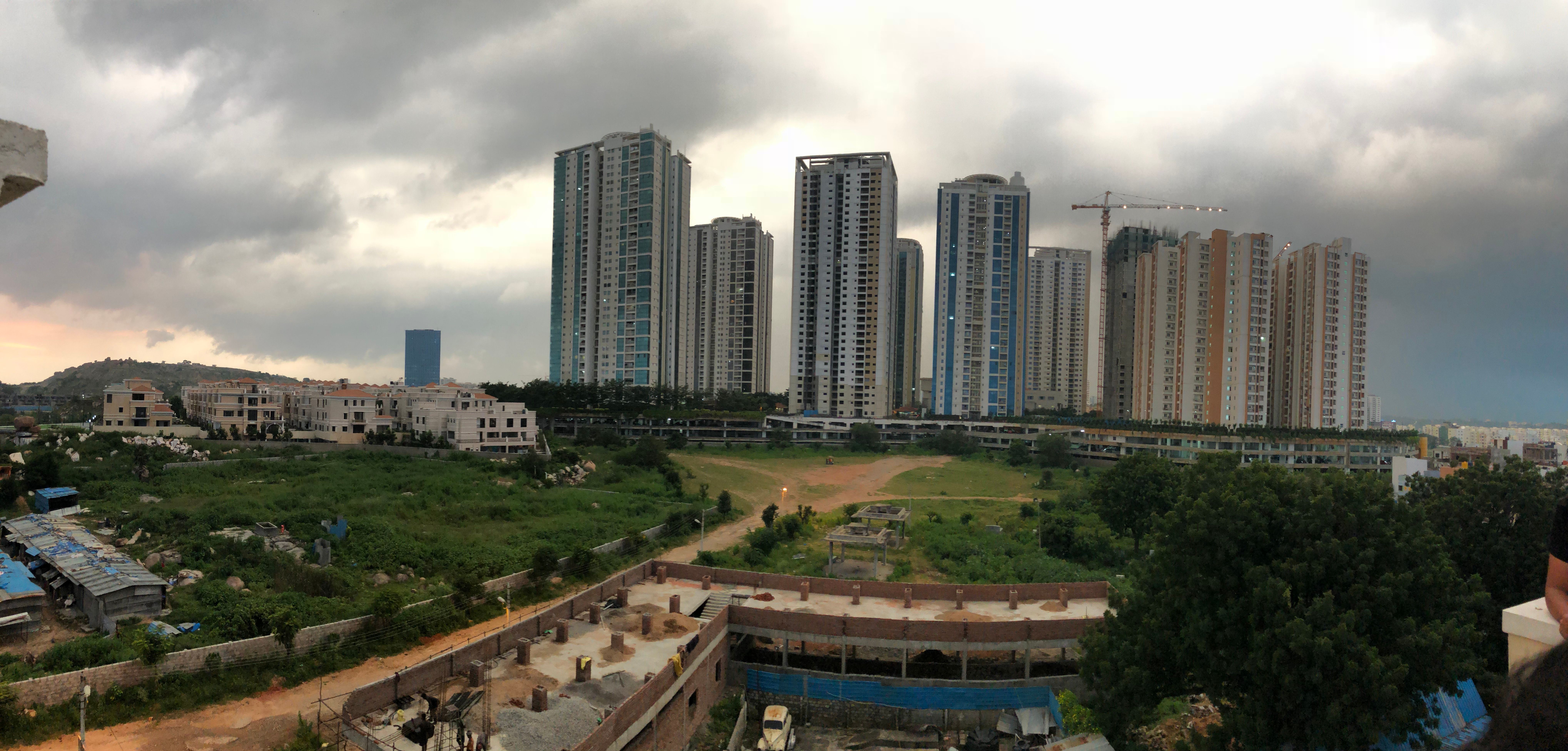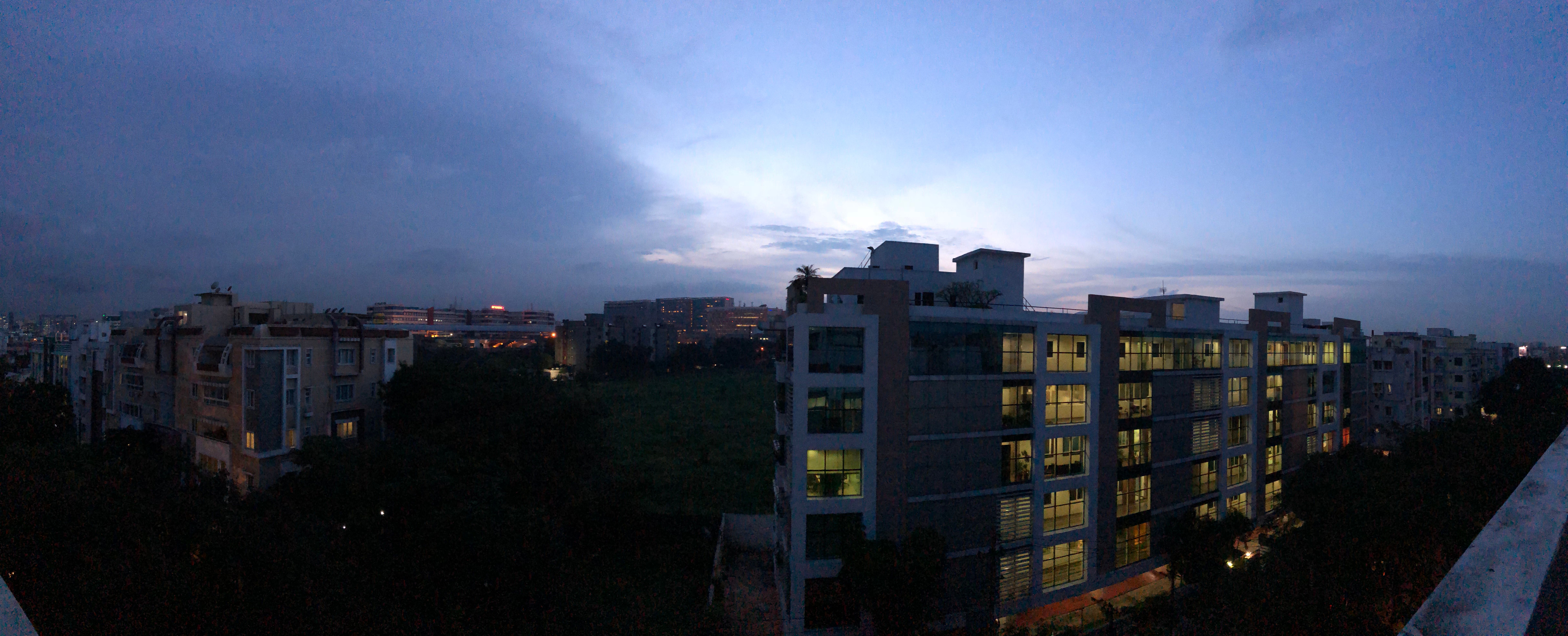 iPhone 8 Plus: Software Experience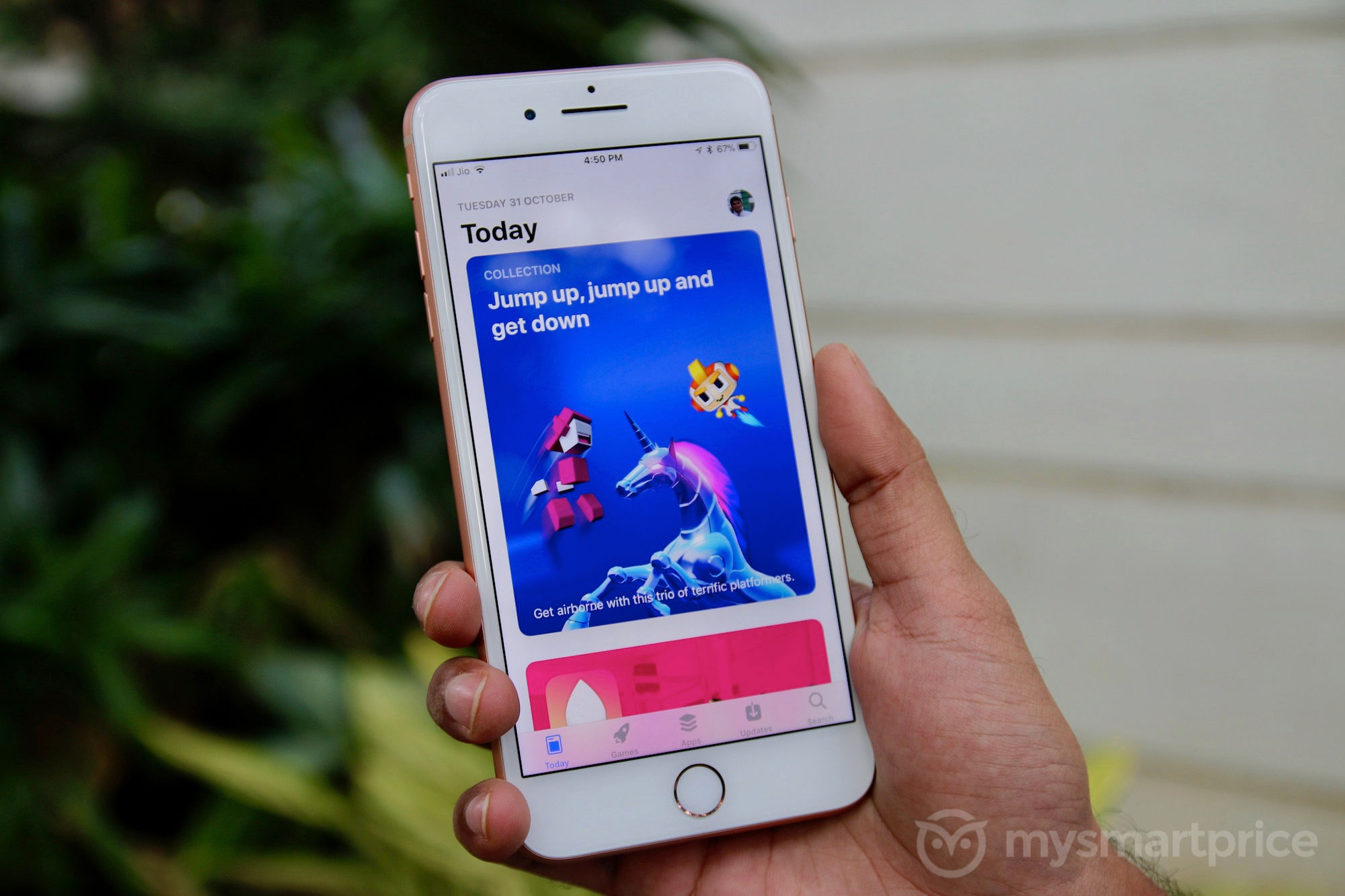 The iPhone 8 Plus comes with iOS 11, and the company has introduced a lot of features with its latest operating system. For starters, the Control Center has been redesigned, and is now customisable, so you can select which toggles and controls you need there. Notifications screen and lock screen have been merged, which, frankly, is confusing for users. When you try to clear notifications by swiping, you end up opening the camera. As always, Siri gets some new features and a more natural-sounding voice. Most of the stock apps have finally received a design refresh: bolder fonts, bigger images, and focus on content. Everything looks bigger, and some might not like the new change because you will see less content on the screen at once.
There's a File Manager app, and you can integrate not only iCloud Drive, but also third-party cloud storage services like Box, Dropbox, and Google Drive. The new Notes app can be used to save various types of information such as lists, tables, images, and in-line drawing. It can also be used for scanning documents. There's a brand new way to capture, edit, annotate, and share screenshots. iOS 11 also supports native screen recording, which is a boon for someone like me as it makes it easier to create how-to videos. The keyboard gets one-handed typing and Live Photos can be edited. iOS 11 also brings AirPlay 2 with support for multi-room audio, but I wasn't able to test it since I have only one Apple TV.
Apple iPhone 8 Plus - Software & UI Screenshots
You can use the camera app to scan QR codes, and the app remains just as easy to use as it was before. Apple has added AR functionality with iOS 11, and a lot of apps and games using the feature are now available on the App Store. While I haven't used all of them, some apps are quite handy, such as HouseCraft, Human Anatomy Atlas 2018, MagicPlan, PLNAR, and SkyGuide AR. AR games like AR Sports Basketball, HoloGrid: Monster Battle AR Monster Park – Dino World, Stack AR, Thomas & Friends Minis are pretty fun, too. However, you'll get bored of them after a while. We could not test a few features like Apple News, Apple Pay and indoor maps of malls and airports as well as lane guidance since they're not available in India.
Apple Music consists of a social feature where you can follow your friends to see what they're listening to.
Accessing stickers, emojis, and apps or games in iMessage is now even easier. However, I found a bug where you the order of iMessage apps does not remain as you order them. Apple has not fixed it yet, and it has been there since multiple iterations of iOS 11 Beta.
The built-in video player still has a very limited codec support, and you'll have to convert videos to iPhone-friendly formats if you want to watch them on the default video player. VLC Media Player is a good option.
Overall, the software looks good, but the intuitiveness that Apple was known for has taken a nosedive.
iPhone 8 Plus: Performance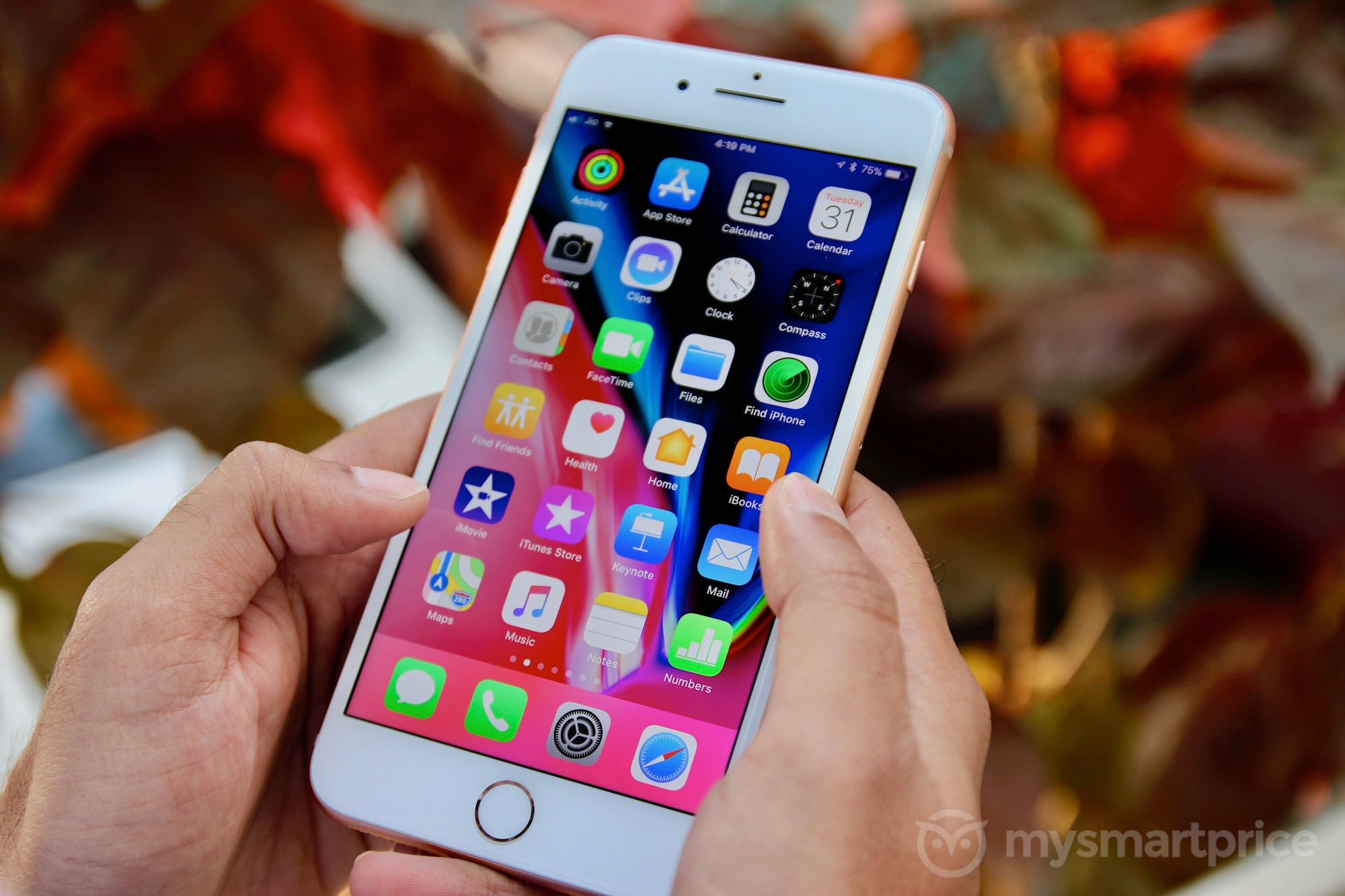 The iPhone 8 Plus uses Apple's newest chipset, the A11 Bionic, which has two Monsoon CPU cores, four Mistral CPU cores, and a three-core Apple GPU. There's 3GB of RAM and at least 64GB of internal storage. While Apple wants you to believe that the new chip is significantly faster than last year's A10 Fusion, you won't notice much of a performance difference in day-to-day tasks. Apps install and open fast, and the UI is smooth most of the times. However, I noticed way more stutters than I had expected. Apple's quality control over the user interface smoothness has deteriorated, and it is taking a multiple software updates to fix visible bugs.
Apps don't stay in memory, too, which is a shame considering that there's plenty of RAM. The only place where the increased performance seems to have a difference is 4K 60fps video recording. This was simply not possible with last year's chipset. Apple has also used its homemade GPU for the first time in the A11 Bionic chipset, and it is faster than most mobile GPUs out there. The gaming performance is simply superb, and the comparatively lower Full HD screen resolution also helps. Most other competing phones have QHD or even 4K resolution screens.
The cellular signal reception was great as usual, and so was the call quality. People on the other side of the call never complained about ambient noise, so the active noise cancellation seems to be working well. The front-facing stereo loudspeaker setup of the iPhone 8 Plus is the best we've ever heard on a smartphone. The stereo speakers on last year's iPhone 7 and 7 Plus were already amazing, and the ones on the iPhone 8 Plus produce louder and fuller audio. You can even hear some bass while listening to music or while watching videos.
However, there's no 3.5mm headphone port, and you need to use either the bundled Lightning adapter or shift to Bluetooth earphones if you want to listen to music or consume any other type of media. If you are thinking of getting Bluetooth earphones, get the ones that support AAC format. The fingerprint reader is very accurate and fast. It refused to recognise my fingers only when there was water, oil or dirt on it.
iPhone 8 Plus: Battery Life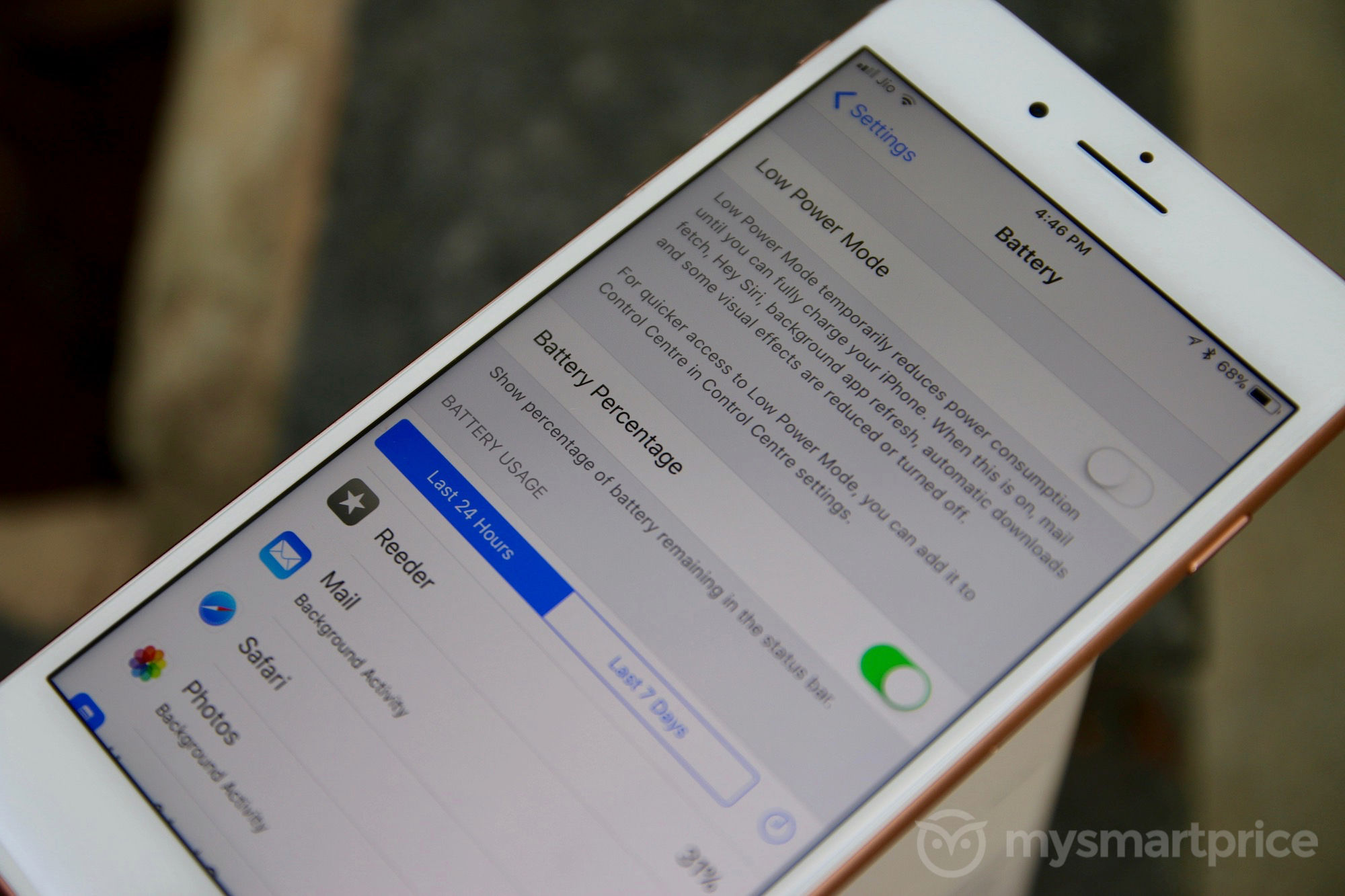 Even though Apple has reduced the battery capacity of the iPhone 8 Plus (2691mAh) by 10% compared to last year's iPhone 7 Plus (2950mAh), the battery life has actually improved, which is impressive. Looks like the company's A11 Bionic chipset is more power-efficient than last year's A10 Fusion chipset. Apple might have also added more effective software optimisation to improve the overall battery life of the iPhone 8 Plus.
The phone lasts well over a day and a half before you need to top up its battery. It is also capable of rapid charging (finally!) if you use a USB Power Delivery (USB-PD)-compatible wall charger. However, that's not the charger that Apple bundles with the phone, so you'll have to spend some extra cash to make use of the rapid charging feature. If you use the bundled wall charger, expect the phone to take nearly three hours to charge fully.
The iPhone 8 Plus is also compatible with the Qi standard for wireless charging, which means that you can use any Qi-compatible wireless charger to charge the phone. I used Samsung's Fast Wireless Charger with the iPhone 8 Plus and it took ages to charge the phone fully. If you plan on using a wireless charger to charge the iPhone 8 Plus, better leave it on the charger overnight.
iPhone 8 Plus: Verdict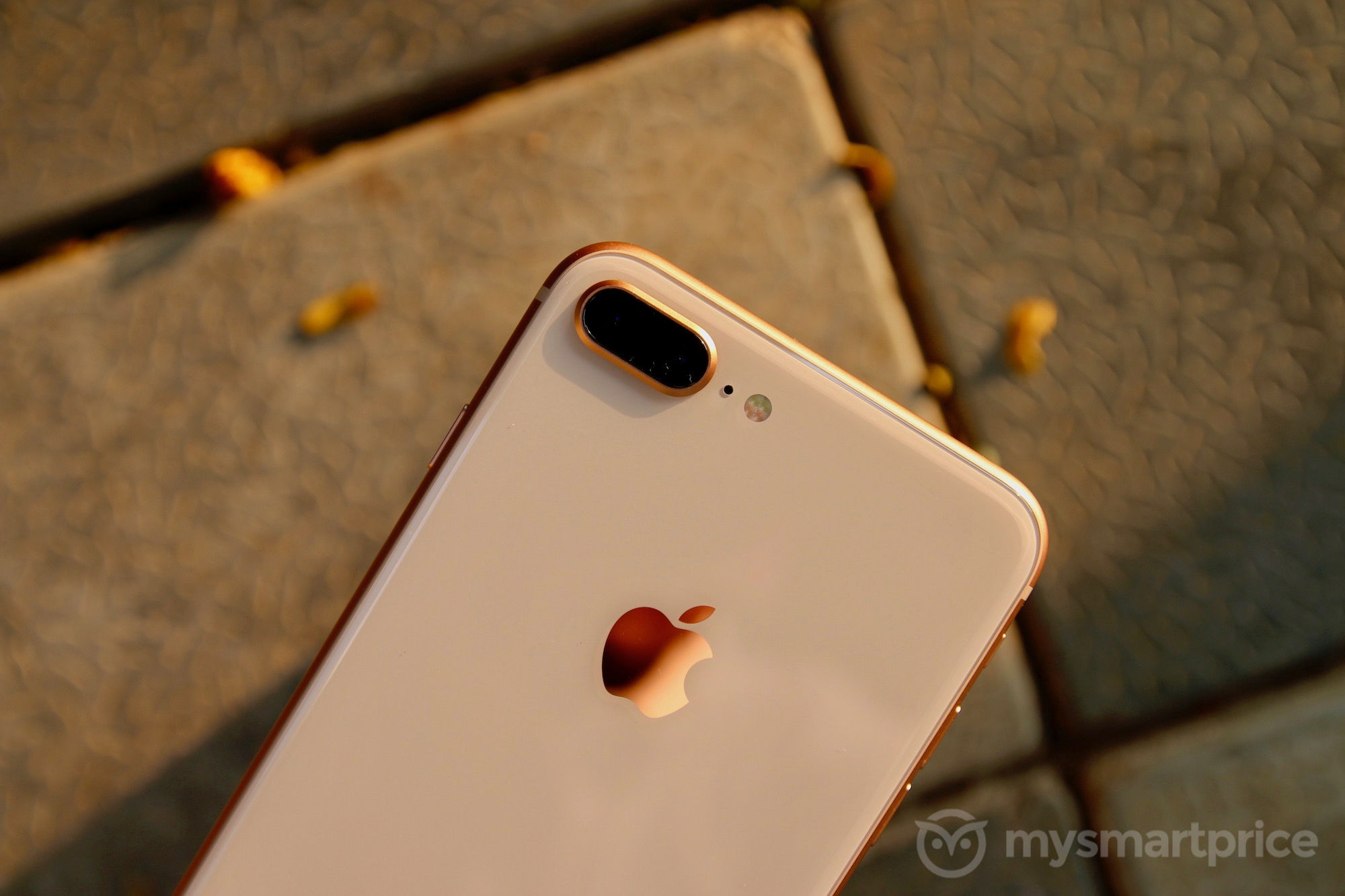 While the iPhone 8 Plus has a good screen, the best set of loudspeakers, a nice dual-camera setup, and blazing fast performance, it lacks the wow factor that consumers expect from any smartphone that costs above Rs. 50,000 in India. It lacks an OLED screen or even true HDR, something that almost every other flagship phone offers. There's no dual-SIM card variant or a 3.5mm headphone port. While it lasts longer than most competing phones after a single charge, it takes too long to charge, more so with a wireless charger. If you want faster charging, you'll have to shell out extra bucks to buy a USB Power Delivery-compatible charger. The iPhone 8 Plus offers dust and water resistance, but it's too heavy and the design is outdated.
It appears as if Apple made this phone so that the iPhone X could appear even more appealing to the iPhone fanbase. Those who buy an iPhone for its design and futuristic features will wait and buy the iPhone X, while those who buy an iPhone for flaunting the Apple logo on its rear will buy the iPhone 7 Plus after its price drops.
So who is Apple's target audience with the iPhone 8 Plus? Right now, only those customers who have had enrolled in carrier subsidy programs or two-year contracts would think of buying it. Such an audience doesn't exist in India. Only a small subset of consumers would think of buying the iPhone 8 Plus, and those would be those who don't have high hopes with FaceID or those who care about 4K 60fps video recording but don't have enough money to spend on the iPhone X.
Best Alternatives To The iPhone 8 Plus
Apple iPhone X: It has an excellent OLED screen with thin bezels and a dual-OIS camera. It's pricier than the iPhone 8 Plus, but you also get a larger screen in a more compact size.
Apple iPhone 7 Plus: It has most of the features of the iPhone 8 Plus; the performance difference is negligible, and is priced much lower now.
Samsung Galaxy Note 8: It has the world's best screen on a smartphone right now, comes with dual-OIS camera, and offers a flurry of software features at a lower price.
Samsung Galaxy S8+: If you don't care about dual cameras, go with the Galaxy S8+. It has longer battery life than the Galaxy Note 8, and most importantly, it's available at a cheaper price.
Xiaomi Mi Mix 2: If you want a phone with ultra thin bezels and fast performance at a lower cost, the Mi Mix 2 is a great choice.
Apple iPhone 8 Plus
Rs. 68,999
Design and Build Quality
8.0/10
What Is Good?
Good quality, bright screen
The best loudspeakers we've ever heard
A great set of cameras
4K 60fps video recording
Fast and stable performance
Excellent battery life and wireless charging
Dust and water resistance
Extremely fast and accurate fingerprint reader
What Is Bad?
Dated design
No OLED or HDR screen
No stereo audio in video recording
No Dual-SIM card variant available
No 3.5mm headphone port
Slow charging speed
Overly expensive for what it offers