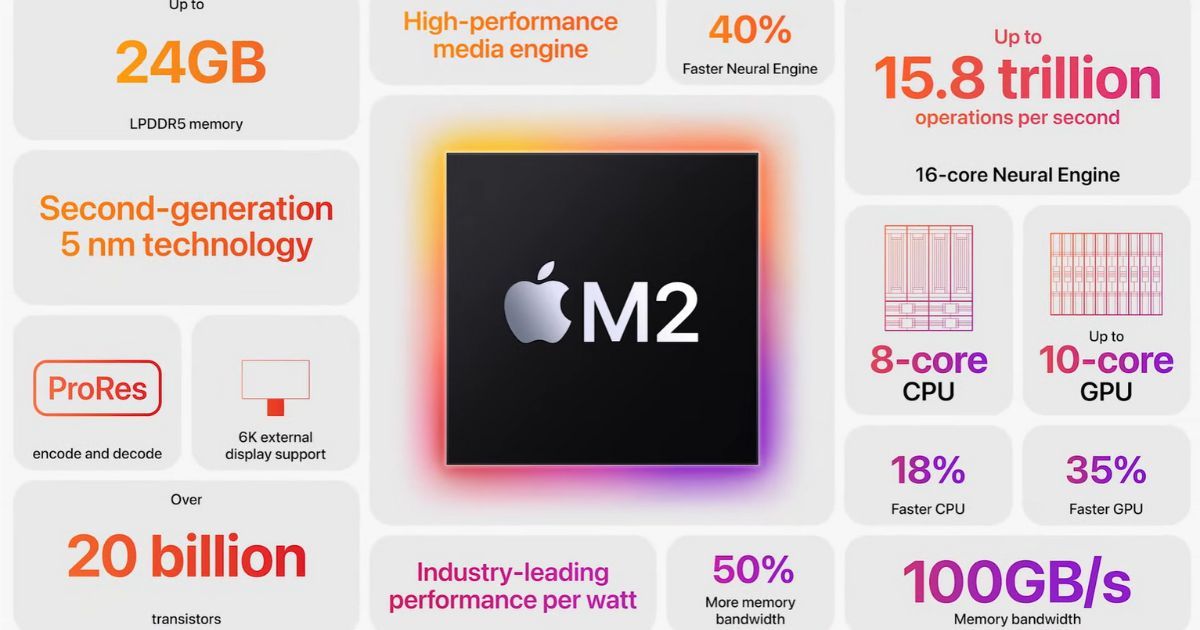 Along with the announcement of iOS 16, Apple has just announced the second generation of the M series chipset, the Apple M2 chip. Built on top of the success of the M1 series chipsets, the Apple M2 chip is here to take things to the next level with new-gen CPU, GPU, and more additional and enhanced features.
The Apple M2 chipset is built to maximize the performance and minimize power consumption on the machine. The first set of devices to get the Apple M2 chipset was also announced at WWDC today. The Apple MacBook Air and the 13-inch MacBook are the first laptops to feature the M2 chip.
Apple M2 Chip Announced: Features
The second-generation M series chipset comes is built on top of the second-gen 5nm technology with over 20 billion transistors. The chipset comes with support for up to 24GB of LPDDR5 unified memory (RAM). The new 16-core neural engine can operate up to 15.8 trillion operations per second and it is 40% faster compared to the last-gen SoC.
The octa-core M2 chipset comes with four performance-centric cores as well as four power-efficient cores. There are four high-performance cores with ultrawide microarchitecture, 192KB instruction cache, 128KB data cache, and shared 16MB cache and there are also four high-efficiency cores with wide microarchitecture, 128KB instruction cache, 164KB data cache, and shared 4MB cache. The CPU performance is 18% faster compared to the M1 chipset.
There is also a new 10-core GPU with a larger L2 cache and it is said to offer a 35% better GPU performance than M1. Other features include 50% more memory bandwidth, 100GB/s memory bandwidth, ProRes encode and decode, and support for up to 6K external monitor.
With the next-gen media engine in the M2 and a powerful ProRes video engine for hardware-accelerated encoding and decoding, devices with M2 will be able to play back more 4K and 8K videos than ever before.