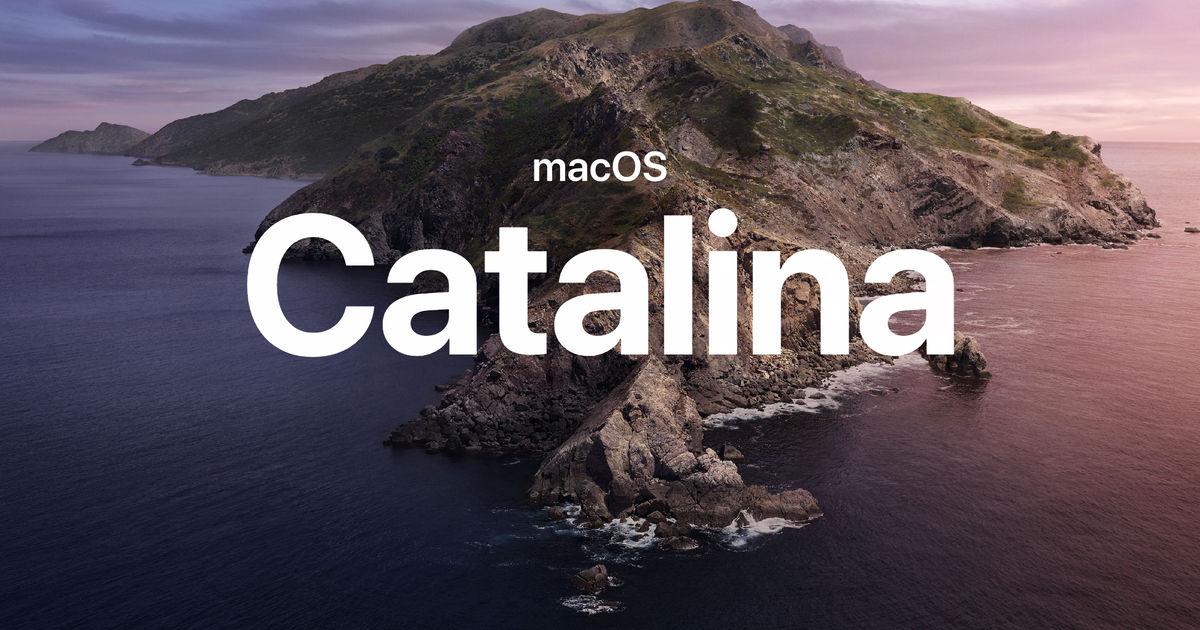 Apple unveiled the successor to macOS Mojave during its WWDC 2019 presentation. Apple's macOS Catalina brings various performance improvements, new apps, cool new features, and powerful technologies for app developers. The company has also introduced various security features and an all-new way to locate a misplaced or a stolen Mac. Accessibility features have been improved a lot so that it is easier to use macOS by differently abled users.
Some of the biggest changes include the exclusion of the iTunes app in favor of Apple Music, Apple Podcasts, and Apple TV+ media apps. All of the stock apps such as Notes, Photos, Reminders, Safari, and others have received a design refresh and newer features. The company has also made it easier for developers to bring iPad apps and games to macOS through its Marzipan technology. Screen Time, which was introduced with iOS 12, is now available on macOS Catalina.
Apple macOS Catalina: Compatible Devices & Launch Date
Apple has announced that the Developer Beta version of macOS Catalina is available for registered developers, while the public beta version will be released sometime in July 2019. The final version will be released to everyone sometime in Fall 2019 (September 23, 2019, to December 22, 2019). Here's a list of Apple computers that can officially run the macOS Catalina operating system without any problems:
iMac 2012 or later
iMac Pro 2017 or later
Mac Mini 2012 or later
Mac Pro 2013 or later
MacBook 2015 or later
MacBook Air 2012 or later
MacBook Pro 2012 or later
Apple macOS Catalina: New & Improved Features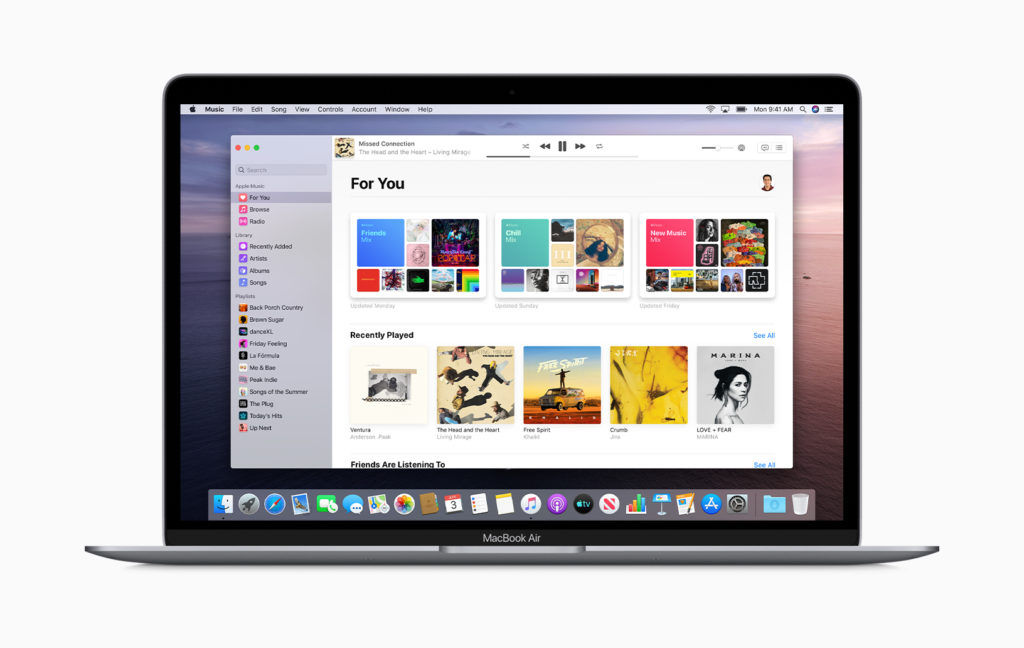 Apple has split all of iTunes functionality into three new media apps—Apple Music, Apple Podcasts, and Apple TV+—and the iPad, iPhone, and iPod syncing ability has now been moved to the Finder app.
The Music Store section in the Apple Music app will still let you buy your favorite music. The Apple TV+ app can play music in up to 4K, HDR (on supported displays), and with Dolby Atmos audio. The new media apps feature iCloud Sync so everything from your media stays as is and you don't miss out on anything. You don't need to worry about backup, restore, and update features for your iOS devices as you can find them in the Finder app.
Stock macOS Apps like Mail, Notes, Photos, Reminders, an Safari have received new features and a refreshed look.
Home app features HomeKit Secure Video, which means Apple TV or HomePod in a network can securely record video from your HomeKit-enabled video camera and send you notifications. You can also view securely recorded videos which are saved to your iCloud library.
The Mail app has an updated Classic layout, an option to unsubscribe from pesky marketing emails, an option to mute an entire thread or to block an emailer.
The Notes app now shows a gallery view of all the notes. Users can now share an entire folder of notes with another person or a group. Notes can be reordered and there's a checklist feature which moves completed items at the bottom of the list. It also features a new and powerful search feature.
The Photos app shows important memories from your library, hides screenshots and unwanted whiteboard images to offer you a clean look. You can view photos and videos by day, month or year, and the app can now automatically show you important items (such as anniversaries, birthdays and trips) first, thanks to machine learning. Live Photos and videos will autoplay to show you a dynamic view.
QuickTime Player now supports Picture in Picture mode, shows better media file information (along with HDR info),
The Reminders app now lets you organize items in lists and sub-lists and organize them as you want. You can also add attachments to any item. Siri can now find new reminders from other apps such as Messages and suggest you in adding them. The new app can also automatically create smart lists and organize them.
Safari now features an updated start page, which displays frequently visited websites, with macOS Catalina. This page will also show links you receive in other apps such as Messages or from your Reading List. Safari will also warn you about weak passwords. You can also quickly enable the Picture in Picture (PiP) mode.
New System Preferences app can now show more information about your account, iCloud account details, media purchases, in-app purchases, subscriptions, family sharing account details, iCloud settings, and all your devices in one place.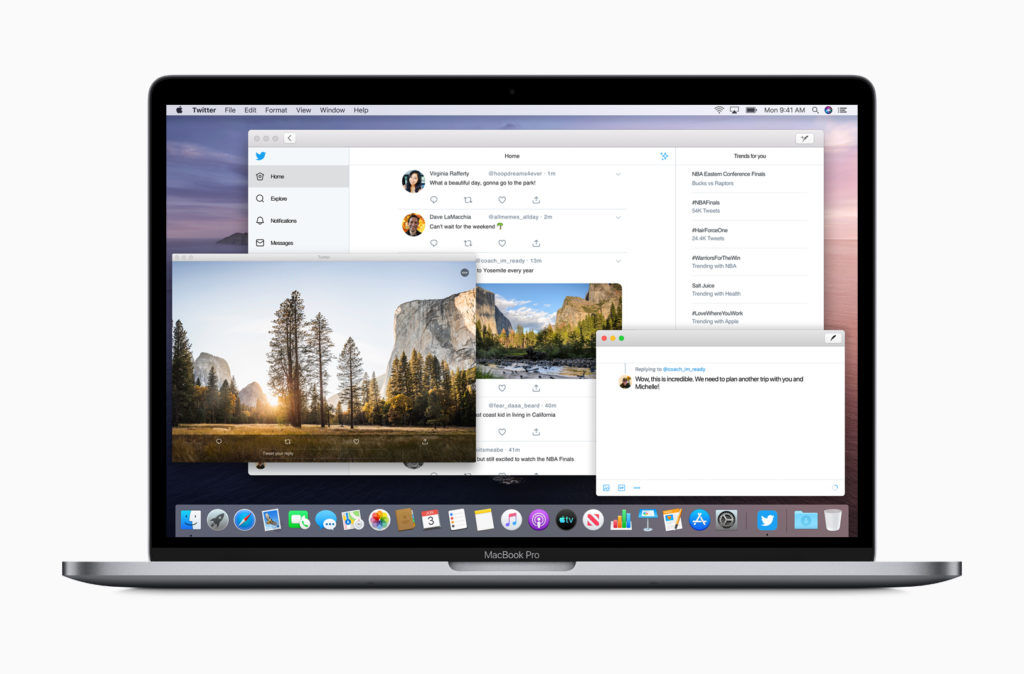 Marzipan is Apple's new program that lets developers port their iPad apps and games to macOS Catalina running machines without much effort. App and games like Asphalt 9 Legends, DC Universe, Fender Play, Jira, and TripIt are coming soon.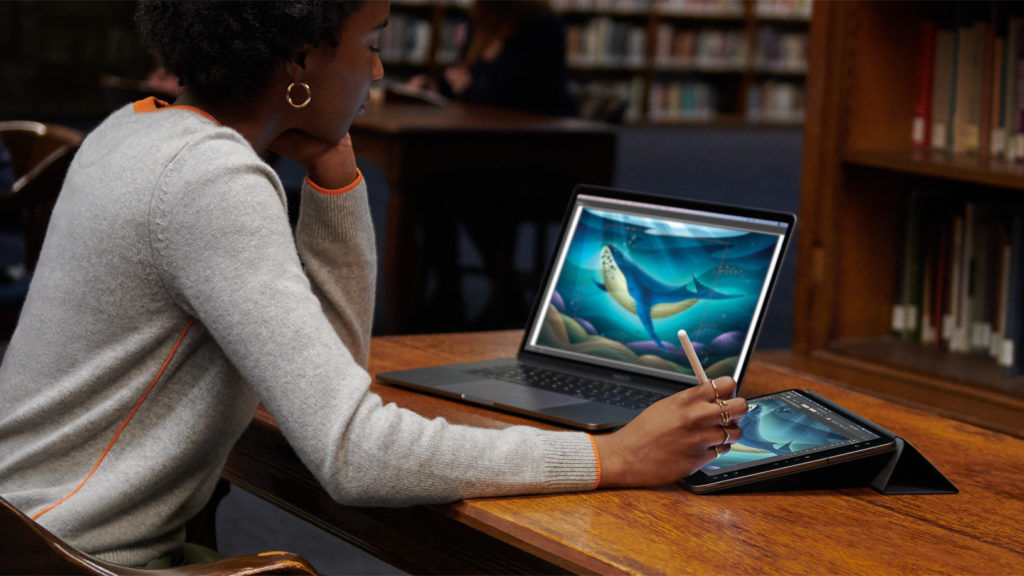 The Sidecar feature lets you use an iPadOS running iPad as a secondary monitor, complete with touch functionality. This feature works through wired and wireless connections. You can also use this feature to mirror Mac's display on the iPad. Since an iPad has a touchscreen and is compatible with the Apple Pencil, you can use this feature to jot and draw using Sidecar compatible apps: Adobe Illustrator, Affinity Designer, Affinity Photo, Cinema 4D, CorelDRAW, DaVinci Resolve, Final Cut Pro, Maya, Motion, Painter, Principle, Sketch, Substance Designer, Substance Painter, and ZBrush.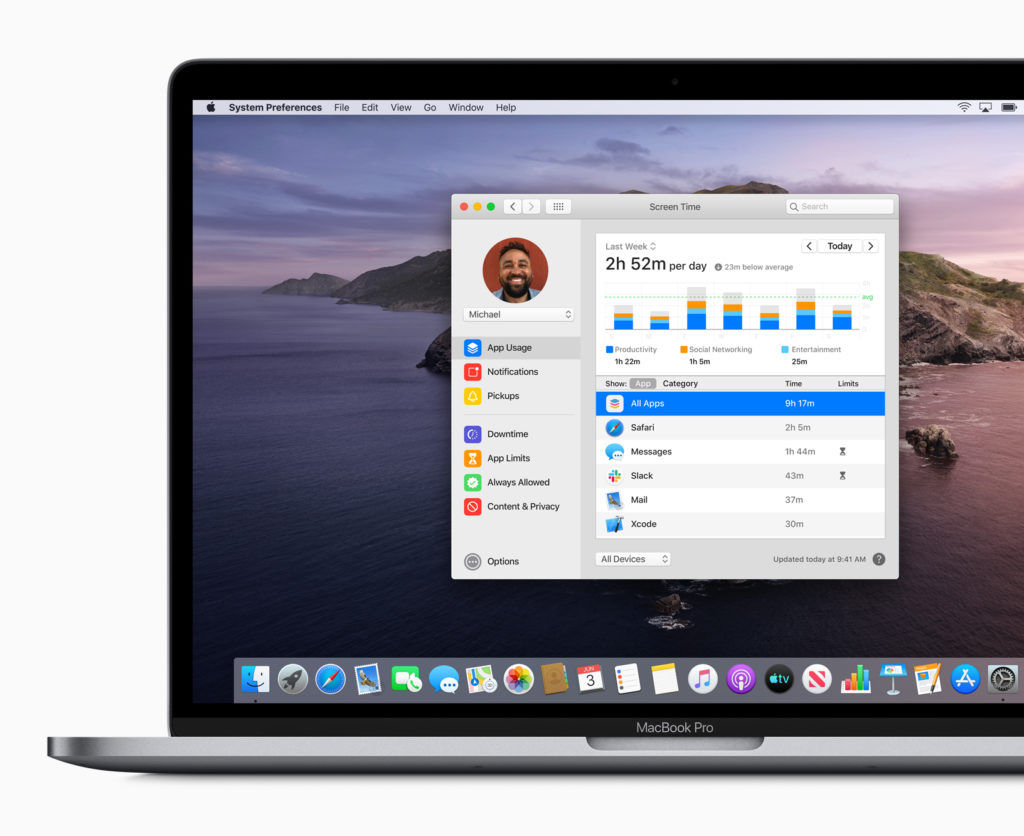 The Screen Time feature that comes with macOS Catalina helps users with cutting on the screen usage time. It shows you daily and weekly usage reports so you know which apps are using most of your time. App Limits can be set for an individual as well as family account members. Combined limits can be created as well and the One More Minute feature can let you use your Mac for another minute before taking a break
Enhanced security features of macOS Catalina include dedicated system volume which keeps the system data safe with read-only mode, GateKeeper can scan all the apps (from App Store or Internet) for compromises before you run them. The new version of macOS will also ask you before giving apps access to the file system (documents, desktop, iCloud Drive, and more) and kernel extensions. Mac devices with the T2 security chip now support Activation Lock, which means that only you can erase or reactivate that machine if it is lost or misplaced. If you have a paired Apple Watch, you can use it to view passwords or approve app downloads and installations on a macOS Catalina running machine.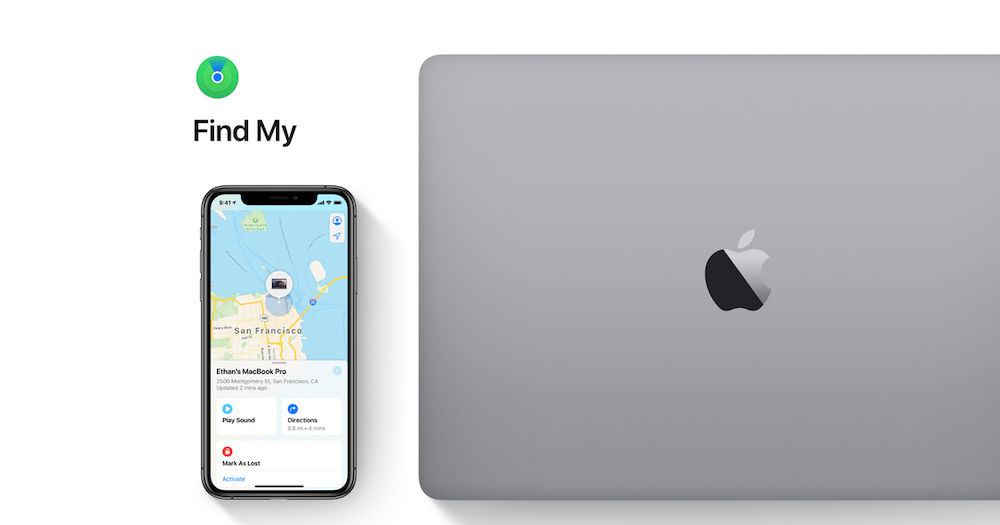 The Find My app not only lets you locate misplaced or stolen iOS and Mac devices but also sends the location information through nearby Apple devices even when there's no internet on the stolen machine, and it consumes very little power while doing so.
Apple has also created a new API (FileProvider API) that lets cloud storage providers like Box, Dropbox, and Google Drive to deliver their apps through macOS Catalina's App Store. This means that cloud storage and file sync apps don't need a kernel extension to provide users a good experience.