Apple has sent out invites for 'One More Thing' event where it is expected to launch its own silicon. The company revealed its intention to shift its entire Mac lineup to its own in-house processors. Moreover, the brand is also speculated to launch new Arm MacBooks that will be based on the latest in-house chipset. One might also expect it to launch Apple AirPods Studio, AirTags and more during the launch event. Here's what you need to know about the Apple 'One More Thing' event.
Apple "One More Thing" Launch Event Announced
Apple has confirmed that it will be holding the 'One More Thing' launch event on November 10th. The event will kickstart at 10:00 AM PST or 11:30 PM IST. This is the third event from the Cupertino giant. The company introduced new iPad and Watch lineup in September followed by the iPhone launch event in October. Apple was expected to its new silicon at both those events. However, it appears that the company has decided to hold a dedicated event for unveiling new silicon.
Apple Silicon features (expected)
Apple announced that it will be transiting from Intel to its own silicon in the next two years. The company revealed that it will introduce its first Apple silicon-based Mac product by the end of 2020. The brand already started the transition with the release of macOS Big Sur. The new OS allows users to run iOS and iPadOS apps without any modifications. Apple intends to leverage it's A-series SoC for its Mac lineup.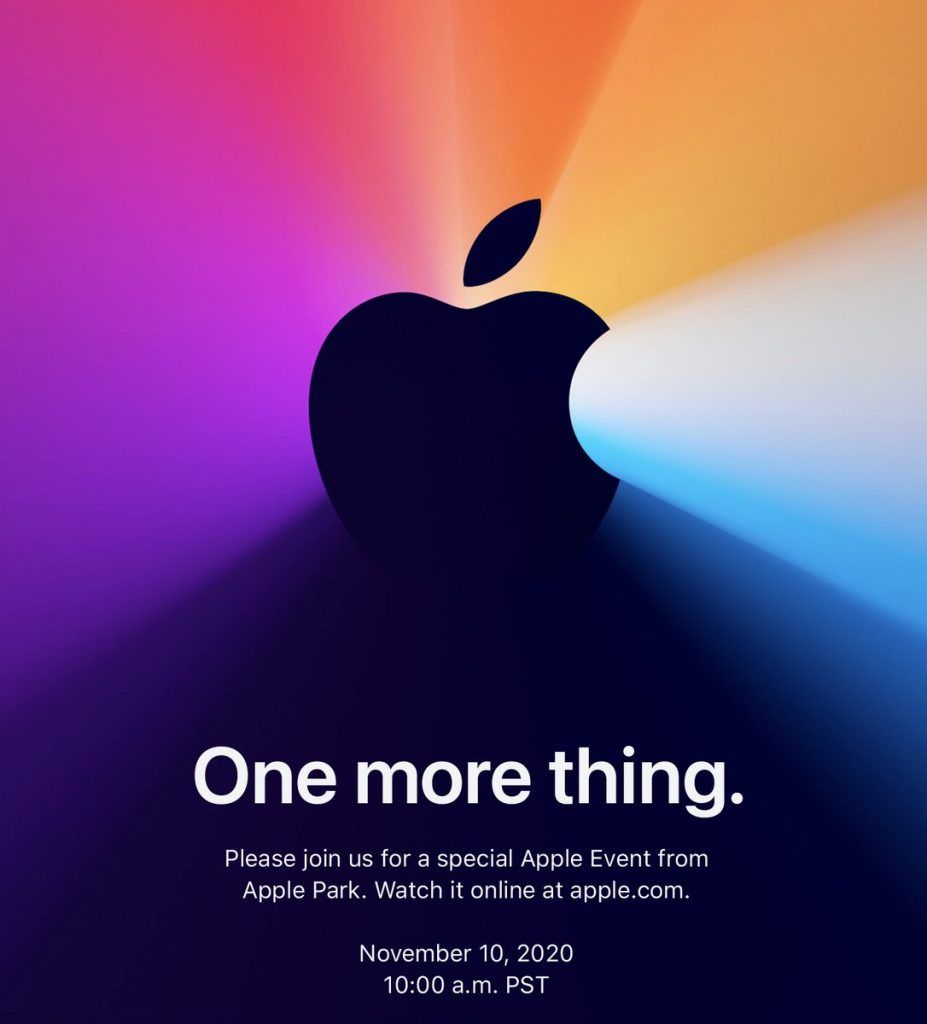 The chipset offers different features like secure enclave, high-performance integrated GPU, machine learning, neural engine, custom video display and image processing engines, and more. This will give Macs a new level of performance, as per the company.
Known analyst Ming-Chi Kuo said that first ARM Mac silicon will make its debut with the upcoming 13-inch MacBook Pro model. A report from Bloomberg said that the first Apple ARM chips might come with a 12-core processor based on the A14X design. The chipset is said to be Intel equivalents in terms of performance and efficiency.
New Apple MacBooks, AirPods Studio and more might also launch
The report further adds that the company and its overseas suppliers are ramping up production of three Mac laptops with the new Apple chipsets. These include new 13-inch and 16-inch MacBook Pros along with a 13-inch MacBook Air. The report says that Foxconn is assembling the two smaller laptops, while Quanta Computer is building the larger MacBook Pro. A separate report from the publication stated that the company might also unveil the AirPods Studio, Apple's high-end over-ear headphones at the launch event. One could also expect the company to introduce the AirTags at the launch event.