Highlights
Apple Stores in India are generating record billings for the company.
The Apple BKC store saw opening-day billings of over Rs 10 crore.
Despite half the size, Apple Saket in New Delhi has generated similar revenue since its opening.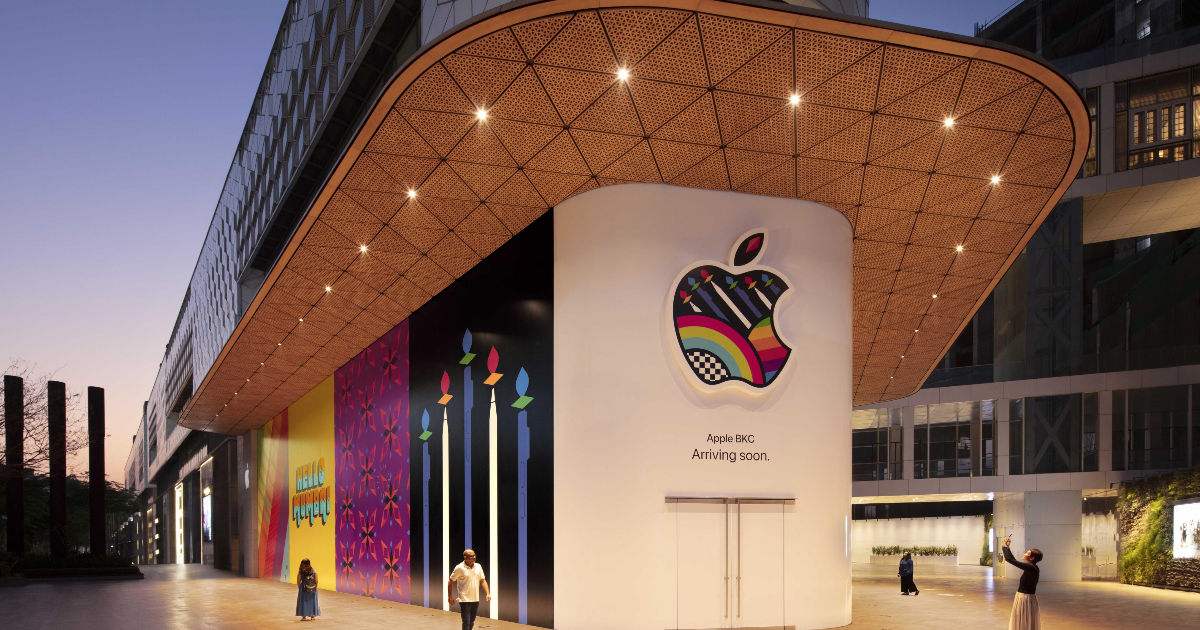 Apple opened its first official store in April in India. The first Apple Store in Mumbai's Bandra-Kurla Complex (BKC) opened its doors to customers on April 18. Another Apple Store followed it in New Delhi's Saket, which was opened on April 20. The new Apple Stores offer a unique customer experience, such as Today at Apple, access to Genius Bar and experiencing all Apple products available for sale in India. Customers are getting attracted to the physical Apple Stores in India if the first month's sales report is to be believed. A new report claims that Apple stores in India generate record revenue for an electronics store.
According to an Economic Times (ET) report, Apple's first two official stores in India have combined grossed monthly sales ranging between Rs 44-50 crores. The report, citing two industry executives aware of the details, claimed that the recorded gross revenues are over two times what could be the highest revenue for an electronics store in the country during the non-Diwali period.
Apple Stores in India were inaugurated by CEO Tim Cook in April. The Apple BKC store saw a billing of over Rs 10 crore on the first day, according to the report. This is reportedly Rs 2-3 crore more than some major local electronic stores post in a month.
While Apple BKC did generate record billings and sales for Apple in India, the smaller Apple Saket store fared better when it came to per-square-foot revenue. Apple BKC is about 22,000 square feet, whereas the Saket store is over 10,000 square feet. The report stated that despite being more than half the size smaller than the BKC store, the Saket store recorded similar revenues for Apple. Both stores also had a footfall of over 6,000 people each on the opening day, according to the ET report.
Apple BKC is already among the top 10 Apple-owned stores by sales globally. That being said, it would be interesting to see if the company can see similar billings as the hype dwindles over the coming months.
The India Apple Stores have reportedly exceeded the company's internal expectations. "The two company-owned Apple Stores in India are setting new benchmarks in terms of absolute and per-square feet revenue," said one of the executives cited above. "This is due to the fact that the average selling price (ASP) of Apple products is much higher, which leads to higher revenue, and (since) footfall is still high, with both stores remaining crowded on any given day," the report, citing one of the two industry executives, added.
Also Read: Apple BKC and Saket Stores: How Retail Stores Can Open New Frontier for Apple in India?
The presence of official stores in India will also likely push the iPhone's ASP to over $1,000 (roughly Rs 82,500) from the current ASP ranging between $935-990 (roughly Rs 77,100 – Rs 81,700) for the offline market. When it comes to e-commerce, the ASP is said to cross $950 (roughly Rs 78,400), a $100 rise compared to last year, according to IDC India associate vice-president Navkendar Singh. According to Singh, the rise in ASP is expected to be due to Apple Stores not giving too many discounts and offers.