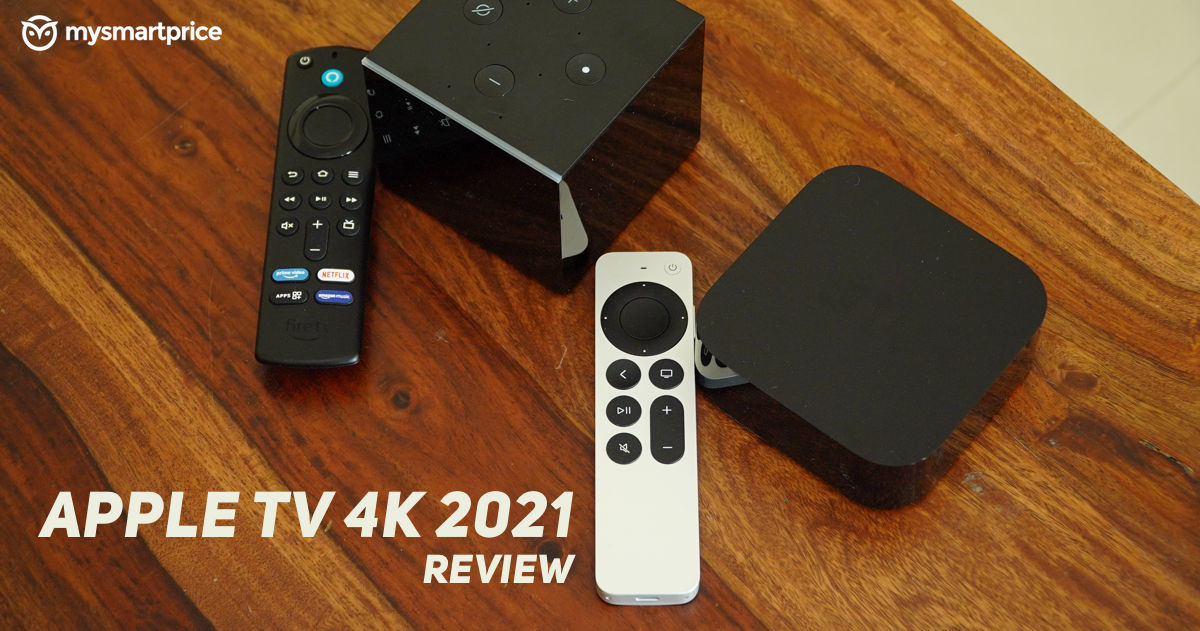 With the invasion of smart TVs, many people might not see the value in buying a dedicated media streaming stick or a box made by companies like Amazon, Apple, Google, and Nvidia. Especially one that costs as much as Rs 20,000. Yes, I am referring to the new 2021 edition of the Apple TV 4K. But, I am here to change that perception and tell you how, even if you buy an expensive TV with QLED or OLED technology, the Apple TV 4K still makes for a great additional purchase.
So much so that I firmly believe — at the risk of losing your attention after what I am about to say — it is the best media streaming box one can buy today. And, we rarely, if ever, call any product the 'best' here at MySmartPrice. So, you know that our praise doesn't come cheap.
Box Contents and Design
Starting with the inbox contents, you get the Apple TV 4K, the newly redesigned Siri Remote 3rd Gen, and a Lightning-to-Type-C cable. What's conspicuously absent is an HDMI cable. It is a prerequisite for you to send a picture signal from the Apple TV 4K to your TV. I'd strongly suggest you pick up a premium HDMI 2.1 cable with support for Chroma 4:2:2 upsampling. Ideally, Apple should've bundled a cable in the box.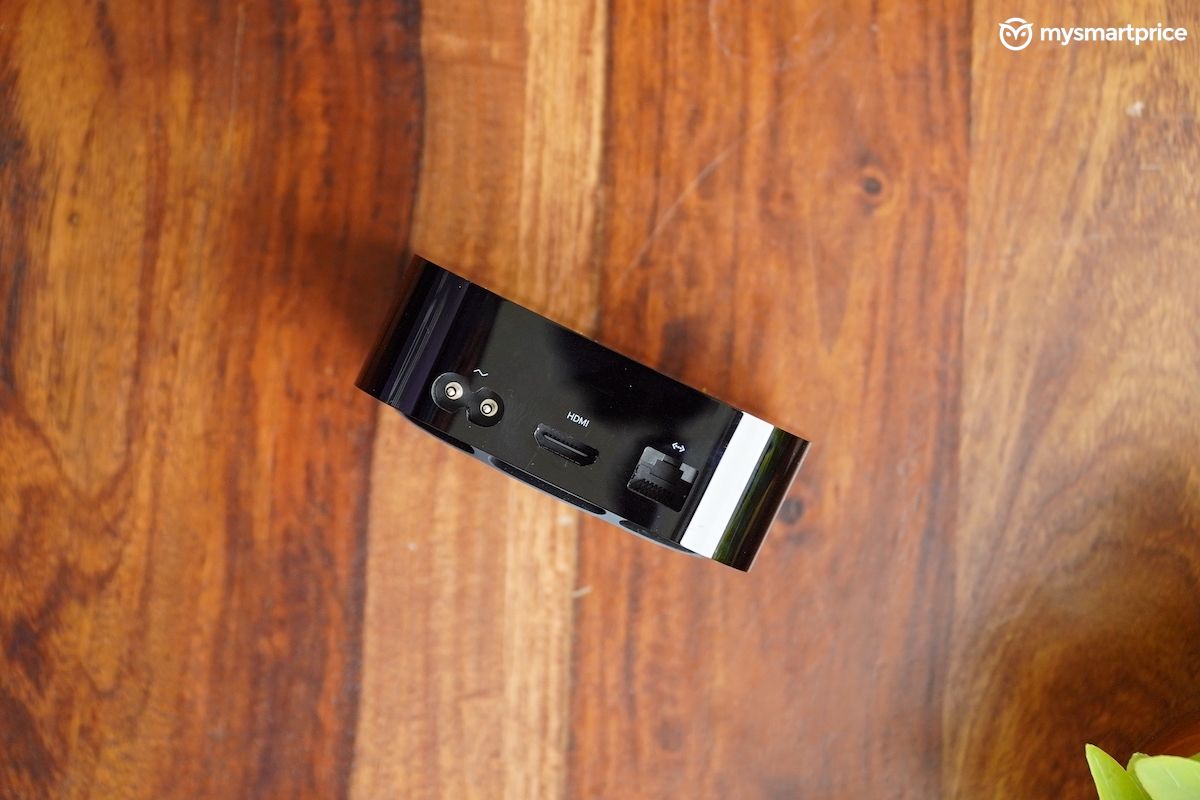 As for the design, nothing's changed here really. It has the exact same nondescript ID, which is flattened out Black Box with a massive Apple logo on the top. On the front, you get an LED indicator light and all the ports – Power, Ethernet, and HDMI – are on the rear. My only complaint with the design is that, since it is glossy, it tends to attract scuffs and smudges easily. Otherwise, it does what a media player design is supposed to do – stay out of sight and get the job done.
Software and UI
Apple's tvOS is the best TV operating system I have had the pleasure of using. It's because the design language of the UI is very similar to iOS and iPadOS, in that it is mostly a long list of apps laid out for you to access easily. I feel Apple can confidently do this because of the quality of premium apps on offer. And, as for the streaming apps, almost every single platform is available on the App Store. From Netflix to Prime Video to even something as niche as Neestream, you will easily find everything you need.
So, what about content recommendations? Apple does none of that on the main homepage. All you get is a dock of apps that you can configure to your liking and a top shelf that showcases shows from these apps. Now, these shows are what those services wish to serve to you. Honestly, I am not a fan of User Interfaces, such as the one used by Fire TV UI, where it is just one big feed of curated content that never ever works for me. I prefer jumping into the apps and using them instead.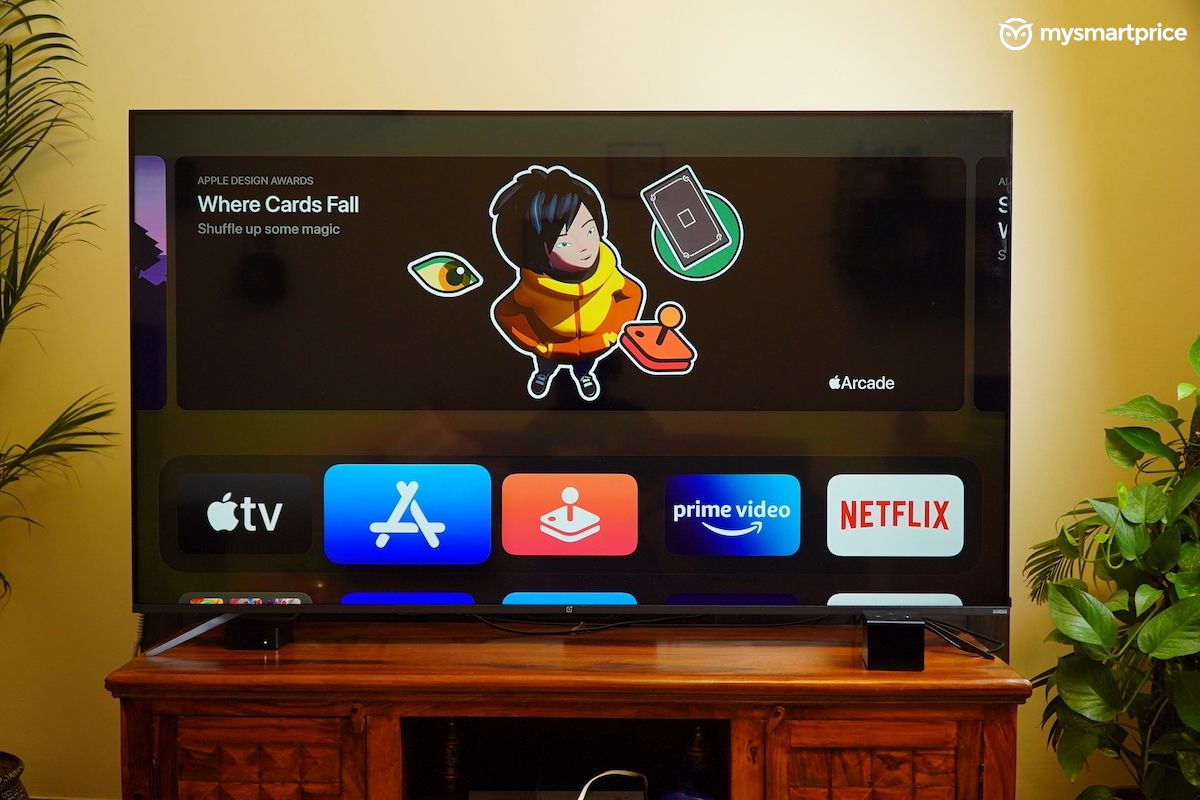 Coming back to tvOS, the other UI features include a Control Centre, which comes in handy while changing Profiles or switching between audio sources. I was constantly switching between my speakers and the AirPods Max on the fly. Even if you are a staunch hater of Apple products, you have to appreciate the attention to detail that goes into carefully engineering hardware and software experiences that tend to hide away without overwhelming you. Apart from this, you can also multitask between apps with the recents menu. That's all thanks to the power under the hood with the new A12 Bionic chip.
Also read: Blaupunkt 55-inch 4K TV (55CSA7090) Review: Another Decent Budget TV Offering
Are there no flaws with the UI? No product is without its fair share of flaws. For one, I did notice rare frame-drops on a couple of occasions but nothing to break the experience. However, the bigger problem is the absence of Siri support for the Apple TV in India. All you can do is use the mic to search for content, but that's just a consolation really. This feels like a missed opportunity especially considering the in-built Echo support on Amazon's Fire TV Cube is actually pretty damn useful. Voice-based interactions make a whole lot of sense in the context of TV watching.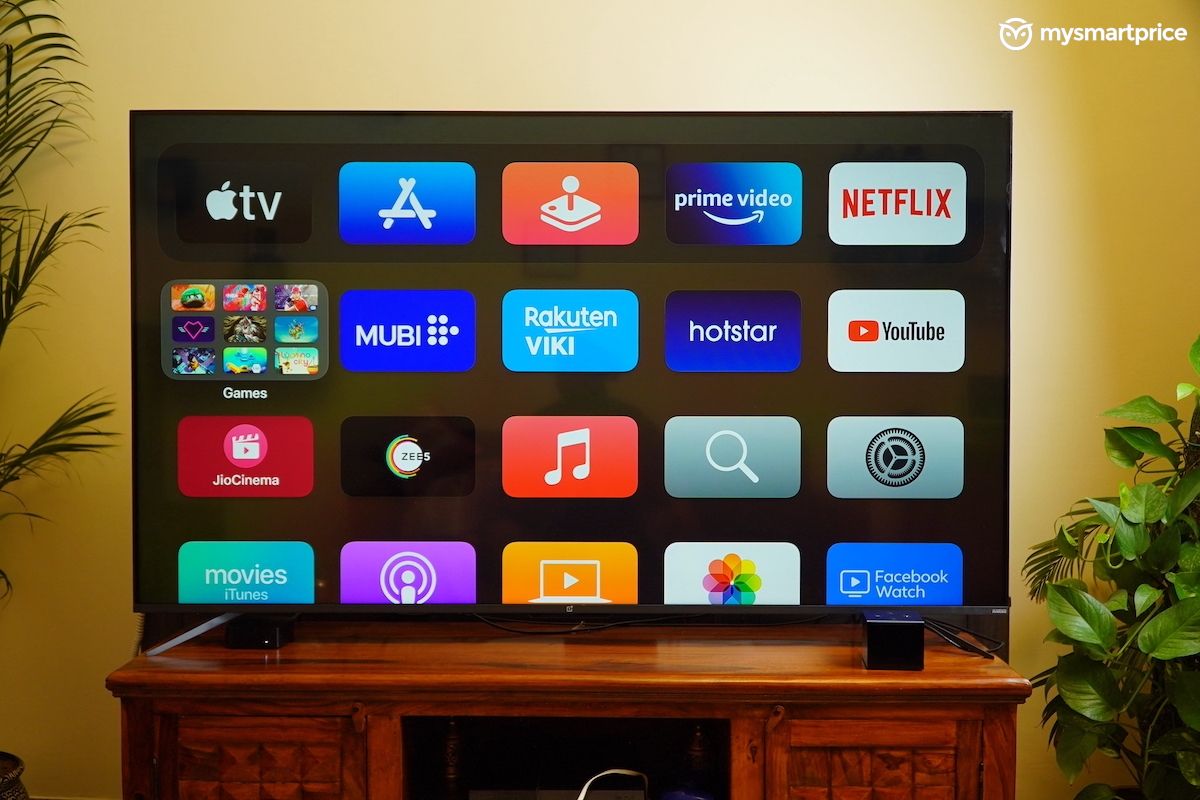 Apple Services
Which brings me to Apple's very own services – Apple TV+, Apple Music, and Apple Arcade. For some odd reason, Apple Music is not available on Android TV and Fire TV natively. And, since I am extremely attached to the streaming service, it is a huge letdown for me. As for Apple TV+, while the catalogue is still growing, the quality of shows on the platform is top notch. I watch way too much TV and appreciate good content. Which is why I can confidently say that shows like Ted Lasso and Mythic Quest alone are worth the subscription, which is incidentally free right now.
Thanks to the A12 Bionic chip, you can actually play games. To be able to play games like Pathless, Sayonara: Wild Hearts, Oceanhorn 2, and more shows the kind of polished experiences that Apple is bringing to its Arcade game subscription service. The catalogue is beefing up at a steady rate and there's already a certain aesthetic of games being made for the ecosystem. It is more Nintendo, less PlayStation or XBox. Apple also makes it very easy to hook up your console's controller to the Apple TV 4K, which is a win-win too.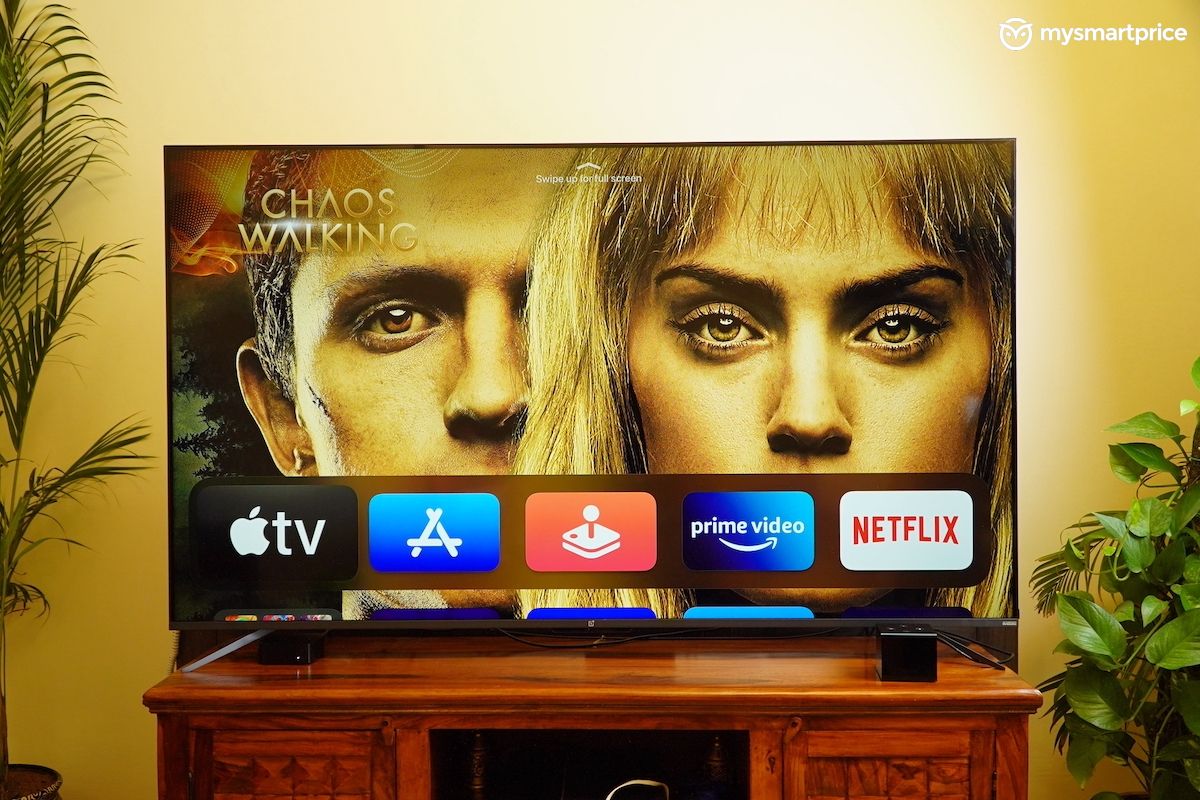 So, another reason to pick up the Apple TV 4K 2021 is the services that Apple offers at the moment. Even the subscription prices are very unlike Apple.
Remote
While the box's design is largely unchanged, Apple has definitely overhauled the design of the remote. The new, 3rd Gen Siri remote gets rid of the glass touchpad and for good reason. Many people, including myself, have already broken the touchpad or lost it. The new remote is now a chunky block of aluminium and has quite a bit of girth to it. It also has a plethora of functional buttons including a 'Back' one with a slight indentation that lets you feel for it in the dark with ease.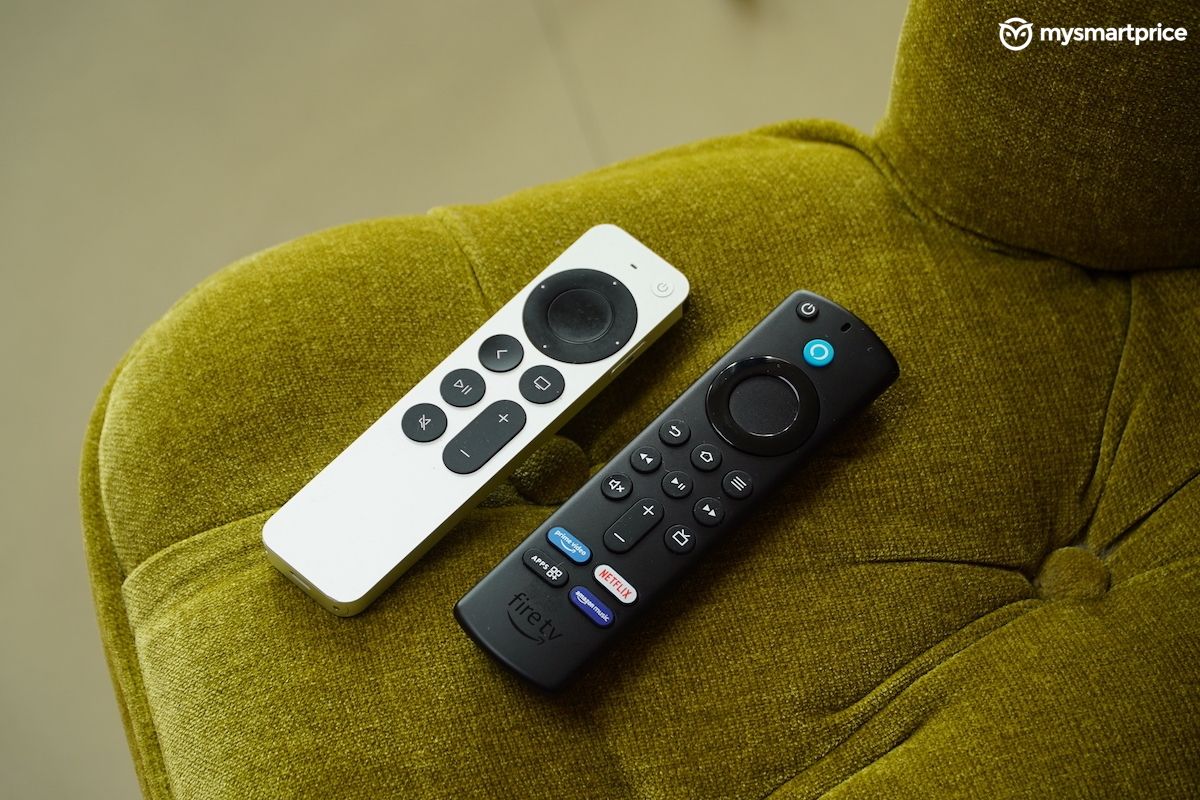 The circular D-Pad has two interaction mechanisms integrated into it. Essentially, you can use it to click and navigate through the UI or use it as a touchpad. It feels absolutely seamless and clean. But, the touch response is a tad too sensitive and, on many occasions, I'd end up overshooting my point of selection. But, Apple is aware of this problem and gives you the option in the software to switch it off. I do have a couple of complaints about the remote:
The tiny Siri button on the right edge of the remote is a weird placement. In any case, it doesn't really matter in India owing to the lack of support.

Apple shouldn't have completely nerfed the gaming capabilities of the new remote. They should've found a workaround. Currently, many titles only work with the older glass touchpad-based remote. And, first time buyers won't have one handy adding to the cost.
Picture and Sound
Let's finally talk about the crux of the matter, the picture and sound quality. The Apple TV 4K supports Dolby Vision and HDR10 but not HDR10+. And, for audio, you get support for Dolby Atmos, but you need a Dolby Atmos capable receiver and speaker setup to make full use of it. I don't have one on me so I couldn't test it. But, what I tested extensively was the picture quality. Let me break down my thoughts:
Also read: OnePlus TV U1S 65-inch Review – Aptly Priced TV With Surprising Good Picture Quality
If you have a budget Android TV, the picture quality from your TV's in-built apps is going to pale in comparison to the Apple TV's native apps. From Netflix to Apple TV, everything just looks so much better.

The SDR content processing on the Apple TV 4K is just sublime. From great facial tones to the clean colour gradation, I was pleasantly surprised. Even live sports on Hotstar just streams better on the Apple TV 4K compared to most other systems.

Dolby Vision and HDR10 videos just look absolutely fantastic on the Apple TV 4K. From the smooth gradation to the clean specular highlights, I had a blast watching Netflix and Prime content on this box. Apparently, there was some issue with Black Crush on certain LG TVs but that was a problem at LGs end and has been solved with an update last I checked.

The new Color Calibration tool that works with your iPhone works in a simple fashion where it corrects the colour space to provide a balanced tuning. But this happens on the Apple TV and your TVs picture tuning doesn't change. Considering your TV is the endpoint showing the visuals, I don't know how much that really helps.

Note that tvOS also offers Matching Framerates and Dynamic Range on certain supported apps. You must switch it on. And, I say certain only because YouTube doesn't offer support for automatic detection at the moment.
Here's the TLDR: With an Apple TV, you are guaranteed great picture quality every time you fire up any streaming service. Simple as that.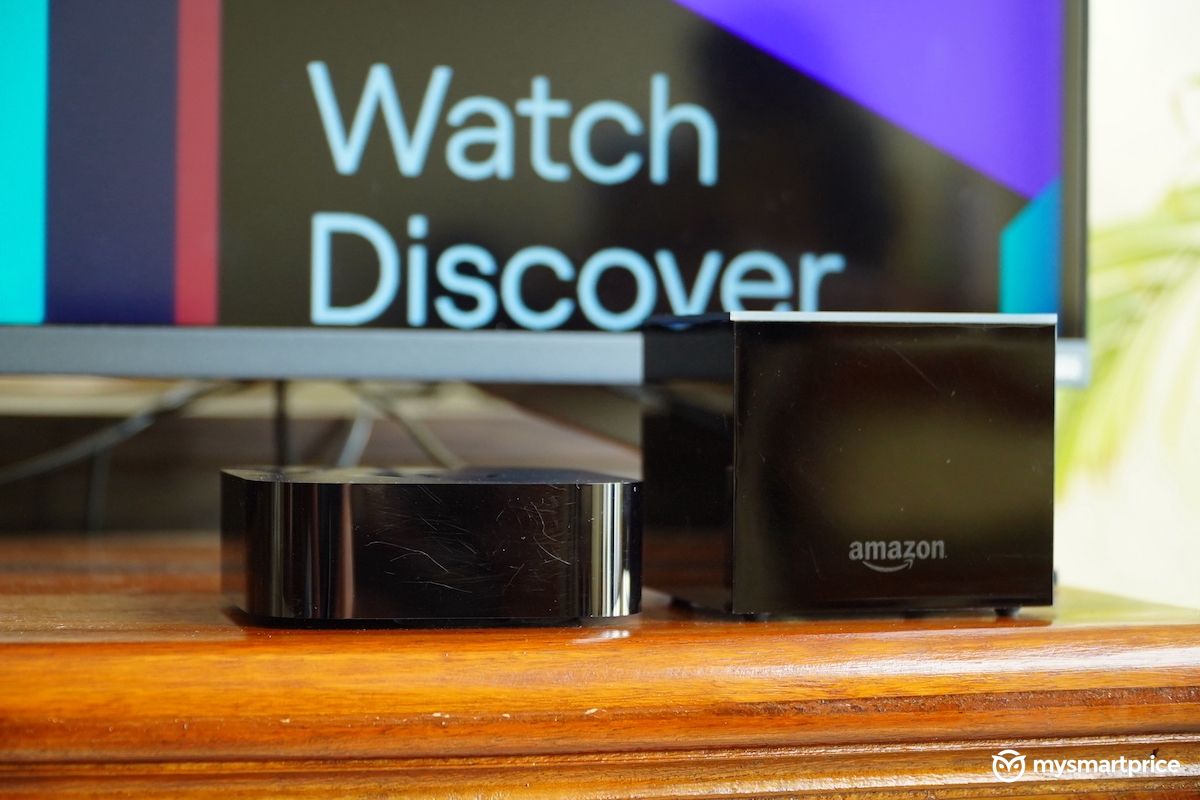 Should You Buy the Apple TV 4K 2021?
See, I am completely cognisant of the fact that the Apple TV 4K's price of Rs 19,999 is steep for many folks in India. But, that's the price you pay for the best media streaming device. Yup, I am not going to hold back on the praise.
That said, if you are still on the fence, I'd suggest considering the Apple TV 4K for these reasons:
If you are already entrenched in the Apple ecosystem, this media player only augments your TV watching experience.

The best video playback quality from a sub 20k media player in India.

Apple Arcade. No seriously. This is easily a great budget gaming console, and the games are absolutely suited for small kids at home and adults alike.
Who shouldn't buy it?
Folks already with a 1st gen Apple TV 4K. Just upgrade your remote, if you are really inclined.

Bargain hunters. This is clearly not cheap.

Those who want a voice-based TV UI. For that, the Amazon Fire TV options are a better bet.
As for the alternatives, I did a very detailed review of the Fire TV Cube 2021 just recently. It costs Rs 6,000 less than the Apple TV 4K 2021. But, please pick up the Fire TV Stick 4K instead. That offers far better value, in my opinion. And, the performance difference is negligible.
Thanks to my fulfilling experience with the Apple TV, ever since the 1st Gen Apple TV I purchased back in 2017, I've developed a soft corner for the product line. It's kept me company all these years and continues to work just fine even today. And therefore, the upgrade to Apple TV 4K 2021 is just what the filmmaker ordered. What do you folks think? Let me know in the comments section below.