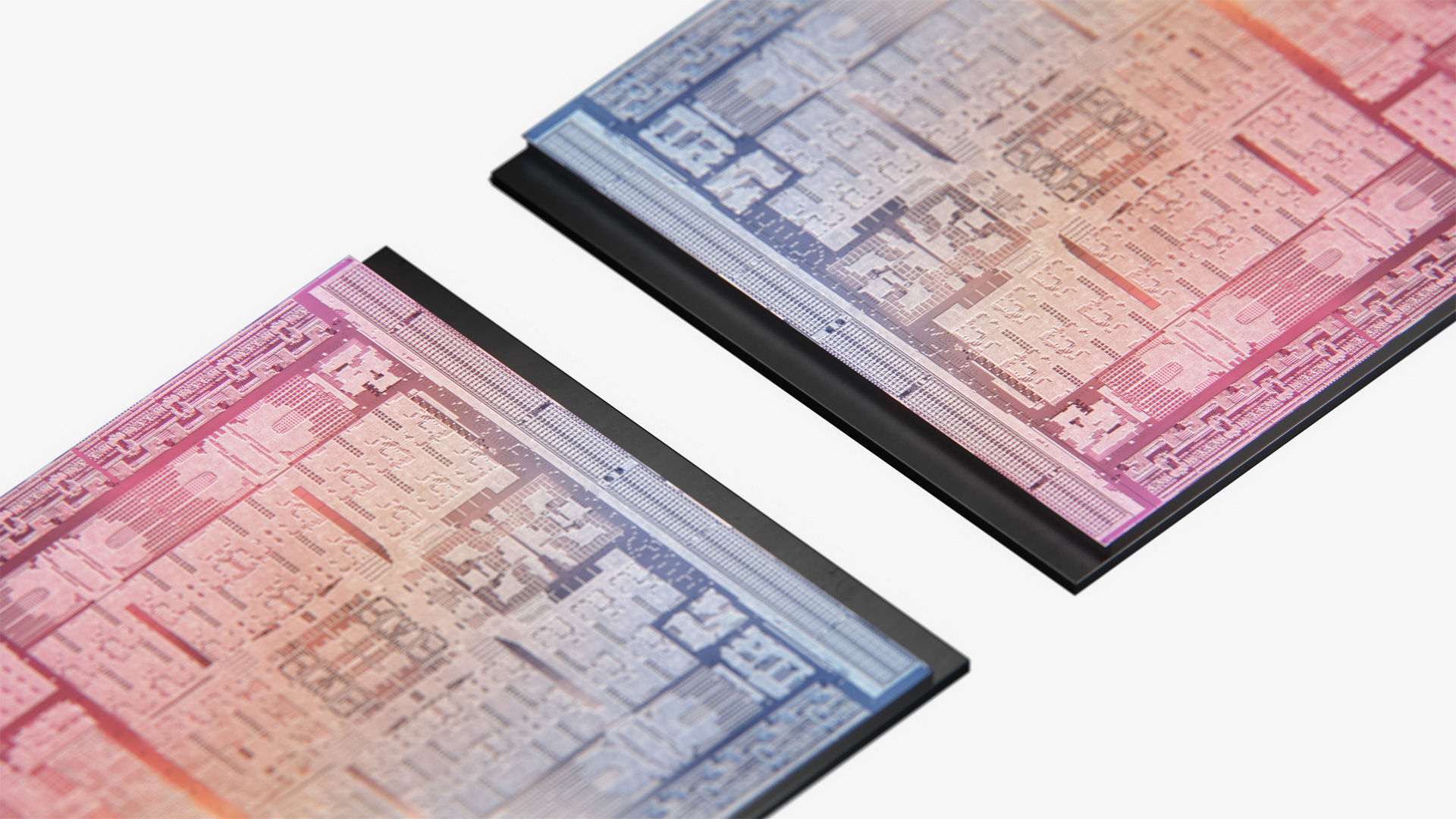 The World Wide Developer Conference (WWDC) is over, and Apple brought a whole fleet of products and software this time. Multiple remarkable updates regarding software, like the brand new iOS 17, iPadOS 17, MacOS Sonoma, and WatchOS X, were introduced during the event. And on the hardware front, Apple introduced products like 15-inch MacBook Air, Apple silicon M2 Ultra, Mac Studios with Apple M2 Ultra and Max silicon, Mac Pro with M2 Ultra, and Apple's latest product category, the Apple VisionPro AR-VR headset.
All of these products are readily available to preorder. They will get available from next week, besides the VisionPro headset, which is set to make its fully flagged debut early next year. But this is not it! There are plenty of new features, and Apple brought in under-the-hood changes. Do you want to know all of it? Here's the complete round-up of Apple's WWDC 2023.
Hardware Released at Apple WWDC23
This year, unlike typical Apple, more hardware was released than software during WWDC, which is again the conference for developers. This release also includes a brand-new category in Apple's product portfolio: the AR-VR headset, named VisionPro headset. So let's start checking out the hardware releases with the brand-new addition itself!
Vision Pro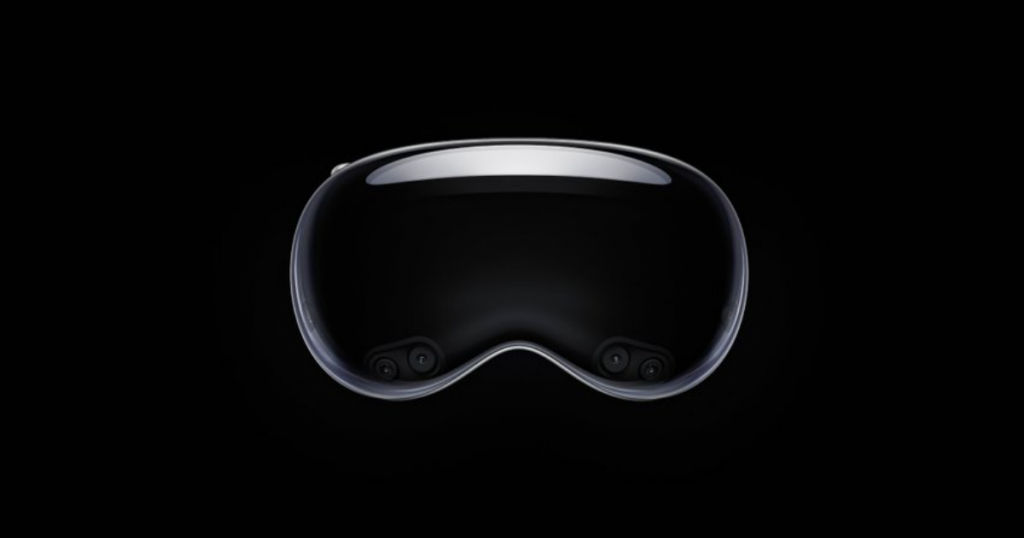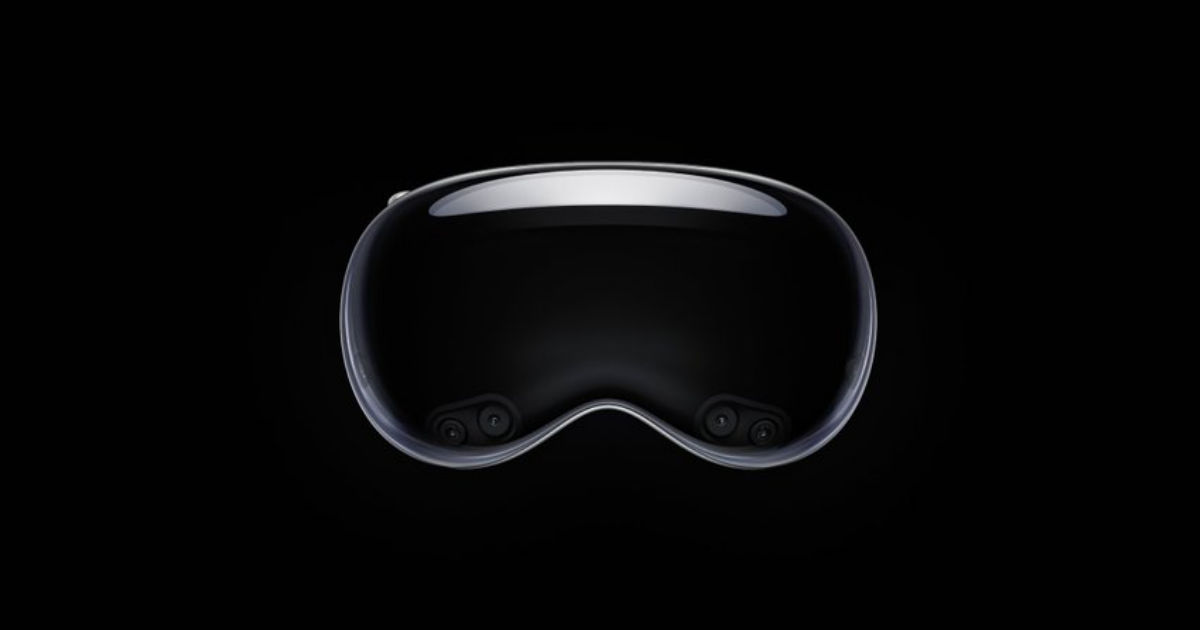 As Apple described during the launch, we usually look at the product, but this will be the product we will look through. The new VisionPro features a 3D display in front, an aluminium frame, and soft textile-replaceable pads to hold onto your face with a light shade in different sizes. There will also be several bands to go with it, and Apple also announced that users could opt in for a power lens that sticks to the headset magnetically. VisionPro has the same Digital Crown on the frame we saw in Apple Watch and AirPods Max. This crown will bring home the screen and resize windows with another physical button to capture images and video.
Also Read: Apple Vision Pro AR Headset With M2 and R1 Chipsets Launched: Price, Specifications
The internal headset features two Micro OLED display with 23 million pixels on both screens with a custom 3-element lens to give the optimal experience to the users. And for the audio, two dual-driver audio pods are custom-made for the VisioPro headset on each side of the ears. The VisionPro uses 12 cameras, five sensors, six microphones, IR cameras, and IR illuminators to see the surroundings and track the user's eye moment, all of which happen locally on the device itself. The apparatus can process all this data by combining two of Apple's powerful silicons, the Apple M2 chip and the brand new R1 Chip, built for the VisionPro Headset. VisionPro is powered by VisionOS, a new addition to Apple's garden of operating systems. This device can be secured by the Optic ID, similar to Face ID, but it scans our retinal data to unlock it.
Price: $3499
Availability: Early Next Year
15 Inch MacBook Air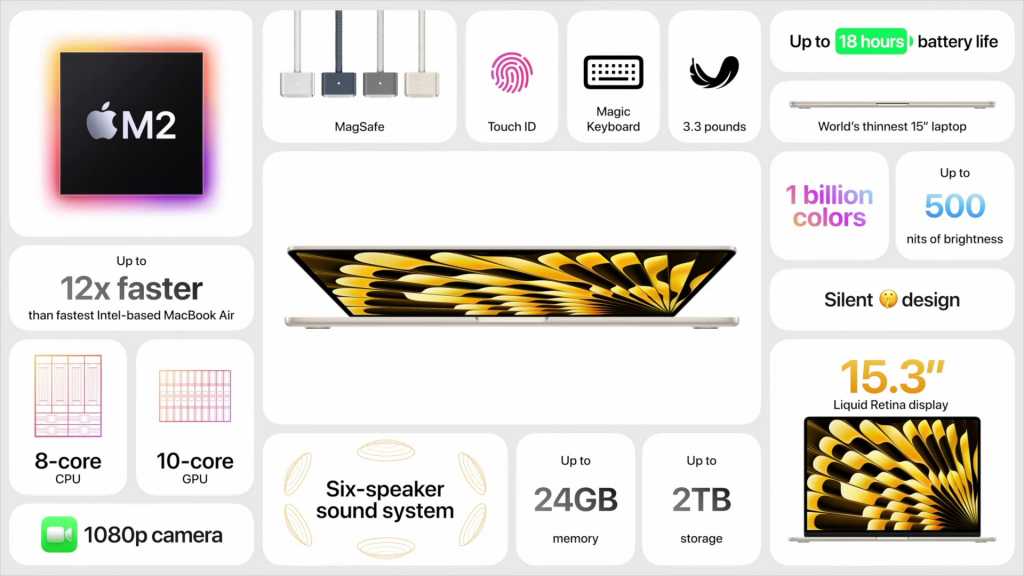 The new 15-inch MacBook Air comes with Apple's M2 chip with 8CPU cores and 10GPU cores which is up to 12X faster than the top-end intel-based MacBook Air and only weighs 3.3 pounds, making it the world's thinnest 15-inch laptop. The New MacBook Air 15-inch comes with a six-speaker system loudest in any 15-inch laptop taking advantage of its size. The new MacBook Air features a silent design and up to 18 hours of battery life.
You can get the 15-inch MacBook Air with 24GB Memory and 2TB storage specs in four different colourways, including midnight and starlight. It has a new, improved Touch ID baked into its magic keyboard and MagSafe charging. On the connectivity front, the device has 2 Thunderbolt ports and one high-fidelity headphone jack built right into it, with a 1080p camera for face time video calls.
Price: $1299 ($1199 with student discount)
Availability: Can be pre-booked now and delivered next week.
M2 Ultra Silicon
The new M2 Ultra silicon is built upon UltraFusion architecture, where the two 12-core Apple M2 Max chips are combined, making it a 24-core CPU and up to 76-core GPU. These CPU and GPU scores are up to 20% and 30% faster than we have seen in past. With this power, the M2 Ultra can support six ProDisplay XDRs and handle ProRes Videos without a sweat.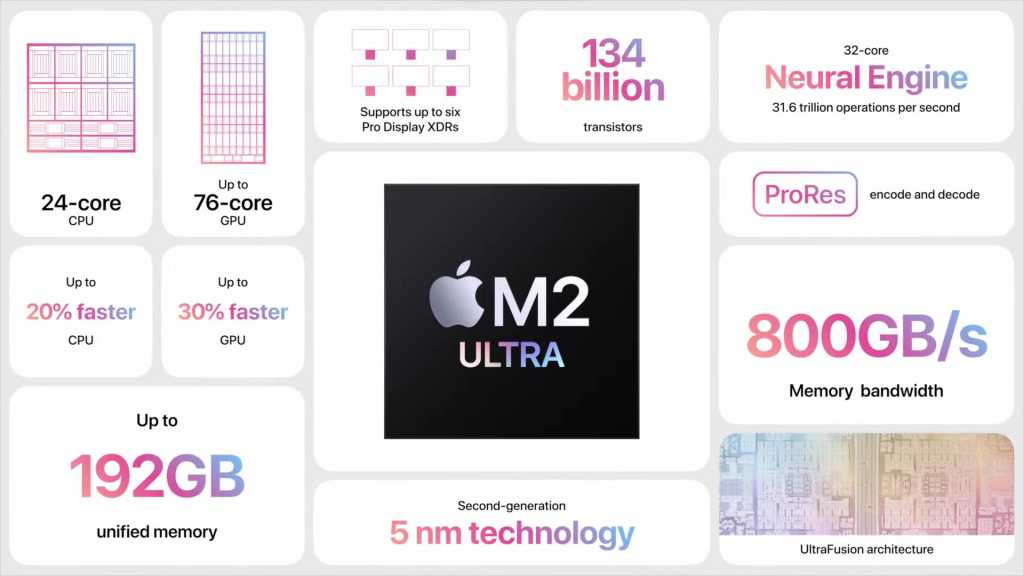 The M2 Ultra is baked on second-gen 5nm technology making it more power efficient with 192GB memory and 800GB/s memory bandwidth. The new M2 Ultra has 134 billion transistors, which is impressive for its size. The 32-core neural engine can handle 31.6 trillion operations per second, making it the most powerful chip for desktops in the market.
Mac Studio
New Mac Studio comes with two different chip configurations, one of which is M2 Max, and the second available configuration is M2 Ultra which can support up to 24-core CPU and 76-core GPU, making it a powerful machine for professionals. The Mac Studio with M2 Max configurations is 4X faster than the intel-based iMac Pro and 6X faster from the same with the M2 Ultra config with up to 40% faster neural engine.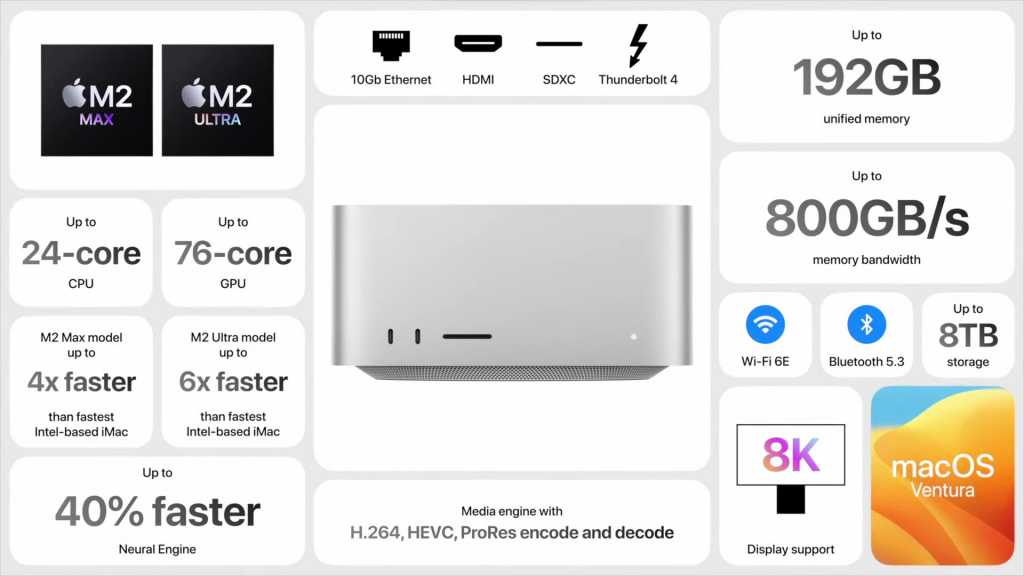 In the I/O front, the Mac Studio supports a 10GB Ethernet port, HDMI 2.1, SDXC card support and Thunderbolt ports. The Mac Studio can also support 8K display output with up to 280Hz refresh rate and can render 22 8K Pro res videos in a single go with its memory of up to 192GB and up to 8TB storage. The network performance is also strong with built-in Wi-Fi 6E and Bluetooth 5.3.
Price: $1999
Availability: Can be pre-booked now and delivered next week.
Mac Pro
Much awaited refresh of the Mac Pro is here with the most potent Apple silicon baked into it. The New Mac Pro features the latest and greatest M2 Ultra chip. The newest Mac Pro is 3X more powerful than the maxed-out intel-based Mac Pro without any PCIe slot utilization. Yes, that's right! The new Mac Pro comes with 6 Empty PCIe gen four slots making it versatile. We can insert any of the PCIe Gen 4 storage, Audio, video or network card in it to expand the utilization of the power M2 Ultra comes with.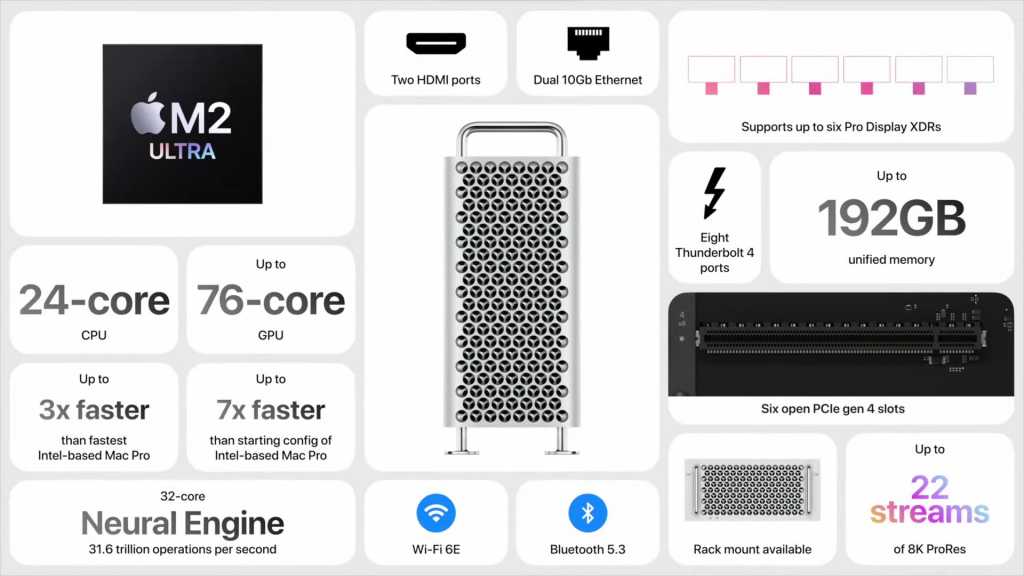 The Mac Pro comes with a 24-core CPU and up to 76-core GPU, giving it the power of 7 burner cards without any. On top of it, the Mac Pro also features 8 Thunderbolt ports, 2 HDMI 2,1 ports, and dual 10Gb ethernet ports that can power Six Pro Display XDR monitors that can play 22 8K Pro res streams simultaneously. And equipped with the improved 32-core neural engine, Mac Pro can perform 31.6 trillion tasks per second.
Price: $6999
Availability: Can be pre-booked now and delivered next week.
Also Read: MacBook 15-inch, Mac Pro, Mac Studio M2 Max and Mac Studio M2 Ultra Launched: Price in India, Specifications
Software Released at Apple WWDC23
While an absolute feast of hardware was released in WWDC23, even the software releases felt like Christmas. Apple brought some remarkable changes to their iOS and iPadOS software. Also, they hit the WatchOS 10 mark with the latest release, and to make it unique, there are some significant changes to the software, and the MacOS got a new destination called MacOS Sonoma. That said, here's everything that happened in the software department during WWDC 2023.
VisionOS
The new VisionOS is part of Apple's all-new VisionPro AR-VR hardware. We have yet to experience it, so there's little to know about it. The Vision OS does support an external Keyboard, mouse and joysticks. It's developed and made to be used with eyes and hand gestures. Users can move and select a target app in VisionPro by just rolling their eyes and can scroll, select and move it by hand gestures like swipe, swing and pinch.
VisionOS and VisionPro are said to revolutionise how we experience the entertainment and space around us. It will change how we communicate with devices around us with spatial cinema experience, enhancing privacy and browsing just by eye movements in space around us.
Availability: The VisionOS will make its debut alongside the VisionPro Headset
iOS 17
With iOS 17 Apple brought in much-requested features by users like stickers, contact posters and so on. The new iOS 17 brings plenty of overhauls in UI in front and under the hood. We now don't need to say "Hey Siri" instead just calling out "Siri" will bring out the voice assistant. iOS 17 users can now share Find My items with their contacts with Airdrop and share lists.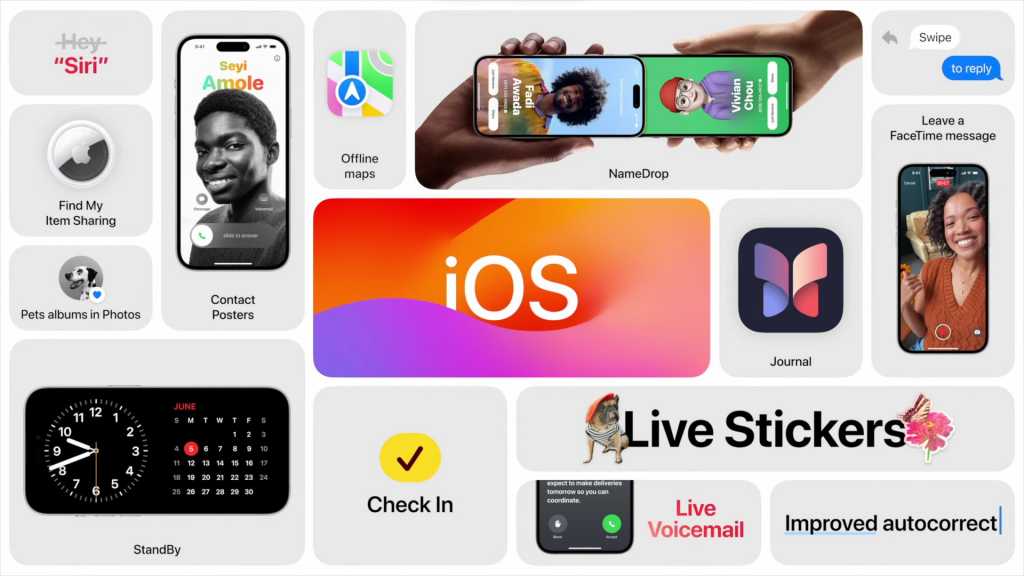 In the Photos app, iPhones and iPad can now understand the pictures of cats and dogs making AI-generated Albums for our pets. Maps on iOS 17 now can be downloaded while we have a data connection and can be used offline. With the new iOS 17, we can set contacts posters which have the same level of customization as we have seen with the lock screen from iOS 16.
In iOS 17 with the new improved Airdrop, we can now perform NameDrop where we can share contact details along with the posters and everything with the liberty to select what not to share. The improvements of AirDrop do not stop there. In the new AirDrop once we start sharing the files over AirDrop we can go out of the range of AirDrop and it will continue to share the file via the internet.
With iOS 17, we can also take leverage of AOD available on iPhone 14 Pro models where when docked on a horizontal charger. It goes into Standby mode and turns on the enlarged Widgets in Always On Mode which is compatible with the smart stack.
iOS 17 also brings some quality-of-life and well-being features to the table. Where the users can now do auto check-in using their iPhone or Apple Watch based on location and device details. It can notify selected contact when they have reached or are not at a specified location at the given time.
Also Read: iOS 17, iPadOS 17, watchOS 10 Introduced at WWDC 2023: Here's What's New
The iOS 17 also has the new Journal App which we can use to do our daily Journaling right from our iPhone. The new live sticker feature can also add some fun to your conversations which can be used with effects baked into it systemwide.
There are a lot more new features and improvements like Live Voice calling where users can monitor calls without needing to pick up the call and improvements in Autocorrect where it is more precise now. We can leave a FaceTime message if the person does not pick up the call on FaceTime.
Availability: iOS 17 developer Beta is already out and stable and can be expected by the end of this year.
iPadOS 17
The iPadOS 17 borrows everything from iOS 17 from the offline maps to the improved Autocorrect and more. Alongside all the changes from iOS 17, the iPadOS 17 brings more flexible layouts which is helpful when connected to external displays. There are new tools and brushes in the FreeForms while using the Apple Pencil. For the first time, the iPadOS gets new interactive widgets where we can perform actions using the widget itself. iPads with iPadOS 17 while connected to an external display will now be able to take advantage of cameras connected or built into the external display.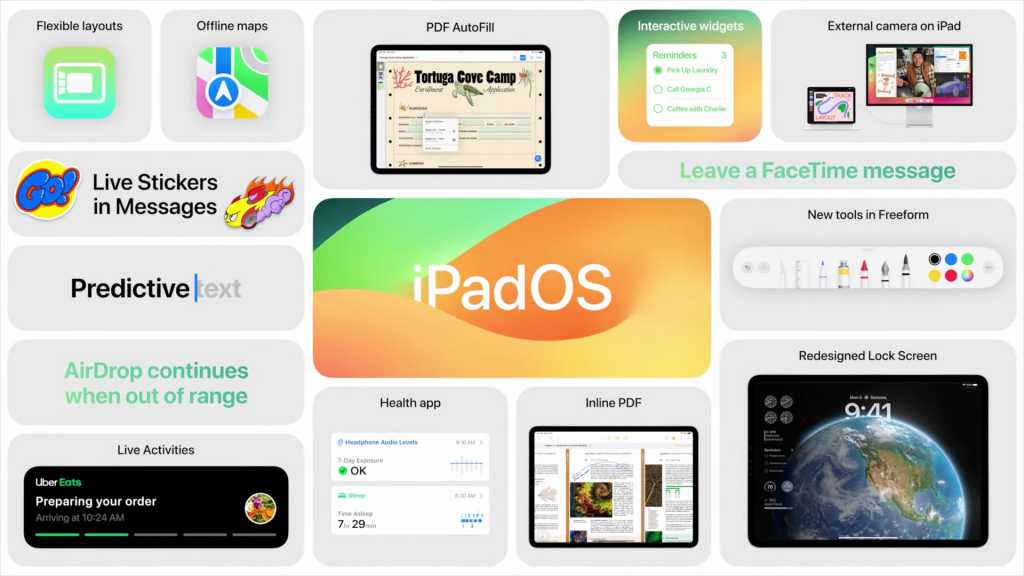 The new iPadOS 17 bring lots of new features in PDFs as well. When editing PDFs in the Notes app users can open multiple PDFs inline in Notes App itself making it easier to work on a single topic with multiple PDFs. And a new redesigned Lock Screen on iPads where users will be able to customize the lock screen on iPads with new lock screen widgets and clocks.
Availability: iPadOS 17 developer Beta is already out and stable and can be expected by the end of this year.
MacOS Sonoma
Just like iPadOS and MacOS Sonoma borrows everything from iOS and iPadOS like improved suggestions, "Siri" hot word, live stickers, interactive widgets and first time in Mac Widgets on the Desktop and so on. But the most improvements are in Safari this time around.
In Safari any website can now be a quick WebApp and placed into a dock for which devs have to do no extra work as well. The Private tabs in the Safari browser can now be locked using your Touch ID or passcode. There are even new profiles for each user who work in Safari that can be set up individually and the passwords can be shared using the iCloud Keychain.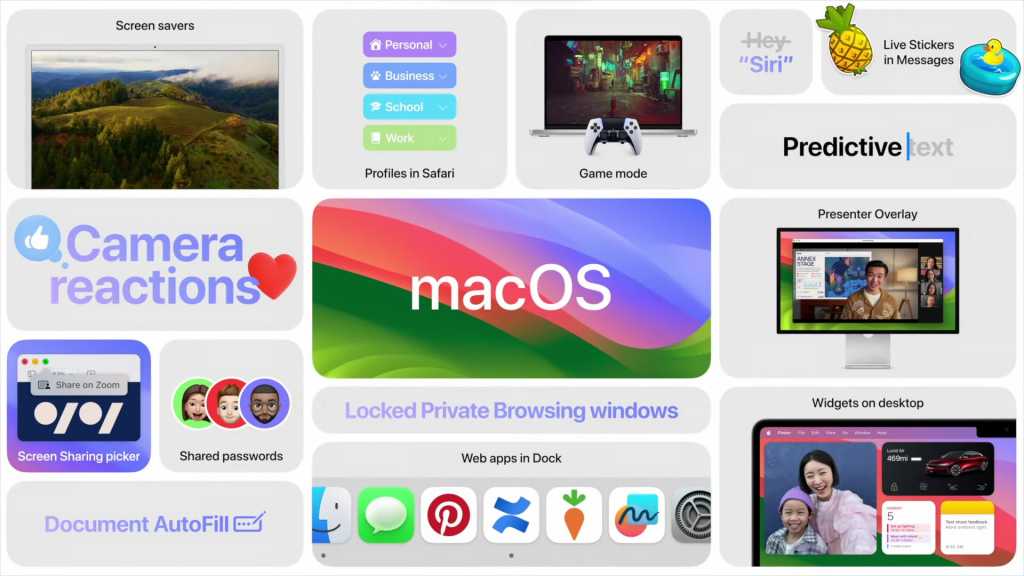 The Presenter overlay feature is also present in MacOS Sonoma where the presenter is mapped and placed between their background and presentation.
In video calls and presentations, users can now quickly perform camera reactions by simply doing the body gestures and during the presentation sessions users on MacOS Sonoma can select the screen or tab they want to share ensuring more enhanced privacy. Just like iPadOS 17 the MacOS can detect the fields in PDFs and autofill the forms and sign the documents as well right within the PDF format.
Availability: MacOS Sonoma developer Beta is already out and stable and can be expected by the end of this year.
Home and Audio
This year Apple also dedicatedly focused on its Home and Audio department which includes improvements in TvOS, Apple CarPlay, and much more. In the Home and Audio Update, users now will be able to use FaceTime and video meetings like Zoom using the continuity camera feature on their devices.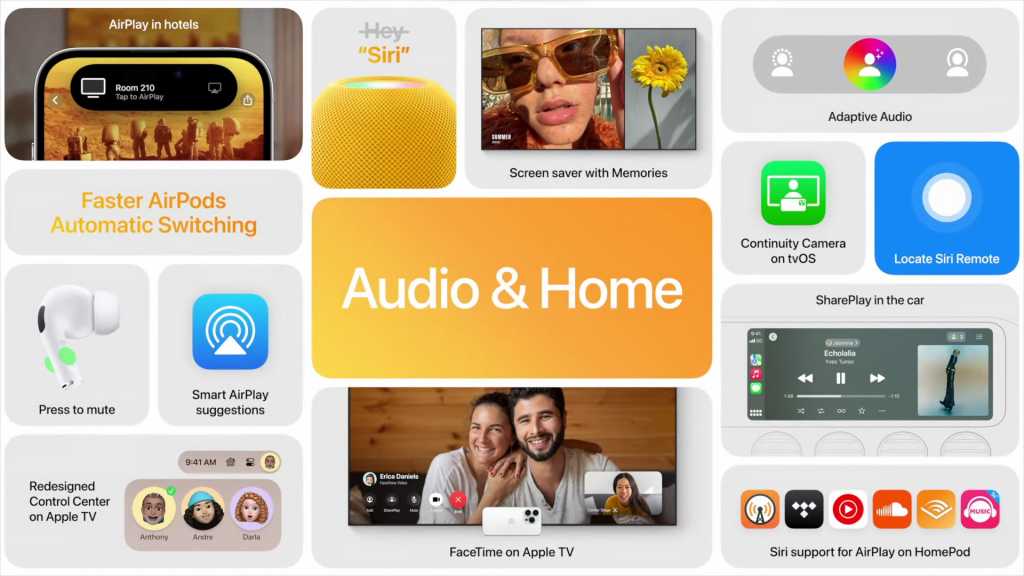 On the TvOS Apple is also bringing the new redesigned control center later this year. In the audio department users will now be able to do faster AirPods switching while staying in continuity. The new AirPlay in Hotels features will also be live in select hotels where one can use the AirPlay built into their Hotel TVs without giving up on their privacy.
On the new, tvOS users will also get the new memory collage screen saver where they will get photos based on their selected album and memories. AirPods Users are also getting the new adaptive Audio which can lower or raise the volume based on the environment users are surrounded with. The SmartPlay on CarPlay is also getting minor updates where other users will be share their media the Apple CarPlay without needing to go through the entire setup process or asking for the cable.
WatchOS 10
The WatchOS 10 is the biggest WatchOS update since its existence. This year Apple went ahead and added some much-needed health and sports features in WatchOS 10. There are now new ways to navigate in the Apple Watch using the crown and touch interface.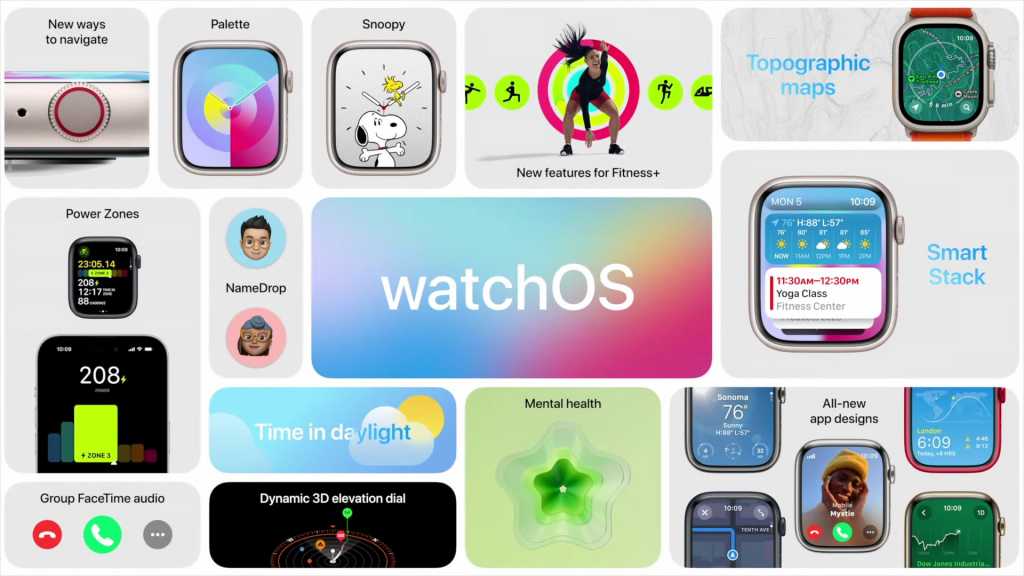 Apple also added two new watch faces one of which is a Palette watch face which changes colours depending on the time of the day and a Snoopy watch face where the graphics of Snoopy is always there in playful ways reacting to the day, weather and time of your location. In the new WatchOS 10, there are new Widget Stacks on the home screen which can be accessed simply by swiping up or rotating the crown. And there are lots of legacy apps that are getting redesigned in the WatchOS 10 as well.
The New Mental Health feature also is there embedded in the Mindfulness app that can help you log your moods throughout the day and help you find the balance in your mental health. The New Typographic maps and 3D elevation dials help hikers and adventure seekers to be in their environment with added safety where they can see where they lost their mobile network and can find their way back there. The Apple Watch also takes advantage of Name Drop available on WatchOS 10 and iOS 17 to share contact and media.