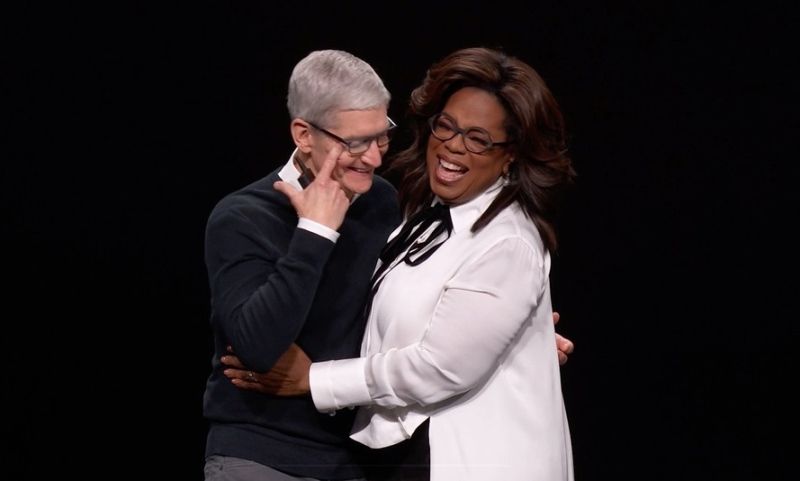 After watching the live-stream for over an hour and half, I found Apple's latest event to be a mixed bag. A clear takeaway, from this lengthy broadcast, was that Apple's cash cow iPhone is losing its sheen. With a significant drop in the hardware sales, Tim Cook is moving focus on to the services business. It is unusual for Apple to get into so many things at once. Maybe the Cupertino-based company is getting desperate to offset the iPhone sales decline. It's almost like Apple's only strategy is to throw everything at the wall and see what sticks. Like every Apple event, this one had some high-points, a few of disappointments, and some downright cringe-inducing moments. Let me run you through some of the most important bits:
Apple TV+
Netflix is a cultural phenomenon. It is incredibly popular among the youth across the world. The video streaming service's valuation has touched a whopping $150 billion mark. That's about enough reason for Apple to get into this market. And Apple is good at this game. Take for instance Apple Music, which is second only to Spotify with a healthy 40 million subscriber base. Its video streaming platform Apple TV+ won't be limited to iPhone, iPad, and Apple TV customers. The company will make Apple TV+ service accessible on Amazon Fire TV, Roku, and VIZIO platforms. It can also be installed on smart TVs from brands such as Samsung, LG, and Sony. The Apple TV+ service will consolidate Live TV, web services such as Prime TV, ShowTime, Hulu, HBO, and more in a single interface. I know it sounds a lot like Xiaomi's PatchWall.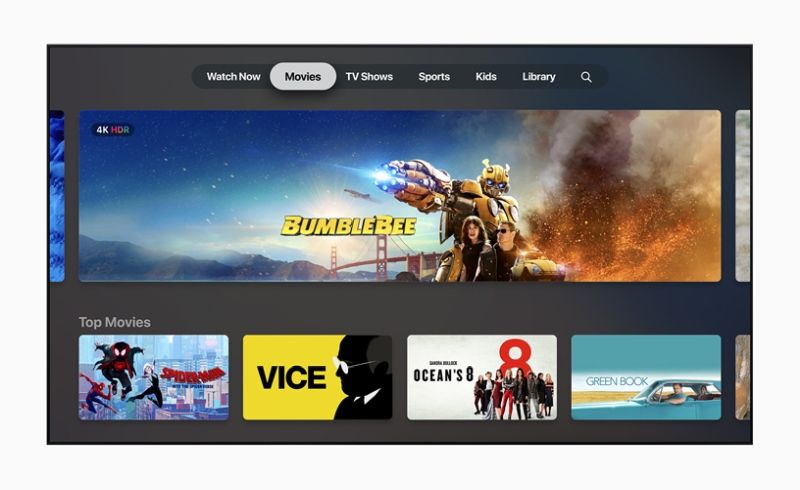 What makes it a threat to Netflix though is Apple's original show strategy. The company has spent over a billion dollars to produce movies and documentaries. Steven Spielberg, the genius behind Saving Private Ryan, piqued everyone's interest by announcing the revival of a sci-fi classic series Amazing Stories. Unfortunately, it was followed by Oprah Winfrey, who gave a speech on why she joined forces with Apple. The cultish figure who makes billions over the misery of others, claimed that it wasn't about the money. The pretend is working with Apple to set people free and heal the divisions. Yeah, right!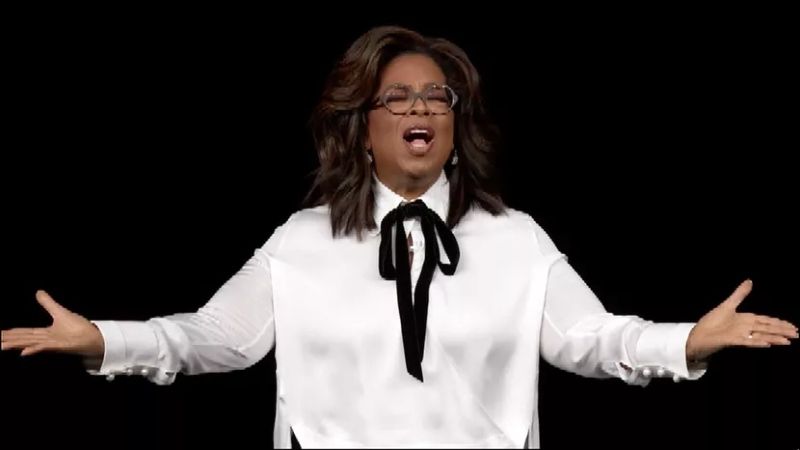 Apple Card
During the launch of Apple Pay service, Tim had famously labeled credit cards as "fairly antiquated payment process" and something that "people have dreamed of replacing for years". After showing such contempt for credit cards, Apple has taken a complete U-turn to launch its own physical card in collaboration with Goldman Sachs and Mastercard. Made of titanium, it is the "most beautiful" credit card according to Apple.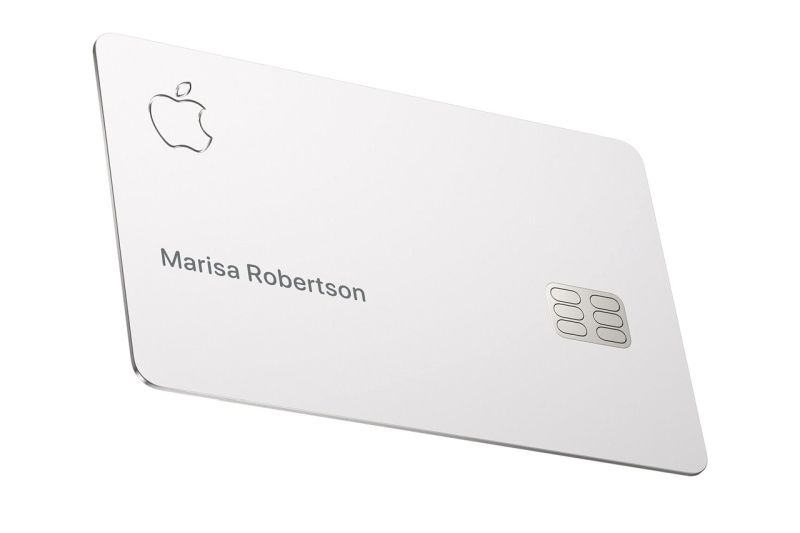 The card will lack a number, CVV code, or even expiration date. The security will be taken care off by a chip. The card will be available without any paperwork. Apple users can simply request for it using the iPhone Wallet app. Apple Card can be saved on your iPhone and used for payments in stores just like Samsung Pay. The best part about Apple's credit card is the way it presents your expenses. Unlike some cryptic text in your credit card statement where Swiggy transactions show up by the name of Bundl technologies, Apple will clearly label merchant names and locations. For better understanding of your spending pattern, Apple will color code your expenses based on categories such as food, shopping, and leisure. Hard to believe, but the Cupertino company will also be offering a 1 percent daily cashbacks on using the physical Apple card. Upon using the virtual Apple Card with Apple Pay, users will get 2 percent daily cash. Lastly, there's a 3 percent cashback on money spend in Apple Stores or its services. Apple card will be made available to customers in the US in summer 2019.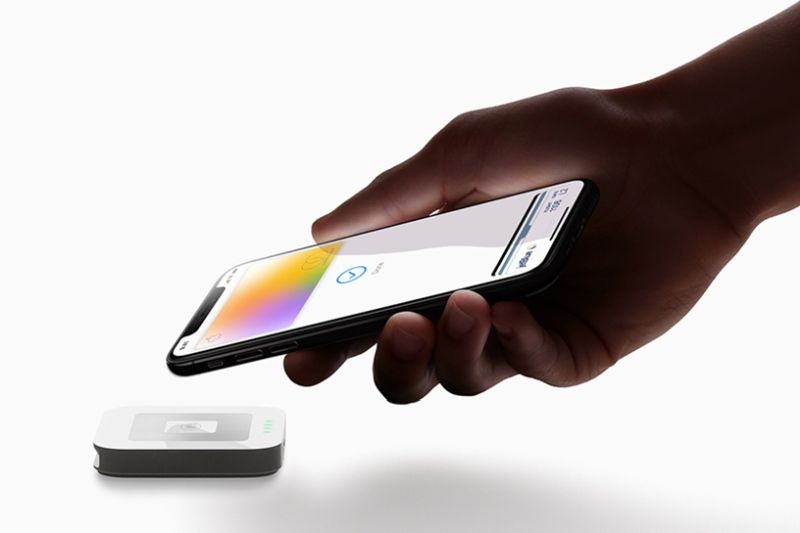 Apple News+
While Apple projects its image as the brand that supports individuals and creators, it has once again proved how it favors corporate media over new age reporting with the launch of its News+ service. The subscription service will peddle write-ups from over 300 publications and magazines. News feed will be powered by reports from The Atlantic, Vogue, National Geographic Magazine, People, ELLE, The Wall Street Journal, Los Angeles Times, ESPN The Magazine, Esquire, GQ, The New Yorker, The Oprah Magazine, Sports Illustrated, TIME, Vanity Fair, Vogue, and WIRED.
Apple News+ subscription also provides access to premium content. Apple News Editor-in-Chief stated that getting access to so many publications and magazines will cost you $8,000, but Apple is offering it for $9.99 per month. This has to be the most ridiculous and dubious claim you can make when launching a news curation service. Especially, when around 77 percent of Americans are convinced that mainstream media spreads fake news.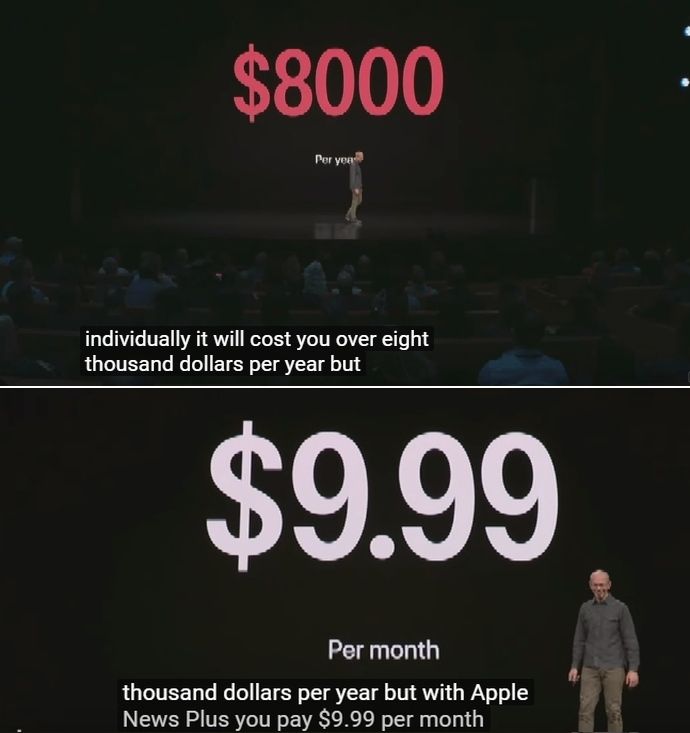 Apple Arcade
With gaming industry raking in billions of dollars, it was no-brainer for Apple to enter this market. However, while the recently announced Stadia service from Google enables players to enjoy AAA titles without the need of powerful hardware, Apple is taking a much simpler approach. Apple's Arcade service will offer access to over 100 games that have been designed ground up for phones and tablets. For a small fee, you will get access to the entire library. There will be no restrictions, annoying ads, or additional purchases involved in Apple Arcade experience. The service will feature games from Bossa Studios, Cartoon Network, Finji, Giant Squid, Klei Entertainment, Konami, LEGO, Mistwalker Corporation, SEGA, and UsTwo games. Once downloaded, you can play these games without the needing the Internet connection. While Apple executives praised the hell out of the currently announced titles, most of them simply look like glorified Flash games. A couple of them such as Beyond a Steel Sky from Revolution Software and Where Cards Fall from Snowman look promising. But, not really unique if you have picked up indie-games on Steam.