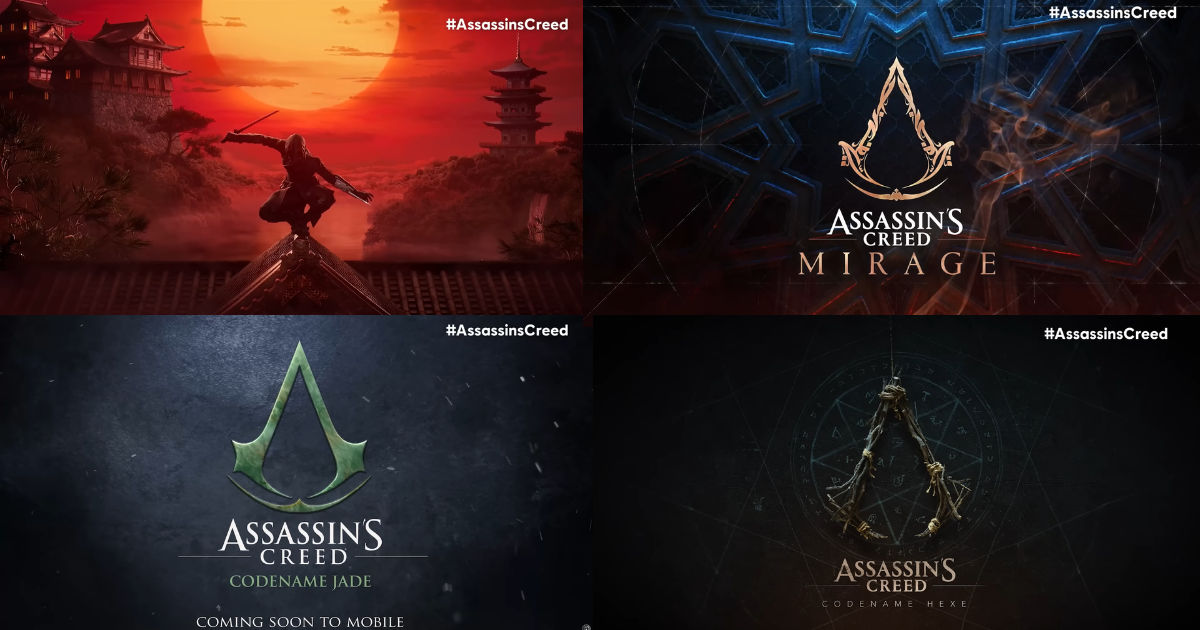 From the looks of it, it would appear that fans should ideally brace themselves for a whole lot of new Assassin's Creed content heading their way. Ubisoft finally unveiled its plans for the future of the franchise, which includes a couple of massive flagship AAA titles as well as a mobile game set in China.
It is safe to say at this point that Ubisoft is well behind its most successful gaming IP and is looking to capitalize on its massive potential with offerings on not just console and PC, but also mobile. Fans are eagerly awaiting more information on the upcoming titles, and here, we take a look at all the new games announced in the AC series and exactly what to expect from them.
Also Read: Assassin's Creed Games Ranked: 12 Top Games of Assassin's Creed Franchise Ranked From Worst to Best
The Future of Assassin's Creed – Explained
Assassin's Creed Mirage
Mirage is the next title up for release in 2023 and will follow Basim, a returning character from Assassin's Creed Valhalla. The game is confirmed to take place in Baghdad 20 years before the events of Valhalla and will follow Basim's journey from a street thief to a Hidden One, an Assassin.
There is a lot of speculation as to what the gameplay will look like in AC Mirage, and judging from the chatter in the community and hints from the developers themselves – this looks like it is hearkening back to the days of games like AC II. It would appear that the game is a smaller-scoped title featuring stealth and parkour mechanics of old. The game will feature 4 unique districts in Baghdad, taking place during the Golden Age.
This is a much-needed change of pace for the franchise as it might help win back a lot of the older fanbase that feel alienated by the new action-RPG direction of the series. The game is set for release in 2023 and will be available on both console generations – last-gen and new-gen.
Assassin's Creed Codename: Jade
Jade is perhaps one of the most exciting titles on the horizon, taking place in China where players, for the first time ever, get to create their very own Assassin from scratch. Perhaps the most exciting bit is the fact that Codename: Jade will be exclusively available on mobile.
Judging from the seemingly "in-engine" footage and the developers' commentary, the game will bring AAA-level animation, gameplay, and storytelling to mobile. This means that the game will not be compromising on the core tenets of the franchise, even with the limitation of hardware on mobile.
It is unclear when the game is set for release, but it is likely we will see more gameplay this year.
Assassin's Creed Codename: Red
Since the days of AC II and the original Assassin's Creed, fans have been clamouring for a feudal Japan setting and it looks like it is time fans finally got their wish. Ubisoft Quebec, who previously worked on AC Odyssey, will be leading development on Codename: Red and it is unclear as to when the game will actually come out.
Codename: Red will supposedly let players play out their "shinobi fantasy", putting players in the shoes of a highly-skilled Assassin in feudal Japan. This is supremely exciting for hardcore fans of the series and it looks like this will be more in line with games like Odyssey, Valhalla, and Origins – as it is an open-world RPG.
It will be interesting to see how Ubisoft's plans for Codename: Red play out and it is possible we will not be seeing much footage or gameplay until later next year.
Assassin's Creed Codename: Hexe
Codename: Hexe is perhaps the most mysterious title revealed during Ubisoft Forward and doesn't let on too much. The developers have stated there are a lot of secrets to uncover from the brief teaser trailer itself, but so far, there isn't much to go on.
It allegedly takes place in Central Europe during the infamous witch trials and judging from that setting and the teaser released, perhaps this could finally be the game where AC takes on a slightly more horror-style approach. The game will be led in development by Ubisoft Montreal, the birthplace of the franchise.
Codename: Hexe has players massively intrigued and it might be a while before we see more from the game.
Assassin's Creed Infinity
Now, to finally speak of the proverbial infinite elephant in the room – Ubisoft finally lets on more about AC Infinity than ever before. It has now been confirmed that Infinity is, in fact, not a game but more like a platform, a hub, that lets players connect several different games – including Codename: Red and Hexe.
This will be part of Ubisoft's plan toward a live-service type model for the franchise. Speaking of connecting experiences, Ubisoft has confirmed that they are currently looking to bring back online multiplayer to the franchise – which is great news for fans of the multiplayer from games like Brotherhood and Black Flag.
The multiplayer mode garnered much love from the community as fans enjoyed the cat-and-mouse nature of the PvP and it will be interesting to see how Ubisoft brings back the mode in Infinity.