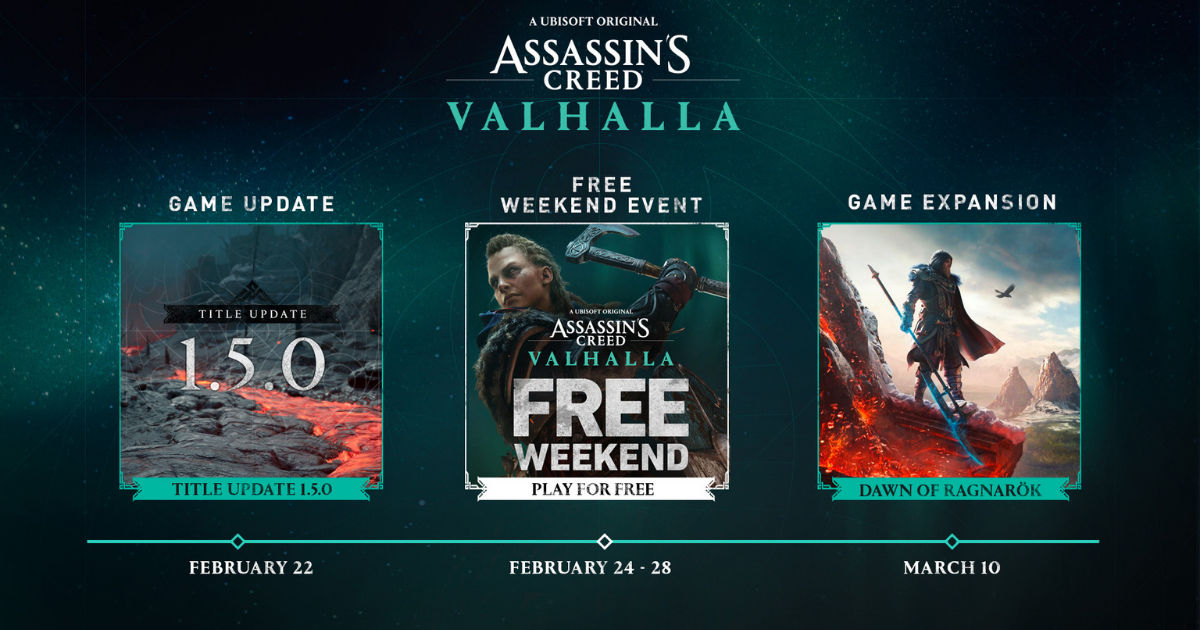 From February 24 to February 28, players will be able to play Ubisoft's Assassin's Creed Valhalla for free. The game is available on both last-gen (PS4/Xbox One) and current-gen consoles (PS5/Xbox Series X/S) as well as on PC through Ubisoft Connect.
This is pretty exciting for players who are yet to try the game but are curious to see if they will enjoy the open-world action RPG. The game is a fairly grand affair with a spectacularly large map and a single-player experience that is positively massive.
The game is also being updated with all sorts of new events, features, and expansions with the next one scheduled to drop on March 10, 2022. Assassin's Creed Valhalla's next major expansion is Dawn of Ragnarok, which will put players in the shoes of Norse god, Odin, as they attempt to save their son, Baldr, on Svartalfheim.
Also Read: Assassin's Creed Spinoff Game in the Works as Ubisoft Plans to Fill its Schedule
Assassin's Creed Valhalla Free-to-Play Weekend from February 24
On February 22, the game will also receive a new update, Title Update 1.5.0, details of which haven't been confirmed yet. It is likely to add some new content such as Festivals or perhaps even new gear and weapons. The patch notes for Title Update 1.5.0 will drop close to the release date of the update.
Assassin's Creed Valhalla has also now become the highest-grossing game in the franchise, crossing the $1 billion mark in revenue. This was revealed by Ubisoft in their latest financial report.
The game was a pretty massive affair at launch and has steadily gained momentum over time on the back of two solid expansions, Wrath of the Druids and the Seige of Paris. Although there were some issues with regard to performance, including bugs and glitches, a lot of them seem to have been ironed out.
It was also revealed recently that Ubisoft are also currently working on a new AC title, but one with a much smaller scale and scope. The game will likely be closer to the series' roots in the stealth-action genre and will focus on Basim from AC Valhalla.