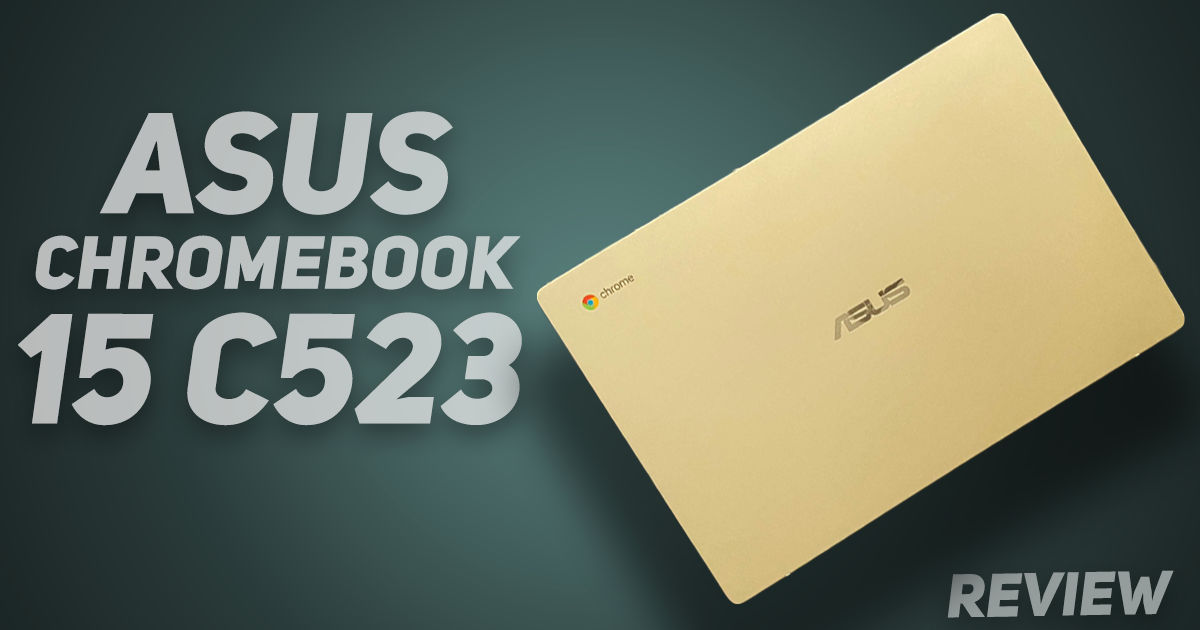 Seeing a large 15.6-inch laptop from afar does give an impression it would be mighty powerful, probably more power than you need. What if you just needed a big screen to watch content, read and type essays for classes, sans all that horsepower delivered by the expensive Intel and AMD CPUs with the diversities and complexities of Windows 10. What if, you just needed an Android interface, but on a big screen? Well, enter the Asus Chromebook 15 C523, that offers exactly that.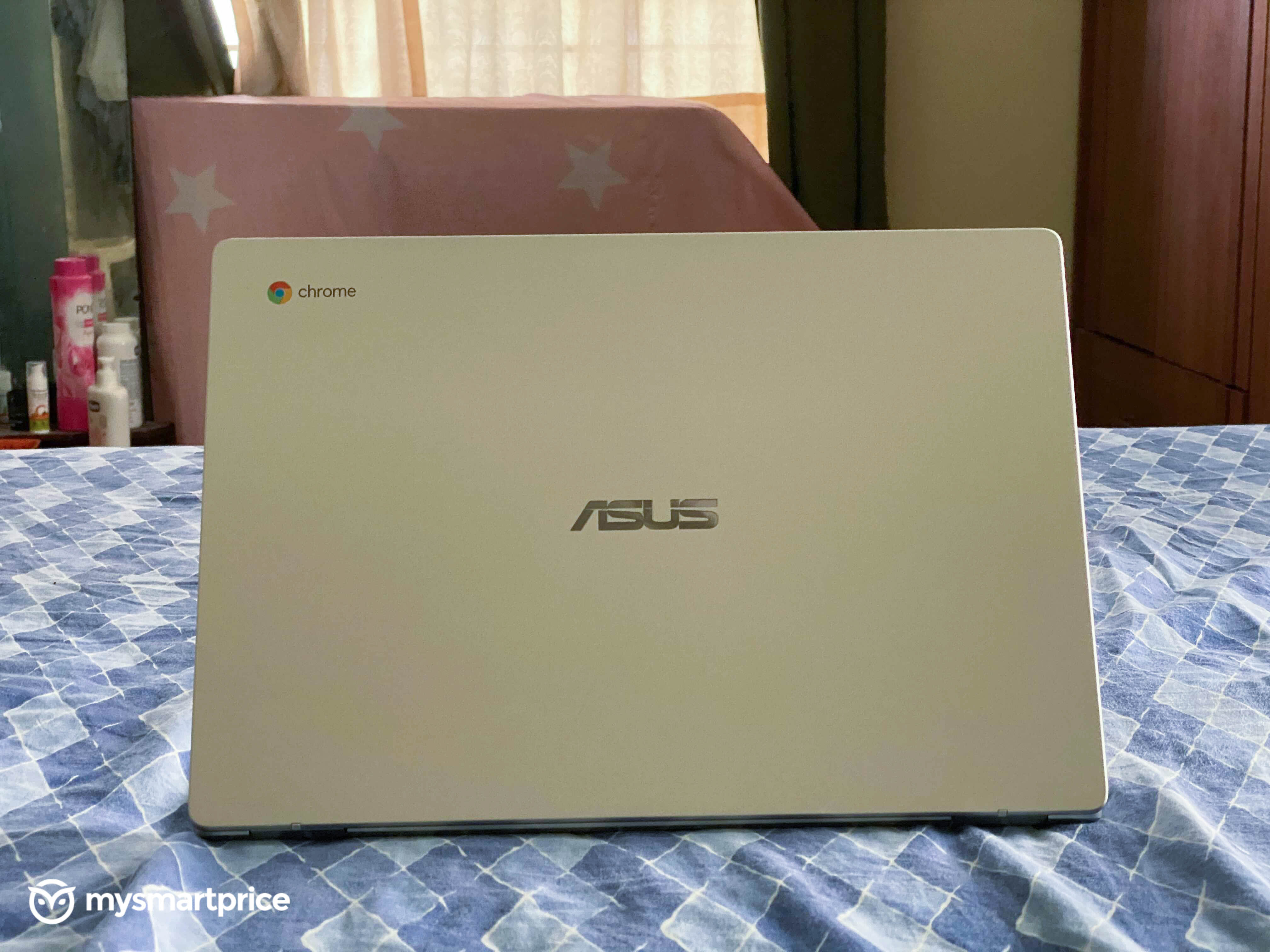 Aimed squarely at the online education sector that has boomed ever since the pandemic struck, the large form factor and Chrome OS is something Asus hopes will be an easy alternative to pick over Windows laptops that are far more expensive. The company launched three new Chromebooks for students that has more or less the same underlying hardware, but differs in screen sizes and storage. You get them in three sizes — 11.6, 14 and 15.6-inches with the latter two even coming with optional Touch support. It's a whole new lineup from Asus, and while it should have been here when the pandemic first begun, it's better late than never. Here's our review —
Asus Chromebook 15 C523: Specs and Features
Chromebooks don't need as much power as Windows machines. You'll rarely find Chromebooks with high-end CPUs, and that's primarily because Chrome OS is meant to be simple and easy to use. The new lineup from Asus is powered by an Intel Celeron N3350 CPU with integrated Intel HD Graphics 500. The lineup starts with 32GB storage for the 11.6-inch, and 64-inch for the 14-inch and 15.6-inch variants. However, the storage module used here is eMMC which is found more commonly in entry-level Android smartphones. At this price, I'd have at least preferred UFS 2.1 storage, if not a full fledged SSD. Nevertheless, you get a 45W charging adapter with a Type-C pin along with two USB 2.1 ports, an additional USB-C port and a microSD card reader for expandable storage.
Asus Chromebook 15 C523: Build and Design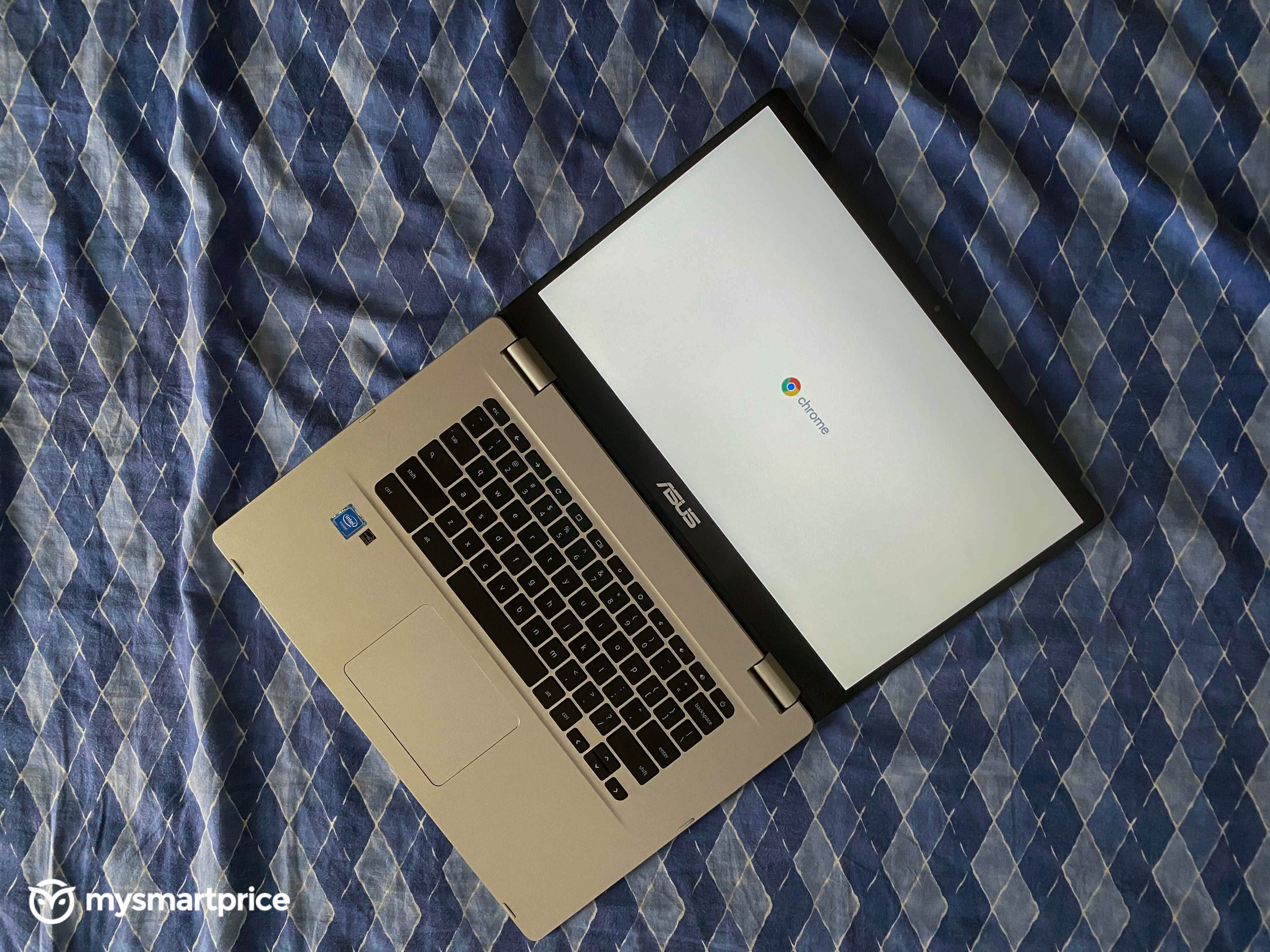 The Chromebook 15 C523 is as barebones as it gets when it comes to the design. It looks and feels super simplistic with attention paid only to the bare basics. That includes a large 15.6-inch FHD LCD display with touch support. There are thick bezels on all sides, and has an integrated webcam on top, making it perfect for online classes.
It's also built sturdily with zero panel flex, although the chassis bends under pressure. To save costs, the Chromebook 15 is primarily made out of plastic with metal reinforcements on the hinge. So the overall build quality remains slightly questionable especially if these are to be used by restless kids.
Having said that, for Rs 24,999, the Chromebook 15's build quality feels quite justified for the price. It can take a few bumps and skirmishes against the wall, but dropping this on the floor will mean its eventual death.
Asus Chromebook 15 C523: Performance and Usability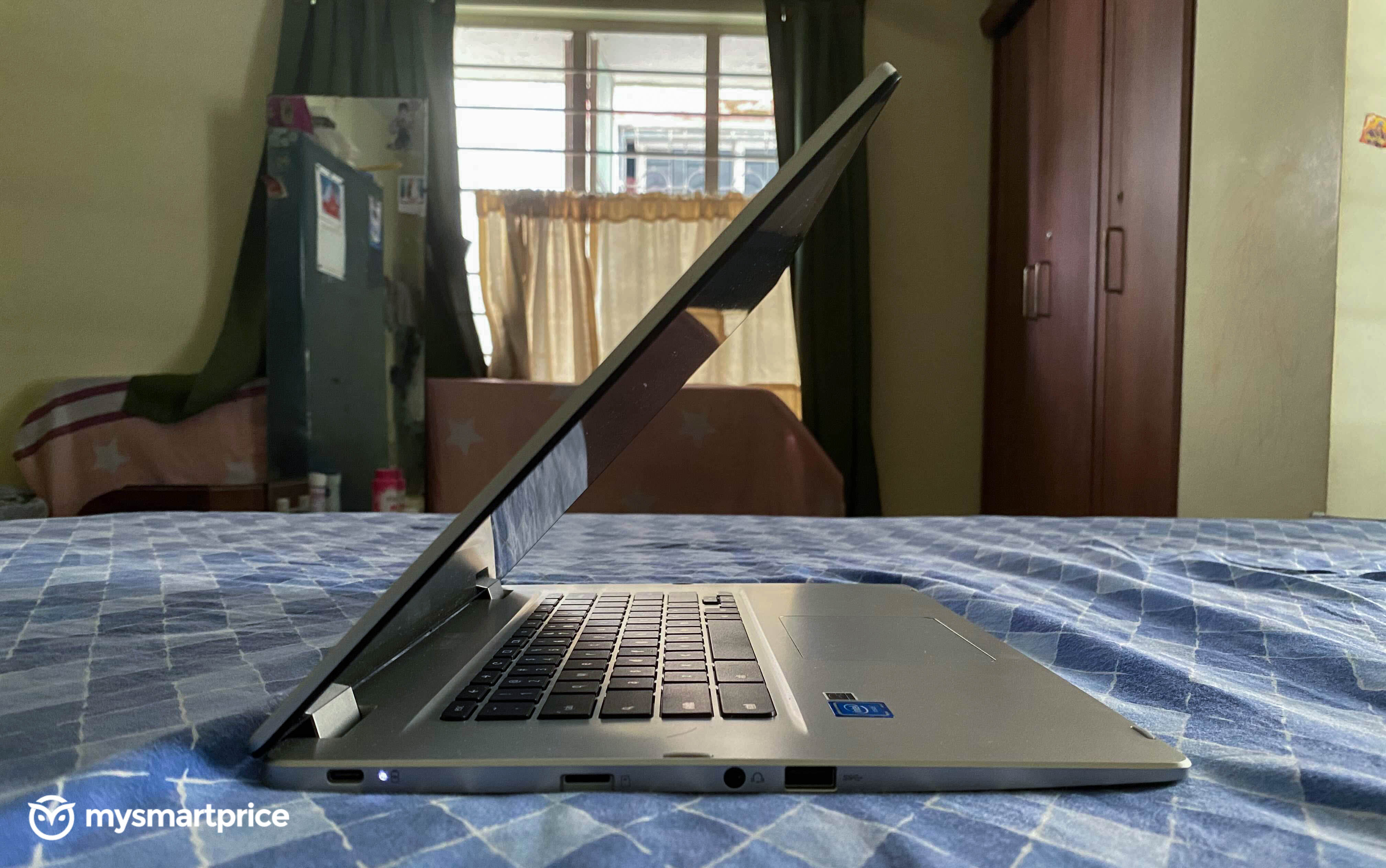 The Chromebook 15 from Asus runs on the Intel Celeron N3350 CPU. It's a dual-core CPU with 2MB L2 cache and a clock speed up to 2.4GHz. It's certainly not the fastest CPU in this price range by any means, but as I mentioned above, it's enough to run lightweight Chrome OS without a laggard experience. You get the full desktop experience of Google Chrome, but incidentally, all other web browsers will launch as their Android app version, with restricted functionalities and a mobile-first design. So Chrome is what you will have to default to without an actual choice.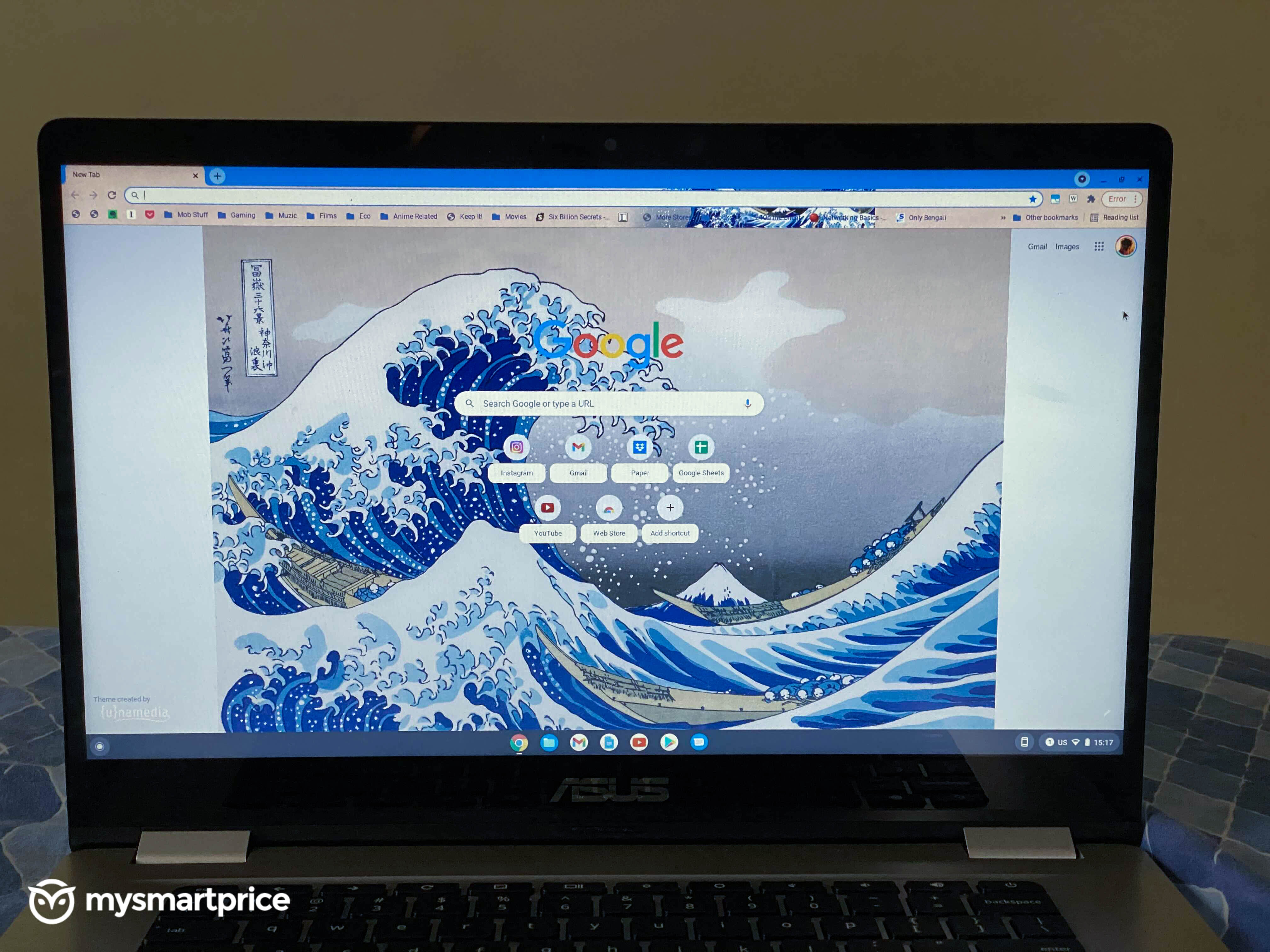 But the Chrome browser on Chrome OS is much more optimised for the low power hardware, and supports all extensions and plugins available in the Chrome Webstore. In fact, I was able to keep around 15 tabs open on the browser without bogging down the machine, but I did observed the execution times go up, leading to small, but noticeable lags.
The Chromebook 15 scored 25.5 on the Speedometer 2.0 browser benchmark test, which is the same as the HP Chromebook 11a (review) I had reviewed earlier which is powered by a MediaTek SoC. So the fact remains that despite being an Intel processor, the performance is more or less the same.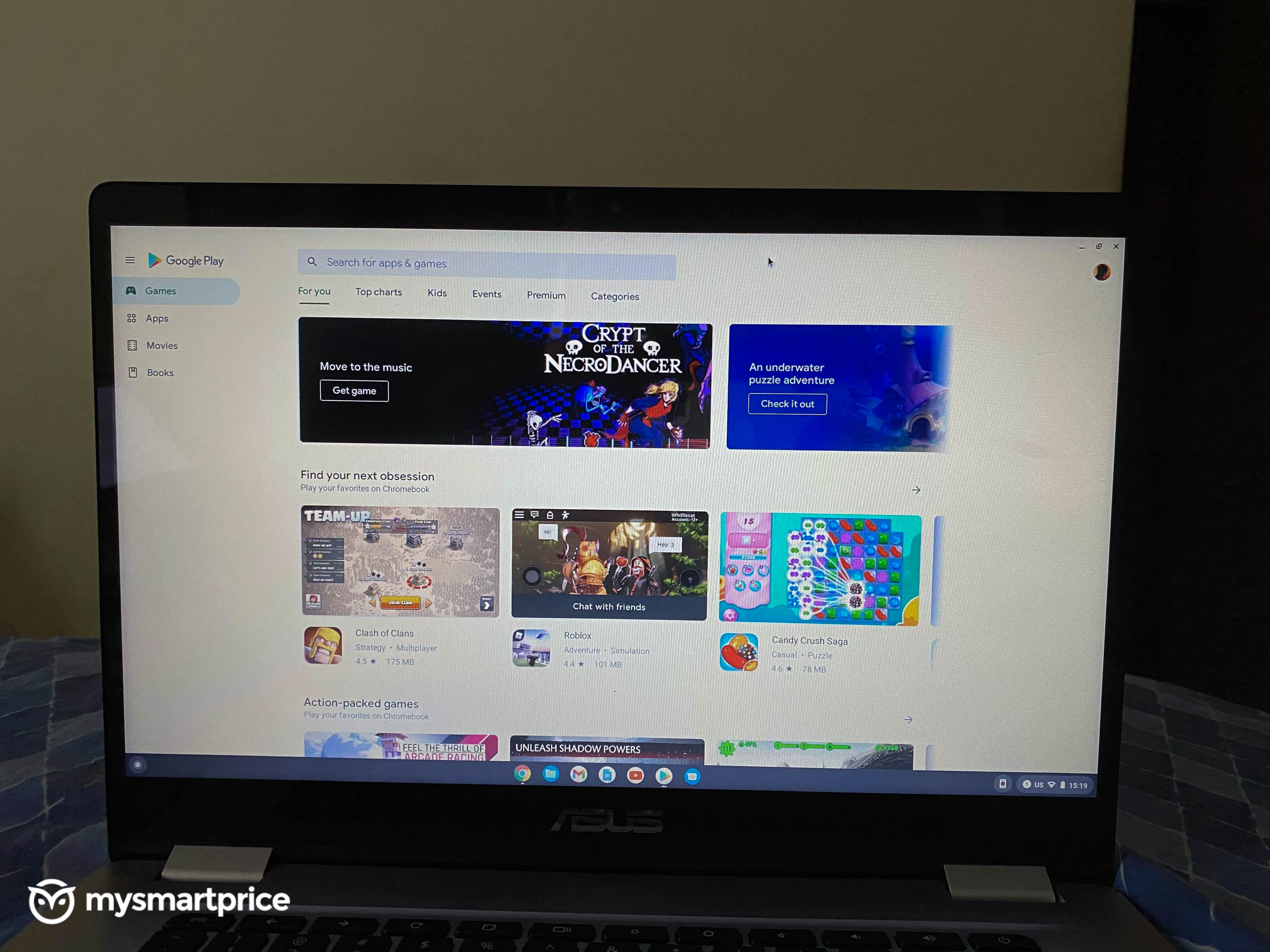 Outside of Chrome, you get the full access to the Google Playstore, turning Chromebooks into virtual Android devices. So even if you don't get .exe installers of most of the popular apps like Microsoft Office, Slack or Spotify, you can run the Android versions of them with ease. Furthermore, most of the popular Windows apps are also hosted on the web. But the real use case Asus has positioned this for, is online classes, especially if your institution uses the Google Classroom app.
Oh, I also particularly liked how responsive Google Assistant is on the Chromebook 15. It gets invoked in an instant and can quickly run a Google Search for you, open a website
Google Classroom gets native support on Chromebooks that helps in logging in for a class, doing homework and tracking assignments much easier. You don't need a Windows or a Mac machine for that anymore. Typing on Google Docs, or in my case, Dropbox Paper, was just as smooth as any other Windows machine and after a couple of days using this as my primary work machine, I didn't have any issue in filing articles or coordinating with my team.
Asus Chromebook 15 C523: Keyboard and Trackpad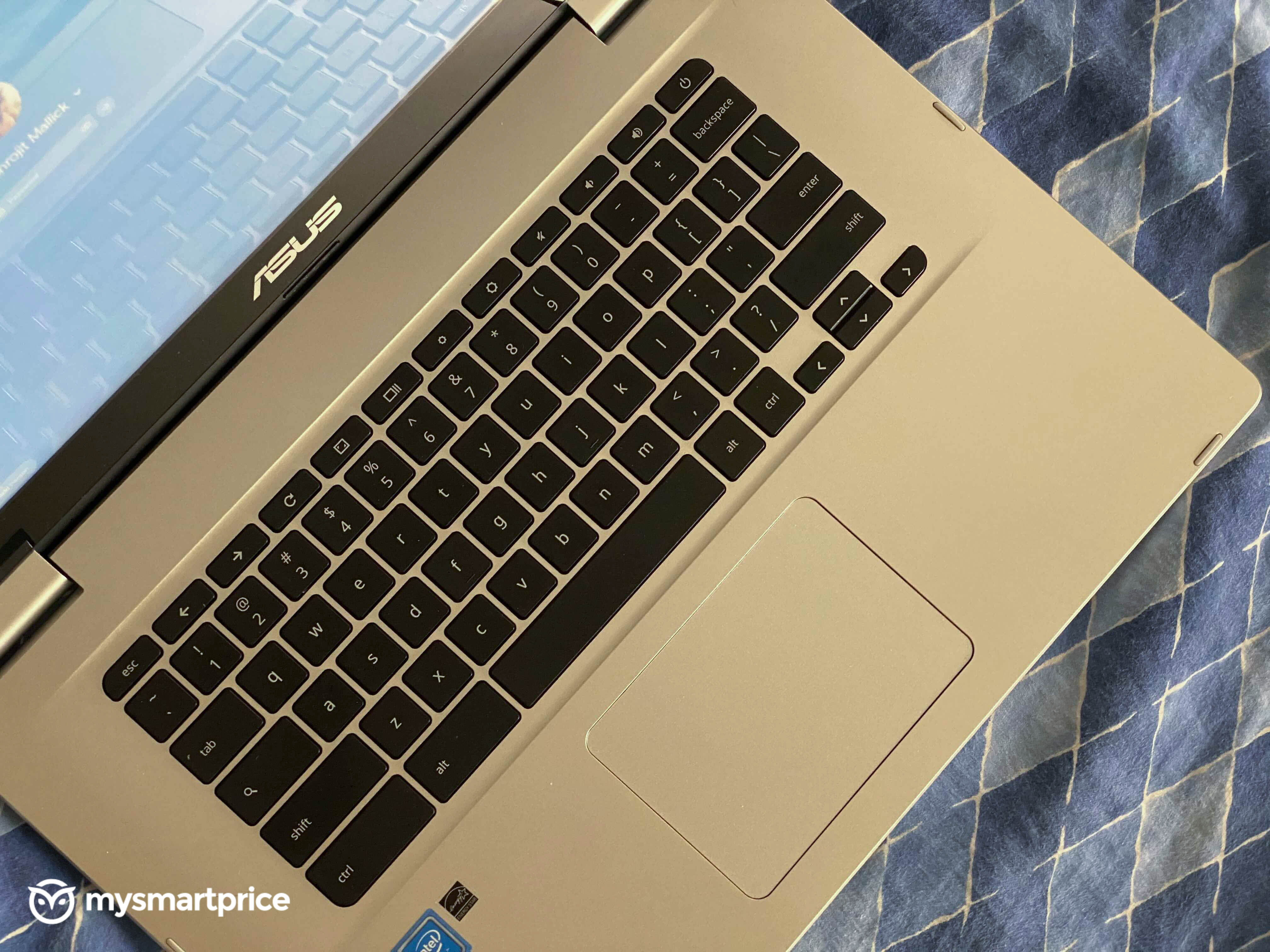 The Chromebook 15 features a full-sized keyboard that's well spaced out and has a spill-resistant design. It's an island-style keyboard with well-spaced out keys, but no backlight, which is understandable considering the price point it's catering to. The keys itself are comfortable to type on, but it doesn't have early actuation and has to be pressed all the way down to register. The good thing is, you get a good feedback from typing with deep travel and that satisfying click sound. I can easily find potential for this to be a great laptop for typing out long essays and doing classwork.
As for the trackpad, it feels kinda cheap. It's not to big and it already became wobbly after a few days of use. It still registers swipes and clicks well enough and will do the work well enough, but I'd suggest getting a wireless mouse for a better experience.
Asus Chromebook 15 C523: Battery Life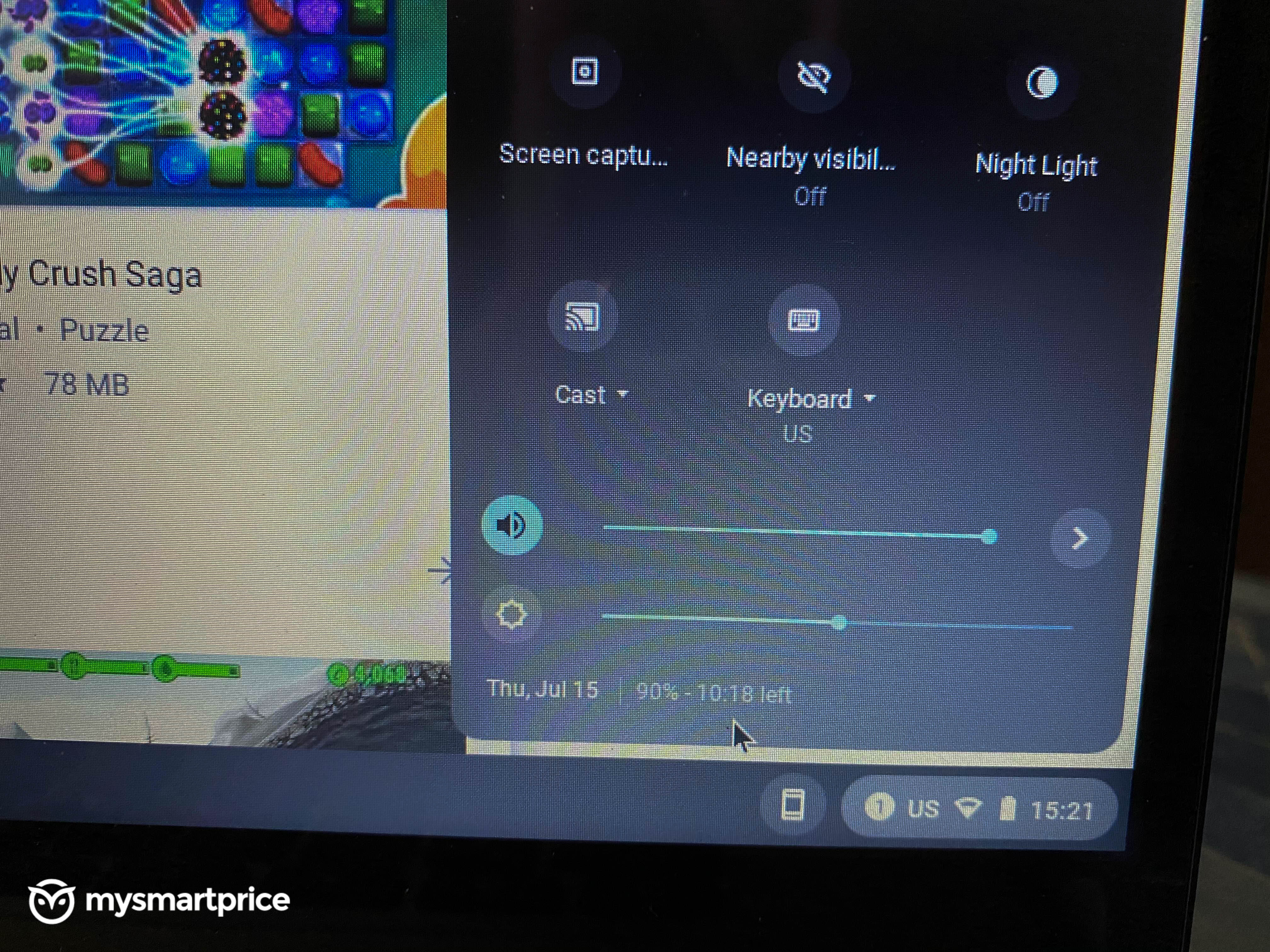 While in most other aspects, Chromebooks may feel inferior to Windows, the battery life is not among them. In fact, due to the low power nature of Chrome OS, the Chromebook 15 easily lasted me a day using it as my daily driver. I used it to track stories, write articles, chat on Slack, catch up on the Loki finale on Hotstar and listen to music on Spotify, all in a day's work and there was still around 20% left, which is amazing.
The laptop also charges quite fast with the bundled 45W adapter. In fact, I was also able to use Xiaomi's 27W USB PD charger to charge it, albeit slower. All this because it uses the same USB-C port to charge like other Android smartphones, so it's very much possible for you to travel light, carrying just one charging adapter for both your phone and laptop.
Should you buy the Asus Chromebook 15?
All things said and done, the Asus Chromebook 15 is no match for a full-fledged Windows laptops, but good luck finding a good Windows laptop under Rs 30,000 in India. Most Windows options in this range runs on the same Intel Celeron CPU this Chromebook does, but the dual-core processor will struggle to run even the basic tasks on it, especially since you don't get SSD storage in this range.
So looking at the marketscape, it makes perfect sense for Chromebooks to fill in that gap. After all, most PC users are basically internet users, since most of the work now happen on the web. Be it a video conference, or binging on the latest episodes, you will anyway have to rely on Google Chrome or other web browsers to get the job done. And doing such tasks on the Chromebook is no different because you get the full desktop Chrome experience on this.
It makes perfect sense, therefore, to purchase a Chromebook for such needs, and the new Asus Chromebooks fill that gap with near perfection. Just don't expect to run Photoshop on this.
Asus Chromebook 15 C253
Rs 24,999
Keyboard and Trackpad
7.0/10
What Is Good?
Affordable Price
Day Long Battery Life
Full size keyboard
Integrated Webcam
What Is Bad?
Plasticky build
Tiny trackpad
Not meant for heavylifting