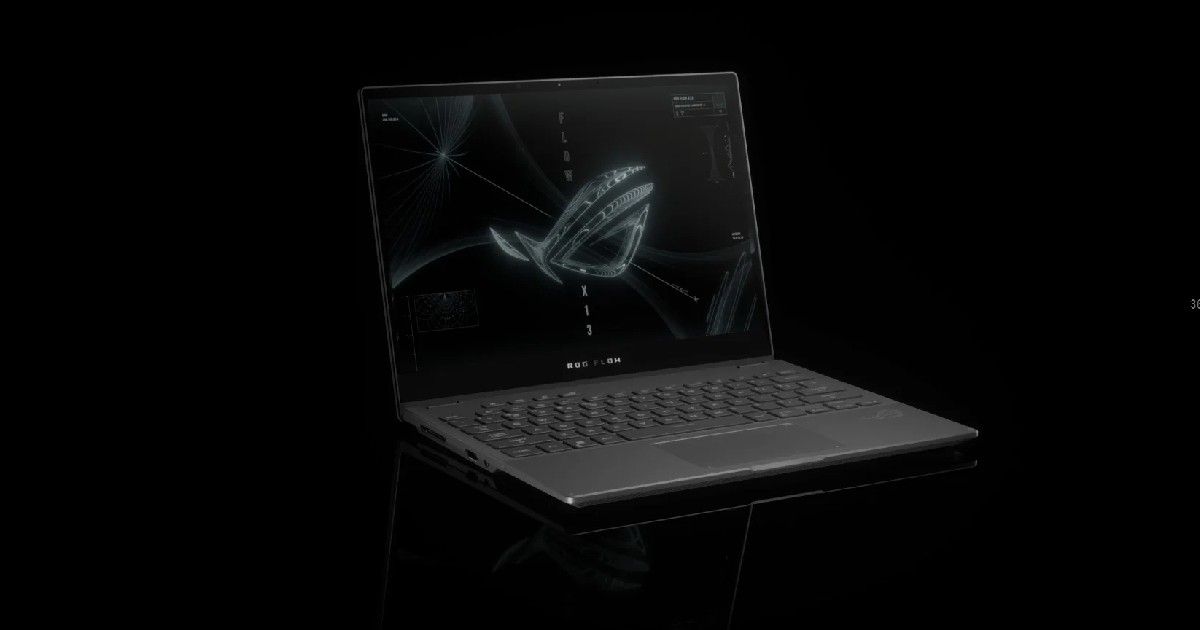 Taiwanese PC maker Asus today announced the world's first convertible gaming laptop in India. The laptop, called the Asus ROG Flow X13, will be accompanied by the Zephyrus Duo, Zephyrus G15 and the Asus Zephyrus G14 gaming laptops. The ROG Flow X13 is the highlight though, sporting a detachable Nvidia RTX 3080 eGPU with integrated adaptors and multiple ports. While detachable GPUs aren't particularly new, Asus' technology has been critically acclaimed for plugging some of the gaps involved with using Thunderbolt ports for adding desktop-grade external graphics to PCs. It is also essential for the "convertible" feature of the ROG Flow X13. However, the eGPU isn't landing in India yet. The launch timeline and prices will be released closer to its launch.

Asus ROG Flow X13 specs
As mentioned before, the ROG Flow X13 is the world's first 13-inch convertible gaming laptop. It uses Asus' 360 degree Ergolift hinge and the AMD Ryzen 9 5900HS processor. It also has the Nvidia GeForce GTX 1650 GPU, which is meant for users who do not want the eGPU version of the device. The laptop will be available on Flipkart and through Asus' stores.
Asus Zephyrus gaming laptops: Specs and features
On the other hand, the Asus Zephyrus line offers a 180 degree hinge, and a magnesium-aluminium lid design. The Zephyrus G15 has a 5% smaller footprint than its predecessor, according to the company, and it runs on the AMD Ryzen 9 5900HS mobile processor, with Nvidia's RTX 3070 GPU. 
The ROG Zephyrus Duo 15 SE is aimed at content creators and codes, and runs the AMD Ryzen 9 5900HX processor, with Nvidia's GeForce RTX 3080 GPU. This one also has Asus' ScreenPad Plus technology, adding a secondary display on the device.
Lastly, the ROG Zephyrus G14 rounds up Asus' new line of gaming laptops in India. Like the G15, this one is also designed for those who want gaming laptops with a more compact footprint. It runs on the AMD Ryzen 9 5900HS mobile processor and Nvidia's GeForce RTX3060 GPU. 
These laptops will also be sold through Flipkart and Asus' offline channels.
Asus ROG Flow X13, Zephyrus series: Price
The prices for these laptops are as below, as provided by Asus.
Model

Starting Price  (INR)

Platforms

Availability

Zephyrus Flow X13

1,19,990

Asus Exclusive Stores, ROG Stores, Flipkart, Reliance Digital, Croma, Vijay Sales

26

th

May

Zephyrus Duo 15 SE

2,99,990

Asus Exclusive Stores, ROG Stores, Amazon, Flipkart

26

th

May

Zephyrus G15 (2021)

1,37,990

Asus Exclusive Stores, ROG Stores, Flipkart, Croma, Vijay Sales

26

th

May

Zephyrus G14 (2021)

94,990

Asus Exclusive Stores, ROG Stores, Amazon, Reliance Digital, Croma, Vijay Sales

26

th

May