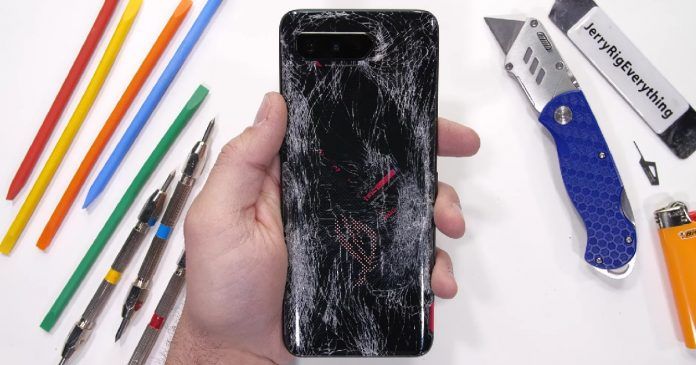 ASUS has recently launched its next-gen gaming smartphone called the ROG Phone 5 promising an array of features and specifications. We have already witnessed numerous reviews from gaming and tech enthusiasts, but no one has tested the durability of the smartphone. When it comes to durability tests the first name that comes to our mind is JerryRigEverything who is known for performing durability test on almost all the newly launched popular smartphones. 
Yes! You got it correct, Jerry has shared a new video on his YouTube channel where he is giving the same treatment to the newly launched ROG Phone 5 which he is famous for. Some phones are tough enough to survive Jerry's durability test but it seems that wasn't the case with the ROG Phone 5. 
ASUS ROG Phone 5 Durability Test
According to the durability test video shared by Jerry, the ROG Phone 5 display started receiving scratches on level 7 and 8 but it seems that the Gorilla Glass protection works pretty well on the handset. On scratching the sides of the phone its quite evident that the gaming smartphone carries a metal chassis, but it has a weak point along the antenna line on the side frame. The AMOLED display seems to be pretty impressive as it recovers the fire damage in just 20 seconds without leaving any mark. 
JerryRigsEverything is popular for its bend test and in the latest durability test video he performs the same test with ROG Phone 5 and the results were not that impressive. At the first round of pressure tests, Jerry was able to crack the chassis of the phone by applying some pressure at the front panel. The bend test in the first round damaged the internal vibration motor of the phone and we can hear the sound of the motor in the YouTube video. 
The second round of bend test completely fractured the display and the one billion colours have gone in an instant. When he applied some bend effort at the rear panel it got completely shattered in seconds. According to the host, the USB-C and accessory port on the side for add on accessories is the weakest point of the ROG Phone 5. 
Thanks for reading till the end of this article. For more such informative and exclusive tech content, like our Facebook page