\The COVID pandemic shattered gamers' dreams of building their gaming rig. Prices of the components saw an unimaginable increase, at which point, buying a motorcycle could be considered a cheap purchase. Besides this, the crypto world did not help the situation with mining maniacs hoarding GPUs and scalpers selling them for absurd amounts online.
With the chip shortage conundrum getting better by the day and prices seemingly going back to normal, one does wonder if investing in building your own PC is worth all the hassle. Assembling a PC from scratch is a cumbersome task, no matter how many LTT tutorials you might have watched.
For someone getting into the building scenario for the first time, things will get complicated. The term 'pre-built' PCs might send a shiver down every gamer's spine, but it's a good place to start for a beginner. Asus ROG is one of the companies in this venture, along with multiple other competitors such as Dell, Bitkart, PC Studio, and more. So what's the purpose of a pre-built PC, and how does it differ from building one of your own? Let's find that out. Today, we will look at the ROG Strix G15CF's base variant, which comes with an Intel i5-12400F, an RTX 3060 Ti GPU, 16GB RAM, and more. Here's our review.
What Are Pre-built PCs?
Pre-built desktops have been a thing for years, although gaming pre-built PCs recently came into the limelight. It's essentially an entire PC pre-assembled and tested for the end consumer. As mentioned earlier, building a PC from scratch is not an easy task. It requires a lot of commitment from the buyer, with most of the time spent on research. This includes getting quotations from multiple sources and then making a decision depending on the budget, among other things.
Besides this, god forbid, if any of your components ever gets fried, running behind the vendor to RMA (Return Merchandise Authorization) units is a nightmare. This is when pre-built PCs come into the picture. If you are someone who does not have the technical knowledge or the time to build a PC from scratch, pre-built desktops can save you time and effort.
In most cases, companies offering pre-built variants usually provide on-field service for the entire PC, so you wouldn't have to run behind any vendors to get the components replaced or repaired. The highlight of building a PC from scratch is the ability to upgrade your components at any given time, provided you have planned that beforehand. The same goes for pre-built PCs. Though, on the downside, pre-built rigs are slightly on the pricey side — partially due to the after-sales capabilities. So, the bottom line here is — if you have the technical prowess, the time, and that craze of building a PC, you can do so without any hesitation. If you ever get stuck, there are millions of tutorials available online. Though, if you belong to the group on the other end of the rope — pre-built PCs could be your way out. Now, the decision is yours to make.
ROG Strix G15CF Review: Pricing and specifications
Asus ROG offers two variants for its G15 pre-built desktop series. Here are the specifications.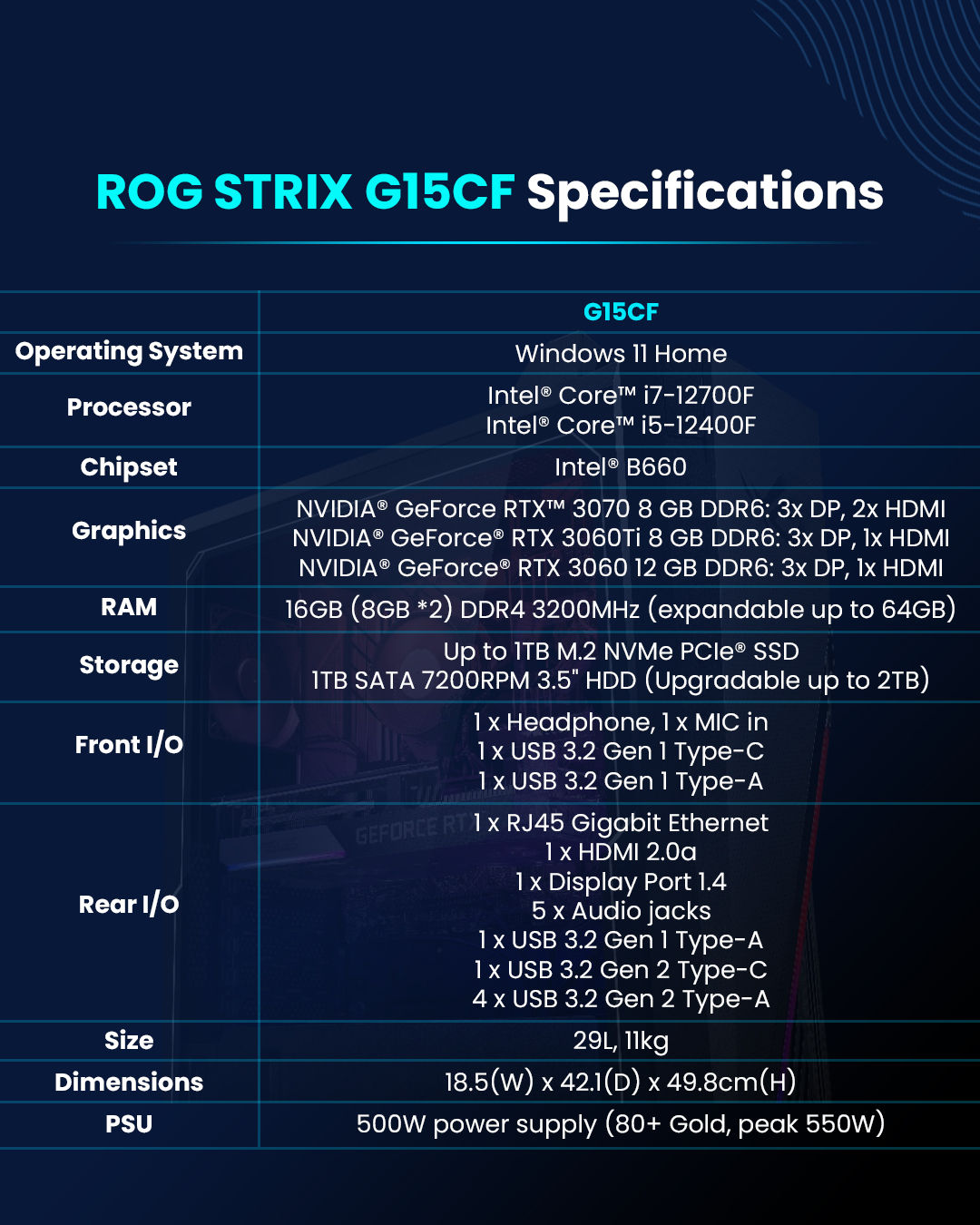 For this review, we have the variant with Intel i5-12400F and RTX 3060 Ti. This variant currently retails for Rs 1,35,990. Starting with the box contents, it comes with the mid-tower cabinet, and all are packed neatly in a box designed with traditional ROG aesthetics. Besides this, you also get a keyboard and mouse combo. Both are entry-level peripherals, and not something gamers would bat an eye on. If you do not already own a good-quality keyboard and mouse, we suggest investing in one immediately. It also comes with the necessary power cords and a WiFi adapter which can be attached to the rear (we'll get into the nitty-gritties of these later). It does not come with a monitor, so it's better to get one beforehand. Ideally, a high refresh rate monitor should be your go-to.
Also Read: HP Victus 15 Review
Asus ROG Strix G15CF Gaming PC Review: Design and build quality
The ROG Strix G15CF comes in a mid-tower case which measures 18.5 cm in width, 42.1 cm in depth, and 49.8 cm in height. It's an ideal cabinet and should easily fit into any setup swiftly. The cabinet is made out of good quality materials and weighs around 11 kg with everything installed. If you have seen Asus' previous line of gaming pre-built PCs, the design of the Strix G15CF will look very familiar to that of the ROG Strix GA15. The front — in typical ROG fashion — gives you a gamery vibe, something that's not too over the top. It sports a black finish with a coarse texture and a ROG logo at the top. There's a subtle diagonal RGB line across the face of the cabinet, which leads to the power button. Below all this, you'll find plastic vents for air intake, which helps keep the insides cool. You can also find a headphone stand at the top of the cabinet, a very handy and much-needed addition — though, beware, do not put too much weight on it. The front is quite subtle, and we like this approach.
Coming to the side panel, the Strix G15CF goes for a transparent look, something which is common in most PCs nowadays. It exhibits a ROG logo etched into the side panel and gives you a quick look at the components inside. These components are visible in the dark thanks to an RGB strip running along the edges of the cabinet. It chooses to go with stock options for cost-cutting, although we would have liked more RGB bling on the CPU cooler and the exhaust fans. The overall lighting is bright and is compatible with Asus' Aura Sync, which is neat.
The other side of the tower is quite the opposite – it's a closed cabinet with some vents for air intakes. As for the back side, it holds all the necessary things. The rear I/O shield gives you access to 4 x USB 3.2 Gen 2 Type-A ports, a USB 3.2 Gen 1 Type-A, a USB 3.2 Gen 2 Type-C, HDMI, DisplayPort 1.4, 5 x audio jacks, SPDIF out, WiFi 6 connectors, and a 2.5G RJ45 ethernet jack. The top portion sees a handle to carry the cabinet, this is very thoughtful and not very common in other cabinets. The front I/O panel holds in place a headphone jack, a USB Type-C port, and a USB 3.2 Gen 1 Type-A port.
The Strix G15CF looks like any other mid-tower build but with vent cutouts that give the entire cabinet a gaming vibe in addition to the RGB strip. Though, it's likely not many would like the RGB lighting on the inside. It would've been good to see Asus going with an RGB air cooler instead of the stock one used, but this will most likely differ from person to person. The assembly is neatly done with proper cable management, and the RTX 3060 Ti also gets a supporting bracket to carry its weight so that it doesn't end up bending the slot.
Also Read: Asus ROG Strix Scar 17 SE Review
Asus ROG Strix G15CF Gaming PC Review: Performance
The Asus ROG Strix G15CF is available only in Intel variants. It comes in two options, one with Intel i7-12700F and the other with Intel i5-12400F. As mentioned earlier, we have the latter with us for this review. The 12th Gen 'Alder Lake' CPU is priced attractively in Indian markets and competes against the Ryzen 5 5600X. For the last few iterations, Intel CPUs ending with '400F' have been able to provide good gaming performance at times for lesser money than the '600K' variants. The Core i5-12400F comes with 6 cores and 12 threads with a boost clock of 4.4GHz. This, paired with the RTX 3060Ti, provides consistent performance for 1080p gaming. Carrying out simple productivity tasks is a cakewalk for this rig, be it editing videos or opening up a bunch of chrome tabs for the sake of it. However, thanks to the air intake grills, the PC does not run hot that often and is able to churn out a decent performance.
We ran a bunch of synthetic benchmarks on the Strix G15CF, and these were the results. Cinebench R23 registered a score of 11404 points and 1592 points in multi-core score and single-core tests, respectively. In PCMark 10 tests, the Strix G15CF got an overall score of 6853 points and a productivity score of 8581. As for Geekbench 5, it managed to gather 1602 points and 8111 points in single-core and multi-core tests, respectively. The rig has a 512GB SSD with Windows 11 Home loaded onto it and a 1TB SATA HDD. CrystalDiskMark returned 6667 MB/s and 3802 MB/s sequential read and write speeds for the onboard SSD, respectively.
In 3DMark's TimeSpy tests, the machine was able to gather a score of 10586. TimeSpy Extreme managed a score of 5032. Geekbench 5 GPU tests got a score of 125751. Coming to the gaming section, something you've been waiting for. Shadow of the Tomb Raider got an average of 151 fps on 'High' settings with 1080p. These numbers are with DLSS, and Intel XeSS turned off. Apex Legends ran at 'High' settings and 'Insane' texture quality, averaging 138 fps constantly. Switching to an open-world game such as Dying Light 2, it's able to test the graphical prowess of the RTX 3060Ti. It managed an average of 80 fps on 'High' settings without any upscaling.
We then decided to test its ray-tracing goodness. Enabling ray tracing without any upscaling gave us an average of 38fps throughout a mission with the GPU running at 200W. Control, yet another demanding title, managed to give us constant 60fps with ray tracing enabled on 'High' settings. Switching to Valorant gave us an average of 273fps on 'High' settings. While CPU-intensive games such as Counter-Strike: Global Offensive gave us an average of 290 fps on high settings. The Strix G15CF, when it comes to gaming, is quite consistent. This rig can run most games at Medium or High settings without hiccups. Pairing the machine with a high refresh rate monitor is something we would suggest if you wish to unlock the full potential of its gaming prowess.
As for the thermals, the airflow is quite good because of the multiple vents around the cabinet. While the fans did ramp up when playing demanding titles, the noise was mostly under control and nothing that hindered our experience.
The machine also comes pre-loaded with Asus' well-known software, Armoury Crate. This can be used for your overclocking needs and tweaking around with the RGB strip compatible with Aura Sync.
Coming to upgradability, the beauty of desktop PCs is the ability to swap out any component at any given time. Over the years, you can easily swap out the RTX 3060Ti for a better card. Though, you'll have to keep in mind the output of the power supply. The same goes for the storage department. If you are someone who is into content creation and needs more space, that can be handled easily with a single swap. Our build came with two RAM sticks running on dual-channel, which can be upgraded to a 64GB setup, too, provided you get the same make and model of the sticks already in use to avoid any compatibility issues.
Asus ROG Strix G15CF Gaming PC Review: Verdict
PCs are for a niche group of people. Folks who don't want to carry work along with them or, if they just need to chill out after a long day by booting up some FIFA or CS:GO, usually go with desktop PCs. If you belong to the latter group, this might be for you. The Asus ROG Strix G15CF is a complete package for someone with a taste for gaming as well as content creation. Daily tasks are a piece of cake for this machine. The rig runs cool even under load, and AAA titles can be played at 1080p without many hiccups. This also bodes well with 1440p gaming if settings can be brought down a bit. While some gamers might not be content with the RGB showcase in the cabinet, it can always be tweaked around as per your need.
The Strix G15CF will set you back Rs 1,35,990 and will require you to buy other peripherals separately. Buying all these components individually from a local shop or popular locations such as Nehru Place in Delhi or Lamington Road in Mumbai – which will help you save you a fair amount of money, but at the compromise of time and effort.
Asus ROG Strix G15CF
₹1,35,990