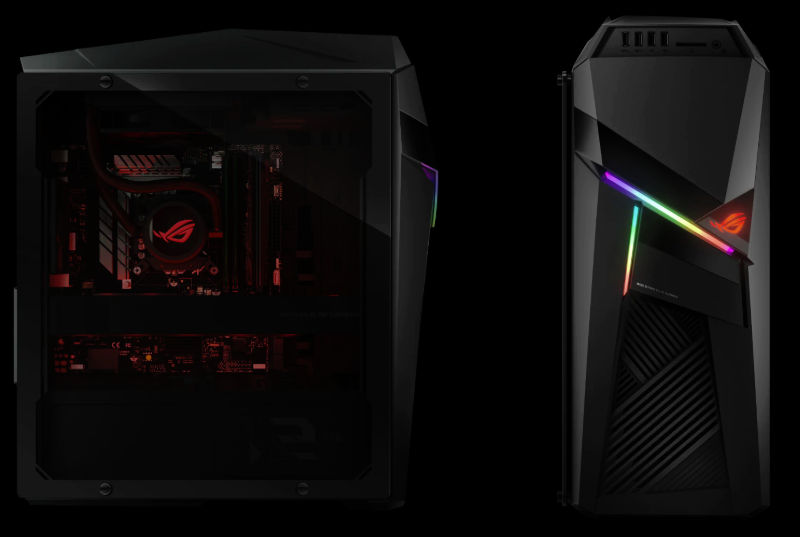 Asus ROG has launched Strix GL12CX, a high-end gaming desktop with next-gen Intel Core Processors and NVIDIA GeForce RTX 2080 Ti GPU. The powerful gaming machine, which isn't exactly portable, comes with custom liquid cooling system as well as NVIDIA's latest graphics engine for intense and prolonged periods of uninterrupted gaming.
Asus' elite Republic of Gamers or ROG sub-brand never compromises on specifications, and the just announced Asus ROG Strix GL12CX desktop exceeds expectations. Incidentally, this is first desktop in the world to use the recently launched NVIDIA GeForce RTX 2080 Ti graphics engine. Combined with the cutting-edge 9th-Gen Intel Core processors that are overclocked at the assembly plant itself, the Strix GL12CX is one of the most powerful gaming machines that can easily run any current game at high settings.
Asus ROG Strix GL12CX Specifications
The Asus ROG Strix GL12CX desktop packs 9th Gen Intel Core i9-9900K processor. The processor is paired with NVIDIA GeForce RTX 2080 Ti (11GB) and 512GB PCIe. If the factory overclocked feature isn't exciting enough, Asus has kept the processor completely unlocked. In other words, serious hardcore gamers. who look forward to tinkering with their gaming rig, can easily fine-tune the system.
Apart from the 9th-Gen Intel processors, the biggest highlight on the Asus ROG Strix GL12CX is the NVIDIA's latest and greatest graphics engine. The GeForce RTX series is based on the Turing architecture which mixes CUDA cores for traditional rasterization with RT cores for ray-traced effects. There are Tensor cores as well. These are intelligent enough to dynamically reduce the 'noise' in the game using Deep Learning Super Sampling technique. In simple words, gamers will have crystal clear game sequences.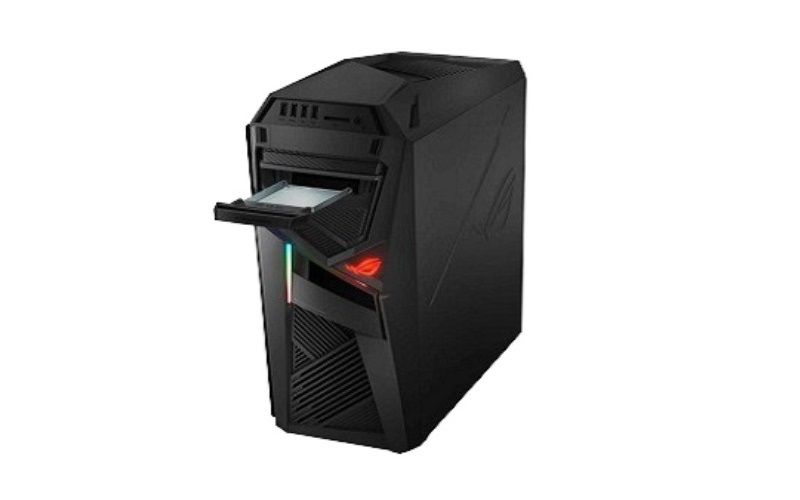 Interestingly, Asus has incorporated a handy feature in the Strix GL12CX desktop. It features a hot swap SSD bay. Essentially, the user accessible outward opening bay allows users to quickly and effortlessly replace SSDs, thereby changing profiles and games. The hot swap feature ensures gamers need not even switch off their desktops. The feature also allows gamers to quickly upgrade storage.
The Asus ROG Strix GL12CX desktop features DIMM.2 module. The expansion module fits into the new Z390 motherboard. The module houses two M.2 connections for SSDs. Additionally, the module already possess dedicated heatsinks for each SSD. On top of it all, the desktop has two additional connections that offer dual NVMe drive in RAID configuration.
Asus ROG Strix GL12CX Features
Asus offers Armoury Crate software, a comprehensive customization suite which allows gamers to customize the Aura Sync lighting. The gaming rig has a custom Cooler Master CPU liquid cooler. To further boost ventilation, the desktop packs an extra 90mm fan, which is currently limited only to the overclocked models.
Externally, the Asus ROG Strix GL12CX is as well-equipped as it is on the inside. The desktop features 2-in-1 card reader, two USB 3.1 and two USB 2.0 ports. Users can have a total of six USB ports after installing add-ons. There are five audio jacks and a digital S/PIDF connector. Asus has also packed in 802.11ac Wave 2 WiFi, and Bluetooth 5.0 for high-speed wireless connectivity.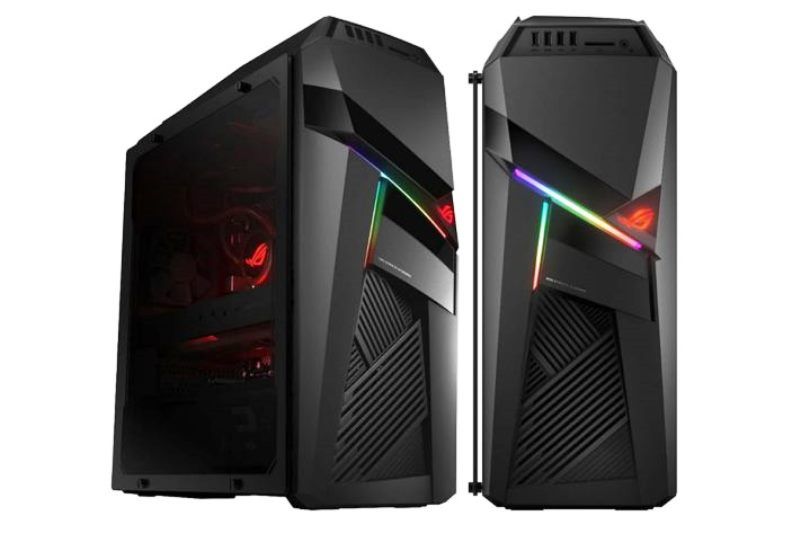 Asus ROG Strix GL12CX Price, Availability
The Asus ROG Strix GL12 gaming desktop currently retails for around Rs. 1,40,000. The Strix GL12CX would surely command a higher price tag. Incidentally, Asus has not disclosed the exact price, but did confirm availability.
Although Asus has announced the desktop, availability and shipping will begin in December. It is quite apparent Asus is attempting to cash in on the holiday buying spree.