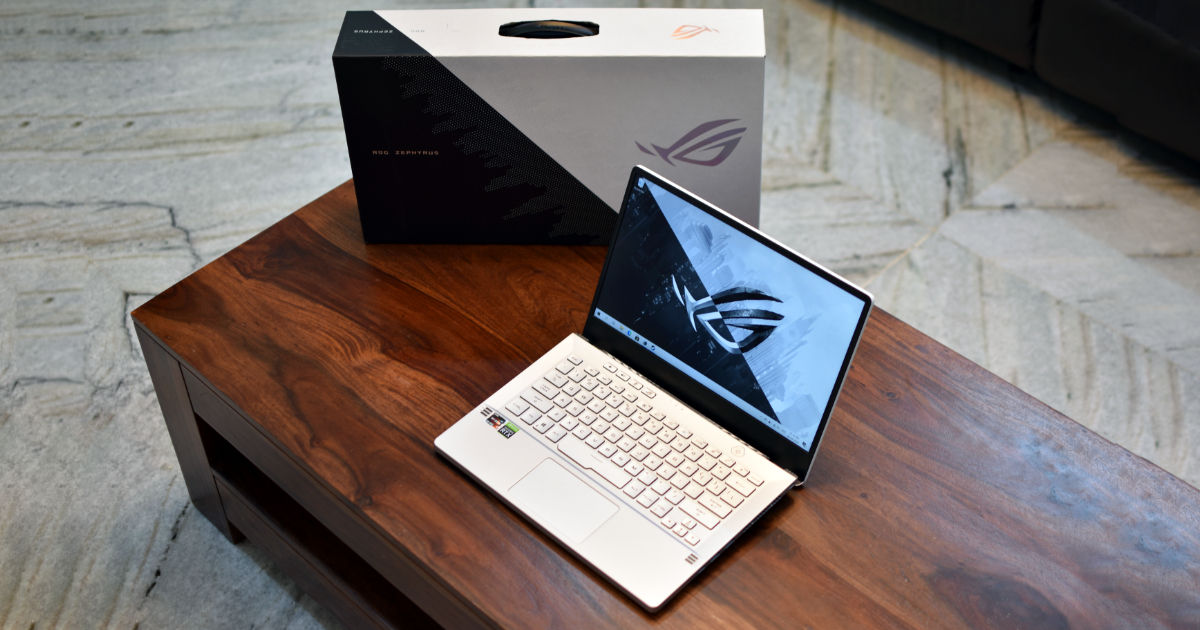 ASUS' first gaming laptop with an AMD Ryzen 4000 series CPU—ASUS Zephyrus G14—was announced a few weeks ago. Unlike most gaming laptops in the market, the ASUS ROG Zephyrus G14 has a relatively thin-and-light form factor and the latest Ryzen CPUs from AMD. It uses an Nvidia GPU and a distinctive design. It was launched in India during Amazon India's Prime Day 2020 event.
ASUS ROG Zephyrus G14
₹1,33,990
Design and build quality
8.0/10
Keyboard and trackpad
8.0/10
What Is Good?
The screen has good brightness and matte finish
Excellent performance in such a thin form factor
Great build quality and attractive design
Very good keyboard and trackpad
Decent speakers
Plenty of ports
Extremely fast fingerprint reader, USB C charging
What Is Bad?
No webcam and SD card slot
The keyboard back lighting is too dim
No 120Hz option in QHD screen variants
Keyboard area around the ASDF keys got uncomfortably hot during intense gaming
Going by its specs sheet and performance claims, the laptop has the potential to overthrow most gaming laptops in the segment that use Intel CPUs. Since it is the first high-specced laptop with AMD's new Ryzen CPU, enthusiasts and gamers, including me, have been quite excited to see how it actually performed and if it has the potential to become the best gaming laptop of 2020.
The ASUS Zephyrus G14's price starts at ₹80,990 and goes as high as ₹1,33,990, depending on the variant and specifications. Can it prove itself to be the best gaming laptop released this year?
[P_REVIEW post_id=187551 visual='full']
Specs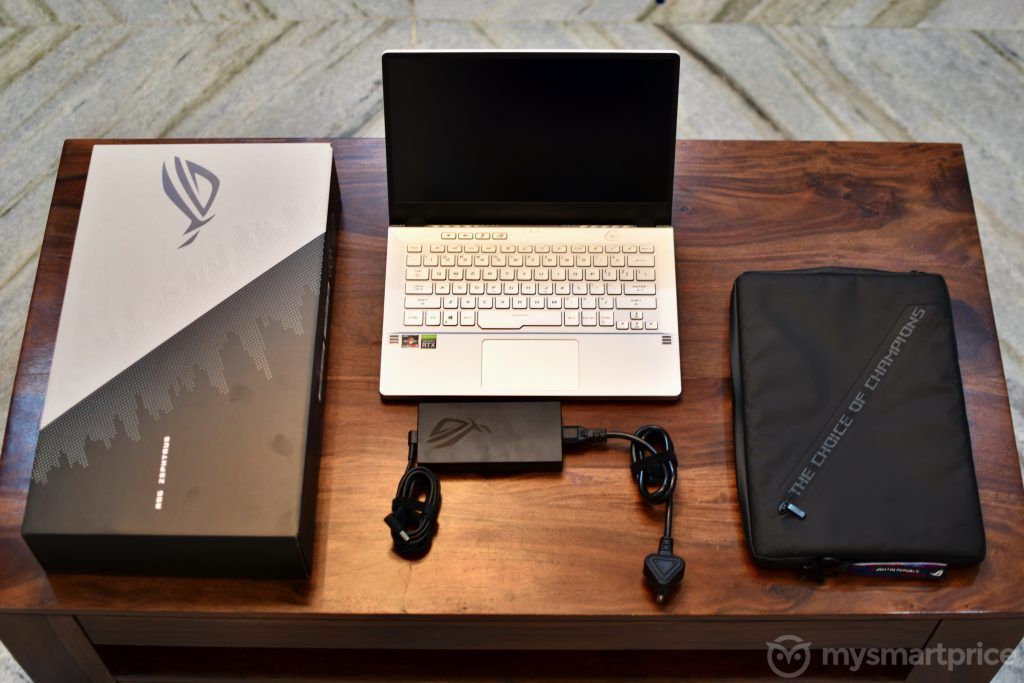 The base version of the laptop comes with the AMD Ryzen 5 4600HS CPU, 8GB DDR4 3200MHz RAM, 512GB PCIe NVMe SSD, Nvidia GTX 1650 GPU, a 14-inch LCD screen with 120Hz refresh rate and Full HD resolution, and Windows 10 operating system. However, it can go as high as an AMD Ryzen 9 4900HS CPU, an Nvidia RTX 2060 Max-Q GPU, 16GB DDR4 dual-channel RAM at 3200MHz, 1TB SSD, and a 14-inch LCD screen with QHD resolution. Variants with Ryzen 7 4800HS, Nvidia GTX 1650 Ti, or Nvidia GTX 1660 Ti are also on the offer. Surprisingly, the highest-end variant of the Zephyrus G14 does not feature a 120Hz refresh rate, and that seems like a real bummer to me.
Other specs include a backlit keyboard (there is no number pad), a trackpad with Windows Precision drivers, a stereo loudspeaker setup with two tweeters and two woofers, Dolby Atmos audio, two USB 3.2 Gen 2 Type-A ports, two USB 3.2 Gen 2 Type-C port, an HDMI 2.0b port, a 3.5mm audio jack (headphone+mic combo), and a charging port.
The USB Type-C port on the left supports USB PD charging, data transfer, and DisplayPort 1.4 video output. Wireless connectivity features include Bluetooth 5.0 and dual-band Wi-Fi 6. There's a fingerprint reader embedded into the power button. There are dedicated keys for volume control, microphone mute, and ROG Armoury Crate above the function keys.
Design
ASUS ROG Zephyrus G14 design
The Zephyrus G14 is a thin-and-light laptop. While it does not look anything like other gaming laptops that have flashy designs, gamer-ish accents, and RGB lights, it has a few party tricks up its sleeve. The laptop's lid has 6,536 machined holes and 1,215 LEDs hidden in those holes. ASUS calls the fancy lid an Ani-Me Matrix lid. The display of sorts can show text, stats, or cool graphics. Time, date, day, battery charge levels can be displayed as well. All of that can be configured in the Armoury Crate app that comes pre-installed on the laptop. However, the Ani-Me Matrix lid gulps up a lot of battery power.
The whole design is a hybrid between a standard 15-inch laptop and a 13-inch ultraportable laptop. On the left side of the laptop, there's a power connector, an HDMI port, a USB Type-C port, and a headphone jack. On the right side, there's another USB Type-C port, two USB Type-A ports, and a Kensington lock. There are air vents on both sides of the laptop. The laptop features ASUS' ErgoLift hinge that raises the laptop to a certain angle, allowing better cooling and audio while also making it easier to type using the keyboard.
When you open the lid of the laptop, you're greeted with a backlit keyboard and a trackpad. There are two tweeters facing the user and a hexagonal-shaped power button that has an embedded fingerprint reader. The spacebar has a funky shape, reminding us that it is still a gaming laptop. It is a well-built machine, and I found very little flex in its lid or the keyboard part. I am surprised that ASUS didn't equip this laptop with a webcam. Perhaps the engineers thought that gamers would prefer to use their own high-resolution webcam.
The ASUS Zephyrus G14 is a gaming laptop that you can also carry to your office without raising eyebrows when you don't want to. If you want to attract some eyeballs, you can use the Ani-Me Matrix lid with cool messages, your name, or stats.
Screen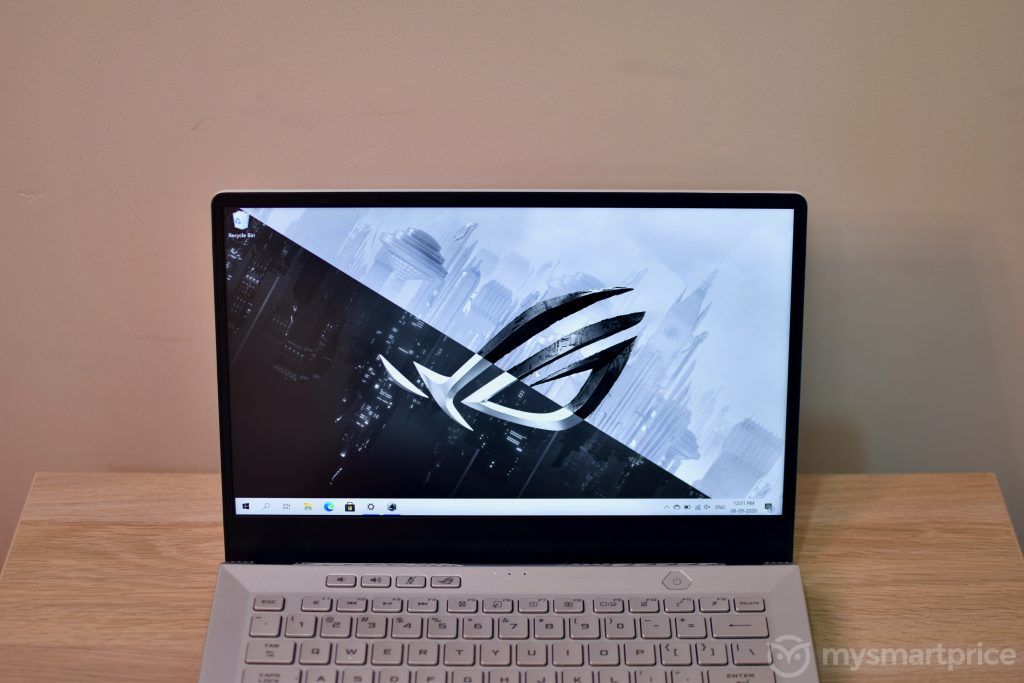 The variant that we reviewed has a 14-inch screen with an IPS-level VA panel, QHD resolution, a 60Hz refresh rate, and 300 nits brightness. However, lower-priced variants of the Zephyrus G14 feature 14-inch screens with IPS-level VA panels, Full HD resolution, 300 nits brightness, and a 120Hz refresh rate. All variants have adaptive sync, Pantone validation for colour accuracy, and an anti-glare (matte) finish.
The screen is bright enough for most conditions. Unless you want to sit under direct sunlight and play games or do work, you would be happy with the screen's brightness. Viewing angles and black levels are satisfactory. You might find brighter screens on similarly-priced laptops such as the Dell XPS 13 but most of them are designed for professional work or image/video editing. For general usage, gaming, and even editing, the Zephyrus G14's screen performs quite well.
Speakers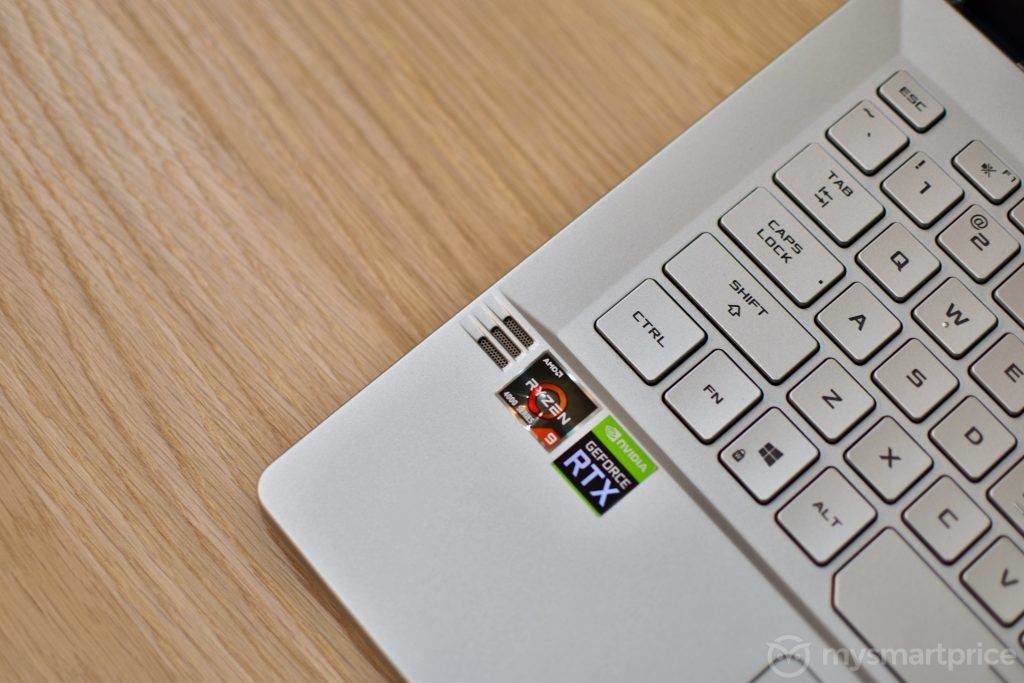 The quad-speaker setup consists of two 2.5W speakers with dedicated amplifiers and two 0.7W tweeters. There are dual microphones, too, for better voice command detection. The speakers are not very loud, and certainly nowhere close to an Apple MacBook, Dell XPS, or HP's high-end workstation laptops, but for its price, the audio quality is good. The speakers could've been slightly louder for an immersive experience.
Keyboard & Trackpad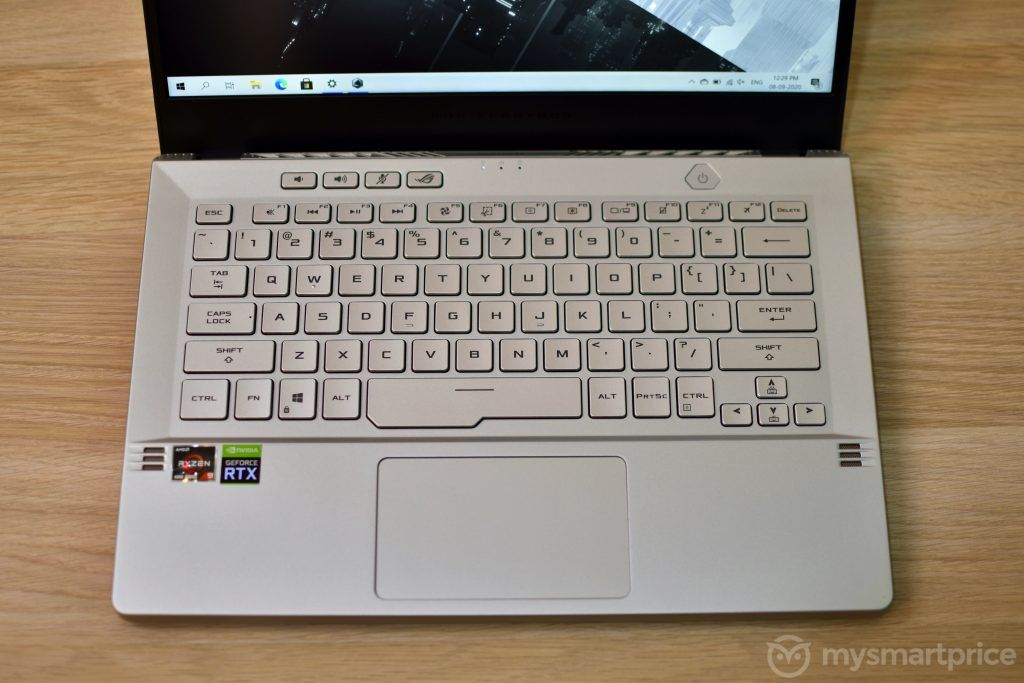 After using shallow keyboards on various thin-and-light laptops, I am happy to say that I loved the keyboard on the Zephyrus G14. Its keys have more travel and a more satisfying typing experience. The arrow keys are well-placed, too. The font could've been slightly clearer, but I guess ASUS wanted to show that this laptop has gaming chops. It's a backlit keyboard but the backlighting intensity is extremely poor, especially on the white variant. During the day, the keys appear clearer with the backlight turned off. Only during the night, the backlight is of some use. The backlight bleed around the keys is brighter than the light coming out of the glyphs.
The trackpad is neither large nor small, and it has a glass surface for a smooth scrolling experience. It features Windows Precision Touchpad drivers, which means you get access to multi-touch gestures and smoother scrolling experience. The trackpad performed well during our review period, and there were almost no sudden jumps, skips, or other unwanted behaviour. I am quite satisfied with the laptop's keyboard and trackpad. The fingerprint reader is extremely fast and reliable.
Performance, Heat, & Noise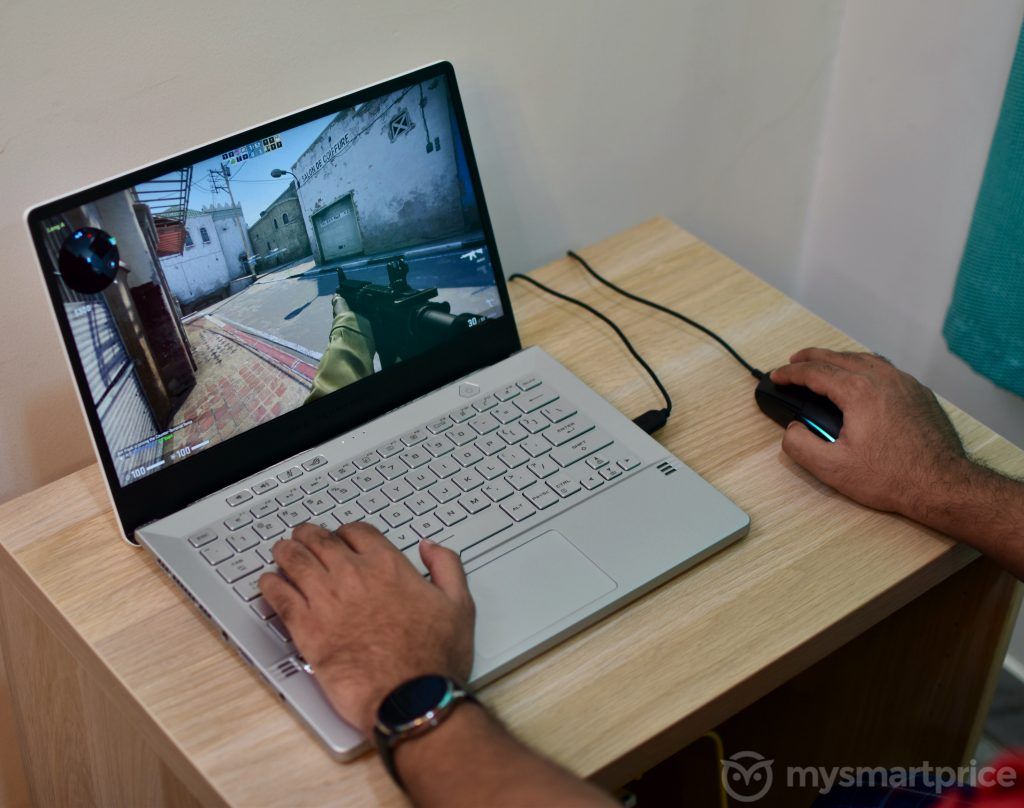 Both CPU and GPU on the ASUS Zephyrus G14 are among the best in the price segment. While we didn't have any similarly-specced gaming laptop for comparison, our tests show that the Ryzen 9 4900HS performs faster than the Intel Core i7-9750H that's featured in most high-end gaming laptops. AMD is truly beating Intel in terms of both performance, power efficiency, and price. The Nvidia RTX 2060 GPU, on the other hand, has comparable performance to other gaming laptops that use the same GPU.
While playing Shadow Of The Tomb Raider on Full HD settings with the Highest preset, the laptop managed an average frame rate of 69FPS. At QHD resolution with the Highest preset, the laptop returned an average of 53FPS. At Full HD resolution with High and Ultra RTX settings, the Zephyrus managed to return 45FPS and 46FPS respectively. While playing CS: GO, the laptop managed to offer an average frame rate of around 240FPS. You can play the most popular e-sports gaming titles like Rocket League, Apex Legends, Fortnite, Overwatch, and Portal 2 at more than 120FPS with the resolution set to 1080p. Most of these titles would break the 100FPS barrier even with the resolution set to the native 1440p.
ASUS ROG Zephyrus G14 benchmarks
Heavier titles like the Battlefield V, Borderlands 3, Call Of Duty: Modern Warfare, Control, Red Dead Redemption, and The Witcher 3 managed to cross the 60FPS mark at Full HD resolution and medium to high presets on the Zephyrus G14. All in all, the gaming performance on the laptop is excellent for its price and form factor. It manages to reach much higher-specced and thicker gaming laptops in terms of performance.
In terms of noise and thermals, ASUS could've done better. The keyboard area around the ASDF keys felt uncomfortably hot after half an hour of intense gaming. When you connect the laptop to the power source, it automatically switches to the Turbo Mode by default. That results in the fan spinning at its highest possible RPM and a lot of fan noise. Despite that, the keyboard area of the laptop turns up pretty hot. You can change those settings from the Armoury Crate app, though.
Battery Life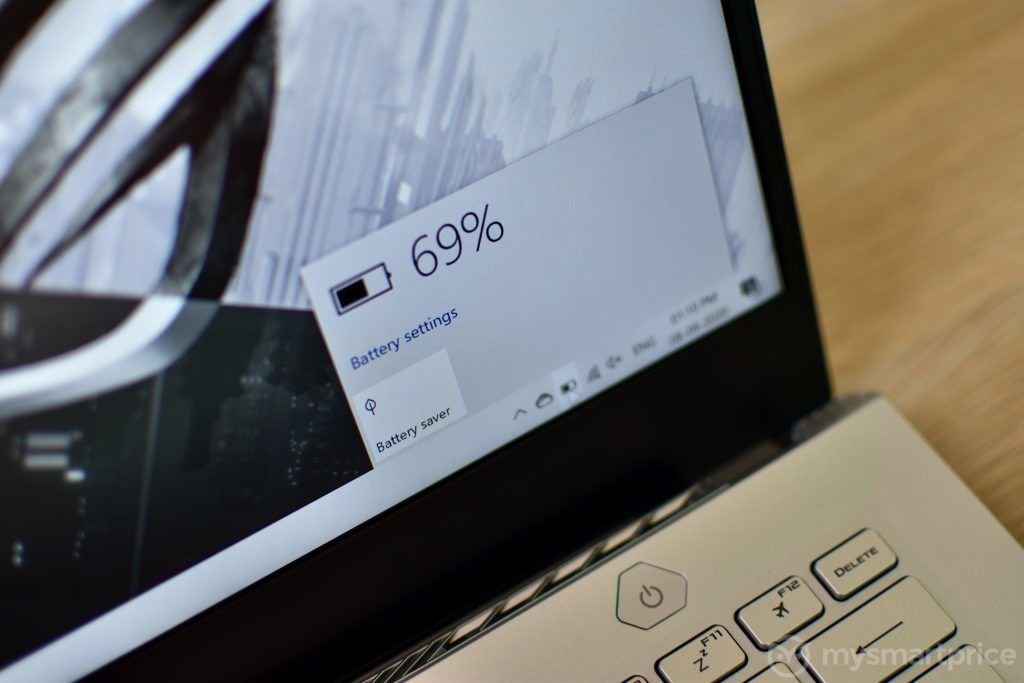 The ROG Zephyrus G14 comes packed with a 76Whr battery, which is good enough for six to seven hours of mixed usage on a single charge. The gaming laptop comes with a 180W charger with a cylindrical pin, but you can also charge it using a 65W USB Type-C PD charger. However, gaming performance will be throttled when the laptop isn't connected to power or when it is charging using a 65W USB C charger.
The laptop lasted around five to six hours of mixed-use (except gaming) in our testing with Bluetooth and Wi-Fi turned on and the screen brightness set to 50 percent. My work involved heavy web browsing, running Adobe Photoshop, and active cloud data sync with multiple services. With Bluetooth turned off and work limited to light web browsing, it can last as long as 8-10 hours. That's much longer than most gaming laptops in the market. When the laptop isn't connected to the charger, you can expect to play games for 1.5 to 2 hours. However, it is widely understood that even when you're gaming on the go, you would have access to a power source.
The Zephyrus G14 (and the AMD Ryzen 4000 series) has changed the game in terms of power efficiency and battery life for gaming laptops, thanks to the 7nm fabrication process and AMD's new CPU architecture. Just a few months ago, it was unheard of for a gaming laptop to cross the 6-8 hours battery life barrier. But now, we can expect an ultrabook-like battery life during light tasks even from AMD-powered gaming laptops, thanks to Ryzen 4000 series CPUs and their excellent power efficiency.
Conclusion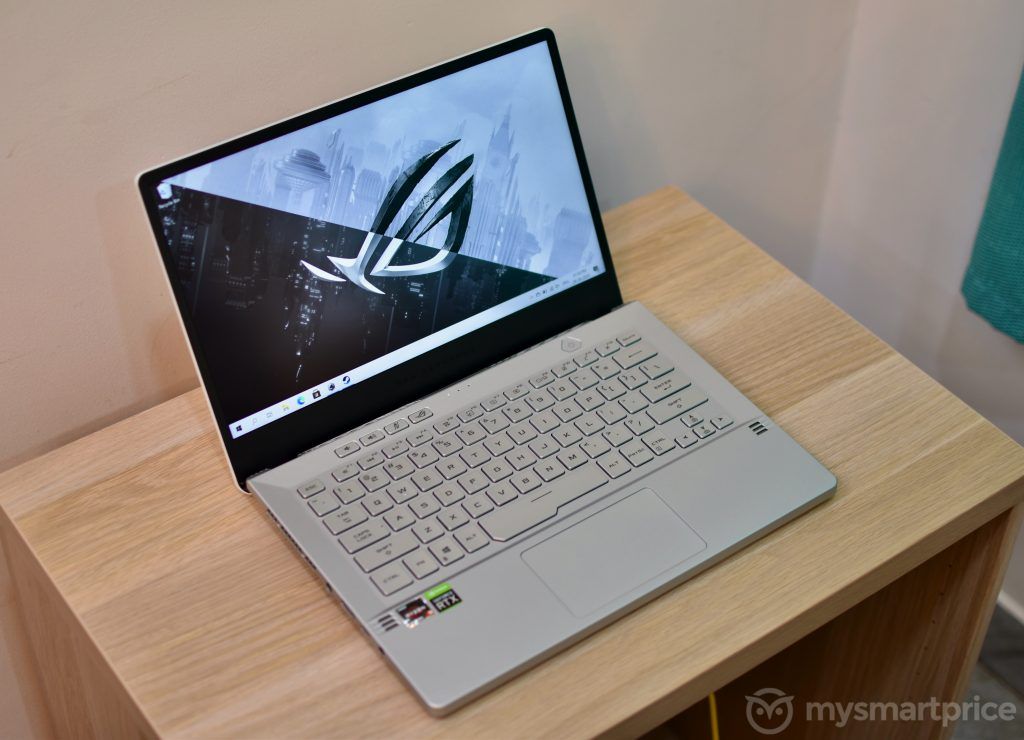 The ASUS ROG Zephyrus G14 is the best thin-and-light gaming laptop in its price category. Despite its relatively compact body and a thin profile, the Zephyrus G14 offers better performance than most gaming laptops out there. You can expect to cross the smooth 120fps mark at 1080p resolution with high settings in lighter e-sports titles and 60fps mark while playing heavier titles at High or Ultra presets at Full HD resolution. However, the noise and thermals could've been better.
The laptop has an excellent build quality, a bright screen, and a good keyboard. The trackpad works quite well and there are plenty of ports on the laptop. There is a fingerprint reader and USB Type-C port with support for USB PD charging, too. However, the Zephyrus G14 misses out on a webcam and an SD card slot. Moreover, the highest-end variant of the laptop comes with a QHD 60Hz screen rather than a Full HD/QHD 120Hz screen.
Kudos to ASUS (and AMD) on making such an incredible gaming laptop. We get to see such groundbreaking products only once every few years, and I think that we can count the Zephyrus G14 among those rare products. If you're in the market for a gaming laptop, the ASUS Zephyrus G14 should be your primary choice.