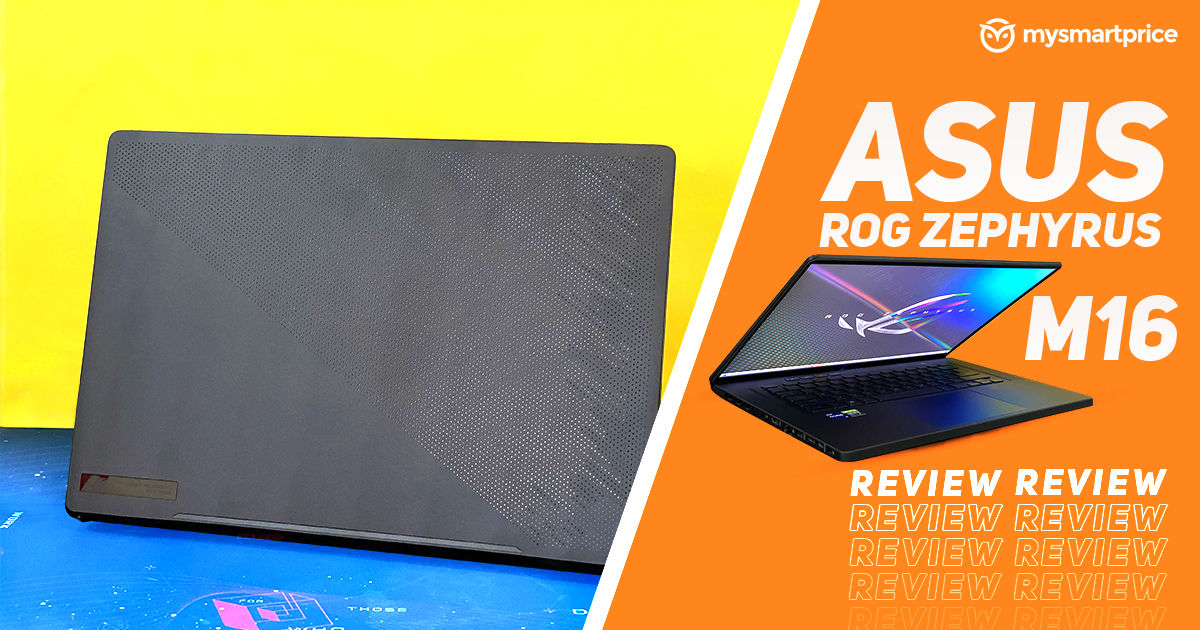 Confused between AMD and Intel when choosing your next gaming laptop? We finally got our hands on an Intel H45 laptop in the form of the Asus ROG Zephyrus M16 and after using it for two weeks, I have a clear answer to the burning question — Which is better? On paper, both AMD and Intel gaming laptops look solid this year. And AMD has been crushing it on benchmark scores and pricing, but what if I tell you the best gaming laptops are not ones that are powered by Team Red, but is still by Team Blue? Controversial, I know, but tis the truth. Here's why —
Asus ROG Zephyrus M16: Specifications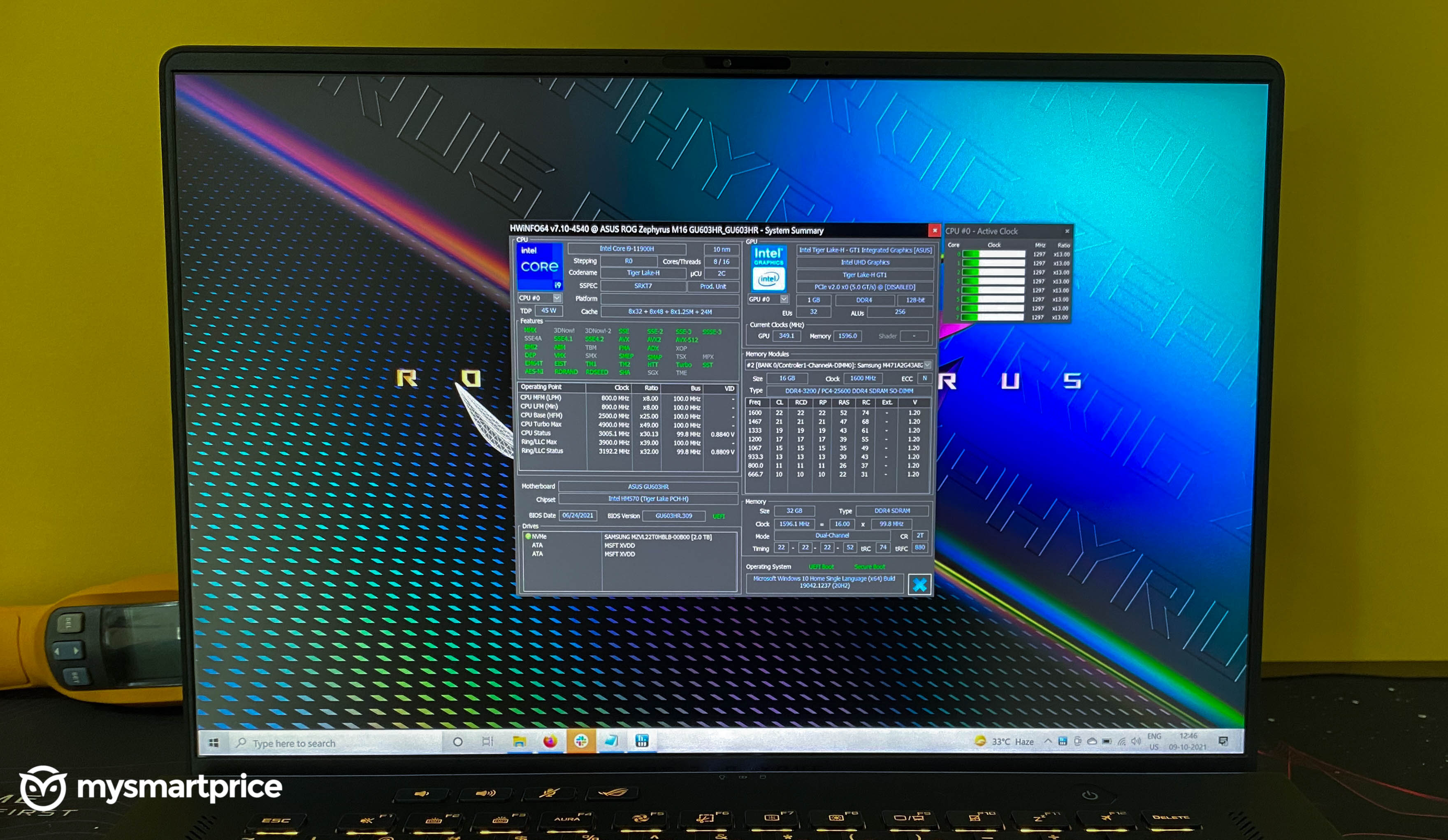 The Zephyrus M16 features a 16-inch WQXGA display with 165Hz refresh rate. The panel is Pantone Validated and covers 100% DCI-P3 wide colour gamut, and is the same across all configs. Our review unit was powered by the eight-core 11th Gen Intel Core i9 11900H processor combined with a 100W Nvidia RTX 3070 GPU with 8GB GDDR6 RAM. While all configs feature the same processor, you can save some bucks by opting for an RTX 3060 or an RTX 3050 Ti variant, but I'd suggest maxing out the specs so that the GPU doesn't become a bottleneck in a laptop meant for high-definition gaming.
There are two 16GB RAM modules installed, one soldered and another replaceable, up to 48GB. Here I'd suggest sticking to 32GB memory as that's in dual channel, resulting in higher performance. Another reason why I'd suggest going for the RTX 3070 variant is for the PCIe 4.0 SSD storage you get on it. The speed, as compared to other gaming laptops is just on another level, as the next section will tell you.
There's practically every type of I/O port on this one including Thunderbolt 4 ports which you can use to connect to a 4K display or high-speed external storage. There are a total of 6 speakers on the body and a 90Whr battery, and of course an RGB backlit keyboard.
If you haven't guessed already, the Zephyrus M16 is not just another gaming laptop. It's a laptop meant just as much for content creators with the colour-calibrated display and high-speed storage and RAM. Let's take a look at how the hardware comes together in real world.
Asus ROG Zephyrus M16: Performance and Gaming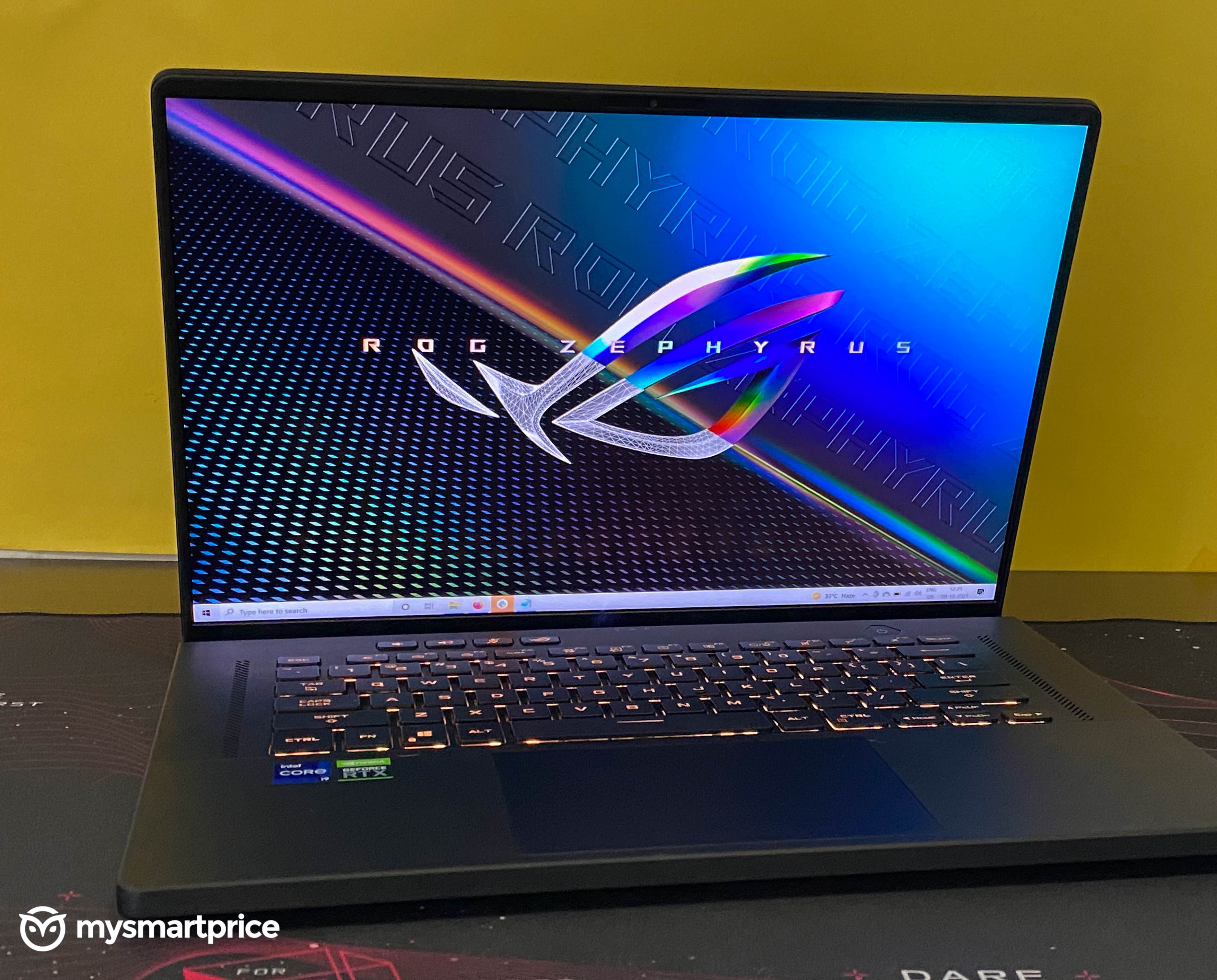 The Intel Core i9 11900H is special. If last year Intel was criticised for keeping its high-end chips on an outdated 14nm process, the Tiger Lake-H series processors make that much needed jump to 10nm or as the company now calls it, Intel 7 process. As much as that might sound confusing, it's sort of a show of strength for Intel, claiming it's 10nm manufacturing is just as good (if not better) than TSMC's 7nm process which AMD relies on for its Ryzen chips.
Benchmark Analysis
Well, Intel is not wrong in claiming so. Because the 10nm Intel Core i9 11900H is indeed as good as good as the AMD Ryzen 9 5900HX. No, scratch that. It's actually a lot better. And the reason is not just the raw CPU performance, but the result of the combination of higher-quality components used in this one, which resulted in a PCMark 10 score of 6973, the highest we've clocked this year on a laptop. The achievement is a combination of using faster storage, dual-channel RAM and of course, the processor.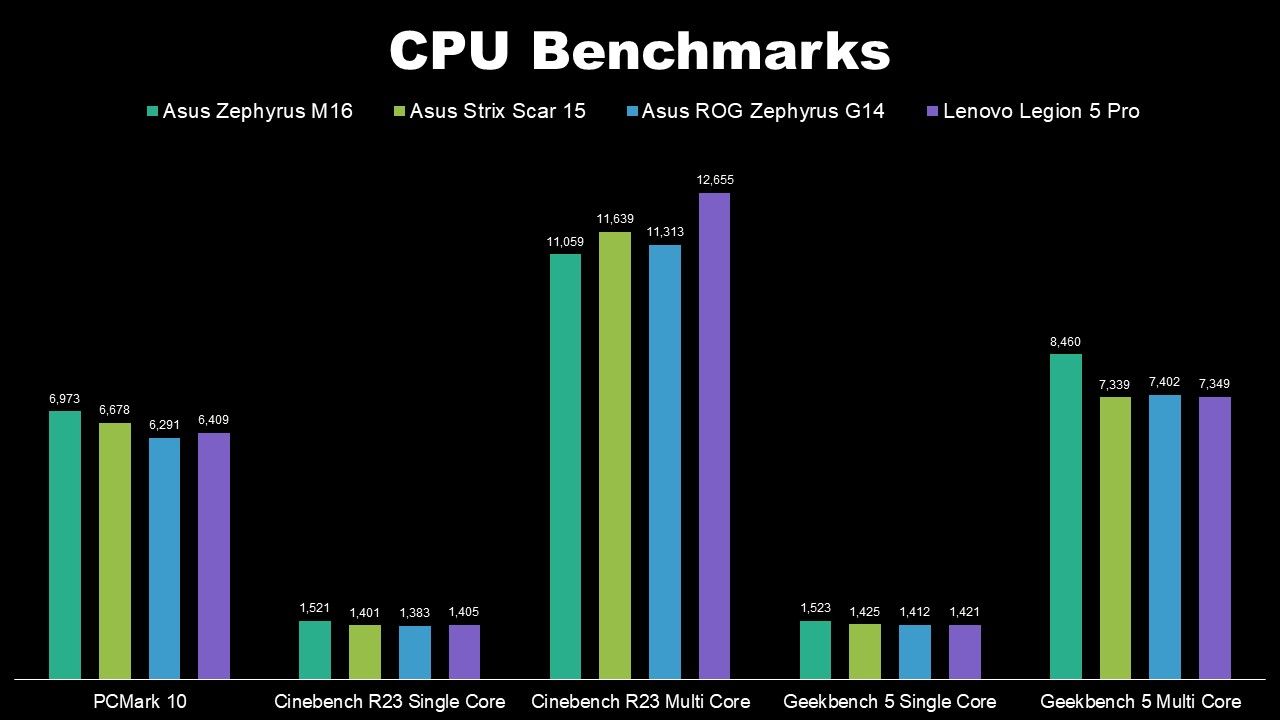 On Cinebench R23, the Zephyrus M16 posted the highest ever single-core score of 1521 this year. Higher single-core and lower multi-core scores on Intel processors are now a norm this year, but the reason why Intel is claiming it's 10nm SuperFin process is just as good as 7nm FinFet is that multi-core score, which came ever so close to beating the Ryzen 9 5900HX (it's almost within the error range of Cinebench scores). The 10nm Willow Cove cores with 4.9GHz max clock speed are almost matching up to AMD's 7nm Zen 3 Cezzane cores clocked at up to 4.6GHz.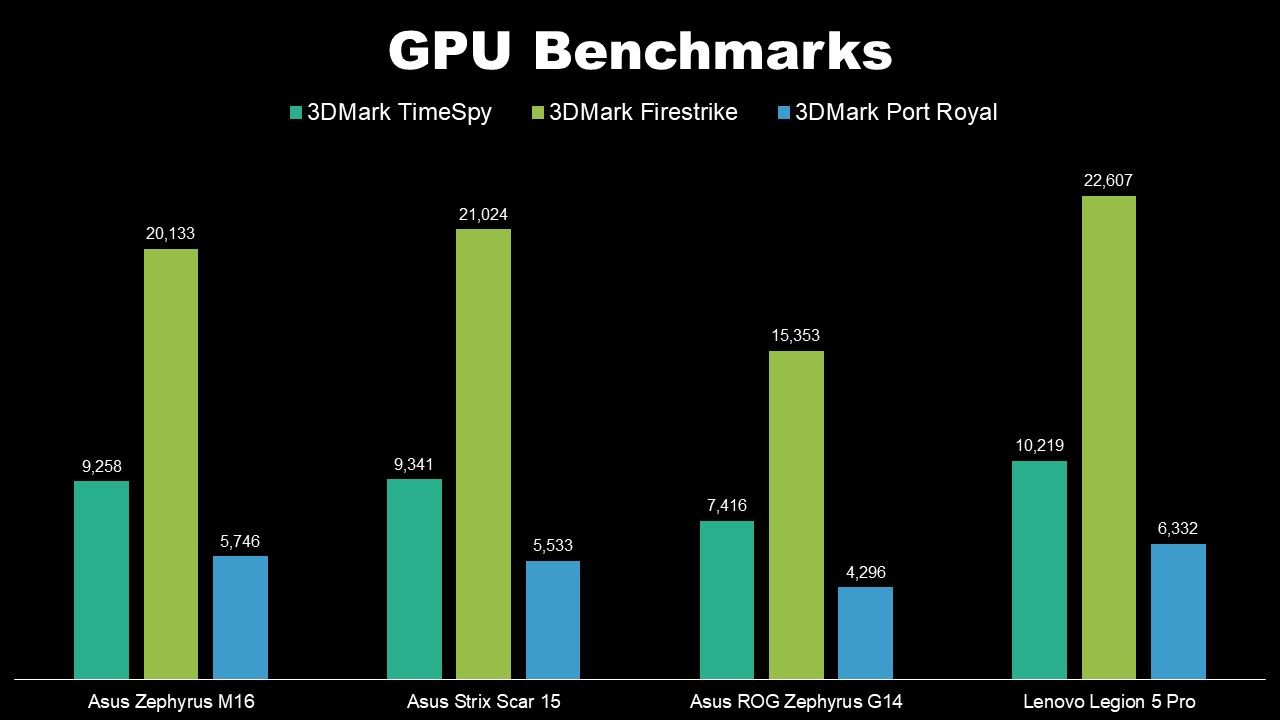 Quite interestingly, the Zephyrus M16's RTX 3070 has a lower TGP of 100W, but it's so well tuned that the 3DMark scores are in the same ballpark as laptops with 130W and 140W RTX 3070s.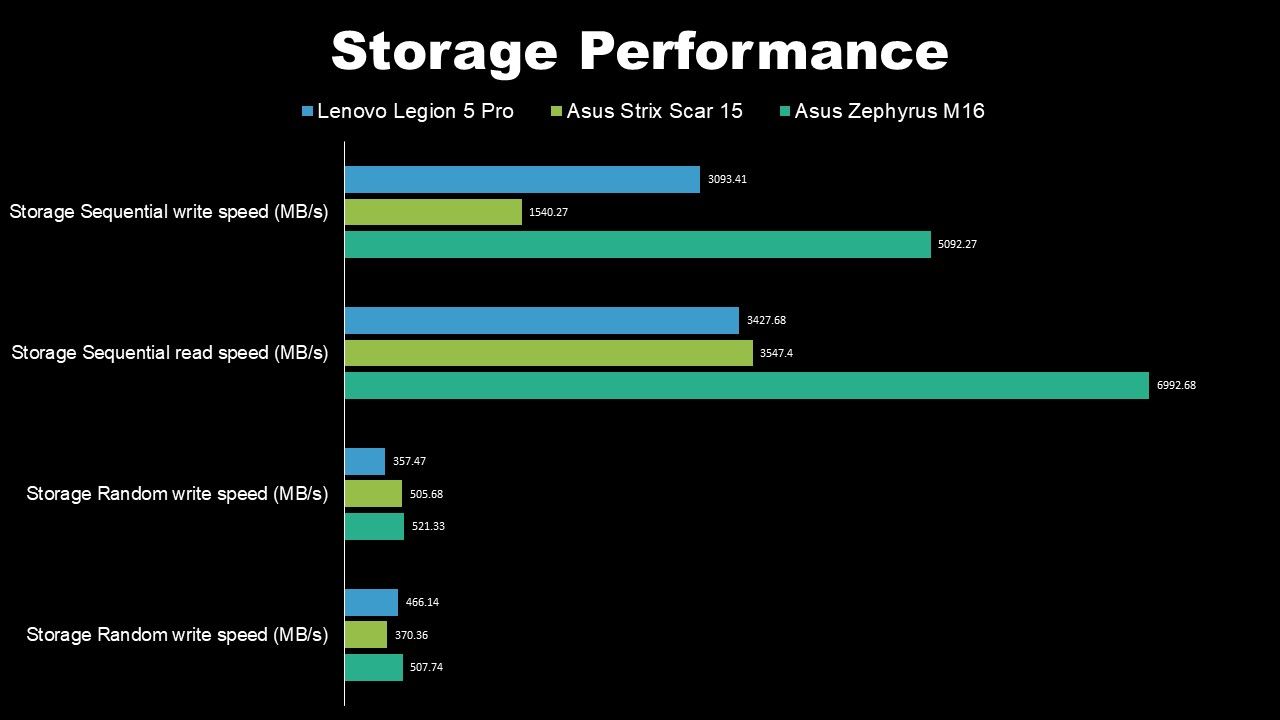 Furthermore, the Zephyrus M16 uses the latest PCIe 4.0 storage, and that translates into one of the fastest read-write speeds we've seen this year, comparable to the Asus Expertbook B9 which we reviewed a couple of weeks earlier.
Gaming Performance
The point is, the Zephyrus M16 powered by the Core i9 and the RTX 3070 is so far one of the best performing laptops on our test process, and that translates monstrously in real-world usage. You can actually game at 60FPS+ with ray tracing maxed out at 2K resolution, while eSports games make full use of the 165Hz refresh rate. The price tag will probably give you a heart attack, but this is value maximisation at it's peak.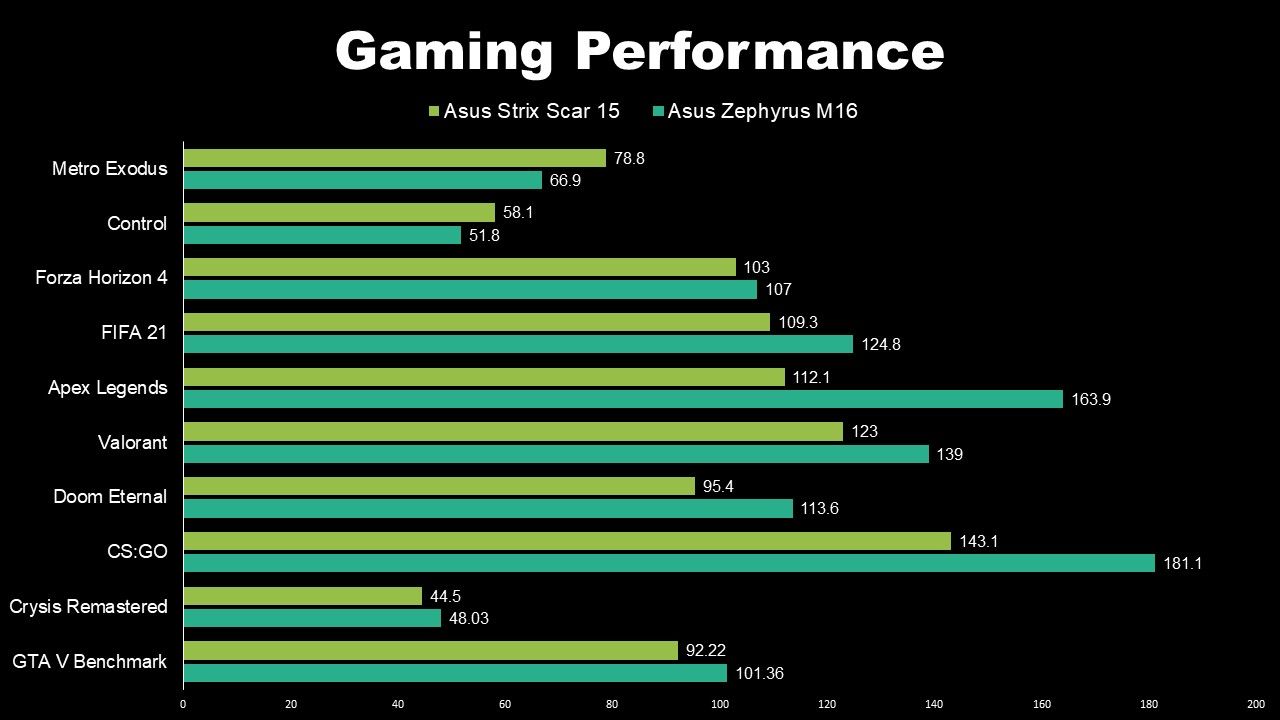 The Zephyrus M16 ran at higher FPS in all but two games in our test bench, with everything maxed out. You can play Metro Exodus PC Enhanced Edition at 67 FPS or Control at 52 FPS, two of the best games to experience ray tracing graphics. You also get a nasty advantage in eSports titles like Valorant and Apex Legends, where it's loads better than the Strix Scar 15 with a 130W RTX 3070 and Ryzen 9 5900HX. Ironically, this is achieved by a 100W RTX 3070 paired with the Core i9 11900H. The advantage is even more apparent in CPU-intensive open-world games like GTA V and Crysis Remastered where too the Zephyrus M16 performs just a shade better at peak graphics. All this points to the fact that AMD laptops may look generations better on paper, but in real-life, Intel laptops perform better.
Thermal Throttling?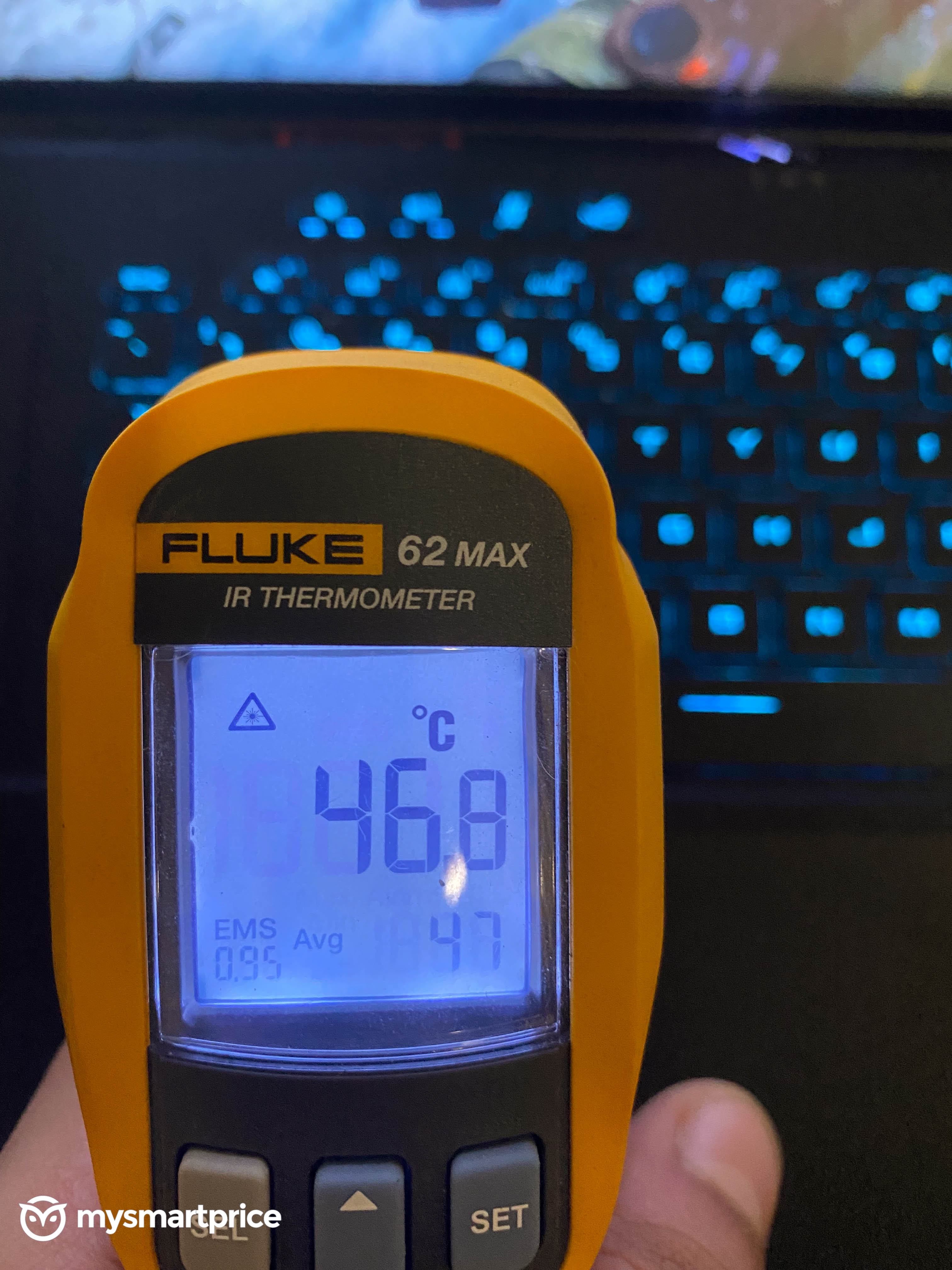 But there's one big caveat in all this. The Zephyrus M16 enclosed in a 22m thin chassis has a heating problem, and you can especially feel it while gaming. The WASD cluster hits upwards of 45C degrees, and the CPU package temperature comes dangerously close to the chip's thermal threshold, and even after setting a custom fan curve, I couldn't avoid thermal throttling.
The fans spin with a quiet hiss, and are tuned conservatively by default, but even if you pitch the speeds to hit 100%, there's no controlling this beast. The Core i9 is a better performing processor, undoubtedly, but at the cost of power intake. The Ryzen 9 5900HX on the Strix Scar 15 with a 130W RTX 3070 remains calm and cool with the same load, especially the WASD cluster.
Asus ROG Zephyrus M16: Display and Audio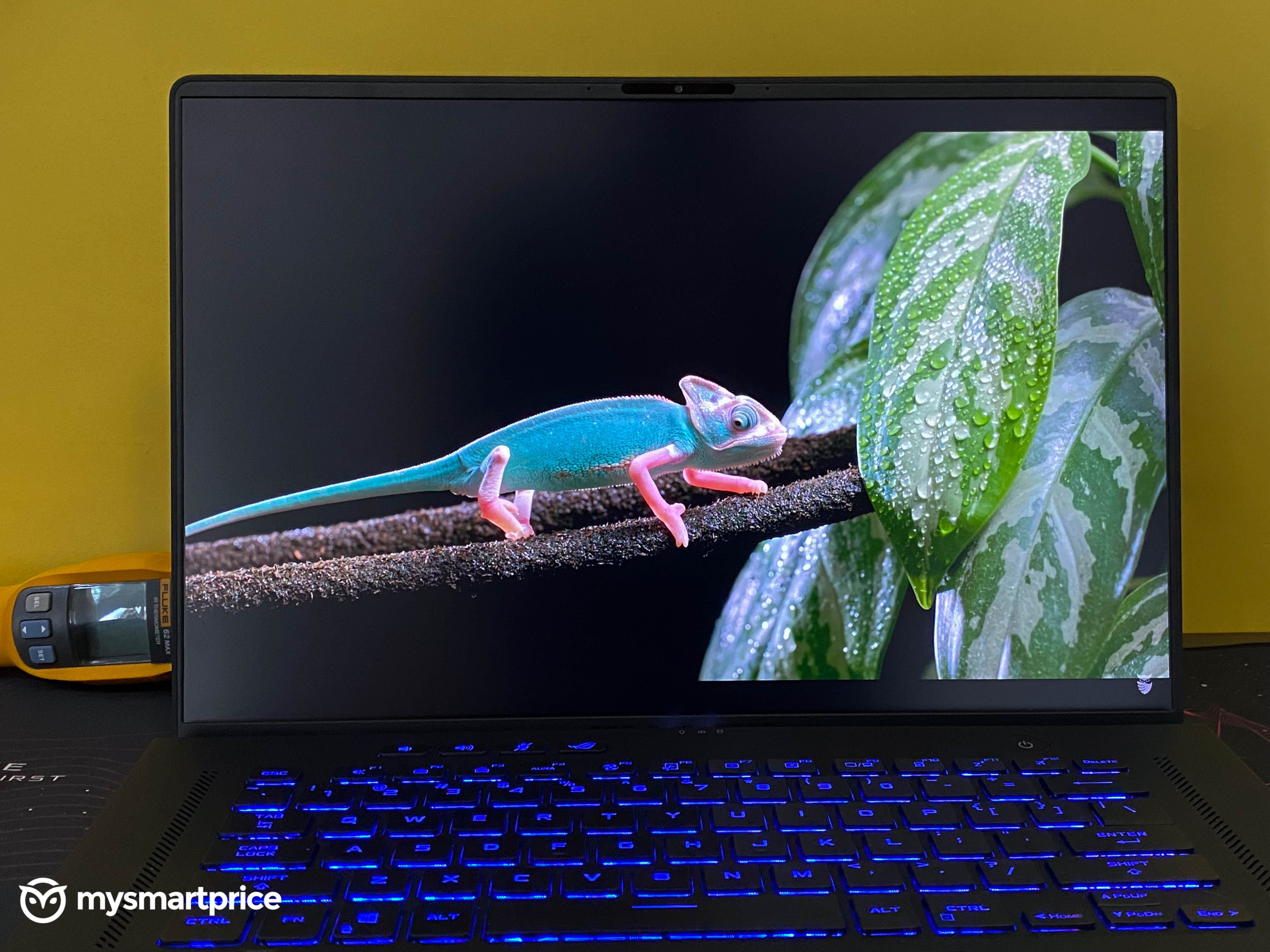 The superior performance plays out on a large 16-inch 16:10 QHD IPS display that feels butter smooth with 165Hz refresh rate and Adaptive Sync. Asus claims 100% DCI-P3 coverage and backs it up with Pantone validation and Dolby Vision support. That's more than what you'd expect from an average gaming laptop, and sort of justifies the higher price tag.
The higher pixel count makes it noticeably sharper than a 1080p 16-inch panel, and the bezels are razer thin allowing the panel to hit 16:10 aspect ratio cramming even more pixels. This makes just about anything you do on the laptop look sharp and crisp. Asus has also put effort in tuning the panel — a white Google Doc looks pristine white and the colours are never too saturated or vivid.
This makes it great for content creation. Photo and video editors will immediately see the benefit of a more accurate colour reproduction, allowing them to tune their work more close to a natural output without hooking up to an external monitor.
This fantastic display is paired with a six speaker system with four 2W woofers and two 2W tweeters, creating a loud and immersive output that's tuned by Dolby Atmos. It's not as loud as a dedicated set of speakers, of course, but plug in a pair of headphones while gaming and you'll immediately get immersed into the world.
Asus ROG Zephyrus M16: Keyboard and Trackpad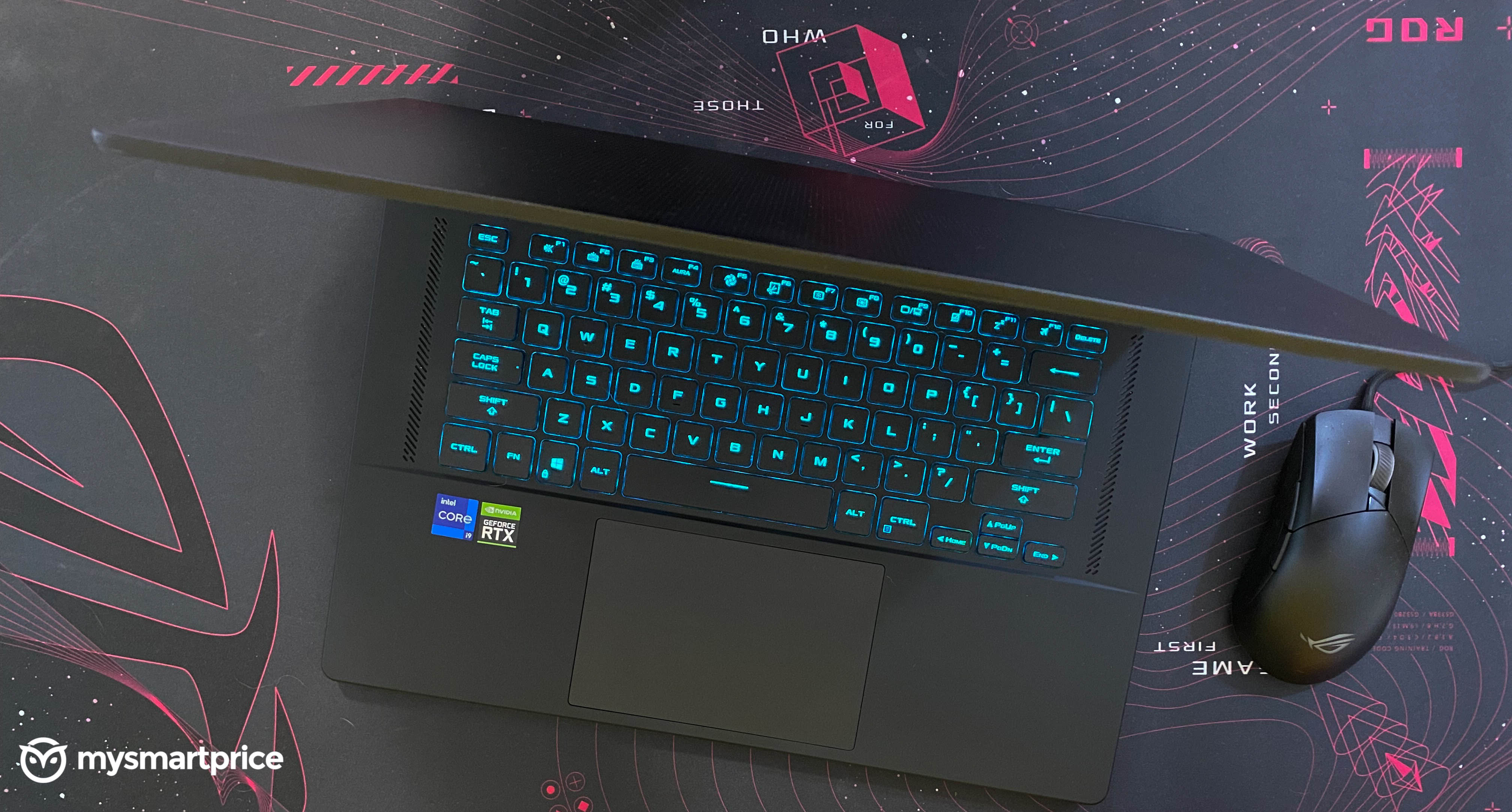 The M16 features a single-zone RGB keyboard sans the number pad. Save for the fused arrow keys, it's a full-sized keyboard with good spacing between the keys. The power button has an integrated fingerprint sensor and there is an array of media keys and a programmable ROG key, above the function keys. Missing are the play/pause controls that I've seen in other ROG laptops this year. The keyboard also gets raised at an angle as your open the lid, making it more comfortable to type on. The keys are arranged in chiclet style, and offers deep travel and a clear actuation point. I had no trouble typing out this review on this keyboard, but the keys tend to heat up significantly while playing games, so as much as you'll enjoy typing on it, your fingers will thank you for getting an external keyboard for gaming.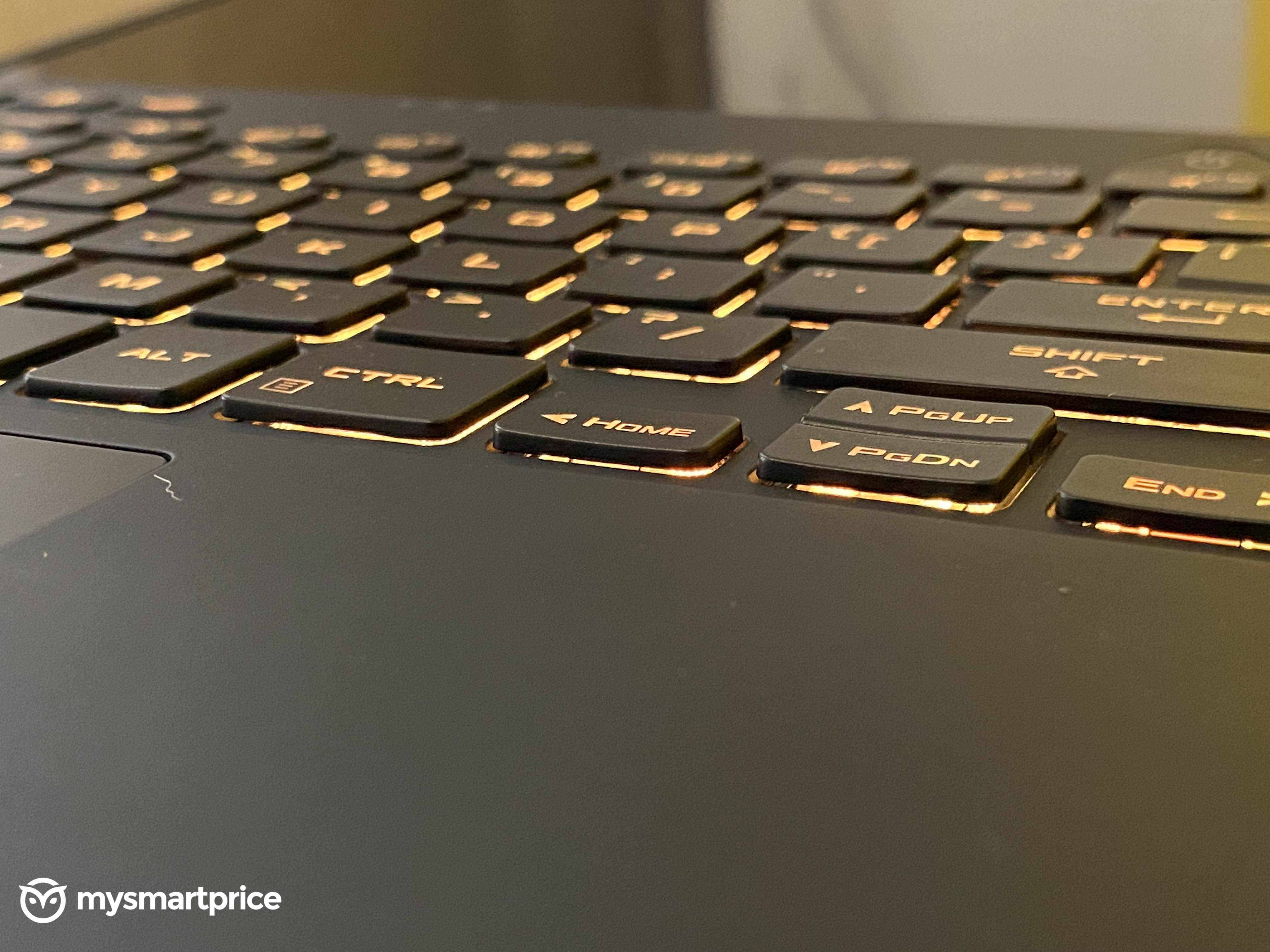 The M16 uses a glass trackpad that supports multi-touch gestures and Windows Precision drivers. It works perfectly for all use cases, and feel super intuitive. But the only quip I had with it was how flushed it is to the body. That led to a few accidental triggers while typing and gaming, but Asus seems to be using some sort of palm rejection algorithm to cut out accidental triggers most of the time.
Asus ROG Zephyrus M16: Design and Build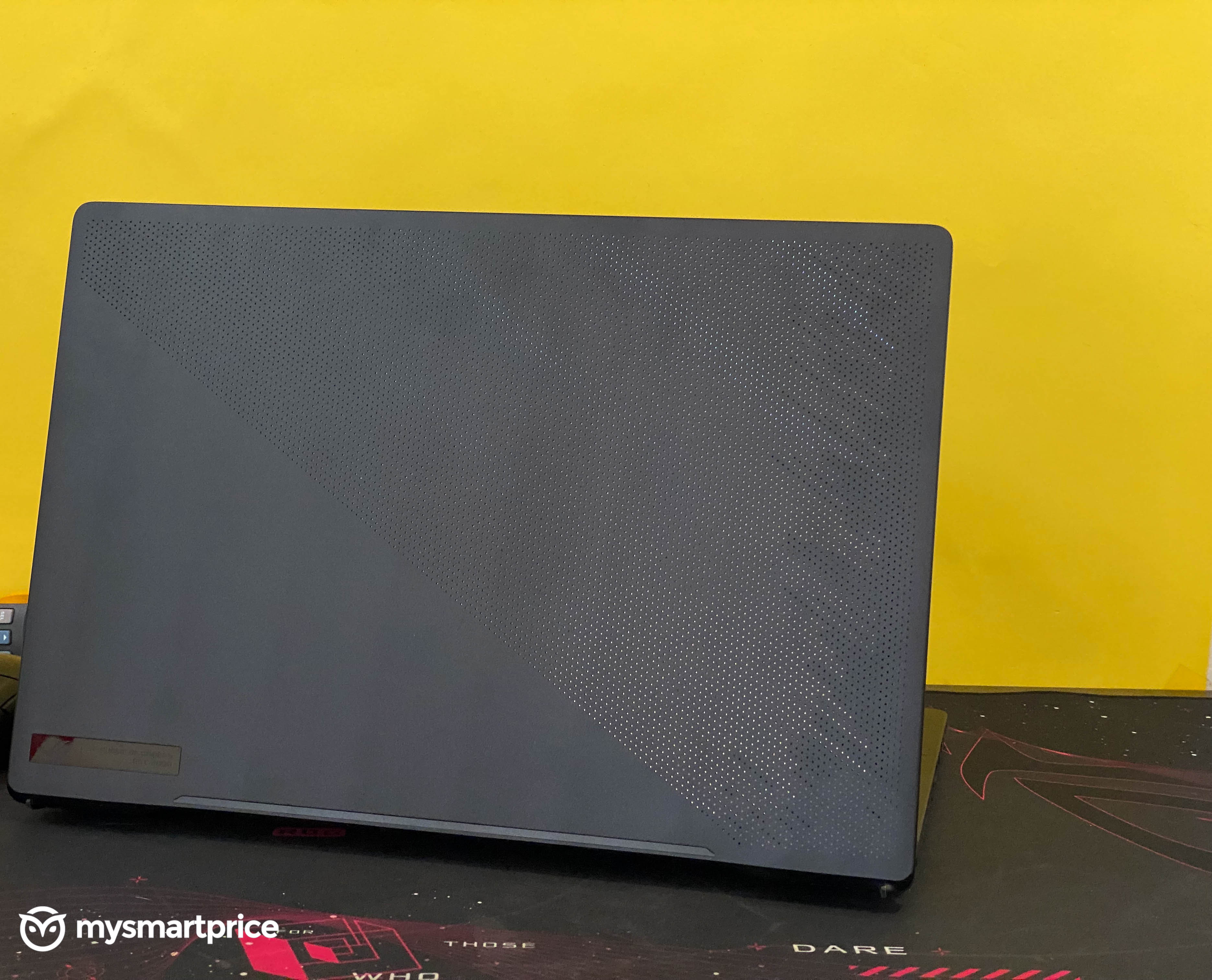 The Zephyrus M16 bucks the ongoing trend of flashy designs that has come to define gaming laptops of late. There are no RGB light bars or absurd detailing on this one. In fact, it has a single-zone RGB keyboard and a matte black finish all over. While I kinda enjoy the RGB goodness, I'm sure my editor would love using this muted, but classy design.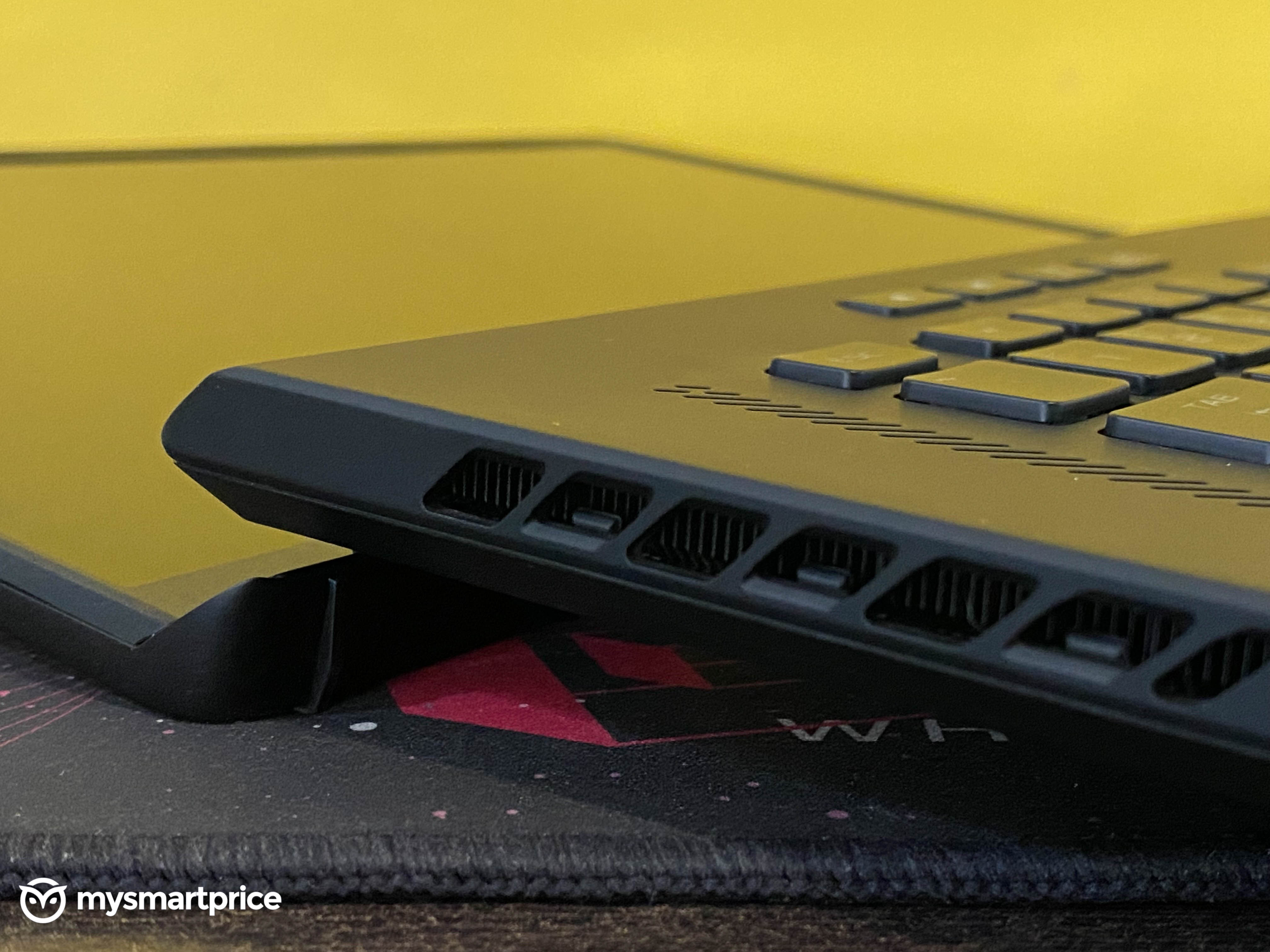 The M16 can go almost 180-degrees flat, and while doing so, raises the keyboard a bit from the ground allowing more air to get in, and offering a better position to type on the keyboard. On the lid, you have these shimmering diagonal lines that reflect light as it shines on them which looks quite nice from a distance. However, keeping this one clean will be quite a challenge. The rubbery matte texture catches all the fingerprints and grime, especially on the palm rest and I had to spend a few minutes every morning cleaning it.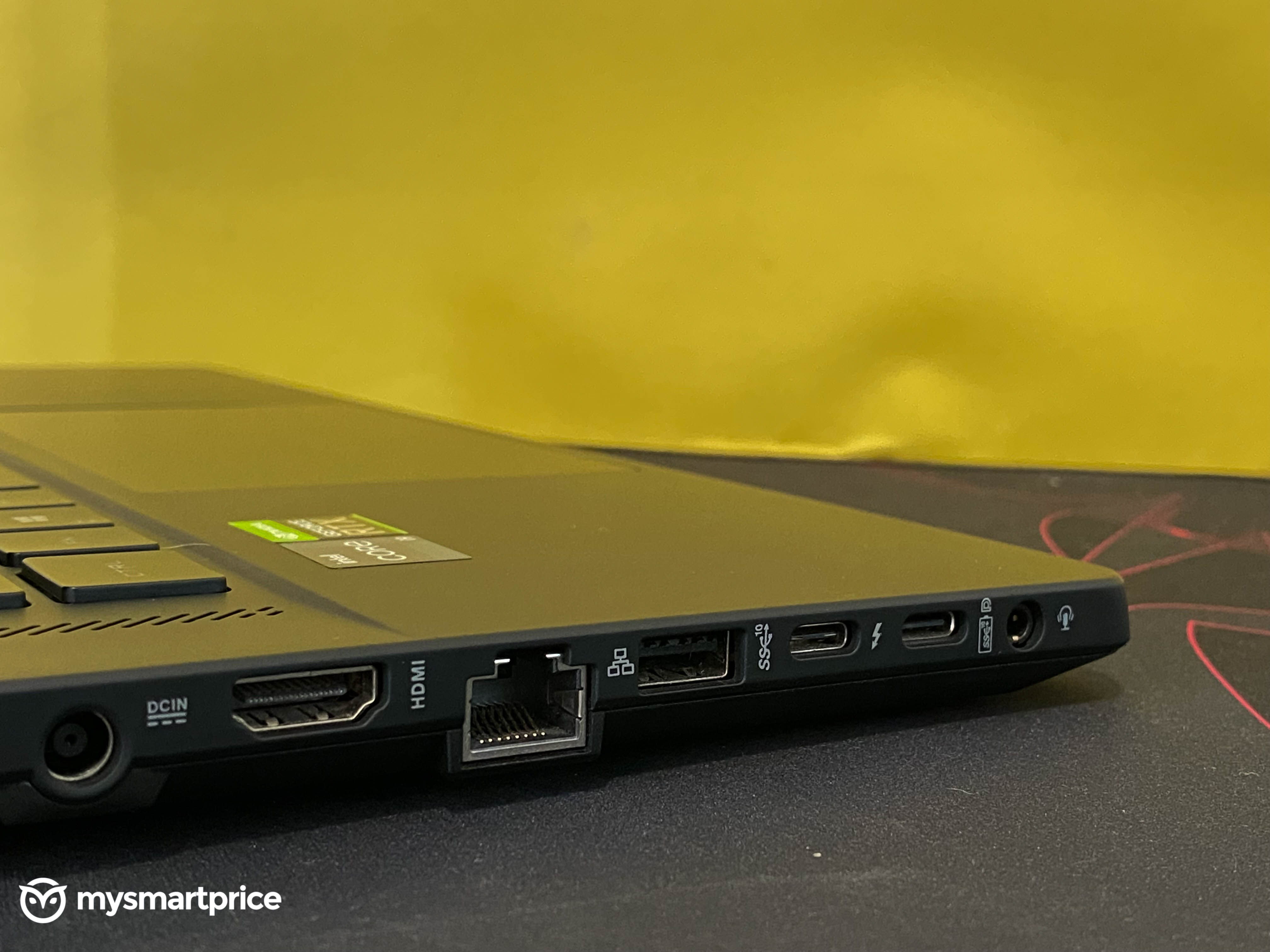 The Zephyrus M16 also bucks the trend of including most of the ports at the back. I'd have actually preferred that. Instead, you have everything on the two sides. This includes a USB 3.2-Type A and two Type-C ports on the left along with an HDMI 2.0b, gigabit ethernet and the DC power inlet. On the right, you have another USB 3.2 Type-A port, an SDXC slot and the Kensington lock slot.
Asus ROG Zephyrus M16: Battery Life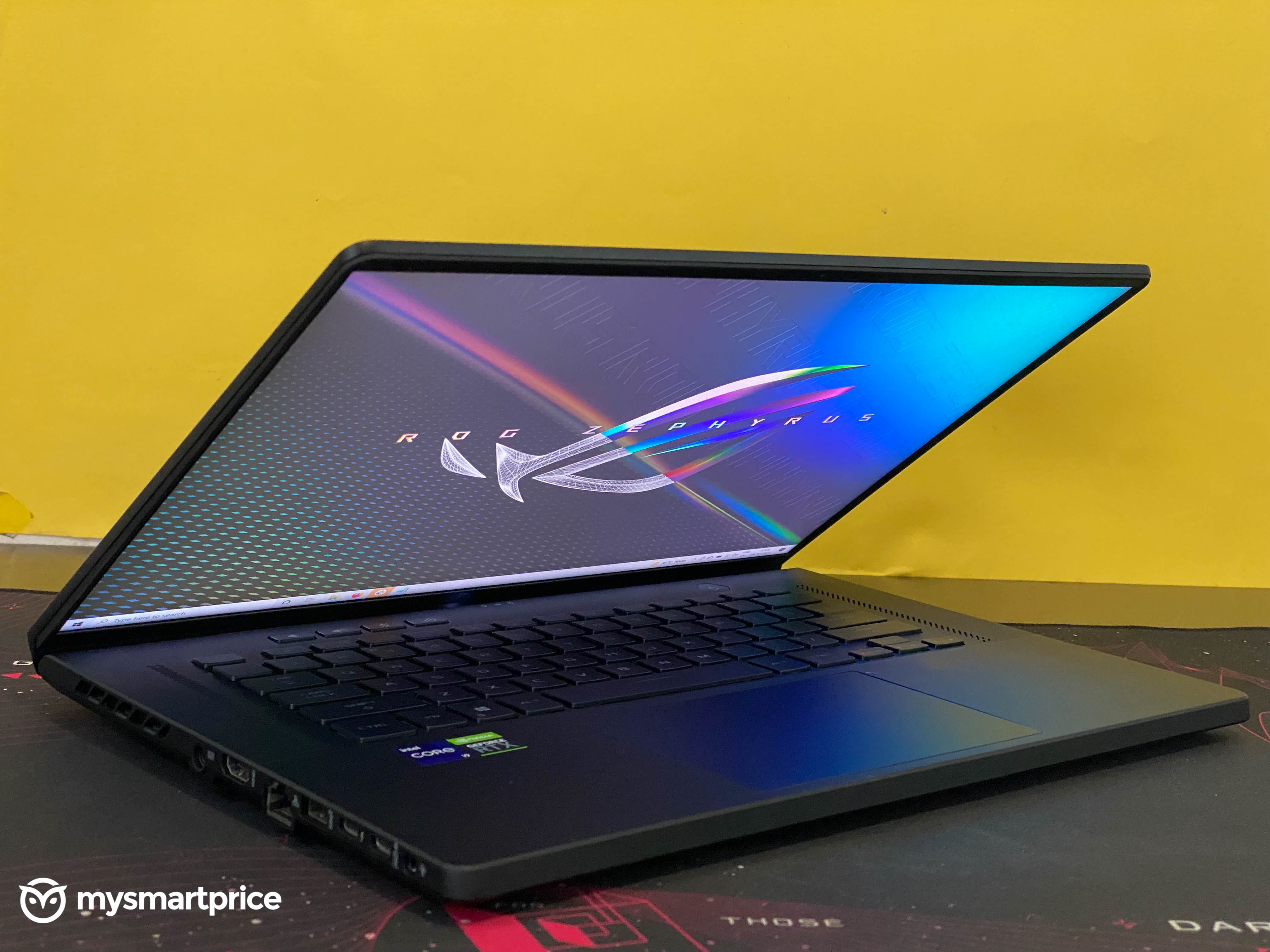 Gaming laptops aren't really the poster child of battery life, and the Zephyrus M16 is just as capable as other gaming laptops in this price range. The M16 packs a 90Whr battery that lasts around 4 hours if you're not playing games. I used the laptop to edit photos on Lightroom, reply to messages and even watch a few episodes on battery, and it just about hit the 4 hour mark. That's decent for a gaming laptop. But there's a potential deal-breaker here. The M16 requires 240W charging using a 15A plug, which can be hard to find in Indian households. You can only hit the laptop's max performance when it's plugged in to DC power and that can be a problem if you don't have a 15A socket accessible. There's USB-C charging, yes, but at 55W, it won't be able to power the hungry Core i9 and the RTX 3070 together, and games will run on the integrated GPU instead, which is pointless for a laptop this expensive and powerful.
Verdict: Should You Buy the Asus Zephyrus M16?
The Intel H45-powered Asus Zephyrus M16 is indeed a better performing laptop than all other AMD laptops I've tested with the RTX 3070 this year, and there has been quite a few. Intel-based options, on the other hand, has been surprisingly less this year, and most look exorbitantly expensive in front of laptops running on AMD processors. Even on paper, the AMD machines seemingly offer more performance, but after having tested the M16 against the high-performance scenarios and our test bench, the M16 runs better. It offers higher frame rates in games, features a far more immersive display, and possibly the fastest storage you can get on a laptop right now. The only major downside of getting the M16 is its poorly managed thermals. Even after downgrading the RTX 3070 TGP, the Core i9 heats up way too much for this thin chassis to cleanly dissipate and that leads to thermal throttling and hot surface temperatures. It's a potential deal-breaker, yes, but everything else is just perfect.
Asus ROG Zephyrus M16
229990
Keyboard and Trackpad
6.7/10
Gaming Performance
6.8/10
What Is Good?
Beats AMD laptops in gaming performance
Colour accurate display
Stealthy design
What Is Bad?
Thermal throttling
Single zone RGB keyboard
Smudge prone surface