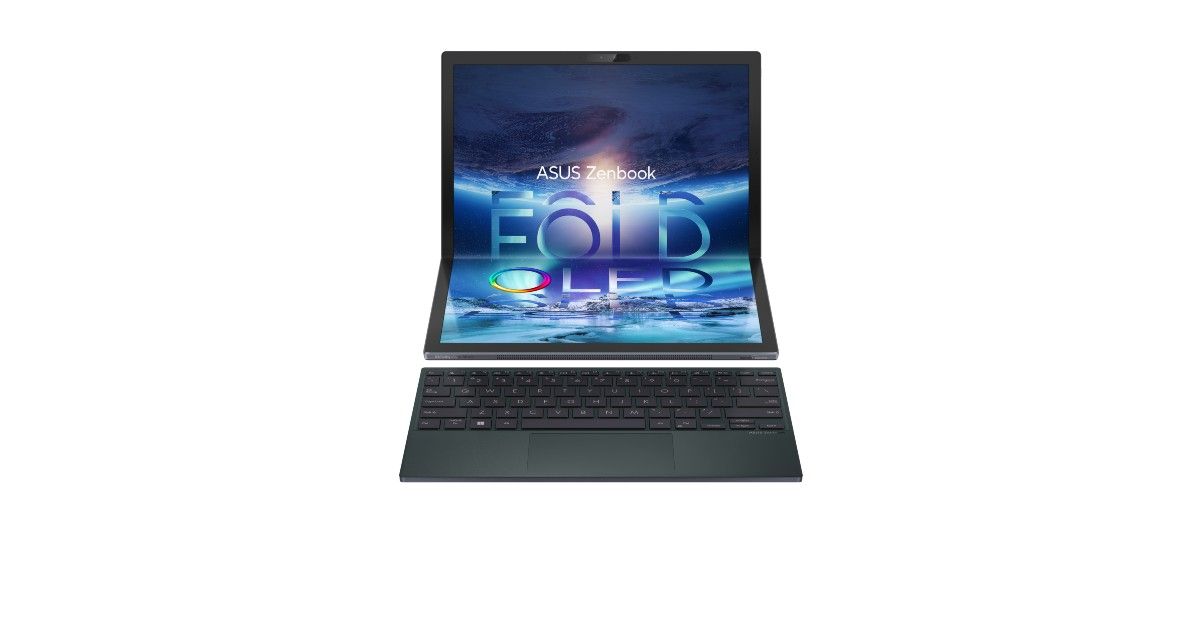 Asus has announced its 2022 range of ZenBook laptops at the Consumer Electronics Show (CES) 2022. The new laptops feature a bunch of innovative designs, along with SKUs (stock keeping units) powered by the latest generation Intel and AMD chips. The latest range of laptops include the Asus ZenBook 17 Fold, ZenBook 14X OLED Space Edition, the standard ZenBook and ZenBook Pro Duo refreshes, and the 2022 refesh of the company's TUF Gaming portfolio.
Asus ZenBook 17 Fold
The pick of the lot, arguably, is the Asus ZenBook 17 Fold. The laptop features a single, 4:3 OLED display that measures 17.3 inches, and comes with 2.5K screen resolution. The display folds down the middle to split into two, 3:2, full HD displays, each measuring 12.5 inches in size. It has a 180-degree hinge, and ships with a Bluetooth keyboard and trackpad combo if the on-screen keyboard isn't quite your thing. The display is Pantone, Dolby Vision and TUV Rheinland certified, which is marketing speak for assuring you of its quality.
Key aspects of the laptop include 12th gen Intel Core i7 processors, Iris X integrated graphics, up to 16GB LPDDR5 RAM and 1TB PCIe Gen4 SSD storage. There are two USB-C Thunderbolt 4.0 ports, which also double up to offer fast charging for its 75Whr battery. There's also an infrared camera for user detection, a colour sensor for auto screen calibration, and a 5MP webcam for sharper video conferencing. Asus says that its availability in its global markets will be some time in mid-2022.
Asus ZenBook 14, 14X, 14X Space Edition, Pro Duo 15
After the all-screen Asus ZenBook 17 Fold, comes the regular ZenBooks. Starting with the ZenBook 14, the latter offers 12th gen Intel Core i5 or Core i7 processors, along with up to 16GB LPDDR5 RAM and 1TB PCIe Gen4 SSD storage. The laptop will offer both touch and non-touch variants of a 14-inch, 2.8K resolution OLED display with 16:10 aspect ratio and 90Hz refresh rate. Available ports on the laptop include one USB-C 3.2 Gen2, two Thunderbolt 4, one HDMI 2.0b, a microSD card reader and one 3.5mm audio jack. It also gets a backlit keyboard, HD webcam, Harman/Kardon-branded speakers, Wi-Fi 6E and Bluetooth 5.2, and a 75Whr battery. The laptop weighs 1.39kg.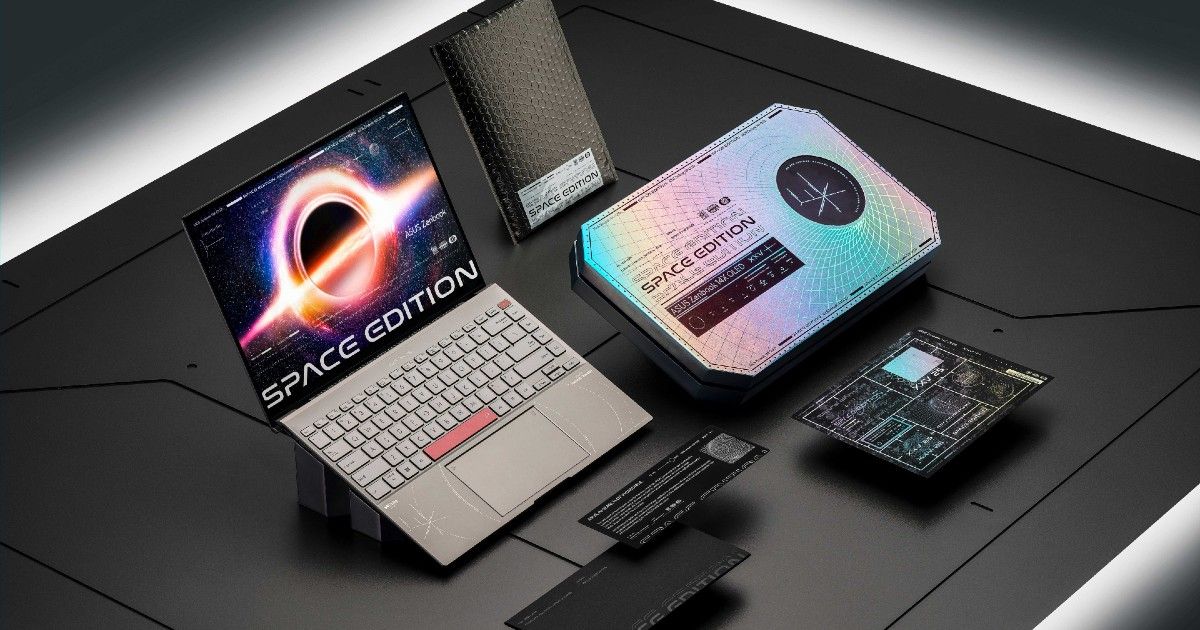 The ZenBook 14X, meanwhile, has largely similar specs — but with an additional ScreenPad, a second display that replaces the traditional trackpad. This variant also gets an additional display option, with a 4K OLED touchscreen option in tow. It also has a smaller, 63Whr battery, which keeps its weight comparably similar.
The ZenBook 14X Space Edition gets a thematic design to commemorate 25 years of Asus' first laptop sent to space. Specs go up to 12th gen Intel Core i9 processors, and 32GB memory. While all other specifications remain the same (with the same battery as the ZenBook 14X), there is an interesting, 3.5-inch external OLED display. The latter is likely more cosmetic than functional, which Asus says will be customisable in nature. The trackpad supports Asus' NumberPad, the virtual numeric keypad mode.
Finally, the Asus ZenBook Pro Duo 15 OLED brings a 15.6-inch main display with touch input, offered in 4K and full HD variants. There's also a second ScreenPad+ display, offered in full HD or 4K resolutions. Other key specs include 12th gen Intel Core i7 or i9 processors, 16GB or 32GB LPDDR5 memory and a 1TB PCIe Gen4 SSD for storage. Other specs are identical to the rest of the ZenBook lineup, and the laptop offers a 92Whr battery and weighs 2.34kg.
Asus TUF Gaming F15, F17, A15, A17, TUF Dash F15
Starting with the Asus TUF Gaming F15 and F17, the laptops feature 12th gen Intel Core i7 processors and up to Nvidia GeForce RTX 3070 GPU. The F15 offers three display choices — a QHD panel, and two full HD ones with a 144Hz refresh rate option. It gets up to 16GB DDR5 RAM and a 1TB SSD for storage with an expandable PCIe Gen4 M.2 slot. There's a backlit keyboard, a Dolby Atmos certified speaker setup, and in terms of ports, offers one Ethernet, one HDMI 2.0b, one Thunderbolt 4, one USB-C 3.2 Gen2 with DisplayPort 1.4 support, two USB-A 3.2 Gen1, and one 3.5mm audio jack. The laptops are powered by 56Whr or 90Whr batteries, and weigh 2.2kg and 2.4kg respectively.
The TUF Gaming A15 and A17, meanwhile, are powered by the new AMD Ryzen 7 6800H CPU. All other specs remain the same as the F-series variants mentioned above.
Finally, the TUF Dash F15 offers 12th gen Intel Core i7 processors, and the same set of specs as the Gaming F15 mentioned above. The laptop gets an additional DC-in port, and has a smaller battery at 76Whr. It weighs lesser too, at 2kg.