Highlights
The S13 OLED weighs just 1kg

The 13.3-inch OLED display produces vibrant colours

The laptop managed to score 8.1 out of 10 in our review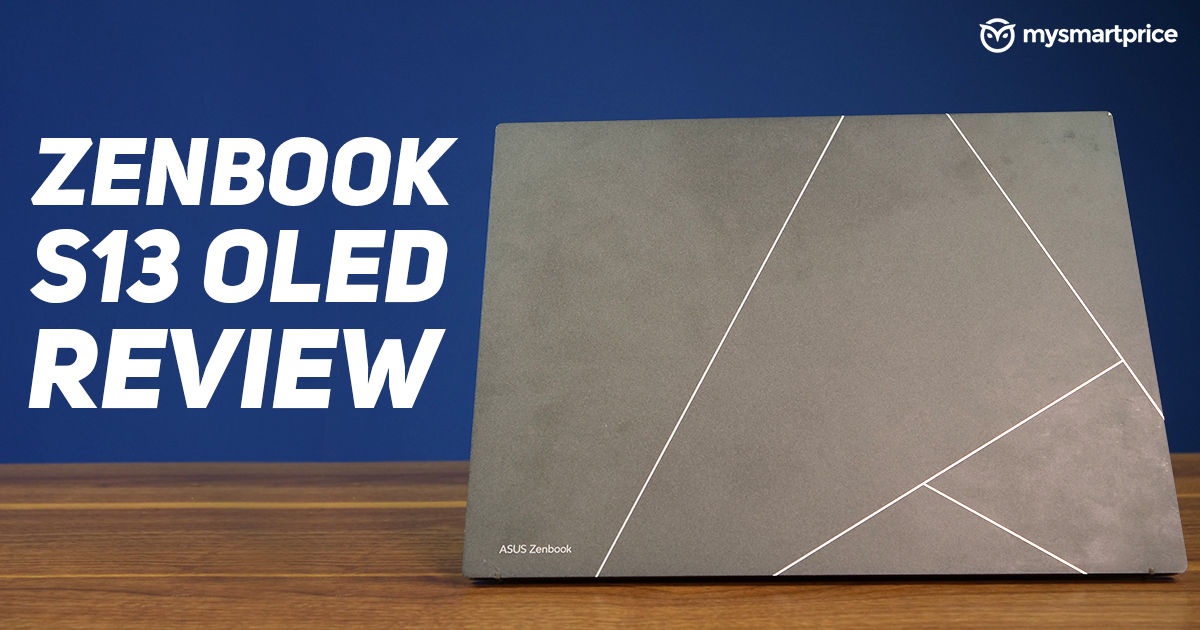 The past few months have seen a slew of laptop launches — from chunky workhorse machines that could possibly break your back to laptops that are so thin and lightweight that it feels like you are carrying air in your backpack. Asus, as usual, was part of both the bandwagons.
Speaking of which, it launched a refreshed and completely revamped version of the Zenbook S13 OLED — that focuses more on compatibility and portability with a chassis that weighs just 1kg. Now, that is ridiculously lightweight. But, the thing is, with such a form factor — laptops usually tend to run into temperature troubles. So, does the S13 OLED also fall into this category?
The Zenbook S13 OLED starts at Rs 1,04,999 for the i5-1335U version. Our variant is powered by an Intel Core i7-1355U processor with 32GB RAM and 1TB SSD. At this price, can this be a MacBook alternative? Find out in our review.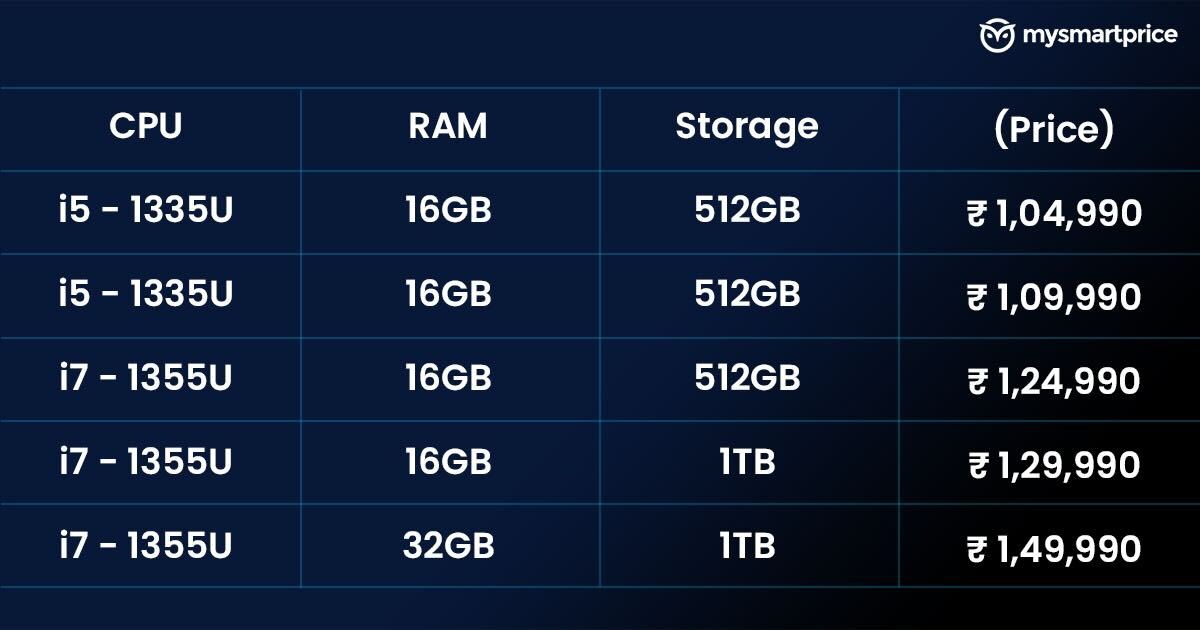 Asus Zenbook S13 OLED Review: Design and build quality
The S13 OLED is probably the most striking, subtle and premium-looking thin laptop we've come across in a while. The lid is made out of aluminium, painted in plasma ceramic coating. The company claims that the use of these materials will help recycle the laptop at the end of life. It has a marble-like touch and feel with lines running across the lid, assembling Asus' monogram logo. The S13 OLED is available in Ponder Blue and Basalt Grey — the latter is perfect for a professional setting. The lid surface does not collect any smudges in everyday life, but oily fingers are its enemy.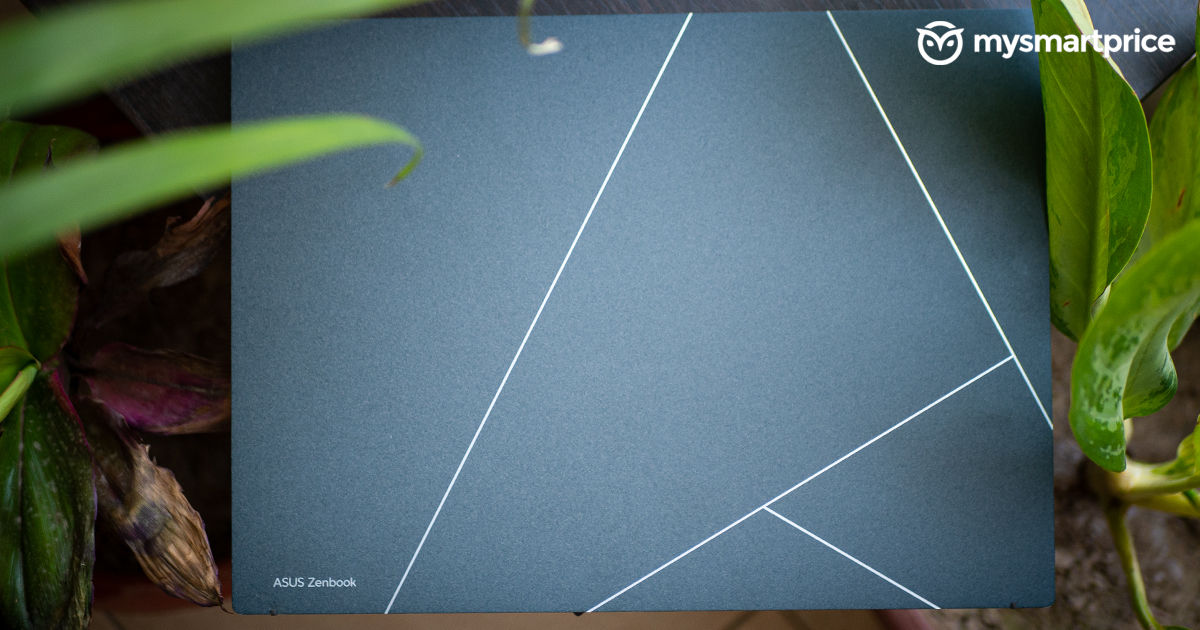 As mentioned earlier, Asus' vision with this laptop was to create the world's slimmest and thinnest laptop — and they've succeeded. The S13 OLED measures just 10.9mm in thickness with a weight of 1kg.
It's a delight to carry around in your hands or a bag. The magnesium-alloy build of the keyboard deck makes sure there's minimum flex. The entire chassis is well-built and feels robust — the opposite of what thin laptops usually feel like.
The keyboard deck is decently spaced out with a black background coating. It didn't take us much time to adapt to the layout after coming from a MacBook Pro 14-inch. Because of such a slim chassis, the keys do not get a deeper travel. That's not to say the typing experience was bad.
In fact, it was quite fun. The keys provide good tactile feedback and are backlit, so using the laptop at night is not an issue. All necessary buttons have been integrated well. Keeping in mind the nature of this laptop, there are no dedicated number keys or media keys, but the current set of function keys works well.
It also integrates page up and down keys quite smartly. However, hitting the arrow buttons can be frustrating due to their cramped placement. It comes with Asus' infamous ErgoLift technology, which lifts the keyboard at an angle, giving you a more comfortable typing experience. This is thanks to the hinge mechanism, which can go all the way down to 180 degrees. Sadly, the bottom part of the lid digs deep into your thighs, causing pain — using the laptop on a desk is not an issue.
Besides that, the trackpad is spacious and helps you take proper advantage of Windows' available gestures. The click buttons also have good feedback, and they haven't cheaped out on anything in this department.
The port selection is quite practical and surprising, to say the least, for a laptop of this size. The left side of the S13 OLED features a full-size HDMI 2.1 port, two USB-Type C ports with support for Thunderbolt 4, and a small LED light that indicates the battery levels. The right side of the laptop features a USB 3.2 Gen 2 Type-A port, a 3.5mm audio jack, and yet another LED light.
This is a connectivity-rich laptop, and we say this because the Yoga Slim 7i Carbon that we reviewed — also comes in a thin form factor but with two USB Type-C ports — and nothing else. The underside of the S13 OLED has some rubber padding to help keep it steady on the desk, along with two vents for heat dissipation.
The top of the S13 OLED features a Full HD webcam for video calls and biometrics since the laptop does not come with a fingerprint reader. The webcam produces decent video output, provided there's an ample amount of light around you. Unfortunately, it does not have a physical shutter.
Asus Zenbook S13 OLED Review: Display and performance
While the thin form factor is probably one of its selling points, the display is what sets it apart in the market. As the name suggests, it comes with a 13.3-inch OLED display. The panel has a resolution of 2880×1800 pixels with an aspect ratio of 16:10. While the bezels are not very thin, it's not distracting by any means. The display has a peak brightness of 550 nits, and using the laptop outdoors on a balcony was not an issue.
Besides, the viewing angles are also quite good, so there are no disturbing glares. Since it is a productivity-focused laptop, the display is locked at 60Hz. We spent most of our time filing reviews and reading articles.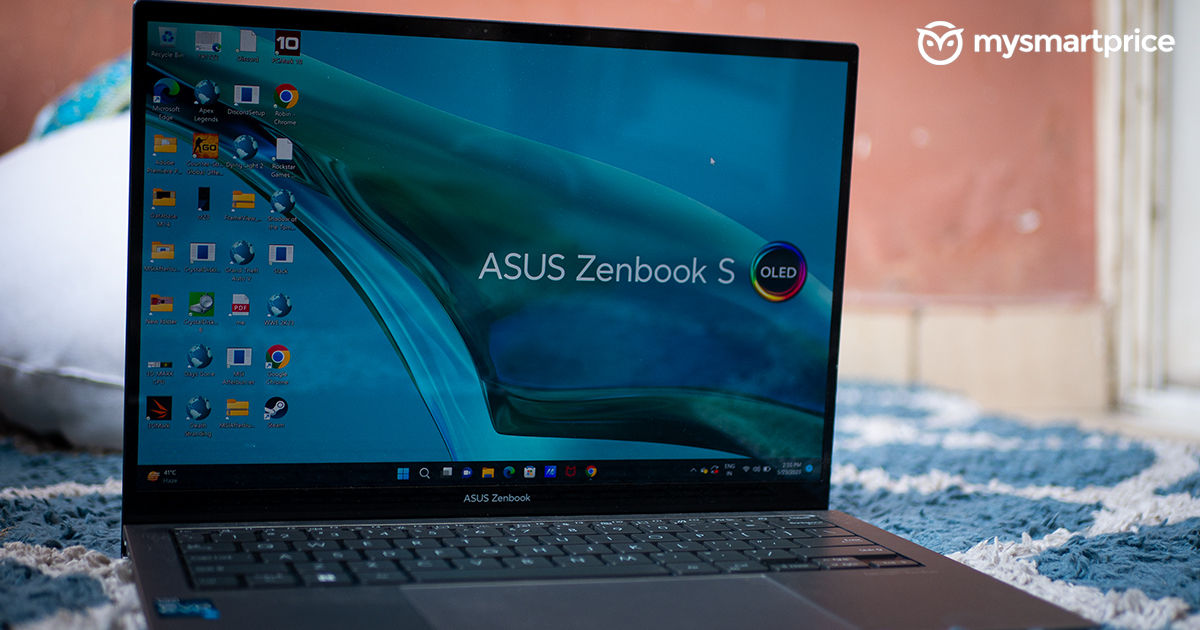 The display is obviously good for that, but it's even better for watching content. It covers 100% of the DCI-P3 colour gamut and is Pantone Validated. TV shows such as Better Call Saul and Ted Lasso exhibited vibrant colours and crisp details. Asus also packed an OLED filter in the media kit that helped us check the efficacy of the panel.
Sadly, accompanying this display is a rather weak set of side-firing speakers. As a result, while the quality is definitely sufficient for general music and video playback, the output could have been better. It gets loud enough and produces decent clarity but lacks bass in most situations.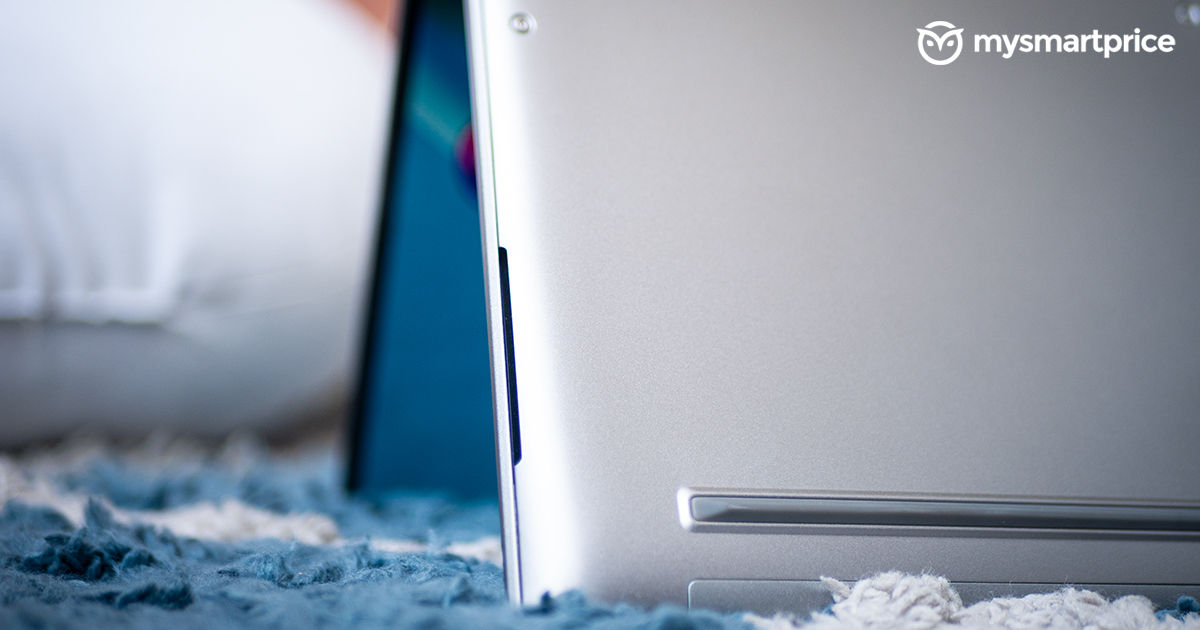 Unlike last year, Asus has opted to go with an Intel CPU. The Intel Core i7-1355U processor in the S13 OLED has a total of 10 processors with eight efficiency cores and two performance cores. It's based on a 10nm node and comes with a boost clock speed of 5GHz. Just like the HP Pavilion x360 we reviewed last week, the 'U' in i7-1355U indicates that this is a power-efficient chip, sipping only 15W of power under regular workloads.
However, it can be turbo-ed up to 55W when needed. No discrete GPU here, only the integrated Iris XE graphics. You get 16GB and 32GB LPDDR5 RAM options, with up to 1TB Gen 4 SSD. Since the S13 OLED is part of the Intel Evo platform, it gets WiFi 6E and Bluetooth 5.2 support.
With the technical details out of the way, the S13 OLED performs exceptionally well in day-to-day usage. Basic tasks, such as switching between multiple software with many Chrome tabs open, were simple for the laptop. We did not face a hint of struggle while working on Google Sheets, Docs, and other applications.
Besides your everyday office work, the S13 OLED is a capable machine for creative work on applications such as Premiere Pro and Photoshop. The laptop comes with Windows 11 pre-loaded, and our experience was good. However, the slim chassis comes with some heating issues, and we felt the keyboard deck starting to warm up under heavy loads.
The same was noticeable on the underside of the laptop when not working in an air-conditioned room. To tackle this, the fans run at full speed, and it's quite audible.
The S13 OLED performed well in synthetic benchmarks, with Cinebench R23 managing a single-core score of 1695 and a multi-core score of 5630 points. These scores were slightly lowered on Geekbench 6, with single-core and multi-core scores of 1548 and 3344, respectively. 3DMark CPU Profile test returned a maximum thread score of 3322.
PCMark10's intensive test gave us an overall score of 5124, with a productivity score of 7671. In Geekbench 6 GPU tests, it returned an OpenCL score of 10514 — which is slightly lower than the Pavilion x360. As for SSD speeds, the S13 OLED managed sequential write and read speeds of 6964 MB/s and 4313 MB/s, respectively.
Asus Zenbook S13 OLED Review: Battery life and charging
Inside this slim guy is a 63Wh battery which is lower than the outgoing model with a 67Wh battery. With a 'U' series chip at the helm, the battery life on the S13 OLED was impressive. The laptop easily lasted anywhere north of the six-hour mark, and that too consistently.
Our usage consisted of constantly opening Chrome while researching, with a bunch of time allotted to video consumption. Despite the drop in battery capacity, the S13 OLED has been neatly optimised for lasting battery life.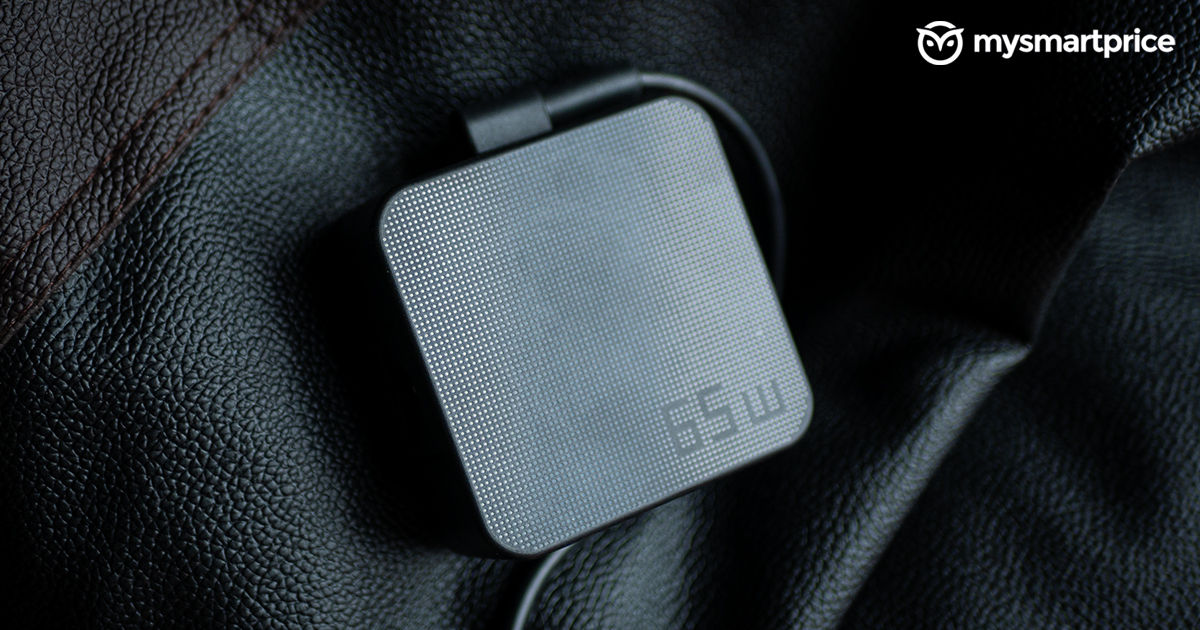 As for charging, the S13 OLED comes with a 65W USB-Type C charger in the box. This tops up the laptop to 64 per cent in an hour. It takes about two hours to charge the laptop from the dead completely. We noticed the underside of the laptop warming up when plugged in.
Overall, the battery situation of the laptop is quite good, and you can easily rely on it to last an entire day.
Asus Zenbook S13 OLED Review: Verdict
The Zenbook S13 OLED is an excellent execution for an ultra-book. It's slim, it's lightweight, and it looks shiny. As a result, it performs well in daily life and can be a great companion for office work. This, paired with the 13-inch OLED display, makes it an ideal package for productivity and content consumers. Additionally, the battery life on the laptop is great and should easily help you get by a day.
Besides, it can be charged using any PD charger with the appropriate wattage, so carrying an additional bulky charger is unnecessary. While that's all good, the laptop tends to run hot and loud under heavy loads for long periods of time. This is something that's common with thin laptops. It can be tackled to an extent while sitting in an air-conditioned room, but the problem persists — surprisingly, the performance does not throttle much.
As for the price, the top variant will set you back by Rs 1,49,990, while the base variant will cost you about a lakh. If you want an extremely light and thin laptop that performs well, the i5 variant of the S13 OLED should also suffice. It can also be a good alternative to the Macbook Air M1 if you want to stick to a Windows platform.
Asus Zenbook S13 OLED (2023)
Rs 1,04,990
KEYBOARD AND TRACKPAD
7.5/10
What Is Good?
Extremely lightweight and slim
Beautiful design execution
Performs well
Good battery life
Bright and colourful display
What Is Bad?
Runs hot and loud under heavy loads
Average speakers