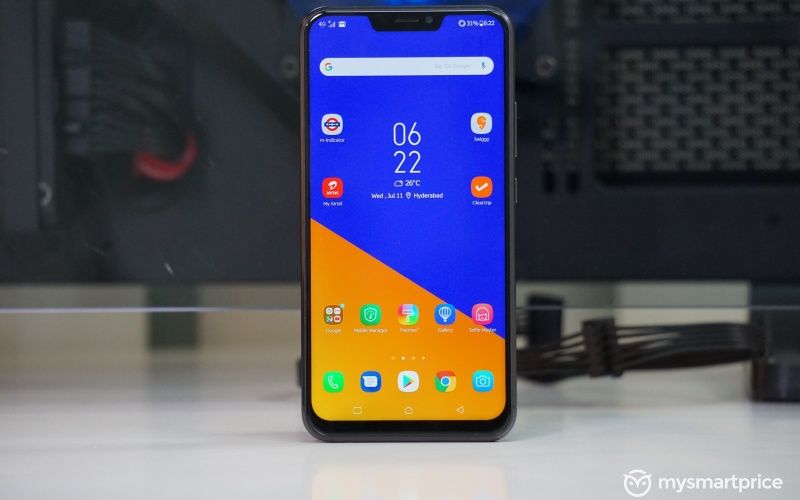 The Asus smartphones Zenfone Max Pro M1 (review) and Zenfone 5Z (review) have started receiving the latest software updates, which come with software tweaks for battery and camera improvements, as well as the October Google security patch. Asus launched both of these phones this year itself, and they garnered quite a bit of buy attention. The handsets will now be better performers with these updates, and obviously safer.
The Asus Zenfone Max Pro M1 is an excellent value-for-money budget handset, starting at just INR 10,999, offering a rare Qualcomm Snapdragon 636 chipset at this low a price point. The Asus Zenfone 5Z is the Taiwanese brand's answer to OnePlus 6, challenging the flagship killer handset with a Qualcomm Snapdragon 845 processor and much more aggressive pricing. If you have either of these handsets or were planning to buy one, read on for the details of their respective software updates.
Asus Zenfone Max Pro M1, Zenfone 5Z Get Software Updates
In the software update to the Asus Zenfone Max Pro M1, apart from the Google Security Patch for October 2018, you get software enhancements for power optimization. The battery life of the handset can be expected to improve hereon. Also, the 'Double-tap to Wake' and 'Wipe to Wake' features have been tuned for better performance, meaning that they are likely to provide quicker feedback now.
The software update to the Asus Zenfone 5Z also brings with it the latest Google security patch, but the software tweaks for this phone are limited to camera enhancements. Asus has improved a bunch of camera features on its flagship handset, including Auto White Balance, HDR brightness, AI Scene Detection and noise reduction. You can check for the update in your handset's Settings menu (About Phone). Unless something is wrong with the handset, you will receive a notification for the updates, as both these software updates are rolled out OTA (over-the-air). Since the updates do not have manual download links, you may have to wait your turn for the rollout to reach your handset.
Asus Zenfone Max Pro M1, Zenfone 5Z Features
The two Asus handsets in question here both offer decent performance, with a Snapdragon 636 chipset powering the budget handset Zenfone Max Pro M1, and the flagship Snapdragon 845 driving the Zenfone 5Z. Both handsets have IPS LCD displays with Full HD+ screen resolution, dual rear cameras and rear-mounted fingerprint sensor.
While they both look good, they lack a glass back, something that is offered on most phones in the mid-range to premium handset range at least. Without an OLED display and glass back, the Asus Zenfone 5Z is not exactly ahead of its competition in the INR 30,000 to INR 40,000 price range. However, the camera equipment on the Asus Zenfone 5Z is commendable. The handset gets a 12MP+8MP rear dual camera and an 8MP front shooter.
The rear camera comes with 4-axis Optical Image Stabilization, dual-LED dual tone flash, a wide angle lens (24mm), wide f/1.8 aperture, large 1.4-micrometer pixels and 4K video recording support. The rear camera can also record HD videos at slow motion, although at 240fps it is nothing special.
The budget best-seller Zenfone Max Pro M1 ships with a fine 5000mAh battery, but without fast charging. The Zenfone 5Z gets 18W fast charging but a smaller 3300mAh battery.