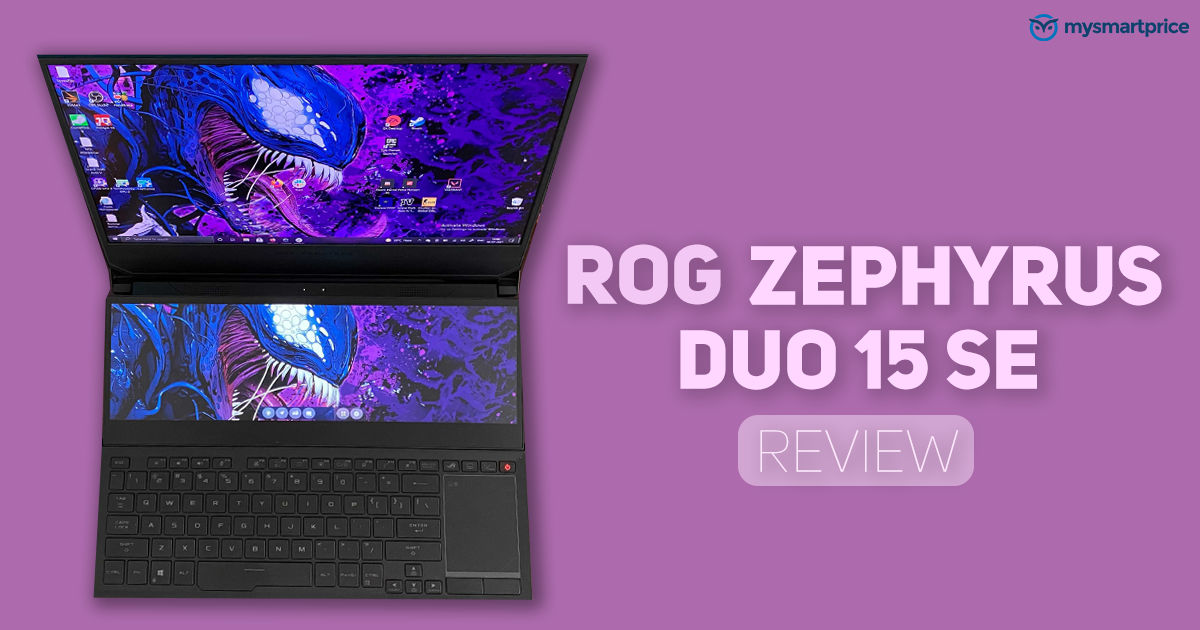 The stunning Zephyrus Duo 15 GX550 dual screen gaming laptop has now evolved into the Zephyrus Duo 15 SE GX551, and while it still remains a niche device meant only for a select users, Asus has opted for the very best of AMD and Nvidia to power this machine. It looks and feels much like its predecessor but with the improvements under the hood, I'm expecting this to be a lot more justifiable of its hefty Rs 2,99,999 price tag in India. Then again, this is different from the Alienwares and the MSIs that rule the high-end gaming segment. There's a giant auxiliary display where the keyboard should be, offering both extra screen space and a compromised keyboard at the same time.
Like Mick Jagger crooned, you can't always what you want but if you try some time, you might get what you need. Is this what you need? Let's find out.
Asus Zephyrus Duo 15 SE: Specifications and SKUs
The Zephyrus Duo 15 SE ships in two SKUs in India, both configured with top-end hardware, with different screen resolutions and refresh rates. You can choose between a 300Hz FHD display or a 120Hz 4K panel.
The rest of the key hardware is the same across the two SKUs — The AMD Ryzen 9 5900HX and a 16GB Nvidia RTX 3080 mobile, but oddly enough, my review unit had a 48GB DDR4 configuration, where you get 32GB soldered on to the board by default. That's more RAM than what most gamers would need, but will be a boon for content creators. More about that, later.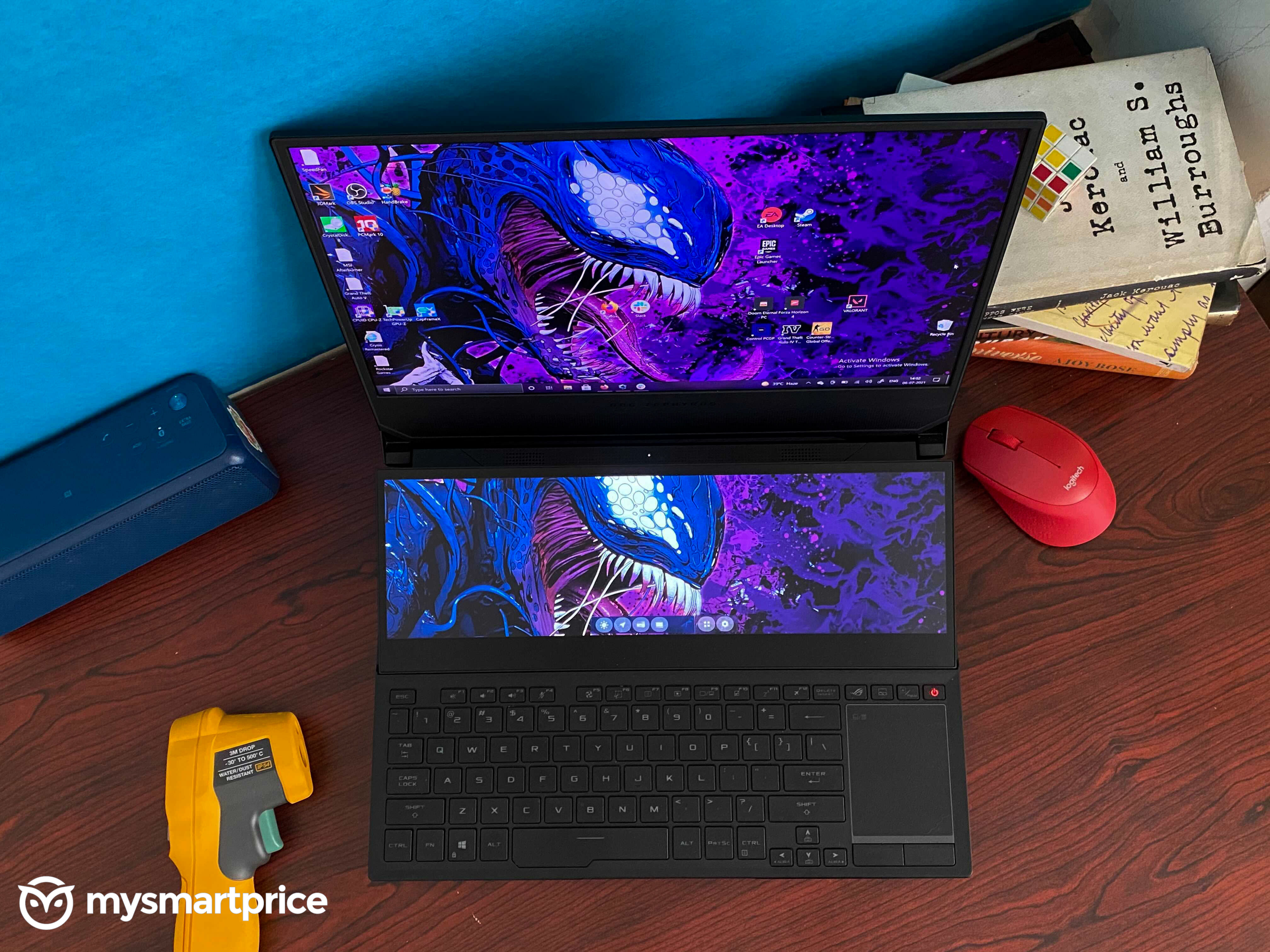 What makes the Zephyrus Duo 15 SE stand out is the auxiliary display fitted into the chassis. It's also a 4K panel on the highest SKU with stylus support and 60Hz refresh rate. Right below the display, in whatever space left, is a cramped RGB keyboard with a tiny trackpad on the left edge, far from where your hands are conditioned to go to.
There's a full array of ports including three USB 3.2 Gen2 Type-A ports, 1 USB 3.2 Gen2 Type-C with USB PD support that also doubles up as a DisplayPort. You get one HDMI 2.0b port, a microSD card reader, a 3.5mm audio jack and an RJ45 ethernet port. So, save for the Thunderbolt port (which you don't get in AMD machines), the I/O configuration is perfectly suited for creative workloads as well as gaming.
All this is powered by a 90Whr battery that's topped up with a massive 280W charging brick.
Asus Zephyrus Duo 15 SE: Design and Build
The Zephyrus Duo packs the most powerful hardware for a laptop with a second display, but the dimensions and the weight are similar to any other gaming laptop, if not sleeker. It's been given a fresh coat of paint with a new lid design, but like last year, it's predominantly made out of plastic.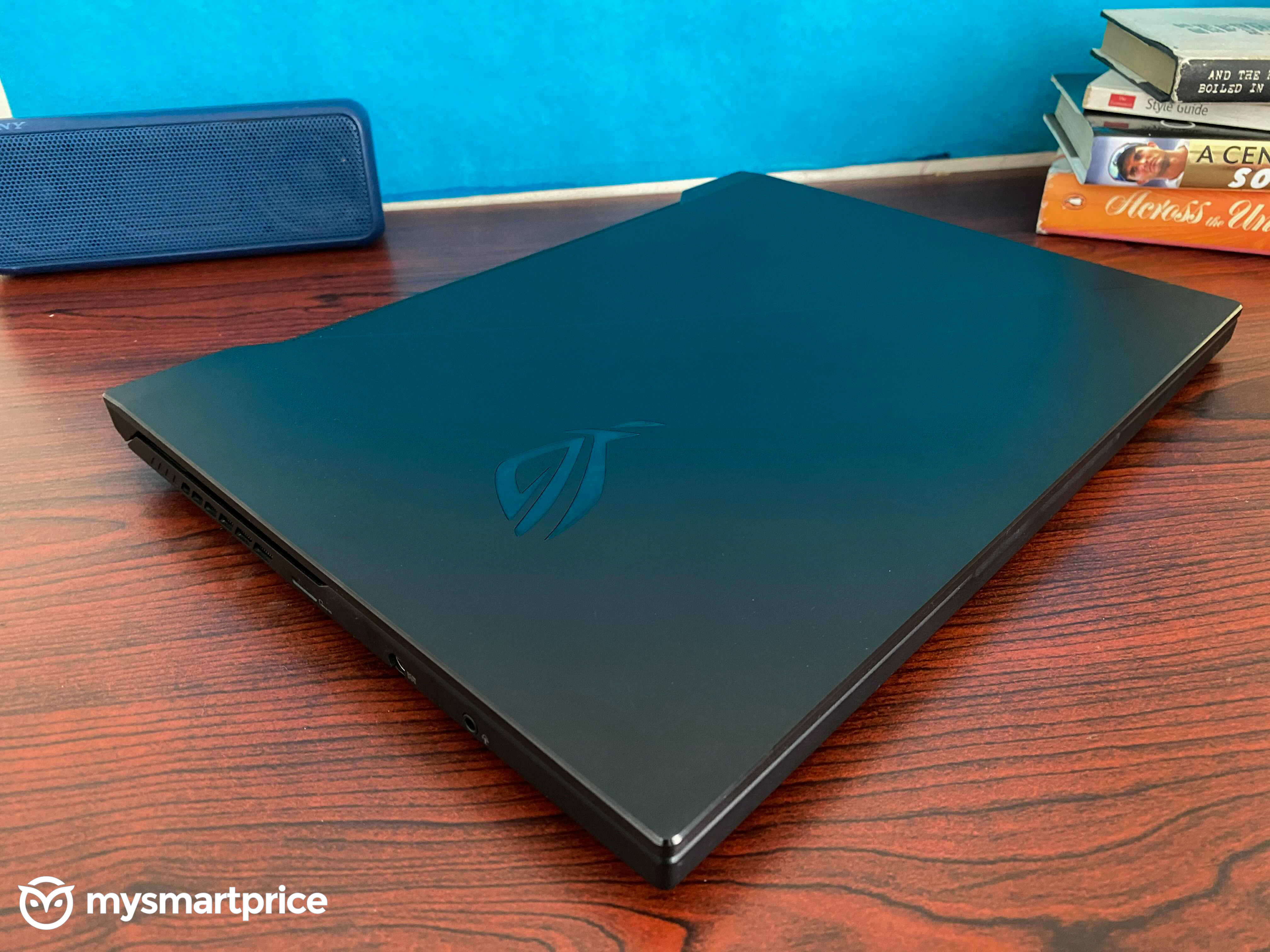 With the lid closed, you'll have no way to tell there's a second display inside. But as you open it, the screen lifts up and stays raised at an angle, facing you. It's a smarter choice than laying the screen flat a la Touch Bar, and serves more than an ergonomic purpose.
The raised display is much better to work on, be it to track metrics while gaming, or when using the touchscreen. And more importantly, it opens up space directly above the CPU and GPU to vent out hot air by the fans, keeping them happy. Additionally, there are two tweeters tucked under the panel that fires sound directly at you, with two more speakers at the bottom.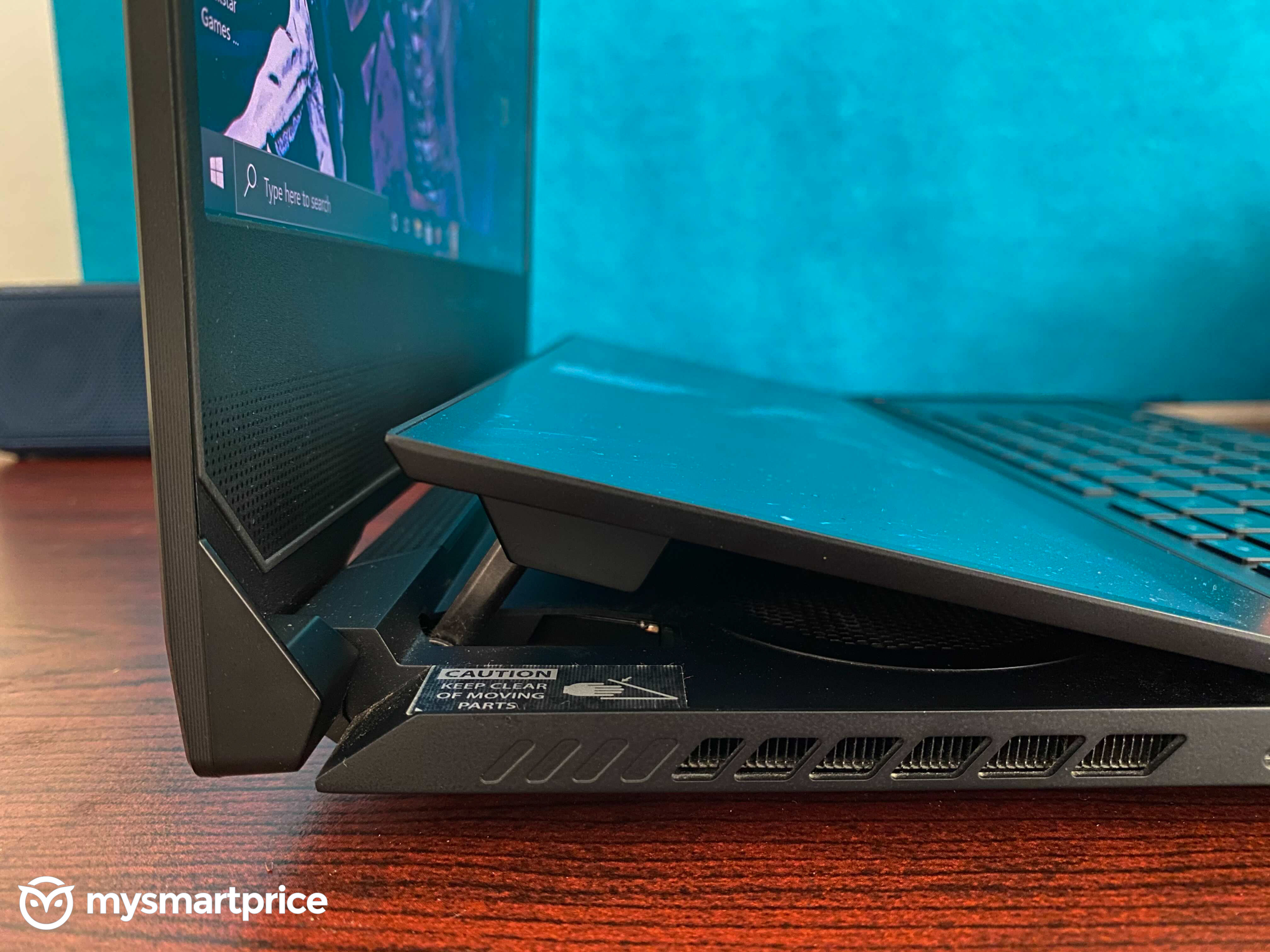 Now, I thought the Zenbook Duo UX482's (review) keyboard was cramped, but even in a larger 15.6-inch shell, the keyboard feels just as uncomfortable, especially if you're typing and gaming. You'll need additional space on the desk to rest your palm because this Rs 3 lakh laptop has ceded all the palm rest away to the display. It's for this very reason that the Zephyrus Duo 15 SE will remain a niche product, aimed primarily at content creators and gamers. I did find a few good use cases for this form factor, but the keyboard is just an annoying, but inevitable compromise.
Asus Zephyrus Duo 15 SE: Display and Audio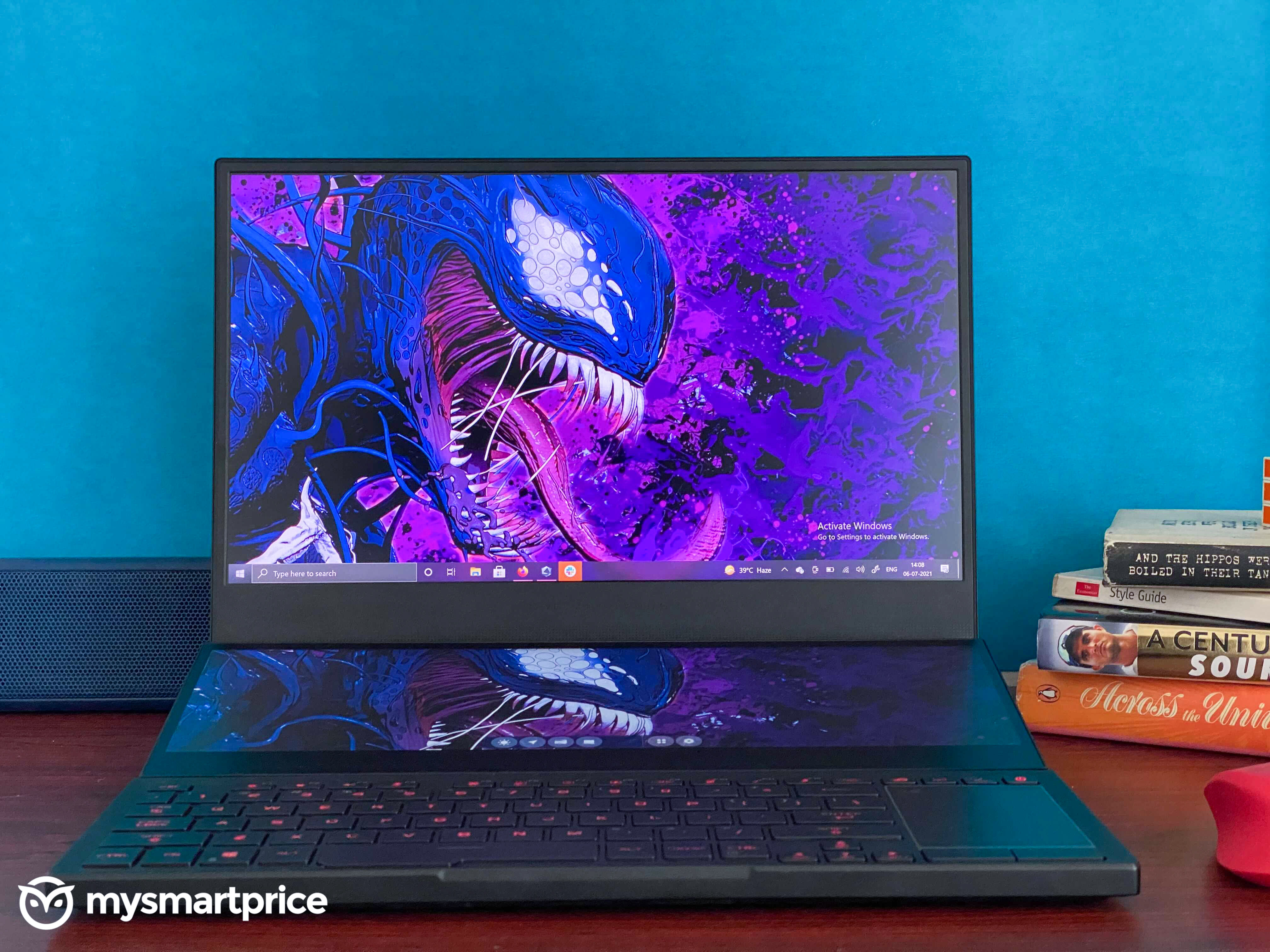 The 15.6-inch 4K UHD display is a looker. With thin bezels that couldn't even leave space for a webcam, this is easily one of the most immersive displays I've ever used on a laptop. But if you ask me, go for the 300Hz FHD panel for gaming and this 120Hz 4K panel for content creation. Because you'll pine for higher frame rates while gaming on the RTX 3080.
For creative work, the 100% Adobe RGB and 132% sRGB support will be quite helpful. It's an improvement from last year, and makes content on screen look vibrant and immersive. It doesn't support the DCI-P3 colour space, though, so you won't be able to play games in HDR. But the panel still feels large enough to immerse yourself into virtual worlds and game for hours.
But there are plenty of laptops with 4K displays out there. What this one's famous for is another 14-inch 4K display right beneath. It works just like an extended workspace for you and you can keep any window or an app open on it, while the primary screen is occupied with something else. That opens up a plethora of multi-tasking opportunities. For me, it was to track the performance metrics in real time while I was gaming. So I knew exactly what caused that spike in clock speeds, or how hot the CPU is running in real time. But that's just me testing this laptop.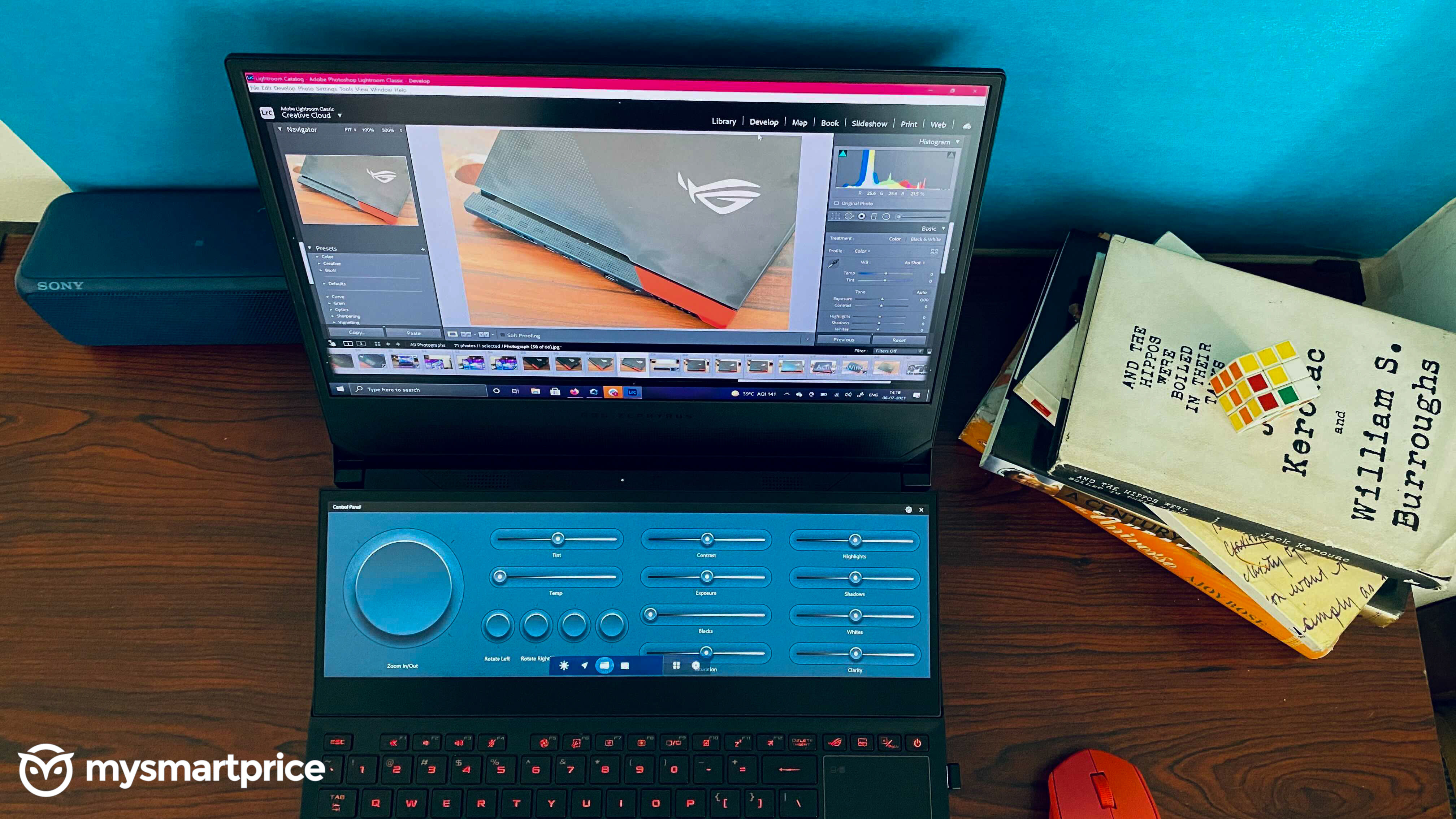 The ScreenPad Plus software that powers the second screen lets you preset profiles which will launch apps and arrange them across the two displays just how you want it to be. So one click and I had GTA V running with HWinfo and GPU-Z open in the second screen. If you're editing a photo on Lightroom or a video on Premier Pro, the second screen turns into a control panel offering you knobs and switches to control your workflow. But all said and done, it won't replace your second monitor. The height is just too small to read text from, especially with 4K resolution. Trying to keep different resolutions doesn't scale the primary display to fit, and forcing it sends the laptop into a frenzy.
The audio performance is pretty good for a laptop. With four speakers and 5.1 Dolby Atmos support, there's excellent sound separation provided you're in a room quiet enough. It's good for watching movies and playing single-player campaigns, but you should definitely plug in headphones for multiplayer games.
Asus Zephyrus Duo 15 SE: CPU and GPU Performance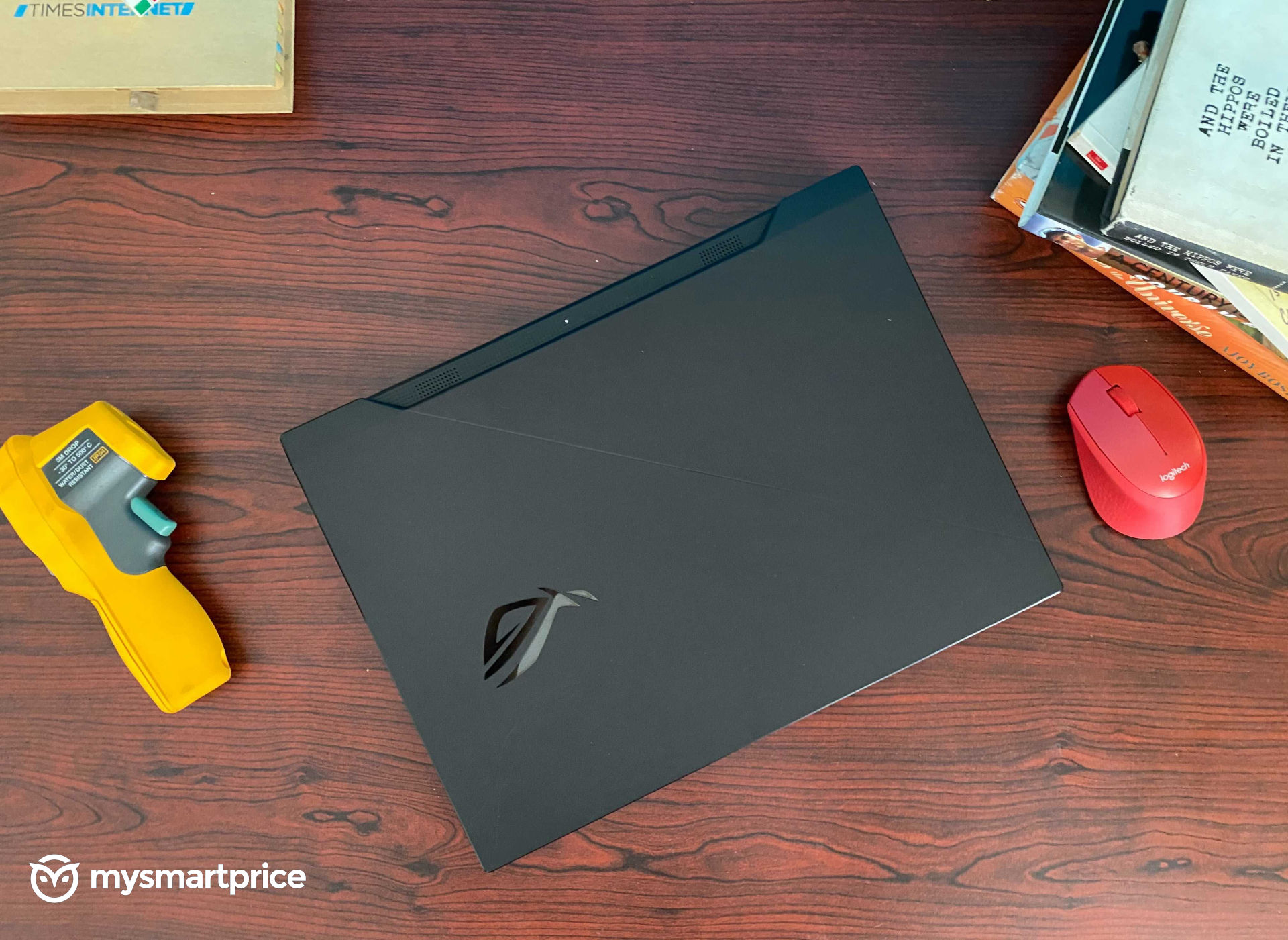 With a niche product like this, it's crucial to also match the design with the necessary performance. And in this case, a dual screen behemoth deserves nothing but the best. Asus opted for the AMD Ryzen 9 5900HX this time, instead of Intel, along with a 16GB RTX 3080. My variant was maxed out with 48GB RAM and 2TB of PCIe M.2 SSD. This clearly should be enough to run every AAA game on this planet at their highest settings, and edit 4K videos with ease. Here's what the benchmarks say —
AMD's dominance shines through in this machine with the Ryzen 9 5900HX dishing out high scores across all CPU benchmarks I tested. Interestingly, the high capacity 48GB RAM did not have an impact in the scores, as the Zephyrus Duo 15 SE didn't score higher than the 16GB Strix G15 or the 32GB Zephyrus G14. It's likely that the workloads that benchmarks like PCMark10 and Cinebench R23 test performance doesn't require too much memory, but unless you are editing individual frames in Corel Draw, it's highly unlikely that you'll need 48GB RAM for your use.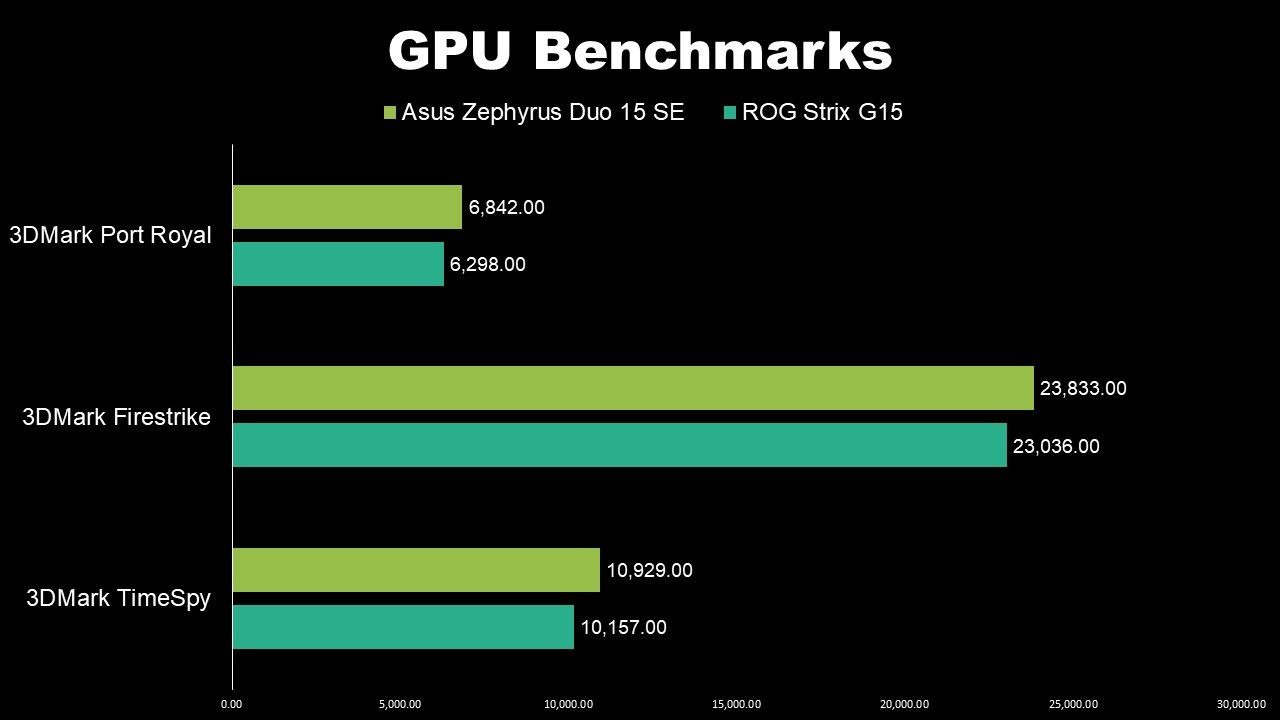 Slightly disappointing was the RTX 3080. I was expecting a little more performance over the RTX 3070, considering the price delta, but 3DMark's test suite was quick to point out the difference is barely 7%. The reason is the GPU isn't configured to its max TGP. I suppose the dual screen design didn't leave too much space to dissipate thermals at higher temperatures, so Asus had to make that compromise. The RTX 3080 on the Zephyrus Duo 15 SE runs at 115W TGP with a 15W Dynamic Boost when needed. This makes it perform near about the same as an RTX 3070.
Asus Zephyrus Duo 15 SE: Gaming Performance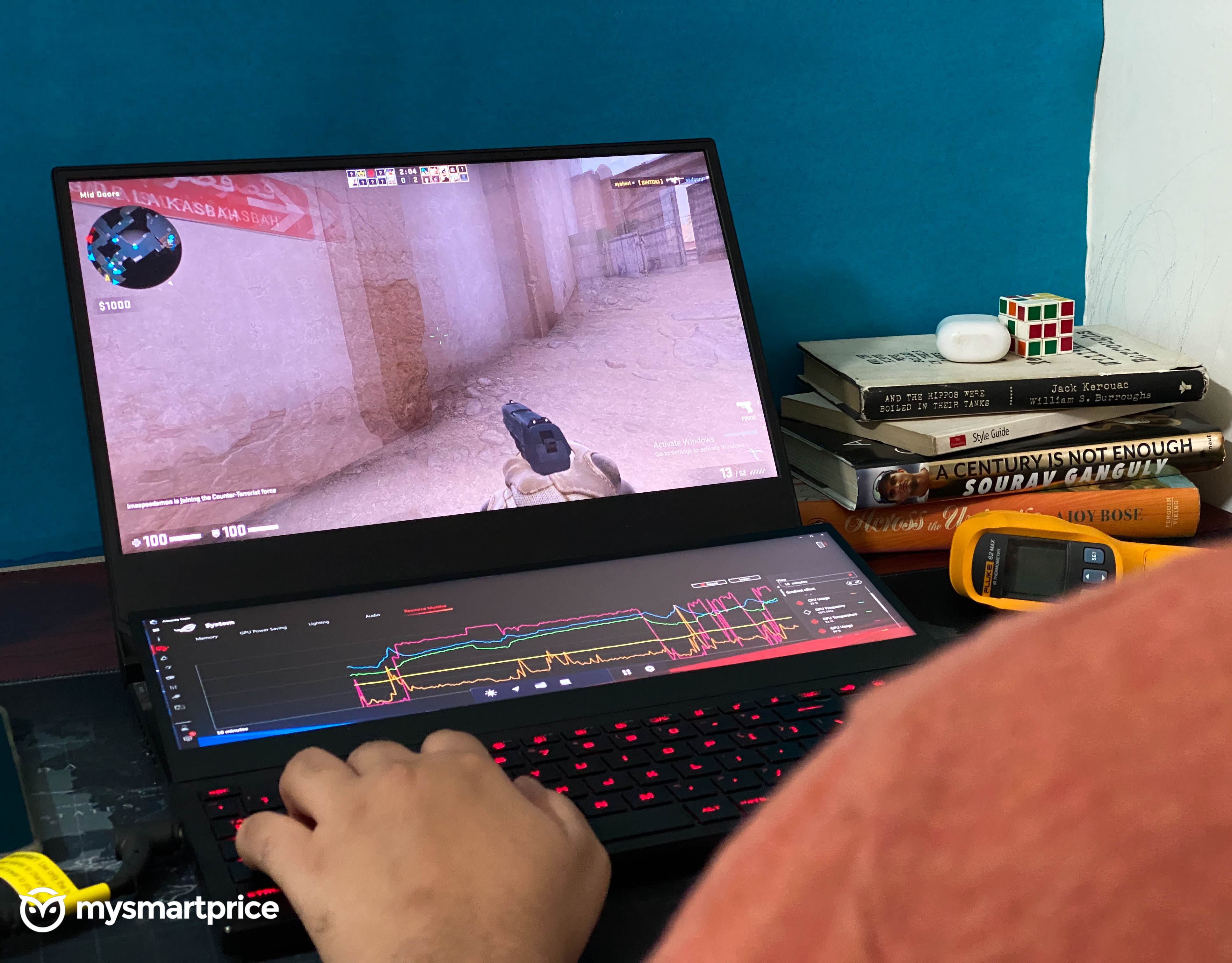 But where the GPU really does come into play is in gaming. Especially the 16GB VRAM which lets you max out graphics in Games like Doom: Eternal, Crysis: Remastered, and Forza Horizon 4. At 1080p, all games look just gorgeous on this large display with smooth gameplay. I tested the laptop across various single player and multiplayer games, and in all cases, the laptop delivered solid frame rates at 1080p.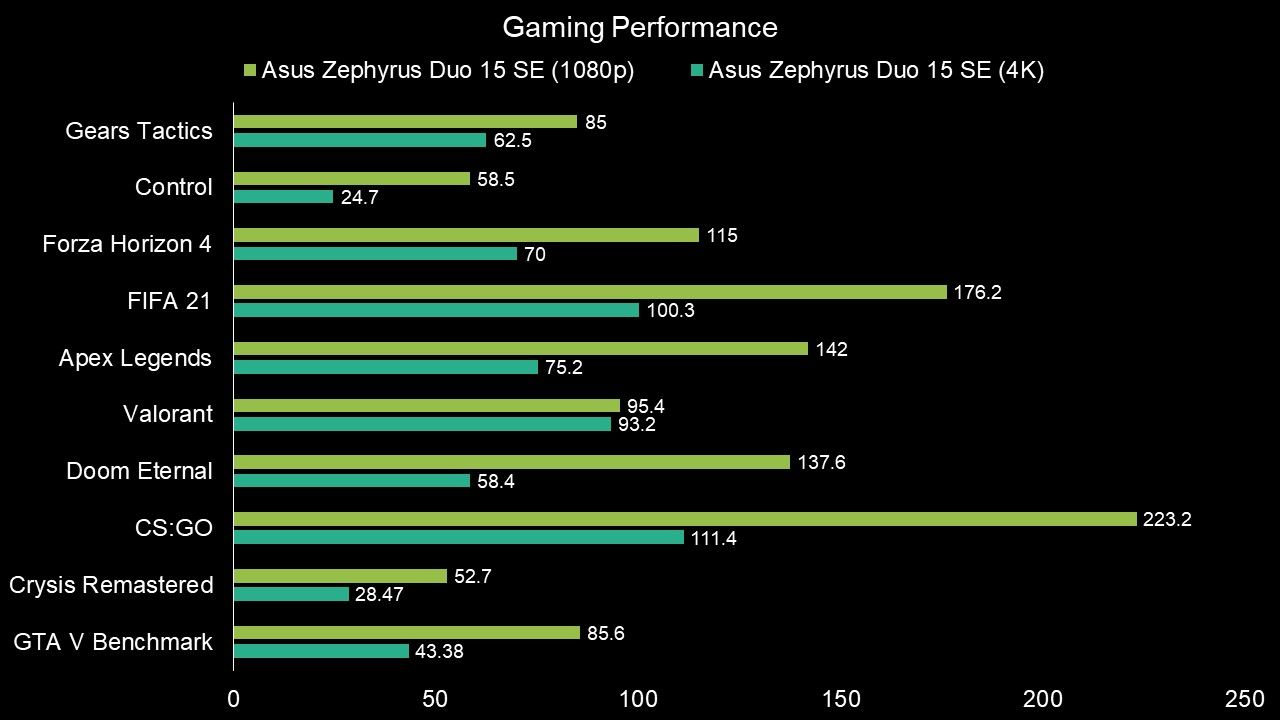 The GPU is also capable of running games at 4K resolution, but you will have to dial down the graphics to get above 60 FPS. With everything maxed out and at 4K, it's not the games won't run but there will be significant input lag, especially in games like Control and Doom: Eternal.
Asus Zephyrus Duo 15 SE: Creative Workloads
The Zephyrus Duo 15 SE isn't just for gaming. It'll equally entice a content creator dreaming of a portable dual-screen setup to edit videos or stream content. The Zephyrus Duo is perfect for both use cases, and the second display makes it a lot more comprehensive and professional.
For one, the underlying hardware is capable of handling most heavy lifting software you'll need — Premier Pro, Corel Draw, Blender, OBS and the likes. Streamers will find the second display particularly useful during their live sessions. It can be used to track comments while you play, or monitor your stream quality, or even to see if it's heating too much.
I've already spoken about the Control Panel that the second screen transforms into, but Premier Pro runs butter smooth with 48GB RAM. There's no lag while scrubbing on the timeline, even with the quality set at 4K, and I didn't encounter painfully long waiting times while applying filters and effects.
Asus Zephyrus Duo 15 SE: Thermal Performance
The chassis design of the Zephyrus Duo 15 SE makes for some interesting observations around the thermal limitations of the laptop, and this dual screen form factor as a whole. The good news – The keyboard deck is placed far away from the mainboard and the fans, so it doesn't become boiling hot during intense workloads or gaming, and provided you get used to the awkward layout, it's quite comfortable.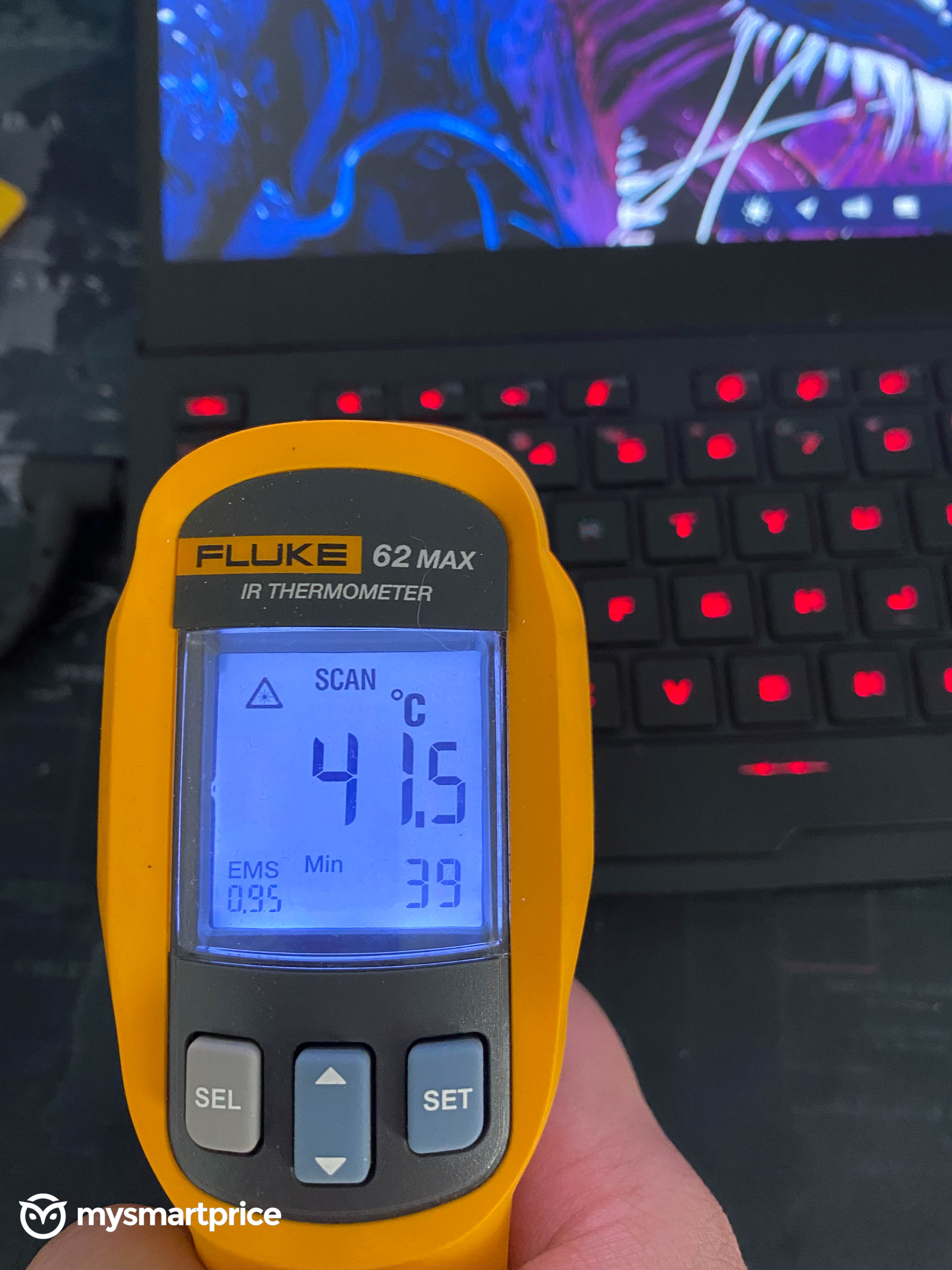 Having said that, the second screen that's mounted right on top of the RTX 3080 and the Ryzen 9 5900HX gets fairly warm, especially the ridge between the display and the keyboard, but thanks to the ergolift hinge, there's plenty of space for air to circulate which helps keep the internals happy.
This same mechanism keeps the temperature inside the chassis under control too. Quite impressively, the Ryzen 9 5900HX never breached the 80 degrees mark during an intensive 10-minute Cinebench R23 Multi Core session. Having seen the opposite in smaller laptops like the Zephyrus G14, it's squarely the credit of superior engineering by the ROG team.
The 115W RTX 3080 GPU in this laptop is as powerful as it can get in this chassis design. During a two hour gaming session on the Zephyrus Duo 15 SE, the GPU hotspot temperatures spiked well over 90 degrees. Anything more powerful and this one's toast.
Asus Zephyrus Duo 15 SE: Keyboard and Trackpad
The keyboard deck gets compromised by the 14-inch second display on the chassis. Where most 15-inch gaming laptops gun for a well-spaced out keyboard layout, with even a Number Pad, the Zephyrus Duo 15 SE's keyboard feels cramped AF.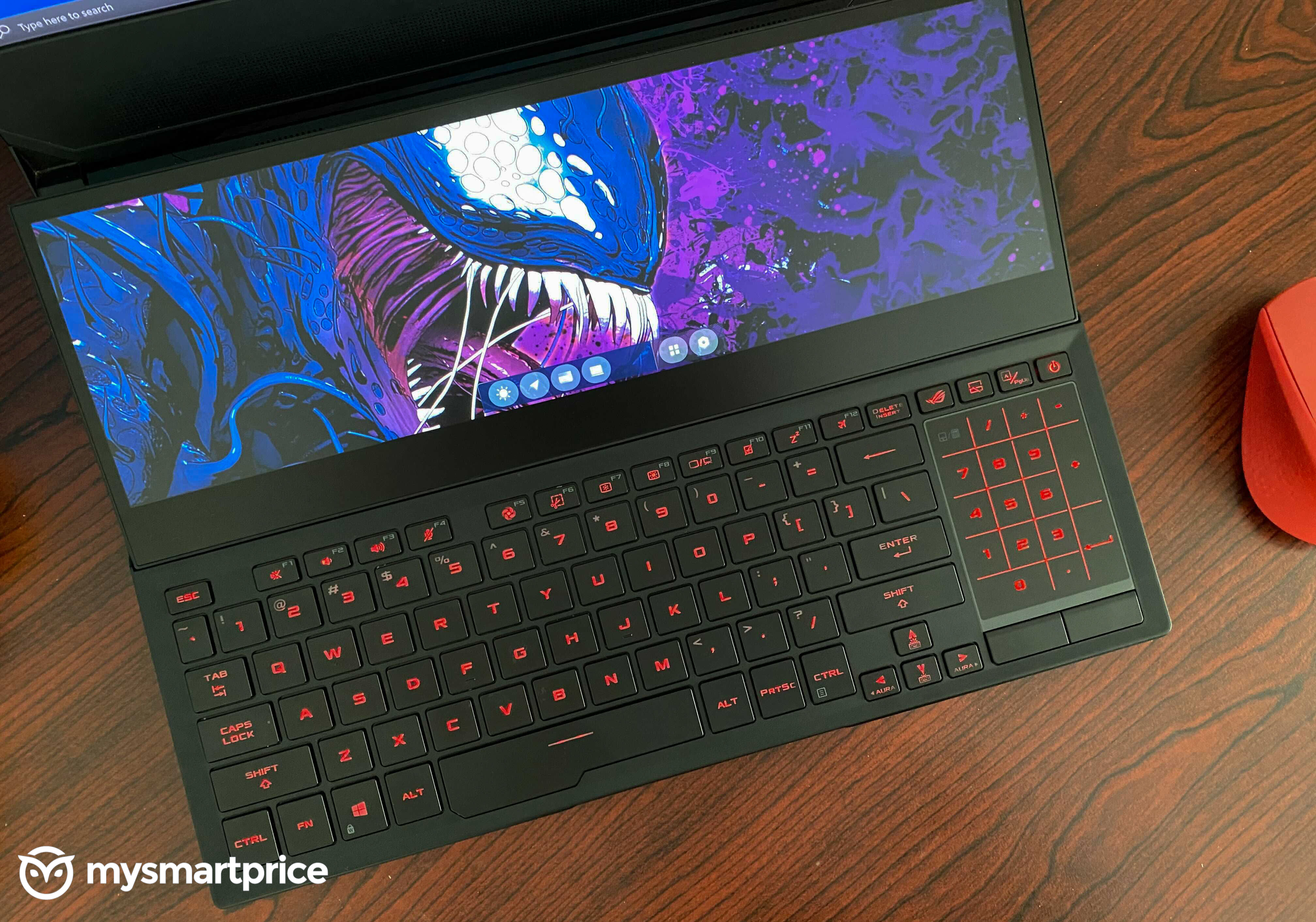 It took a lot of time for me to get used to this layout, especially after coming from the excellent Zephyrus G14 keyboard. There's no way to spread out your fingers while typing, and the positioning will hardly feel natural while gaming.
The trackpad is equally disappointing. It got relocated to the right edge, and still converts into a touch-enabled number pad. You have two physical buttons at the bottom of the trackpad for clicking, because the pad itself isn't clickable. But for what it's worth, it's fairly sensitive and accepts Windows Precision Gestures fairly well. Just that I don't think anybody will willingly use this keyboard.
But if you have to rely on an external keyboard keeping the laptop further away from your eyes, question remains, is the second display even worth it?
Asus Zephyrus Duo 15 SE: Battery Life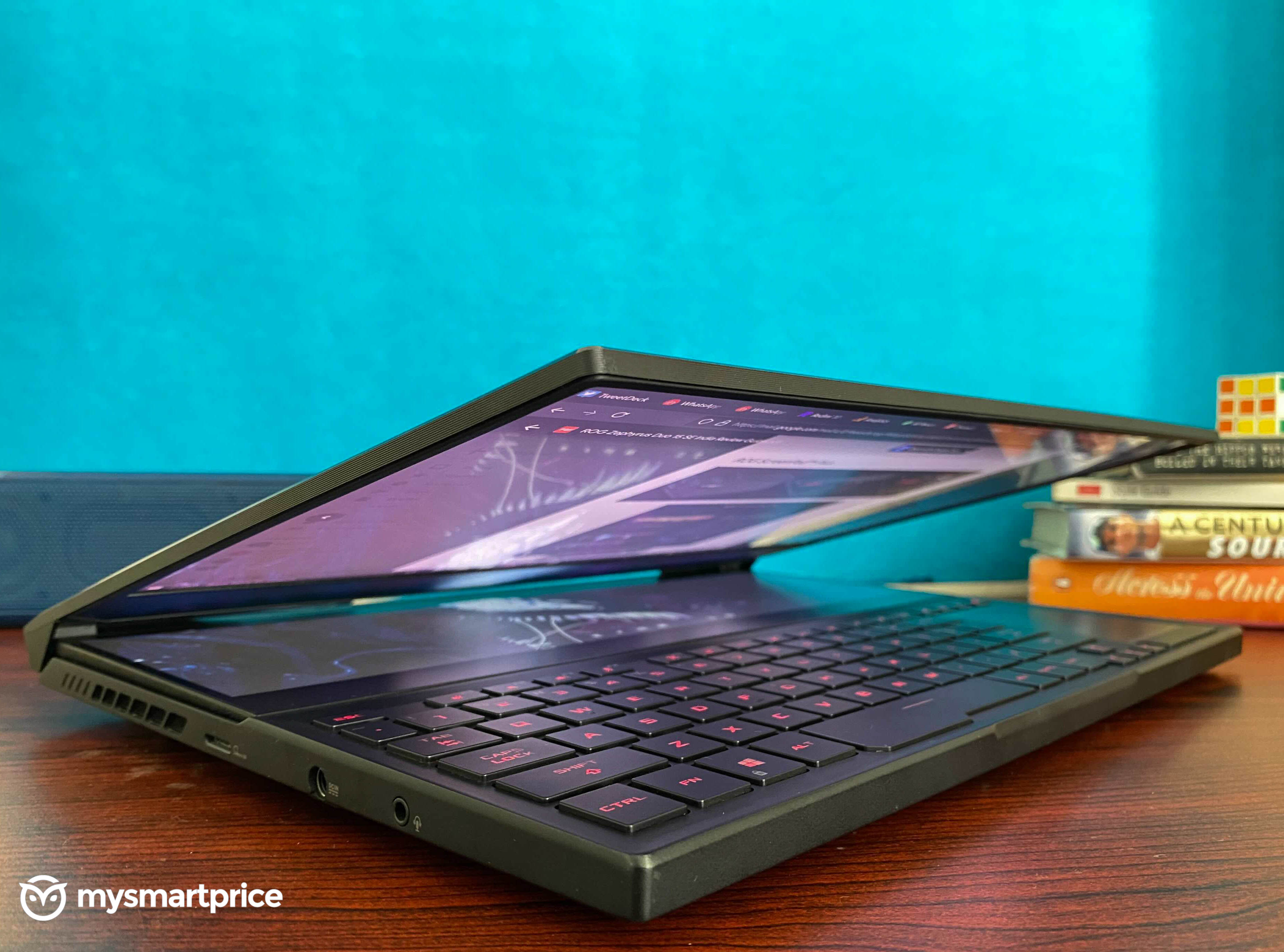 The 90Whr battery on the Zephyrus Duo 15 SE lasts just around 4-5 hours with the second screen on, and both at 4K 120Hz. Even with the performance profile set to Silent, the battery lasts 30 minutes more. My usage involved my regular blog duties jumping across Firefox, Slack and attending conference calls. I also happened to edit a fair amount of photos on Lightroom for my reviews on this, and watched a couple of episodes on Prime Video to kill my time. So this won't really be the roadrunner you were hoping to be. But thanks to support for fast USB PD charging, you can keep the gigantic 280W charging brick back home. But keep in mind that you won't be able to use the RTX 3080 on full throttle without the charging brick.
Should You Buy Asus Zephyrus Duo 15 SE?
Like I said in the beginning, the Zephyrus Duo 15 SE is very much a niche offering, meant only for a select set of users looking to maximise screen real estate without having to invest in a second monitor. But even for a niche device, the Zephyrus Duo 15 SE packs plenty of horesepower to let you run just about every new AAA title at maxed out graphics.
If you ask me, it makes more sense to stick to the 300Hz FHD display than the 4K machine if you're mainly going to play games on this. But, if at all you're buying this just for gaming, I'd straight away recommend the ROG Strix Scar 15 instead.
The Zephyrus Duo 15 SE, however, works well for an on-the-go video editing machine for regular YouTube content, with plenty of features to make your workflow easier.
Asus Zephyrus Duo 15 SE
2,99,990.00
Keyboard and Trackpad
5.6/10
Gaming Performance
7.5/10
What Is Good?
Perfect for game streaming
Excellent 1080p gaming performance
Loud audio
ScreenPad Plus is super useful
What Is Bad?
Keyboard too cramped for gaming
Performance not optimal for 4K gaming
Gigantic 280W charging brick
Thanks for reading till the end of this article. For more such informative and exclusive tech content, like our Facebook page