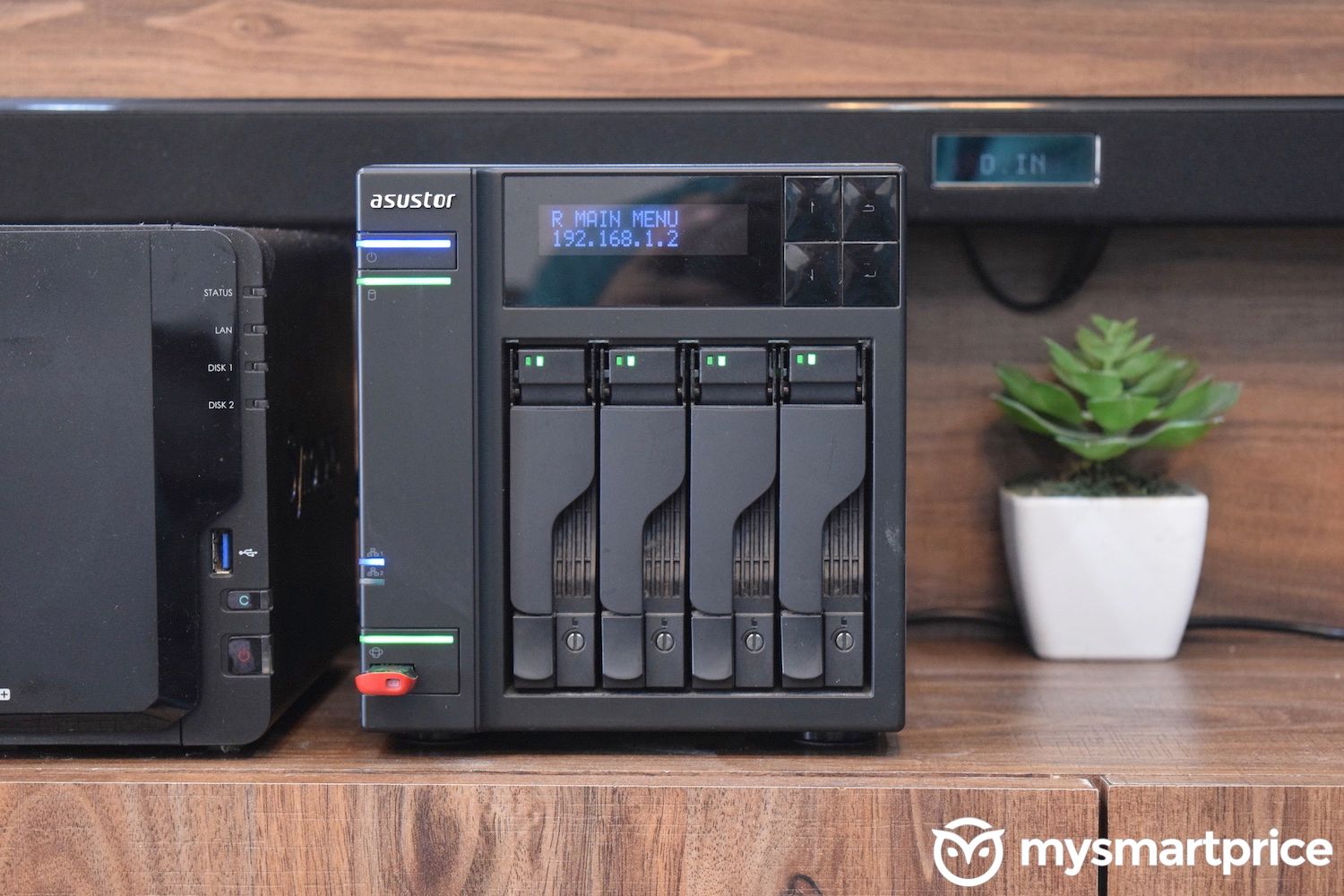 Asustor was founded in 2011 with a direct investment from ASUS, and within a span of just seven years, it has become one of the most respected NAS (Network Attached Storage) makers in the world. It competes directly with the likes of QNAP and Synology. It makes sells NAS products in a variety of price ranges, and we had a chance to test the Asustor AS6406T, which is aimed at power users and businesses. It's a four-bay NAS and it uses a quad-core Intel Apollo Lake processor, which makes it much more capable than entry-level NAS products.
Priced at $599 in the US, the AS6404T comes with a 3-year warranty. You can get it for as low as $549 through Amazon. The company claims that it's not just storage but much more. Let's find out if it is really worth the price premium compared to cheaper solutions from Asustor and other brands.
[P_REVIEW post_id=140934 visual='full']
Asustor AS6404T 4-Bay NAS Box Contents
Asustor AS6404T NAS Unit
AC Power Cord
AC Power Adapter
Flat Head Screws x16 (For 3.5-inch HDD Installation)
Flat Head Screws x16 (For 2.5-inch HDD Installation)
Installation CD
RJ45 Cat 5e LAN Cables x2
ASUSTOR AS6404T Box Contents
Note: We would like to thank ASUSTOR and Western Digital for providing us with the NAS and hard disk drives.
Asustor AS6404T 4-Bay NAS Features & Specifications
The Asustor AS6404T uses a metal case, an Intel Celeron J3455 quad-core CPU (Apollo Lake) running at 1.5GHz, 8GB of DDR3L RAM (dual-channel 4GB x2), 8GB of eMMC storage, and four HDD bays. Each of those bays can support 14TB drives, totaling up to 56TB of internal storage capacity. You can, of course, add expansion bays to increase the total bays to 16, taking the maximum possible storage space to up to 224TB. Asustor has you covered in terms of storage expansion. In terms of I/O, there are two gigabit ethernet ports which increase reliability, and there are three USB 3.0 Type-A ports, one USB 3.0 Type-C port, one HDMI 2.0 port (for 4K 60Hz video output), one S/PDIF port, and an IR receiver.
Thanks to the HDMI port, you can connect the AS6404T to a monitor or a TV and use it as a mini PC. You can connect a standard keyboard, mouse, printer, scanner, external optical disk drive, pen drives, hard disk drives, Bluetooth and Wi-Fi dongles, speakers, DAC, and other things, too. There's an LED display which shows useful information such as network, storage, temperature, and operation. You also access 1-touch backup and initiate shutdown or restart operations. The AS6404T supports wake-on-LAN (WOL) and wake-on-WAN (WOW) so that you can wake up the NAS through a local network or through the internet.
The NAS runs ADM 3.2 (Asustor Data Manager), which brings along hundreds of features and apps. Regular apps like activity manager, backup and restore manager, file explorer, file sync manager, media server, music, and video player, and a torrent download manager are present. Using App Central, additional services can be installed. Those include data sync apps for various cloud storage solutions like Box, CrashPlan, Dropbox, Google Drive, One Drive, and many more. There are an online video downloader and a VPN server as well. You can also install VirtualBox and a host of other services for developers such as Git, Ruby, Perl, phpMyAdmin, Python, and TomCat. The NAS can also act as a central hub for a video surveillance system and includes four free camera channels. Up to 36 camera channels are supported, but you need to pay extra for that. Asustor mobile apps can be installed on Android and iOS devices to access data management, file access, multimedia streaming, torrent download access, and video feeds from surveillance cameras.
There's security against network and other types of threats, firewall, alert notifications through email and SMS, built-in hardware encryption engine, and 256-bit AES encryption. Energy management can be accessed. Security against disk failure and bad blocks are done through scheduled scans. Needless to say, the AS6404T supports Linux, macOS, and Windows operating systems.
Asustor AS6404T 4-Bay NAS Design & Installation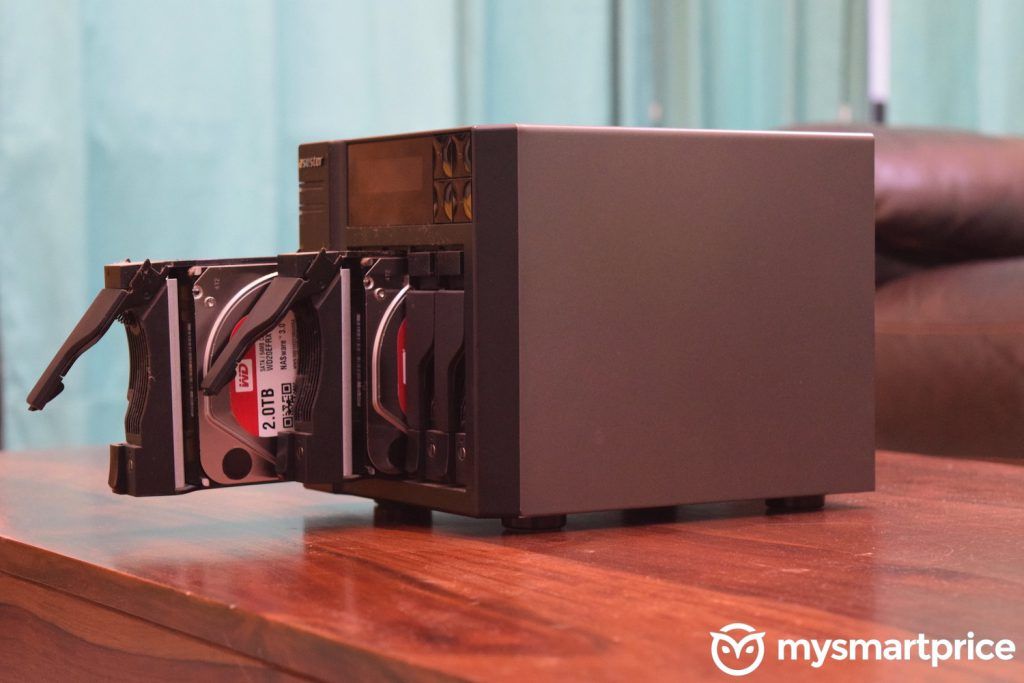 The Asustor AS6404T NAS unit feels pretty solid since it uses a metal enclosure. It that measures 185.5x170x230mm and weighs 2.9kg (without the HDDs). There are four vertical hard disk drive bays and they can be easily accessed by pressing the button. There's a big power button that also has an LED (lights up in blue when turned on and red when the NAS is in sleep mode). Above each drive tray, there's an HDD status indicator LED. The LED shows green color when idle, blinking green when data is being accessed, and red when there are errors. There are two LAN port indicator LEDs and a USB 3.0 Type-A port for connecting external devices. Towards the top, there's an LED display and four navigation keys for accessing the important features. All the remaining ports, including Ethernet, HDMI, USB Type-A and USB Type-C ports, are at the rear. There's also a Kensington lock at the rear as well as a 12V power port. The supplied power brick can provide up to 90W of power (12V 7.5A) to the NAS.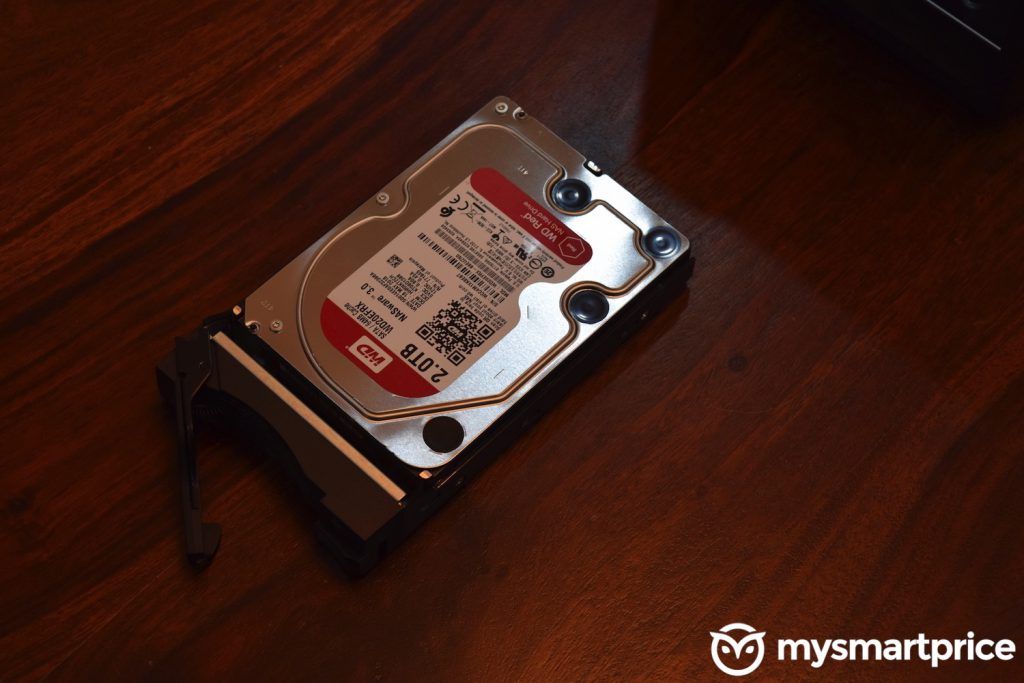 Installing hard disk drives is pretty easy. Press the button below the drive tray, remove it from the bay, insert the disk into the tray and secure it using the supplied screws. You can fit in 2.5-inch as well as 3.5-inch disks. After you're done installing all the hard disk drives, connect the AS6404T to the router using one of the supplied LAN cables. If you want network redundancy, you can connect the NAS to two different routers. Once you press the power button, the NAS starts initializing.
You can type the IP address that is displayed in the NAS' screen into your web browser and start configuring it. If there are two or four disks, the AS6404T gets configured into RAID 0 mode by default. If you want to use it in the JBOD mode, you should select it during the configuration, because it gets harder to convert RAID 0 configuration into JBOD once the default setup is complete. Once you set up the NAS, logged in using default username and password, and install Asustor Portal apps, you can connect the NAS to an external display using the HDMI port and use it as a mini PC to browse the web or watch videos.
Asustor AS6404T 4-Bay NAS Software & User Interface
ASUSTOR AS6404T NAS ADM 3.2 Software & UI
The first thing you will see after the setup is complete is the login screen and the manual contains default login credentials. You can then customize the password, add user accounts, and customize the login screen itself. The Asustor Data Manager software is based on Linux and consists of Asustor's customizations that are suitable for NAS devices. The main screen consists of app icons laid out in a grid layout, but the layout can be changed and sorted as per your liking. There's a taskbar at the top which shows account name (along with account personalization, restart, shut down, and sleep options), system notifications, task monitor, performance monitoring, and search menus. All the settings can be found in the Settings app.
Here is a brief explanation of all the apps that come pre-installed with ADM 3.2:
Access Control: Customize access controls for user accounts. There can be 4096 user accounts, by the way. You can also create user groups, set user access rights for all the main folders, create shared folders, set app privileges, and set storage quota for users. It also lets you join a Windows Active Directory and LDAP user accounts and user groups.
Activity Monitor: It lets you keep a watch over the NAS' performance. You can check CPU, disk, iSCSI, memory, and network performance. Resource usage for each app and service can be seen here. Disk usage can be seen in a separate section inside this app.
App Central: This is a place where you can check out and download apps and services created/customized for Asustor NAS products. It also shows all the installed apps, apps that need to be updated, a log of all app downloads, uninstalls and updates. You can also manually install apps using App Central.
Asustor Portal: This section can be used to manage Asustor Portal apps. You can also choose which apps and information to display when the NAS is connected to an external display. Resolution, screensavers, and wallpapers can be customized as well.
Backup & Restore: You can set up Remote Sync with other Remote Sync devices. The same thing can be achieved with Amazon S3 and FTP servers. Backup of one internal folder to another internal folder can be set up as well. Data inside NAS can be backed up to external storage devices and one-touch backup button can be configured (to copy data from USB to NAS or vice versa).
Download Center: It's a full-fledged torrent download app, complete with support for simultaneous downloads, download and upload speed limits, download scheduling, and mobile notifications when downloads complete.
External Devices: It shows the status of all the connected USB devices like Bluetooth dongles, flash storage drives, external hard disk drives, optical disk drives, printers, Wi-Fi dongles, and more. Storage devices can be formatted as well.
EZ Sync Manager: This services can be used to backup data from a connected computer to the NAS or vice versa. These synchronized files can be accessed on smartphones through Asustor's mobile apps on Android and iOS.
File Explorer: It's a full-fledged file manager, similar to file managers on macOS and Windows operating systems. You can browse through and sort, manage, check properties, rename, move/copy/paste, compress, decompress, and delete files and folders on the NAS' internal and external drives. Of course, you can upload and download files from the NAS to the connected device. Files can also be shared through URLs.
LooksGood: It is Asustor's video streaming server and you can use it to stream home videos, movies, TV recordings and TV shows to compatible media players on smartphones, tablets, and TVs. You can stream videos from it directly to Asustor's mobile apps. It has support for a wide range of file formats and subtitles.
Services: This section lets you customize and manage various services such as Windows File Service (CISF/SAMBA), macOS X file service (AFP), NFS, FTP, Rsync, SFTP, SNMP, terminal, TFTP, WebDAV, and web server.
SoundsGood: It's a full-fledged music player and music streaming server. It supports almost all audio file formats and lyrics.
Storage Manager: A place where storage devices (internal and external) connected to the NAS can be configured in various types of RAID levels. Drive health can also be checked using the Disk Doctor service and S.M.A.R.T. scans.
System Information: It shows NAS system information such as CPU, RAM, storage space, temperature, fan speed, LAN status (and IP addresses), software version, uptime, system log, user log, and system health (using Dr. Asustor).
Apart from these services and apps, you can install various other first-party and third-party services from App Central. There's an online manual which has tips for using various features provided by Asustor NAS devices.
Asustor AS6404T 4-Bay NAS Performance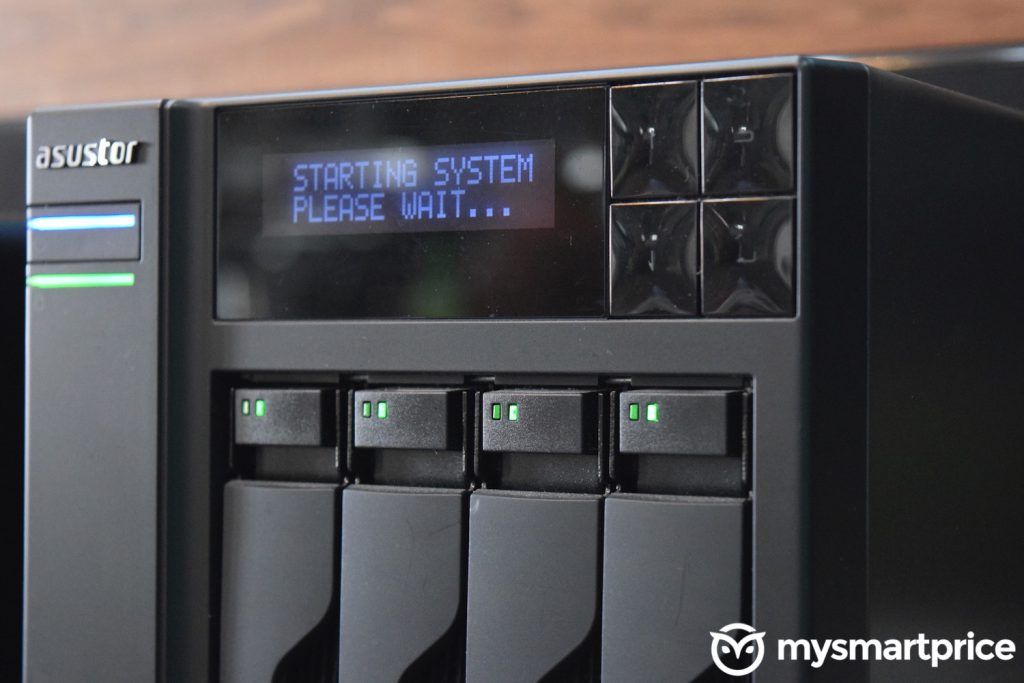 The AS6404T is a very good performer, at least compared to other NAS products with dual-core CPUs. The AS6404T uses the quad-core Apollo Lake CPU from Intel and 8GB of DDR3L RAM. The UI was generally fast and responsive most of the time. However, we did notice a few hang-ups when we tried to update ADM software for the first time after setting up the NAS. After a couple of restarts, the NAS finally updated to the latest ADM version (v3.2). Also, the Asustor Portal UI, which you can see when you connect the NAS to an external display, is quite buggy (at least with ADM 3.2).
There were constant mouse pointer skips and stutters. The whole Asustor Portal interface also restarted a couple of times during our review period. Asustor has a lot of work to do when it comes to the Asustor Portal software. Moreover, not all Asustor Portal apps use the same UI: some apps have a mobile app layout and can be controlled using the AiRemote app while others use a desktop window UI (with a close button at the top right corner). So, you can't completely rely on the AiRemote app. We used the NAS on an external display with a Logitech wired mouse and a wireless keyboard. Even the AiRemote app didn't work as smoothly as we expected. One more instance when the performance wasn't adequate was when we tried to stream a 10GB 4K 10-bit video with using the Plex server installed on NAS. Normal 1080p and 4K videos played just fine using both Plex and Asustor's own video streaming server.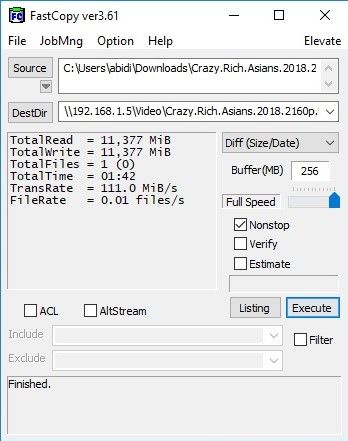 To test the AS6404T NAS, we used four 2TB WD Red 5400RPM hard disk drives with 64MB cache and 6GB/s SATA interface. Western Digital was kind enough to provide use these drives which are optimized to be used with NAS device). We configured them into the default RAID 0 mode. The router used in our test setup was the Netgear Nighthawk R7000 AC1900. We used three types of files to test read and write performance of the NAS and all the tests were done over Wi-Fi as well as ethernet. We also used the FastCopy app to measure transfer time and transfer speed. Here are the results:
| | | |
| --- | --- | --- |
| | 1Gbps Ethernet | Wi-Fi ac Connected PC |
| 317MB Video File Read | 107.7Mbps | 24.3Mbps |
| 317MB Video File Write | 111.8Mbps | 22Mbps |
| 21.3GB Folder (1,073 Images) Read | 89.3Mbps | 21.7Mbps |
| 21.3GB Folder (1,073 Images) Write | 98.4Mbps | 21.7Mbps |
| 11.1GB Video File Read | 111.1Mbps | 25.1Mbps |
| 11.1GB Video File Write | 111Mbps | 24.6Mbps |
As you can see, the file transfer speeds are close to what Asustor promises on its website and there's no reason it shouldn't. We would say that the bottleneck is the 1Gbps Ethernet port rather than the NAS' read and write capabilities. It's time NAS makers start equipping their products, at least the costlier ones, with 5Gbps or 10Gbps Ethernet ports to take full advantage of file transfer speeds.
Is Buying the Asustor AS6404T 4-Bay NAS Worth It?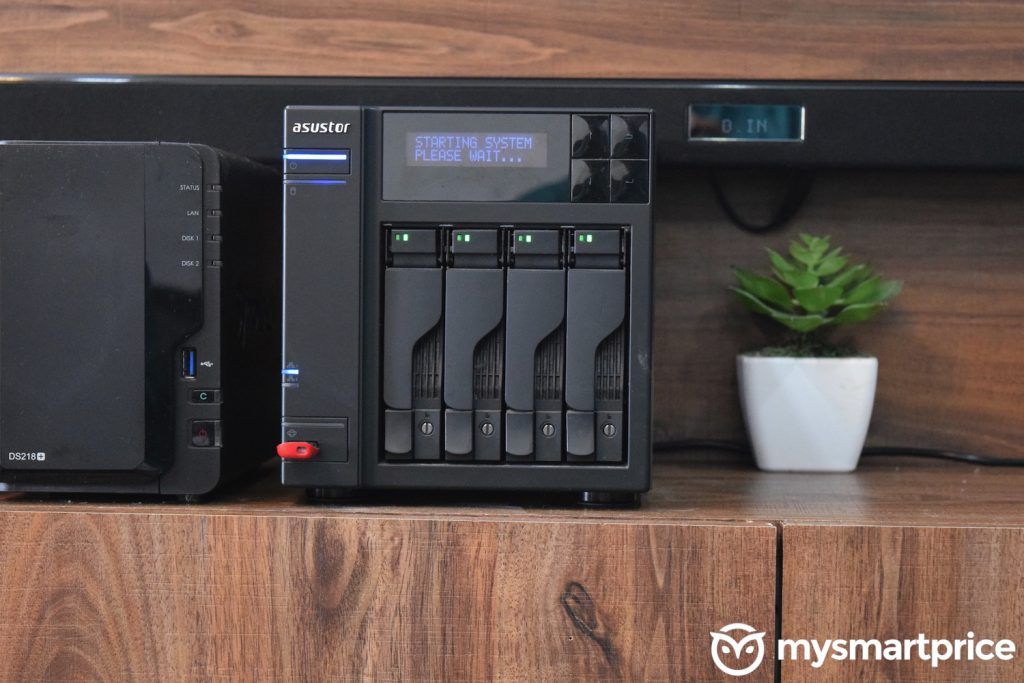 Overall, the Asustor AS6404T is an impressive NAS. It has great build quality, an amazing set of features, fast performance and a huge collection of compatible apps and services. However, the company needs to step up its game when it comes to the Asustor Portal UI and mobile apps. Asustor Portal UI needs a lot of bug fixes and performance improvements and the company's mobile apps have UI that's reminiscent of 5-6-year-old Android smartphone apps. Anyone looking for a NAS that's a cut above entry-level NAS products or a full-fledged media server should definitely consider the Asustor AS6404T. Even though it costs twice as much as many two-bay NAS devices with dual-core CPUs, it has the performance to back it up along with 4 drive bays and an extensive feature set.
Asustor AS6404T 4-Bay NAS
$599
Design and Build Quality
9.5/10
Features, Software, UI & Apps
9.0/10
What Is Good?
Good design and build quality
Excellent performance
Dual Ethernet ports increases reliability
HDMI port and USB Type-C port
LCD Display at the front is very useful
Good collection of apps
Silent operation
Video surveillance camera features
What Is Bad?
UI design could be better
Asustor Portal apps don't use a consistent UI navigation scheme
Asustor Portal UI is buggy and slow
Mobile apps need a UI overhaul