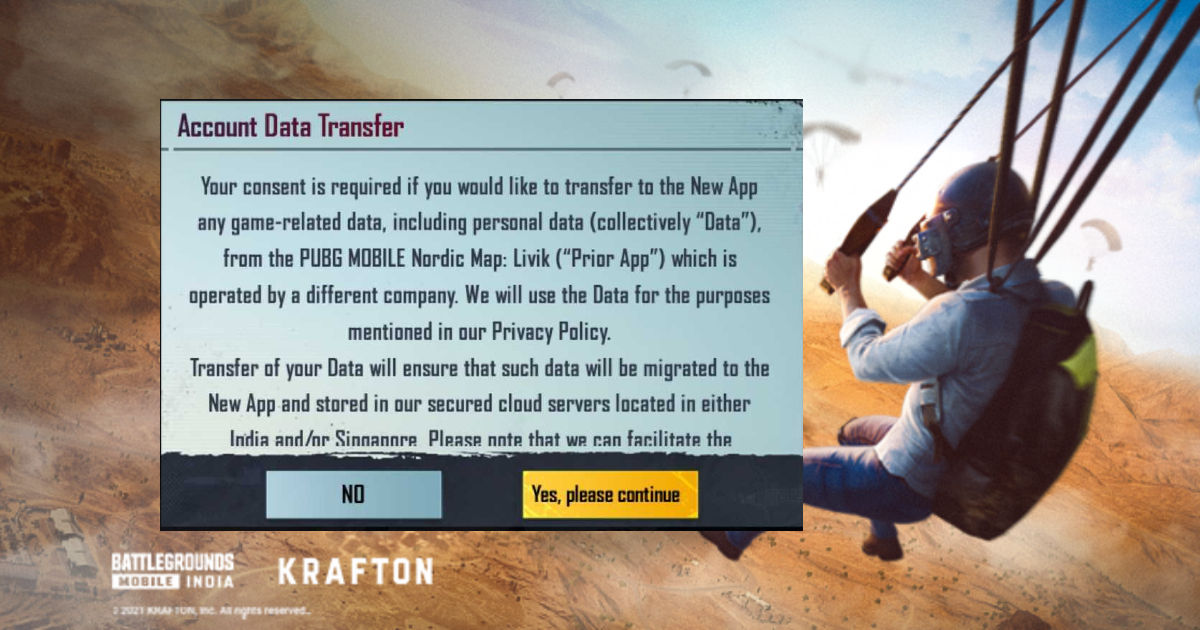 After months of being suspended in stasis without news or information of PUBG Mobile returning in any way, shape, or form, fans can finally play Battlegrounds Mobile India (BGMI). The game is available for pre-registered beta testers on the Google Play Store and the festivities amongst the Indian gaming community are well underway.
The game has undergone several changes in terms of some aesthetic choices, but the core gameplay remains largely unchanged from the days of PUBG Mobile back in the day. A major concern for the fanbase at large was whether they might be able to pick up where they left off with PUBG Mobile in Battlegrounds Mobile India (BGMI).
Much of those concerns were laid to rest as soon as players first logged in using their Facebook or Twitter account. The app enquired whether they would like to restore their account from PUBG Mobile – much to the delight of the sizeable player base of BGMI, formerly PUBG Mobile.
Also Read: Battlegrounds Mobile India (BGMI): 5 Major Changes From PUBG Mobile That Might Surprise Players
List of account details players can migrate to BGMI from PUBG Mobile
Krafton's official website for BGMI includes a well-detailed support page for players looking to migrate their data to the new game. The list of data that will be transferred to the game is pretty extensive and players can have a look through this link here.
Important Details that players can transfer:
| | |
| --- | --- |
| System | Detail |
| | |
| Log-in | Nickname, Character ID |
| | |
| Information | Basic Info (Avatards, Tags, etc) |
| | In-Game Mail |
| | Tier and Stats (Only for Current Season) |
| | |
| Season | Season Rewards and Mission Progress |
| | |
| Achievement System | Points |
| | Progress |
| | Icons |
| | Rewards Claim Status |
| | |
| Weapon DIY | Acquisition Status of Rec. Layout |
| | Layout Creation Status |
| | Unlock Status (Pattern,Color,etc) |
| | Mirror feature availability on weapon pattern display |
| | |
| Character System | Acquisition Status |
| | Level Info After level-up |
| | Movement Unlock Status |
| | Voice Unlock Status |
| | |
| Vehicle system | Acquisition Status |
| | Vehicle Level |
| | Part Unlock Status |
While players will be able to bring over most of their data from PUBG Mobile, many will find the odd data missing. While it could be a detriment for some players, Krafton has done a decent job retaining much of the player's progress across the two versions of the game.
Here is a brief rundown of data that will not be carried over from PUBG Mobile to Battlegrounds Mobile India.
Important data that players will not be able to transfer:
System
Detail

Log-in

Phone Number, Email Linking

In-Game Mail

Messages and Attached Items in the In-Game Inbox

Tiers and Statistics

Prior Season Data Not Transferred

Ranking

Ranking Not Transferred

Merit

Merit Not Transferred

Achievement Rank Data

Not Transferred

Friends

Platform Friends




In-Game Friends




Partner




Connection

Friend Circle

Circle Data




Saved Photo Data

Clan

Clan Data Not Transferred
Rest assured, players will be able to continue on their climb towards battle royale supremacy with ease with Battlegrounds Mobile India.
This is a pretty significant moment for the gaming community in India as much of it was centered around the mobile game community. PUBG Mobile was integral in starting the conversation around competitive gaming in the country, and its return under a new name – BGMI, is massively positive for the scene.