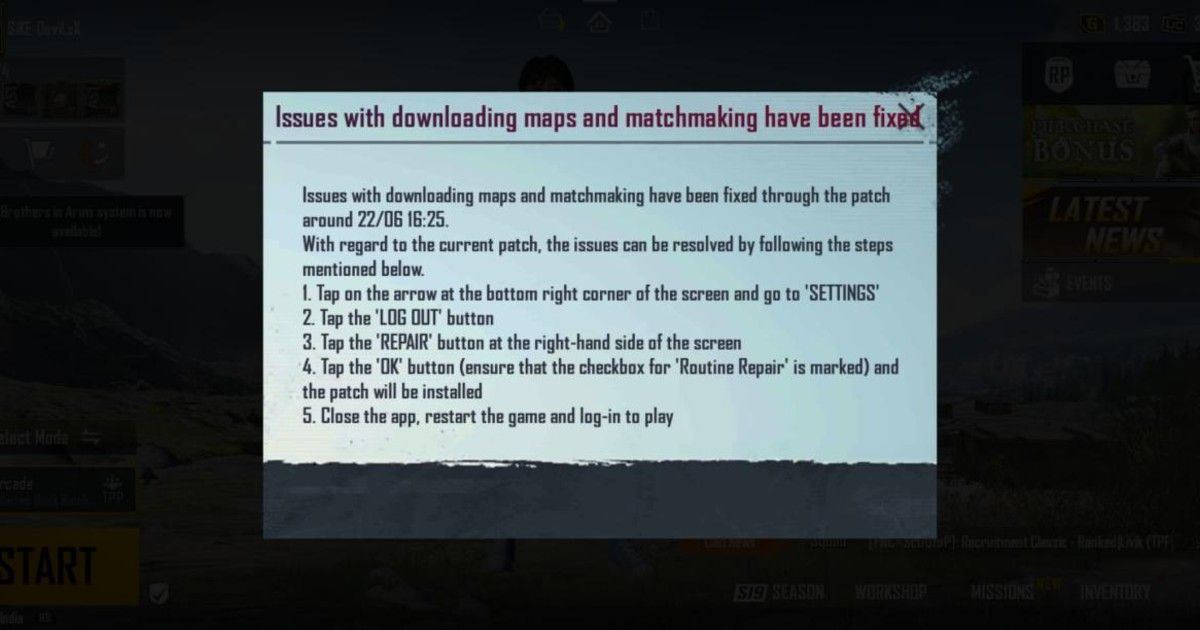 Battlegrounds Mobile India has rolled out a patch to fix the glitch that, earlier today, stopped players from being matched with rivals properly in battle royale mode, and also prevented them from downloading new maps in the game. Now, a post on the game's official Discord server has clarified that a patch has now been rolled out by Krafton to fix the issue, and has also detailed how the patch can be applied by all. Players logged into the game right now should also see a new prompt that details how the fix can be applied, when they restart the BGMI app. Earlier today, the glitch caused only the Erangel map and the arcade mode to be available for players, for matchmaking in the battle royale setting.
How to apply the new Battlegrounds Mobile India patch
Krafton has clarified that as of 4:25PM IST today, the glitch has been fixed. The steps to apply the fix against this glitch is as follows:
Tap on the arrow at the bottom right of the screen, and go to 'Settings'
From 'Settings', tap 'Log out' to sign out from your account in the game
Once signed out, you will find a button called 'Repair' to the right of the screen
In the screen that opens, tick the box beside 'Routine repair', and then tap 'OK'
The patch will now be automatically installed
Once done, close the app and restart the game to continue playing normally
Battlegrounds Mobile India has so far seen a fairly successful restart in India, after about nine months out of the country. The erstwhile PUBG Mobile was banned due to its alleged ties with Chinese gaming house, Tencent Gaming. Over the weekend, an IGN India report claimed that BGMI was still relaying data from India to a China Mobile Communications server. That too was allegedly fixed today, and a subsequent IGN report found the app to be compliant with data server and storage laws, at least as of now. The game allows users to port their previously existing PUBG Mobile data to resume from where they had left off, and now, with all glitches fixed, the game should be available in full scale for all to play.