Highlights
OpenSignal reports that Indian tier 2 cities see a considerable uplift in mobile experience with 5G.
According to the report, Kolkata has the best 5G availability and download speeds in the country.
Major cities like Delhi and Mumbai are not even in the top 5 cities regarding 5G download speeds.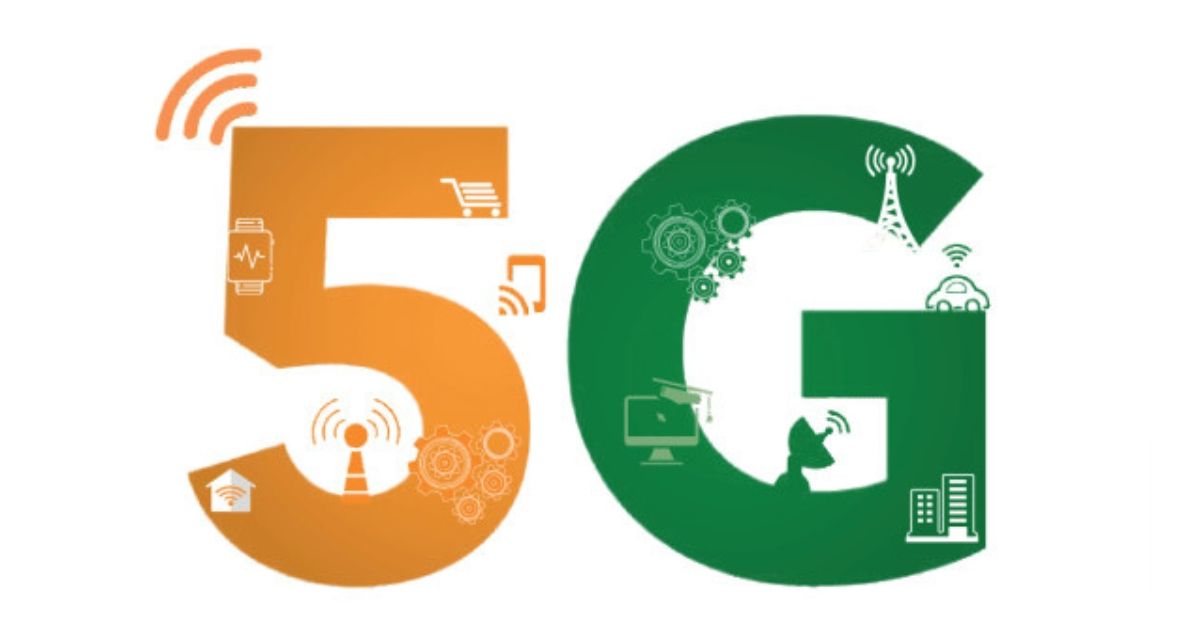 Opensignal has released its latest report on 5G download speeds, availability, video experience, and gaming experience in India. Surprisingly 5G network witnessed a considerable improvement in tier 2 cities compared to metro cities, according to the report. This is primarily due to Airtel and Jio expanding their 5G circle nationwide. The report states that there has been a massive upliftment in the real-world usage experience of 5G compared to 4G in India. The download speeds, video experience, and gaming performance have all been improved. Here's everything you need to know.
Indian Tier-2 Cities Enjoy Better 5G Experience According to Opensignal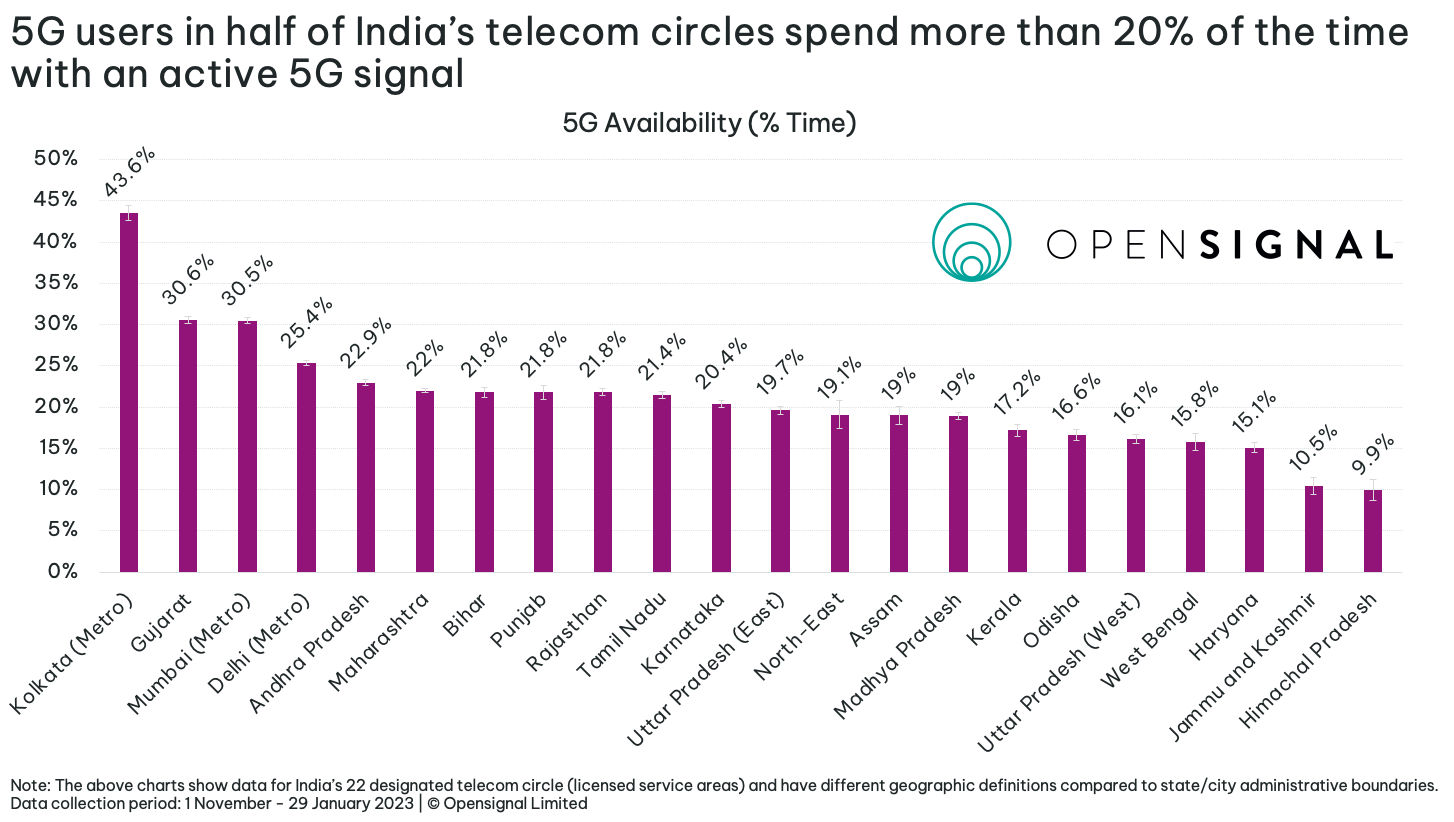 The Opensignal report begins with the analysis that the average 5G download speeds are between 12.2 to 26.2 times faster, video experience is 19.9 to 32.4% better, and games experience gets a 14 to 44.4% boost with 5G. According to the report, Kolkata metro circle has the highest 5G availability in India, with an impressive 43.6% of mobile users spending their time connected to the 5G network. The other two cities in the top three are Gujarat, with 30.6% connected 5G users, and Mumbai metro circle with 30.5%. The fourth and fifth spots are occupied by Delhi metro circle and Andhra Pradesh (as seen in the chart above).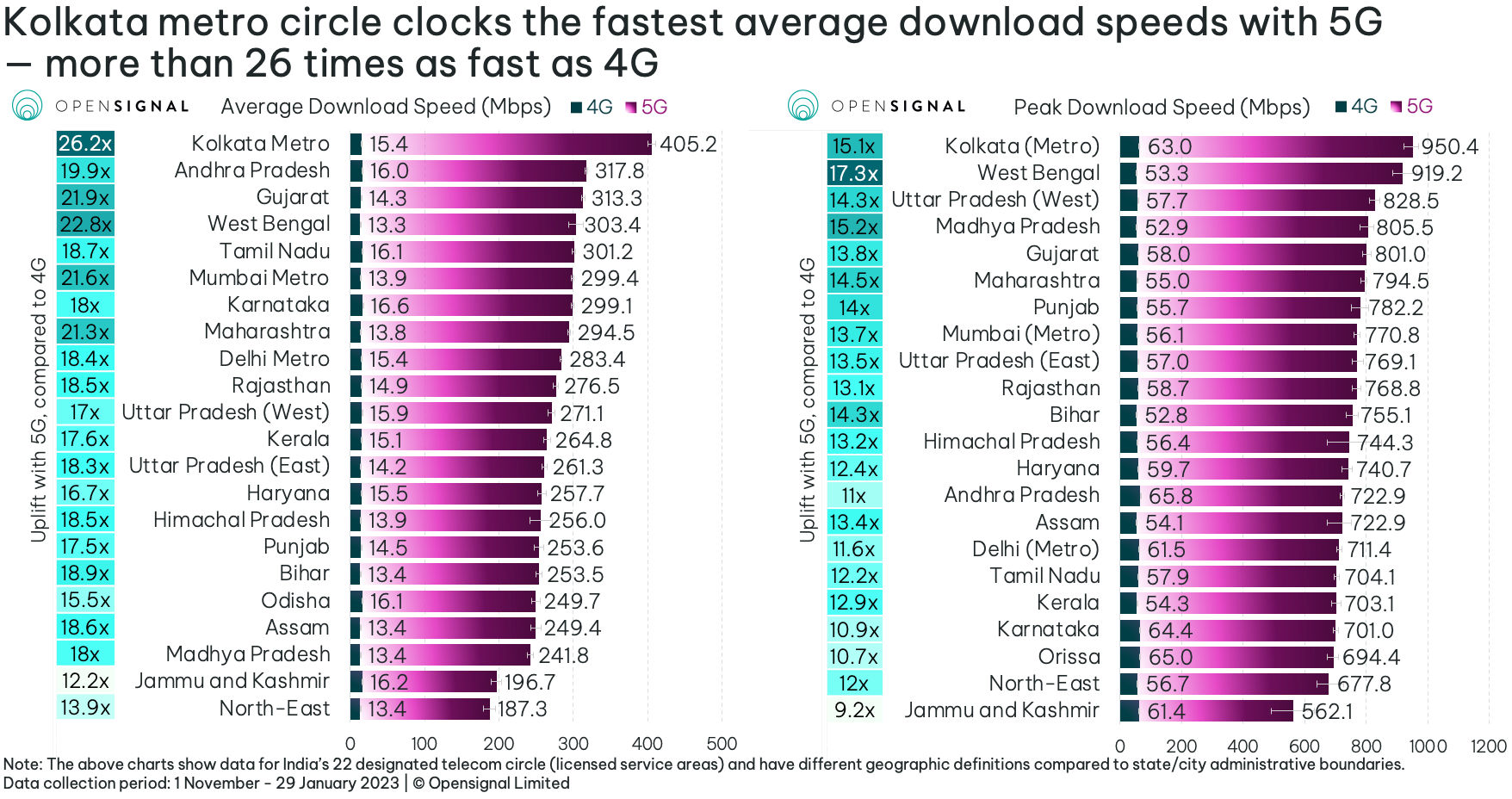 Coming to the fastest average download speeds on 5G, Kolkata again tops the chart with the most significant uplift in download speeds on 5G compared to 4G. According to OpenSignal, 5G speeds across the country are 12.2 to 26.2 times faster than 4G. Kolkata witnessed a 26.2 times boost in 5G download speeds compared to 4G. It is followed by Gujarat, West Bengal, Mumbai Metro, and Maharashtra circles with over 20 times boost in download speeds.
Kolkata also tops the chart in clocking the fastest 5G download speeds with 405.2 Mbps on average. Other cities with over 300Mbps average 5G download speeds include Andhra Pradesh, Gujarat, West Bengal, and Tamil Nadu. Delhi has much more ground to cover, with an average of 283.4Mbps. As you can see in the chart above, 11 telecom circles are boasting average 5G speeds of 240Mbps and above. Only J&K and the entire Northeast region have average download speeds below 200Mbps.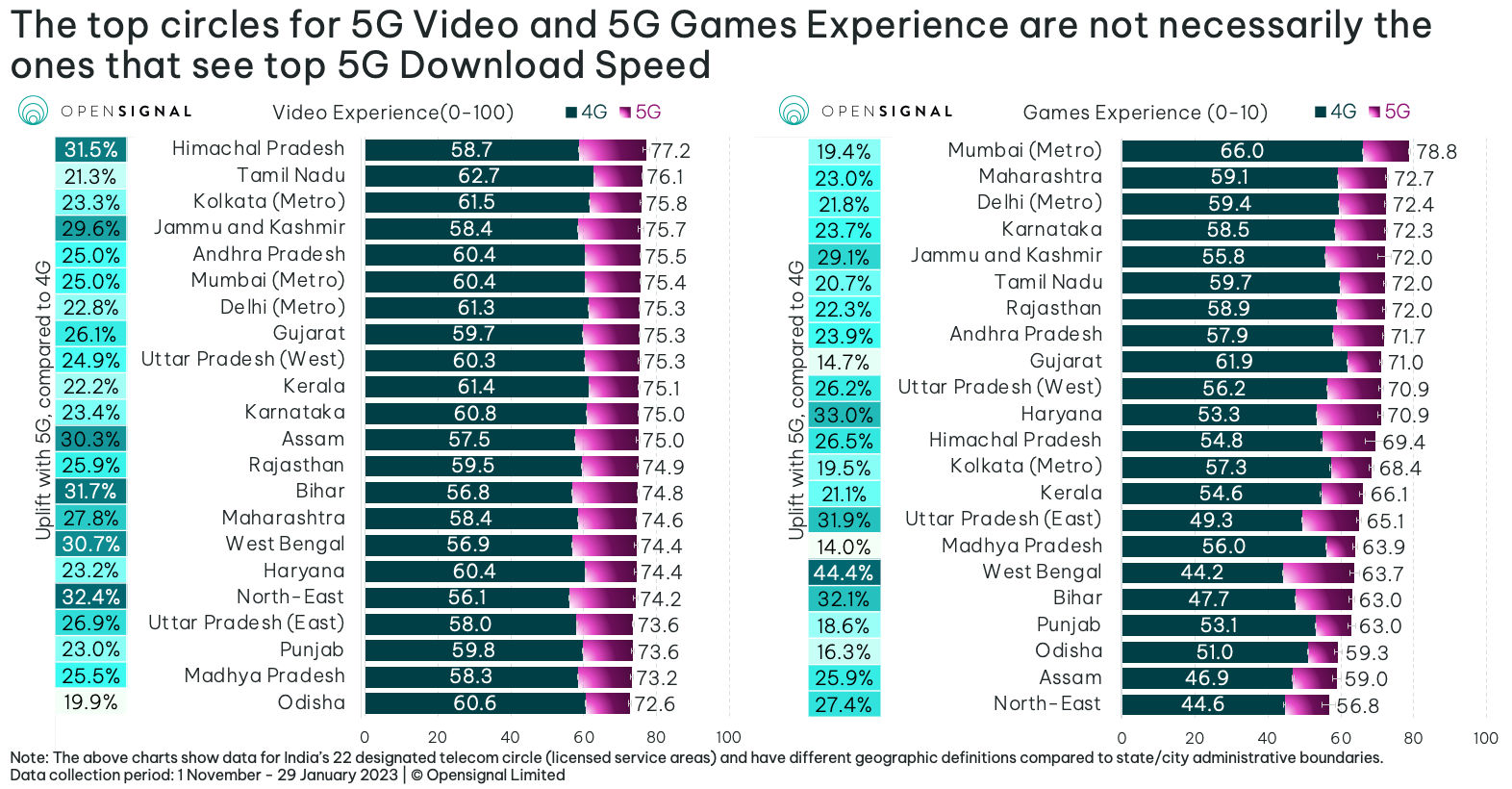 The Opensignal report also reveals that Himachal Prades has the best video experience on 5G, rated 77.2 on 100. Mumbai Metro circle has the best 5G gaming experience, with a 78.8 rating out of 100. However, the report also suggests that the mobile video experience was rated very good i.,e. between 68-78 (ability to stream 1080p or above with the least buffer) in all 22 telecom circles, which is good news. As for the 5G gaming experience, Mumbai metro circle was the only one to achieve a 78.8 rating. 14 circles scored fair ratings between 65-75, and regions like West Bengal, Bihar, Punjab, Odisha, and North-East scored poor (40-65).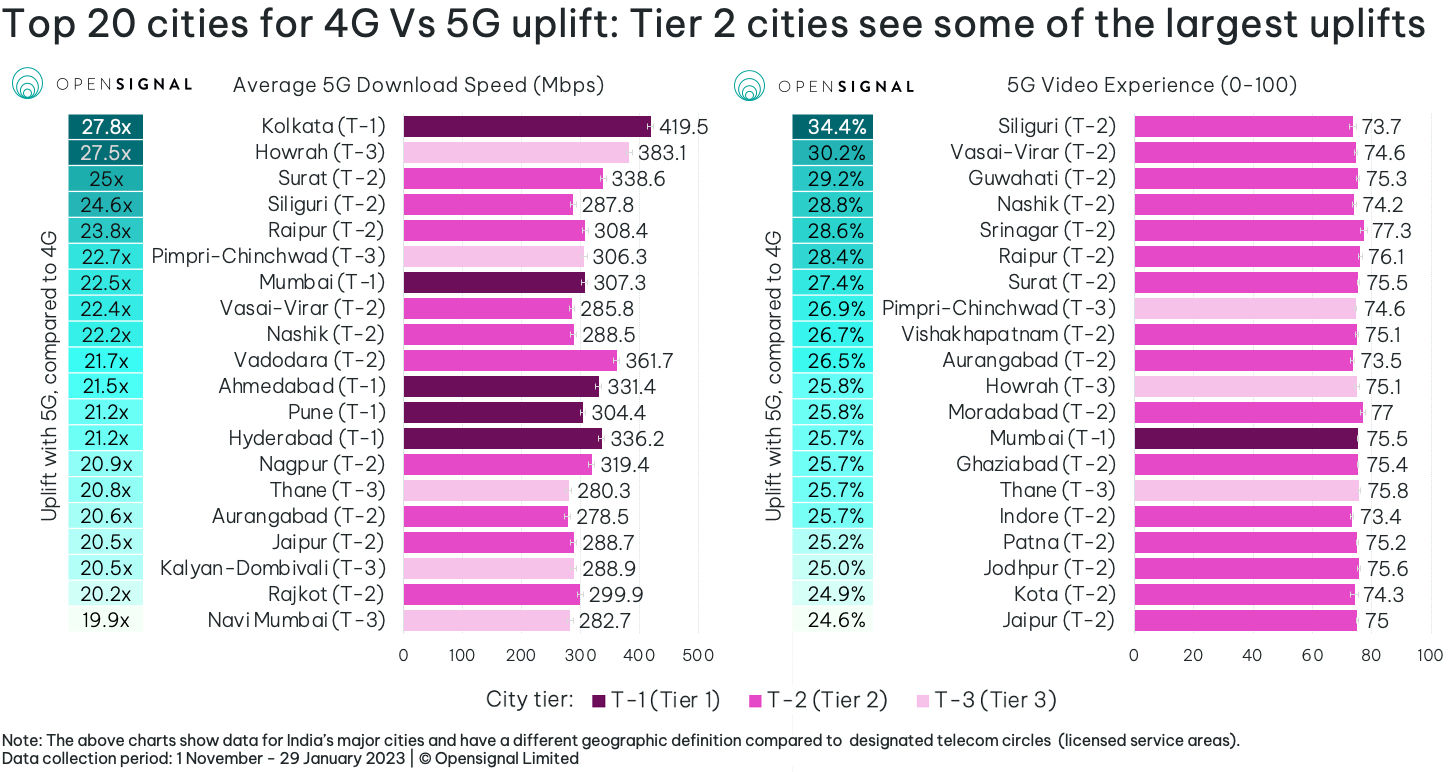 Regarding 5G vs. 4G, the Kolkata metro circle again takes the lead with a 27.8-times increase in average download speeds on 5G over 4G. However, there are three tier-2 cities in the top five, including Surat, Siliguri, and Raipur, with 25x, 24.6x, and 23.8x boost in 5G download speeds compared to 4G download speeds. Howrah is the only Tier-3 city in the second position with a 27.5x boost.
The Opensignal report concludes that Airtel and Jio —telecom operators offering 5G in India have improved the mobile user experience compared to 4G. Additionally, tier 2 cities seem to have a better 5G experience than metro circles in India.
Are you also enjoying the 5G experience in your city or town? Let us know which circle you belong to in the comments section below.