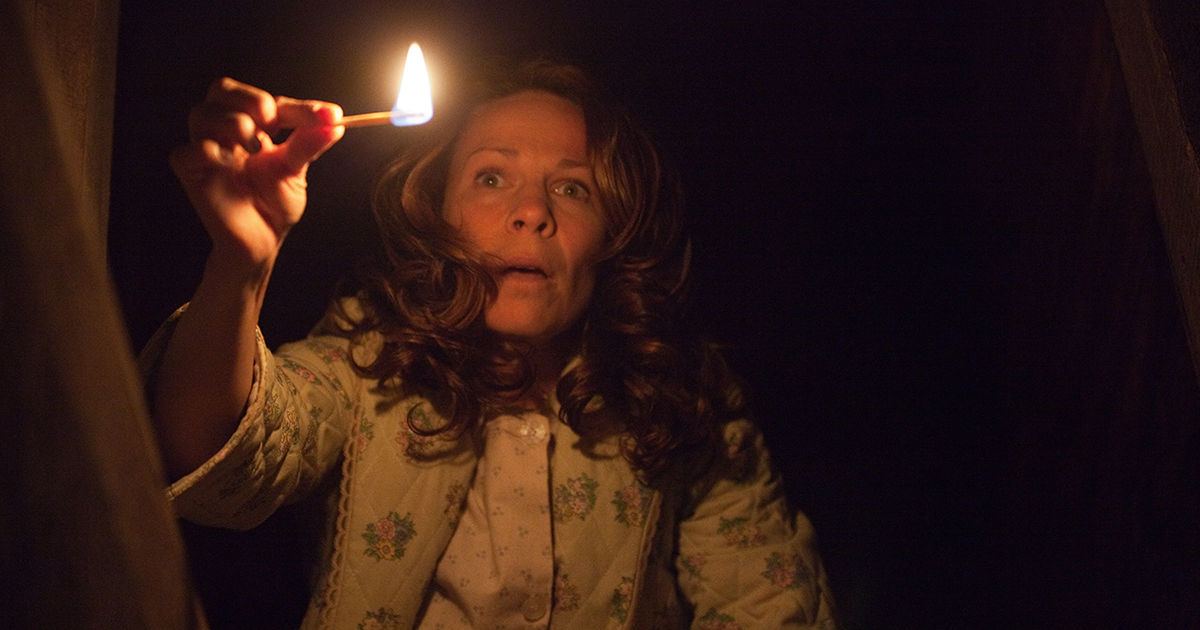 Horror is quite a popular genre, and there are scores of movies of this genre on different OTT platforms. There are different sub-genres within horror, all of which are there on Netflix. Netflix has nearly 20 movie categories, so navigating might get tricky. However, here's a list of the best horror movies so you can catch them directly as you wish. 
Best and Scariest Horror Movies on Netflix Right Now to Watch
| | | |
| --- | --- | --- |
| Movie Name | Release Year | Rating |
| The Amityville Horror | 2005 | 5.9 |
| Things Heard and Seen | 2021 | 5.3 |
| Escape Room | 2019 | 6.4 |
| Fear Street Trilogy | 1994 | 6.2 |
| Brightburn | 2019 | 6.1 |
| The Lodge | 2019 | 6 |
| Creep  | 2014 | 6.3 |
| Sinister | 2012 | 6.8 |
| The Hunt | 2020 | 8.3 |
| Don't Breathe | 2016 | 7.1 |
| Under the Shadow | 2016 | 6.8 |
| The Conjuring 2 | 2016 | 7.3 |
| The Conjuring | 2013 | 7.5 |
| Saint Maud | 2019 | 6.7 |
| Nanh Nak | 1999 | 6.5 |
| The Perfection | 2018 | 6.2 |
| The Host | 2006 | 7.1 |
| Apostle | 2018 | 6.3 |
| Hush | 2015 | 6.6 |
| Mama | 2013 | 6.2 |
| Cam | 2018 | 5.9 |
The Amityville Horror (2005)
This one-of-a-kind horror movie starring Ryan Reynolds in the lead role, Amityville Horror explores the story of a married couple George and Kathy. They, along with their children, move into a new house. However, their glee is cut short once certain mysterious and inexplicable occurrences happen. 
IMDb rating – 5.9
Cast – Melissa George, Ryan Reynolds, Jesse James, Jimmy Bennett, Rachel Nichols, Chloë Grace Moretz, Isabel Conner, Philip Baker Hall, Annabel Armour, Brendan Donaldson David Gee, Rich Komenich, Nancy Lollar, Danny McCarthy, Lenore Thomas Douglas, José Taitano, Marie Joelyn, Wojciech Fry Lewis,
Duration – 1 h 30 min
Director – Andrew Douglas
Things Heard and Seen (2021)
The story follows a young married couple that moves into a strange home from a small town. The atmosphere throughout this movie is mysterious and scary, and as the story progresses, it gets creepier. The storyline itself is interesting but clinches it because there are multiple overlapping stories. 
IMDb rating – 5.3
Cast – James Norton, Amanda Seyfried, Alex Neustaedter, Natalia Dyer, Ana Sophia Heger, Charlotte Maier, Ana Sophia Heger, Ben Graney, Kristin Griffith, Joey Auzenne, Molly Jobe, Cotter Smith, Kelcy Griffin, Karen Allen, Dan Daily, Maureen Young, Jack Gore, F. Murray Abraham, Melinda Tanner
Duration – 2h 1 min
Director – Shari Springer Berman, Robert Pulcini
Escape Room (2019)
This movie has been inspired by myriad survival and problem-solving movies. The story follows 6 random strangers trapped in an escape room in exchange for a prize of 10000 dollars. How these 6 strangers find themselves in a honeycomb of deadly mystery rooms and the way they use their wits to survive forms the majority of the story. 
IMDb rating – 6.4
Cast – Taylor Russell, Jay Ellis, Logan Miller, Deborah Ann Woll, Tyler Labine, Nik Dodani, Yorick van Wageningen, Cornelius Geaney Jr., Russell Crous, Bart Fouche, Jessica Sutton, Paul Hampshire, Vere Tindale, Kenneth Fok, Caely-Jo Levy, Jamie-Lee Money, Jeremy Boado, Inge Beckmann
Duration – 1h 39min
Director – Adam Robitel
Fear Street Trilogy (1994) 
Based on the book series Fear Street by RL Stine, this movie is gory, entertaining and a great slasher trilogy. It is buttressed by a good storyline, carried by good actors and stellar performances in all three movies. Fear Street Part 1 is about a circle of teenage friends that chance upon the ancient evil that has carried out a variety of brutal murders in their town for over 3 centuries. 
IMDb Rating – 6.2
Cast – Kiana Madeira, Olivia Scott Welch, Benjamin Flores Jr, Julia Rehwald, Maya Hawke, Charlene Amoia, David W Thompson, Noah Bain Garret, Ashley Zukerman, Darrell Britt-Gibson, Jana Allen, Fred Hechinger, Matt Burke, Christian Bridges, Matthew Zuk, Jeremy Ford, Jaime Matthis, Danyon Huntington
Duration -1h 47min
Director – Leigh Janiak
Brightburn (2019)
This movie tells the story of a kid gifted with superpowers. Such a child happens to crash-land on earth, but instead of being beneficial to mankind, it proves to be a curse. 
IMDb rating – 6.1
Cast – David Denman, Elizabeth Banks, Abraham Clinkscales, Jackson A. Dunn, Jennifer Holland, Christian Finlayson, Matt Jones, Emmie Hunter, Becky Wahlstrom, Meredith Hagner, Gregory Alan Williams, Terence Rosemore, Steve Agee, Elizabeth Becka, Stephen Blackheart, Annie Humphrey, Michael Rooker, Mike Dunston
Duration – 1h 30min
Director – David Yarovesky
The Lodge (2019) 
This psychological horror thriller film has been directed by Veronika Franz and Severin Fiala and authored by those above two as well as Sergio Casci. The story follows a stepmother stuck at a rural lodge with her fiance's two children. There, she and the kids experience strange events that seem to be related to her past. 
IMDb rating – 6
Cast – Jaeden Martell, Riley Keough, Alicia Silverstone, Lia McHugh, Danny Keough,  Richard Armitage, Philippe Ménard, Lola Skye Reid,
Duration – 1h 48min
Director – Veronika Franz, Severin Fiala
Creep (2014)
The story revolves around a novice videographer, who responds to an online ad for a day's job in a remote town to capture the last messages of a man who is dying. However, the man's odd behavior makes the videographer question his intentions. Creep has found-footage mockumentary style filmmaking and is disturbing to watch. It has a straightforward premise, with only the actors above as cast, and an odd setting that plays on our fears. 
IMDb rating – 6.3
Cast – Mark Duplass, Patrick Brice, Katie Aselton
Duration – 1h 17min
Director – Patrick Kack-Brice
Sinister (2012)
The story is about a box of super 8 movies found in the house of washed up true crime writer Ellison Oswalt. These movies tell him that the murder he is researching is the handiwork of a serial killer, whose work goes back to the 60s. This movie has a good storyline, is bone-chilling, and is very engaging, living up to its name. 
IMDb rating – 6.8
Cast – Juliet Rylance, Ethan Hawke, James Ransone, Fred Thompson, Michael Hall D'Addario, Clair Foley, Tavis Smiley, Rob Riley, Janet Zappala, Victoria Leigh, Ethan Haberfield, Cameron Ocasio, Blake Mizrahi, Danielle Kotch, Lorraine Aceves, Nicholas King, Vincent D'Onofrio, Chester the Chihuahua
Duration – 1h 50min
Director – Scott Derrickson
The Hunt (2020)
The story revolves around a teacher, who lives a lonely life, and is struggling for his gord's custody. Slowly his life improves as he receives positive news from his son, but his luck is about to change by an innocent little lie. 
IMDb rating – 8.3
Cast – Thomas Bo Larsen, Mads Mikkelsen,,Lasse Fogelstrøm, Annika Wedderkopp,, Anne Louise Hassing, Susse Wold,, Alexandra Rapaport, Lars Ranthe, Steen Ordell, Sebastian Bull Sarning,, Daniel Engstrup,Guldbrand Jensen, Søren Rønholt, Troels Thorsen, Jytte Kvinesdal, Hana Shuan, Bjarne Henriksen, Josefine Gråbøl,Nicolai Dahl Hamilton
Duration – 1h 55min
Director – Craig Zobel
Don't Breathe (2016)
The house of a blind man is broken into by a bunch of thieves, hoping to make a fortune.However, the old man is not as helpless as he seems.. Characters are partially developed, and the central theme is based around claustrophobia, Don't Breathe captivates the viewer from the beginning to the end. 
IMDb Rating– 7.1
Cast – Jane Levy, Stephen Lang, Fede Alvarez, Daniel Zovatto, Franciska Töröcsik, Emma Bercovici, Katia Bokor, Christian Zagia, Olivia Gillies, Sergej Onopko, Athos, Dayna Clark Nomad, Astor, Jane May Graves, Jimmie Chiappelli, Brak Little.
Duration – 1h 28min
Director – Fede Alvarez
Under the Shadow (2016) 
The story follows the struggle of a mother and daughter as they come to terms with the horrors of the post-revolution war-torn Tehran in the 1980s. However, as they do this, a mysterious evil starts to haunt their home. 
IMDb rating – 6.8
Cast – Narges Rashidi, Avin Manshadi, Bobby Naderi, Arash Marandi, Soussan Farrokhnia, Aram Ghasemy, Hamid Djavadan, Ray Horatian, Bijan Daneshmand, Behi Djanati Atai, Karam Rashayda, Nabil Koni, Khaled Zamamiri, Zainab Zamamiri, Adel Daragh, Ehab Rousan, Suhaila Armani, Rami Mehyar,
Duration – 1h 24min
Director – Babak Anvari
The Conjuring 2 (2016)
The story follows Ed and Lorraine Warren as they journey to North London to assist a single mother raising 4 kids in a house haunted by a supernatural spirit. This movie is scarier than its prequel. The single mother experiences the torture of Bill Wilkins, who Valak, the demonic spirit, is controlling. 
IMDb rating – 7.3
Cast – Vera Farmiga, Patrick Wilson, Frances O'Connor, Madison Wolfe, Benjamin Haigh, Lauren Esposito, Simon McBurney, Patrick McAuley, Simon Delaney, Maria Doyle Kennedy, Bob Adrian, Franka Potente, Bonnie Aarons, Robin Atkin Downes, Steve Coulter, Abhi Sinha, Javier Botet, Chris Royds
Duration – 2h 14min
Director – James Wan
The Conjuring (2013)
Ed and Lorraine Warren team up again this time to assist a family that is being troubled by a dark presence in their home. 
IMDb rating – 7.5
Cast – Patrick Wilson, Vera Farmiga, Lili Taylor, Ron Livingston, Hayley McFarland, Shanley Caswell, Joey King, Kyla Deaver, Mackenzie Foy, John Brotherton, Shannon Kook, Sterling Jerins, Marion Guyot, Morganna Bridgers, Amy Tipton, Sean Flynn, Ashley White, Kimura Kennedy
Duration – 1h 52min
Director – James Wan
Saint Maud  (2019)
This British psychological horror movie has been authored and directed by Rose Glass. The story takes us to the life of a hospice nurse Maud, who has recently converted to Roman Catholicism. She becomes obsessed with a former dancer in her care and believes she has to save her soul, come what may. 
IMDb rating – 6.7
Cast – Caoilfhionn Dunne, Morfydd Clark, Marcus Hutton, Jennifer Ehle, Noa Bodner, Carl Prekopp, Lily Knight, Lily Fraser, Sona Vyas, Takatsuna Mukai, Rosie Sansom, Faith Edwards, Brian Jackson, Jonathan  Milshaw, Rose Knox Peebles, Turlough Convery, Nancy, Antony Barlow.
Duration – 1h 24m
Director – Rose Glass
Nang Nak (1999) 
This story is based on a Thai legend and is set in the late 1860s. The story is about a young husband who is a war returnee who doesn't know what happened to his family in his absence. This is a romantic tragedy horror movie with a touching love story that happens to be emotional and scary at the same time. Nonzee Nimibutr directed it. This story shows us the life of a devoted ghost wife and her clueless husband. 
IMDb rating – 6.5
Cast – Inthira Charoenpura, Winai Kraibutr, Manit Meekaewjaroen, Pramote Suksatit, Pracha Thawongfia
Duration – 1h 40min
Director – Nonzee Nimibutr
The Perfection (2018) 
This American psychological horror thriller movie has been directed by Richard Shepard, from a screenplay by him. When disturbed musical prodigy Charlotte finds Elizabeth, the new best pupil of her former school, the encounter sends them down an evil path with disturbing consequences. 
IMDb rating – 6.2
Cast – Allison Williams, Marie Maskell, Glynis Davies, Christina Jastrzembska, Milah Thompson, Molly Grace, Alaina Huffman, Steven Weber, Graeme Duffy, Logan Browning, Eileen Tian, Mark Kandborg, Winnie Hung, Tasmin Carlow-Ujiie, Benjamin Wong, Jorya Yi, Vince Tsang, Alex Lee
Duration – 1h 30min
Director – Richard Shepard
The Host (2006) 
This monster-horror movie is about an unidentified monster that rises from the Han River in Seoul, and kills hundreds of people and also takes Hyun-Seo away. When her family learns of her captivity, they promise to save her. See what lengths one victim's family will go to to save her. 
IMDb rating – 7.1
Cast – Song Kang-ho, Byun Hee-Bong, Park Hae-Kim, Bae Doona, Ko Aung, Dal-Su Oh, Jae-Seung Lee, Dong-Ho Lee, Je-mun Yun, Pil-sung Yim, Roe-Ha Kim, Yeon-su Yu, No-Shik Park, Su-hee Go, Scott Wilson, Kim Hak-sun, Paul Lazar, Brian Rhee. 
Duration – 2h
Director – Bong Joon-ho
Apostle (2018)
This is a period horror movie. The story revolves around a former missionary named Thomas Richardson, who is hell-bent on rescuing his sibling. He has been kidnapped and is being held at ransom by a religious cult. This movie has a fantastic storyline and is very transparent. Gareth Evans is the writer and director of this movie. 
IMDb rating – 6.3
Cast – Paul Higgins, Richard Elfyn, Catrin Aaron, Dan Stevens, Bill Milner, John Weldon, Gareth Pierce, Ross O'Hennessy, John Norton, Rhys Meredith, Rhian Morgan, Ioan Hefin, Mark Lewis Jones, Kristine Froseth, Owain Gwynn, Lucy Boynton, Sharon Morgan, Michael Sheen
Duration – 2h 10min
Director – Gareth Evans. 
Hush (2016)
Mike Flanagan is the director of this masterpiece which inspires terror. A killer targets a deaf-mute girl, and their cat-and-mouse game makes for a fascinating watch. This is gruesome and violent but very thrilling. This slasher film story about a creepy stalker is sure to freak you out. 
IMDb rating – 6.6
Cast – Kate Siegel, John Gallagher Jr, Samantha Sloyan, Michael Trucco, Emma Graves
Duration – 1h 22min
Director – Mike Flanagan
Mama (2013)
This Spanish-Canadian horror movie has been co-written and directed by Andres Muschietti. 
The story follows two young girls who are abandoned in a forest cabin. An unknown entity called "Mama" fosters them and follows them to their new suburban home. 2 adults lead them, and their uncle retrieves them. 
IMDb rating – 6.2
Cast – Nikolaj Coster-Waldau, Jessica Chastain, Isabelle Nélisse, Megan Charpentier, Daniel Kash, Javier Botet, Morgan McGarry, Jane Moffat, Dominic Cuzzocrea, David Fox, Julia Chantrey, Christopher Marren, Diane Gordon, Ray Kahnert,  Maya Dawe,  Matthew Edison, Nick Hall, Sierra Dawe
Duration – 1h 40min
Director – Andres Muschietti 
Cam (2018)
This psychological horror thriller focuses on digital identities and their vulnerabilities. The protagonist of Cam is an online sex performer who is hell-bent on moving up the ranks on her host website. However, things quickly go wrong when she realizes her account got hacked and is live-streaming her erotica without her knowledge. The mixture of technology, online sex work, and the dignity of labor makes this movie a must-watch. 
IMDb rating – 5.9
Cast – Madeline Brewer, Patch Darragh, Devin Druid, Melora Walters, Imani Hakim, Michael Dempsey, Samantha Robinson, Flora Diaz, Jessica Parker Kennedy, Linda Griffin, Quei Tann, Carl Donelson, Clint Jung, Brayden Skoglund, Elijah Stevenson, Emily Berry, Paris Peterson, Isa Mazzei
Duration – 1h 34min
Director – Daniel Goldhaber
Well that wraps it up for the horror movies on Netflix. So every time you're in the mood for the chills, open Netflix and watch your favorite horror movie. 
FAQs
1) What is the #1 scariest movie on Netflix?
The scariest movie on Netflix is The Conjuring
2) What film has the most jump scares on Netflix?
Cam has the most jump scares on Netflix. 
3) Is Veronica a true story?
No, it is a fictitious one written for the movie. 
4) Is The Conjuring scary?
Yes, the film is considered one of the scariest of all time. 
5) Is Annabelle scary?
Yes, Annabelle is incredibly scary and can give you the creeps!